According to John Hall and his book Top of Mind: Use Content to Unleash Your Influence and Engage Those Who Matter To You marketing can be divided into two types: Me marketing and You marketing. Me marketing was used mainly in the twentieth century. Me marketing focuses on a product and a seller.
You marketing began to develop with the advent of the Internet, social networks, and mobile technologies. The consumer comes to the fore. You marketing answers the question: How can I make life better for you?
Due to the transition from Me marketing to You marketing, companies need to adapt their business to the new conditions. To be successful, you need to shift your focus from yourself and your product or service to people. Currently, human-to-human connection plays an important role.
The author offers three basic steps of effective communication with your audience
1. Listening to your target audience. What do they value? What's important to them?
2. Craft the way you engage and communicate with this audience around those content triggers
3. Repeat
These three steps are the foundation of Inbound marketing. You marketing is the direction you should go, and Inbound marketing is the actions you will use to follow the chosen path.
Initially, people are wary of you and your product because they don't know you. To enter into any business, you must overcome the walls of distrust or trust barriers. Inbound and You Marketing concepts will help you navigate this thorny path and achieve top-of-mind status. But you need to remember that you can't make someone feel emotions, you can only create the conditions for these emotions to appear, create your own opportunity. The author suggests the following formula for creating an opportunity:
John Hall examines in his book some of the touchpoints for creating trust and opportunity. But it reminds you that human emotions are a multi-faceted and complex thing, so there is no universal checklist that guarantees 100% success.
Helping others
Be helpful. To find out how you can help others, just ask them. It is most effective to help others without expecting anything in return. Most people will feel grateful, and appreciation is the way to a top-of-mind position.
John Hall offers some ways to help others:
share knowledge and resources
connect people with what they value
make people aware of opportunities
offer transparent feedback
become a brand advocate
provide referrals
volunteer your personal time
recognize people
give gifts
personalize experiences
Being transparent and likable
Authenticity is the foundation of your relationship with your audience. You can't trust what you don't really believe. Not pretend. To create trust, you have to build relationships. To do this, you must have open communications that are honest and transparent. Don't forget, relationships are between people, not between a person and a soulless brand. Along with authenticity, you should become likability for your audience, since it's hard to trust those you don't like.
Brand and thought leadership
A personal brand is an important component of your business, and a strong leader is the driving force of your organization. But now we need to implement a new strategy: the transition from personal branding to thought leadership and company branding. You should use the potential of your team, as everyone can become a thought leader. The more thought leaders that represent your brand, the more trust you build with the audience that can relate to you.
Remaining consistent and boosting familiarity
If you are not consistent, you are not a thought leader. If you manage to publish great content that attracts your audience and helps you quickly reach top-of-mind status, it doesn't guarantee that you will stay at the top. You must constantly work with your audience so that you are not forgotten. You need to gain a foothold in the long-term memory of your audience.
When you offer something for a long period, it becomes familiar and easy to remember. But familiarity is not a thought leader, it's just the first step. You need to engage your audience constantly and add value to their lives, so you can develop awareness, and thus break down the barriers between you and achieve top-of-mind.
High-quality digital content
Content is an effective way to build your authority and engage in a live conversation with your audience that doesn't have to end.
Such qualities as helpfulness, transparency, likability, and consistency will help you get top-of-mind, but you also need to keep your place at the top of your audience's mind.
Great content is created for the sake of the reader. Your content should either educate or entertain your audience. In any case, they want to be enriched. Write for their needs and you will earn a top-of-mind spot.
John Hall described best practices in creating and executing a content strategy
Setting the right goals and documenting your strategy
Knowledge extraction and management
Committing to a process of content creation
Publication and distribution
The author cites the golden rule of communication. In his opinion, in communicating with your audience, you should start with why rather than what. When you focus on the Why question, you don't put pressure on your audience, you communicate with them.
In his book Top of Mind: Use Content to Unleash Your Influence and Engage Those Who Matter To You John Hall suggests studying the content marketing funnel to understand what steps your audience is going through. This allows you to offer relevant content and convert prospects into customers.
Content marketing funnel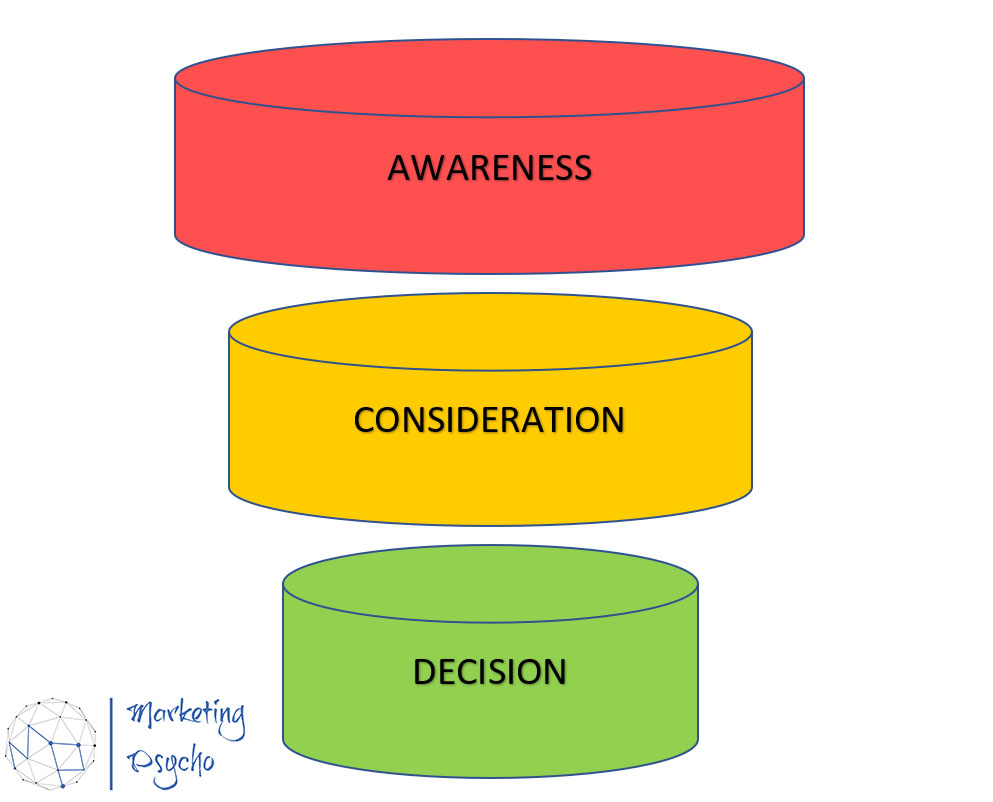 Top of the funnel: Awareness
At this stage, the consumer is aware of the specific problem they are facing. He wants to study and understand it. It has a huge number of questions and is looking for answers to them. That's why it's so important for you to provide educational content that tells people what the problem is. At this stage, the distance between your customer and the purchase decision is long.
Middle of the funnel: Consideration
Your goal is to help the consumer make an informed decision and offer them assistance. Your audience has already identified the key issues, now it's time to investigate them. This is the perfect time to give the customer some awesome content that doesn't sell but helps them. The research stages are the longest of the entire journey. At this stage, you need to be patient and be constant.
Bottom of the funnel: Decision
At the last stage, your audience is already sufficiently aware of their problem and how to solve it. Now they are ready to make a decision. We need to help them do this. Answer all their questions and create strong and evidence-based content. If you really are the best choice, explain why. Good content at the last stage differentiates your company.
Not only is it important to create valuable and high-quality content, but it is also important to deliver this content to the right place and at the right time. The author suggests including the following areas in the distribution strategy: external publications, internal distribution, social media, and clients directly.
In the book Top of Mind: Use Content to Unleash Your Influence and Engage Those Who Matter To You, John Hall gives tips on how to achieve top-of-mind status, as well as how to gain a foothold in this position. Content is the main driving force behind your new strategy. All your efforts should be focused on making people's lives better. You must be honest with yourself and your audience.
Read more marketing, management and sales Book Reviews in the special section of the website.