The world around us is constantly changing, and therefore people, their lives, and behavior are changing, which in turn leads to a change in marketing. In recent years, marketing has moved from a focus on the product (marketing 1.0 – product-centric marketing) to a focus on the consumer (marketing 2.0 – consumer-oriented marketing).
Marketing 3.0 (values-driven marketing) is the stage when companies move from a consumer orientation to a person orientation and when the pursuit of profit is combined with corporate responsibility. Marketing 3.0 is designed, like Marketing 2.0, to meet the needs of consumers, but companies that use this type of marketing have a mission, vision, and values that are important to the world as a whole.
The book Marketing 3.0: From Products to Customers to the Human Spirit consists of three parts: trends, strategy, and application. The last chapter outlines 10 key credos of marketing 3.0. The idea of marketing 3.0 was first formulated in 2005 by a group of consultants MarkPlus, a marketing services firm headed by Hermawan Kartajava.
The following forces influenced the formation of marketing 3.0
New wave technologies. New wave technologies make it possible to unite and interact with individuals and groups of people (the development of social media). They consist of three main elements: cheap computers and mobile phones, low-cost Internet, and open source. Collaborative marketing is the first block in the foundation of marketing 3.0. Marketing 3.0 is a cooperation of business entities that have similar sets of values and aspirations.
Globalization. People need responsible brands that are sensitive to the needs of consumers and work to make the world a better place. Cultural brands strive to solve the existing social, economic, and environmental problems of society. Cultural marketing is the second block in the foundation of marketing 3.0. Marketing 3.0 is an approach that provides answers to the needs and desires of people in general. Companies that practice marketing 3.0 must understand public issues that are close to their business.
Creative society. There is a growing community of creative people all over the world. Consumers are now looking not only for products and services that meet their needs but also for experiences and business models that touch their spiritual side.
The value-based business model is a revolutionary innovation of marketing 3.0. Marketing 3.0 means that a company organically integrates values into its corporate culture. As creative people, companies should also think about self-realization in addition to their material goals. They need to understand what they are and why they are in this business. They need to know what they want to become. And fit all this into your mission, vision, and values. This is spiritual marketing. And this is the third fundamental block of marketing 3.0.
Building blocks of Marketing 3.0
If companies want to be commercially successful, they need to understand that customers increasingly value cocreation, communitization, and character building.
The future of Marketing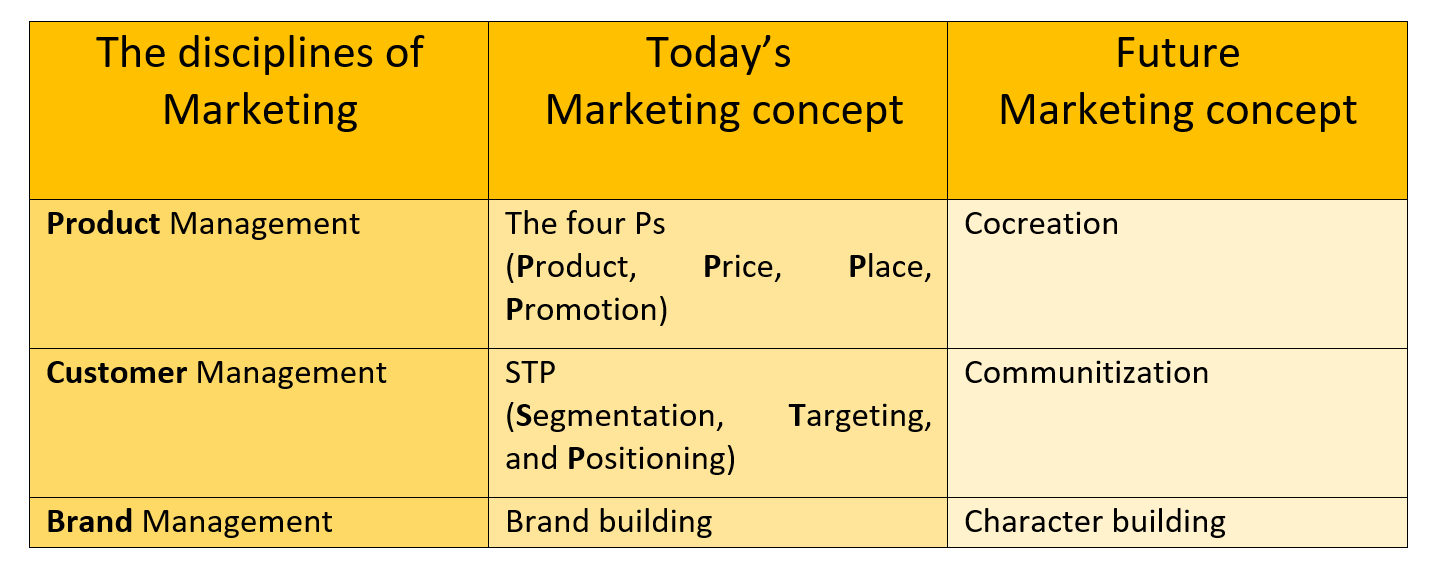 Philip Kotler, Hermawan Kartajava, and Iwan Setiawan identify three key processes of cocreation.
company creates a product
consumers from the community share their ideas for improving this product in accordance with their needs and desires
company transforms the product based on customer feedback
In marketing, the idea of brand proximity to the consumer's mind was formulated in the classic book "Positioning: The Battle for Your Mind" by Jack Trout and Al Ries. The authors argued that the product idea should find a meaningful and unique place in the minds of target consumers. But at this point, it became clear that it is no longer enough to focus on the mind alone. Companies must touch the hearts of consumers. This is how the concept of emotional marketing came into being.
3i Model
Companies should consider consumers as complete people with minds, hearts, and spirits. To do this, the authors suggest using the 3i model to influence the minds, hearts, and spirits of consumers, companies must recognize their anxieties and desires.
In order for good deeds to become part of the corporate culture forever, they must be included in the company's mission, vision, and values.
According to the authors, the mission is the meaning of your company's existence. The company should describe its mission as thoroughly as possible because it depends on the viability of promises to customers. A vision can be defined as a picture of the desired future state of the company. The vision explains what the organization aims to become and achieve.
Marketing 3.0 is also the marketing of meaning, which is hidden in the corporate mission, vision, and values.
Values-Based Matrix (VBM) Model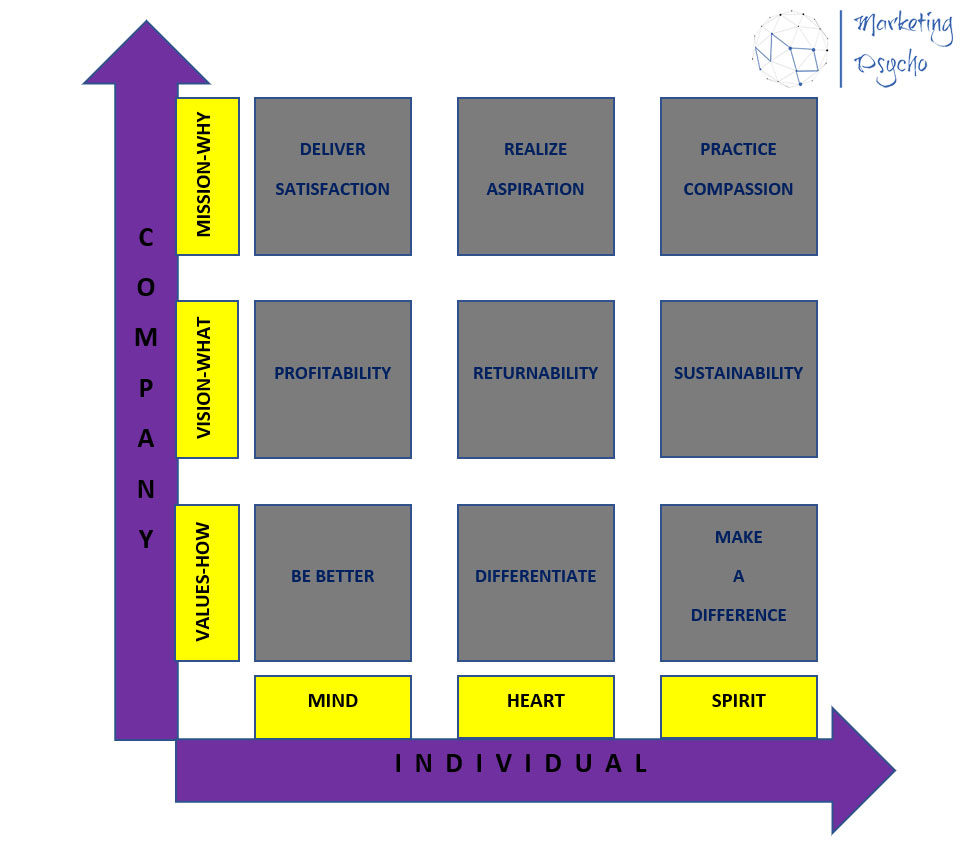 Remember, in marketing 3.0, if your brand has become successful, it doesn't really belong to you anymore. Brands belong to consumers.
Three characteristics of a good mission
The authors believe that the use of corporate values to ensure profitability, impact, and responsibility. They conditionally divide corporate values into two types: shared values are values that help employees work in accordance with the brand's mission, and the common behavior of employees. To create a corporate culture, you need to agree on shared values and common behavior. In the current conditions, corporate culture should be a collaboration, culture, and creativity. In marketing 3.0, the main thing is to match values and real behavior.
The channel partners also play an important role in marketing 3.0, as they become collaborators, cultural change agents, and creative partners. Collaboration assumes that Purpose-Identity-Values of the manufacturing company and potential partners will be reflected as in a mirror, meaning that potential partners should have the same Purpose-Identity-Values as the manufacturer.
In marketing 3.0, the corporate vision necessarily includes the concept of social and environmental responsibility, as this will determine the company's long-term competitive advantage. The company must understand that the transition to socially responsible methods of work will increase business efficiency, accelerate revenue growth, and increase the value of the corporate brand.
Three stages of addressing social issues in marketing
More and more companies wok on solving public problems through philanthropy. Companies donate part of their income to charities or to a specific public cause. In cause marketing, companies devote not only their money but also their energy to a socially significant cause. When performing socio-cultural transformations, the consumer is seen as a person who should expand their powers in order to have more opportunities for self-realization.
Socio-cultural transformations are carried out in three stages
There are various socially significant problems in the modern world. One of these problems is poverty. In many countries, the distribution of income is in the form of a pyramid, and numerous poor people form its base. Three forces must work together to address poverty.
1- Increased access among the poor to information and communication technology infrastructure.
2- The blend of excess supply, underconsumption in mature markets, and hypercompetition at the top and middle of the pyramid.
3- Government policy to discourage people from migrating to overcrowded urban areas.
The three forces listed above will create a huge market with still unsatisfied demand.
Philip Kotler, Hermawan Kartajava, Iwan Setiawan suggest using Social business enterprise (SBE) to solve the problem of poverty. Social business enterprise (SBE) – a term coined by Muhammad Yunus to describe a company that both earns money and changes society for the better.
There are three indicators of SBE's success in strengthening the economic foundation of a society.
1- SBE stretches disposable income. Method-offers products and services at lower prices.
2- SBE expands disposable income. Method-offers products and services that the poor previously did not have access to (for example, developing high-tech products without unnecessary functions).
3- SBE increases disposable income. Method-increases economic activity in an underserved society.
The authors suggest the following SBE marketing model
Another serious problem of humanity is environmental sustainability. The authors describe three possible roles that companies can take on to solve environmental problems: the Innovator, the Investor, or the Propagator.
The Innovator invents or upgrades products that can save the environment. These products restore already damaged nature and do not harm the environment. The Innovators are not content with gradual updates, they need revolutionary solutions.
The Investor is companies and people who finance research projects in other or their own companies. Although the investors are not directly involved in the creation of innovative products, their contribution is significant: they financially support environmental projects.
The Propagator aims to grow an environmental following by spreading the values of environmental protection between employees and consumers. The Propagator creates a support system to buy products that the Innovator sells and to support the positive contribution of the Investor.
When all these three types work together and collaborate, the green market expands and becomes stronger. Companies should distinguish between the four segments of the green market and learn to take into account the differences between them in purchasing behavior and willingness to purchase green products.

According to the authors, creating a link between marketing and values takes place in three stages.
Marketing and values are polarized
Balancing
Integration
The authors identified 10 credos of marketing 3.0
Love your customers, respect your competitors
Be sensitive to change, be ready to transform
Guard your name, be clear about who you are
Customers are diverse; go first to those who can benefit most from you
Always offer a good package at a fair price
Always make yourself available, spread the good news
Get your customers, keep and grow them
Whatever your business, it is a service business
Always refine your business process in terms of quality, cost, and delivery
Gather relevant information, but use wisdom in making your final decision
In marketing 3.0, solving public problems should not be seen only as a public relations tool or an opportunity to dispel discontent. Companies should take a responsible approach to solve socially significant problems and adjust their business model. In the book Marketing 3.0: From Products to Customers to the Human Spirit, the authors explain how to make a company not only profitable but also think about the person. Companies need to rethink themselves and move to a new type of marketing – marketing 3.0.
Read more marketing, management and sales Book Reviews in the special section of the website.