Content marketing is a fairly popular term in the modern world. Many specialists have already understood the value of this area of activity, but few were able to properly manage this tool. So, why is content marketing so important? First of all, this is due to a change in the behavior of your customers. Now it is the consumer who is in the center of attention, the main thing that worries him is his interests and desires. You need to direct your marketing efforts to meet these needs. Content marketing helps to do this, but now it is also becoming insufficient.
Since your client is more and more loaded with various information that falls on him from all sides every day, your task is to draw attention to yourself in this stream and become a reliable source and even a friend for the customer, not a seller. The paradox is that the more profit you want to make, the less you need to sell. But do not think that selling content is a useless relic. That's not so. In fact, it works, but only at the right time and in the right place, when your client is ready to consume it. For your content to be effective, you need a comprehensive approach to this issue.
Joe Pulizzi believes that the best way is to use epic content marketing. Epic content marketing means that your company tells a consistent story. You should become an information resource for your prospects and customers.
Six Principles of Epic Content Marketing
In his book Epic Content Marketing. How to Tell a Different Story, Break through the Clutter, and Win More Customers by Marketing Less Joe Pulizzi lists six principles of epic content marketing:
Fill a need. Your content should be useful and solve the problems faced by consumers. 
Be consistent. Content must always be delivered on time and in accordance with expectations, despite the surrounding circumstances.
Be human. The consumer is waiting for communication, not just impersonal information. 
Have a point of view. You should have your own opinion, your own face, be an expert.
Avoid "sales speak." The more you talk about yourself, the fewer people will appreciate your content.
Be best of breed. Your goal is to become the best in your niche. People should trust and appreciate you.
The first step to using epic content marketing is to understand where you are right now. You are probably already working with content, so it's worth finding out what stage you are at and where you need to go next. To do this, the author suggests using the content marketing maturity model developed by Robert Rose, the chief strategist of Content Marketing Institute (CMI) and author of the book Managing Content Marketing: The real-world guide for creating passionate subscribers to your brand co-authored with Joe Pulizzi.
Content Marketing Maturity Model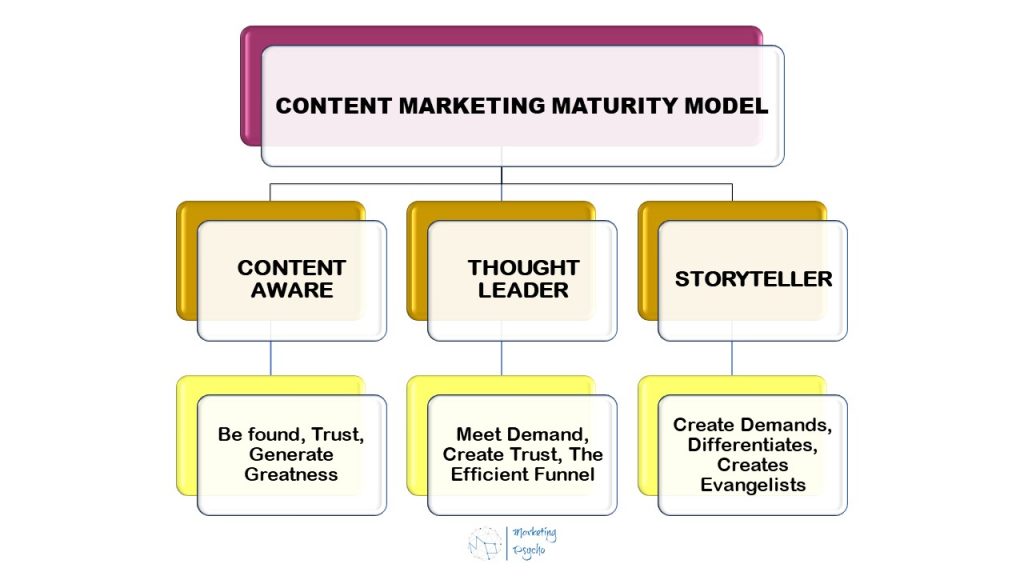 The main goal is to raise awareness. The strategy is to create a large amount of trustworthy and useful content. This content should always be available, easy to find, and it should stand out to break through the flow of information.
THOUGHT LEADER (or lead with engagement)
The main goal is to create trust in the brand. Content should provide value beyond your product or service. You are not talking about how to use your product or service, but how to solve the consumer's problem.
The main goal is to create brand evangelists. At this stage, the brand builds its content strategy around the strategy of attracting customers. The storyteller strategy educates, entertains, captivates, and influences the audience because the content goes far beyond the product or service and explains why the organization exists at all.
Sometimes a content aware stage is enough to meet your goals, but the real opportunities for income and growth are at the storyteller stage. This is what all businesses should strive for.
Now that you understand where you are and where you want to go, your task is to develop an epic content marketing process.
Epic Content Marketing Process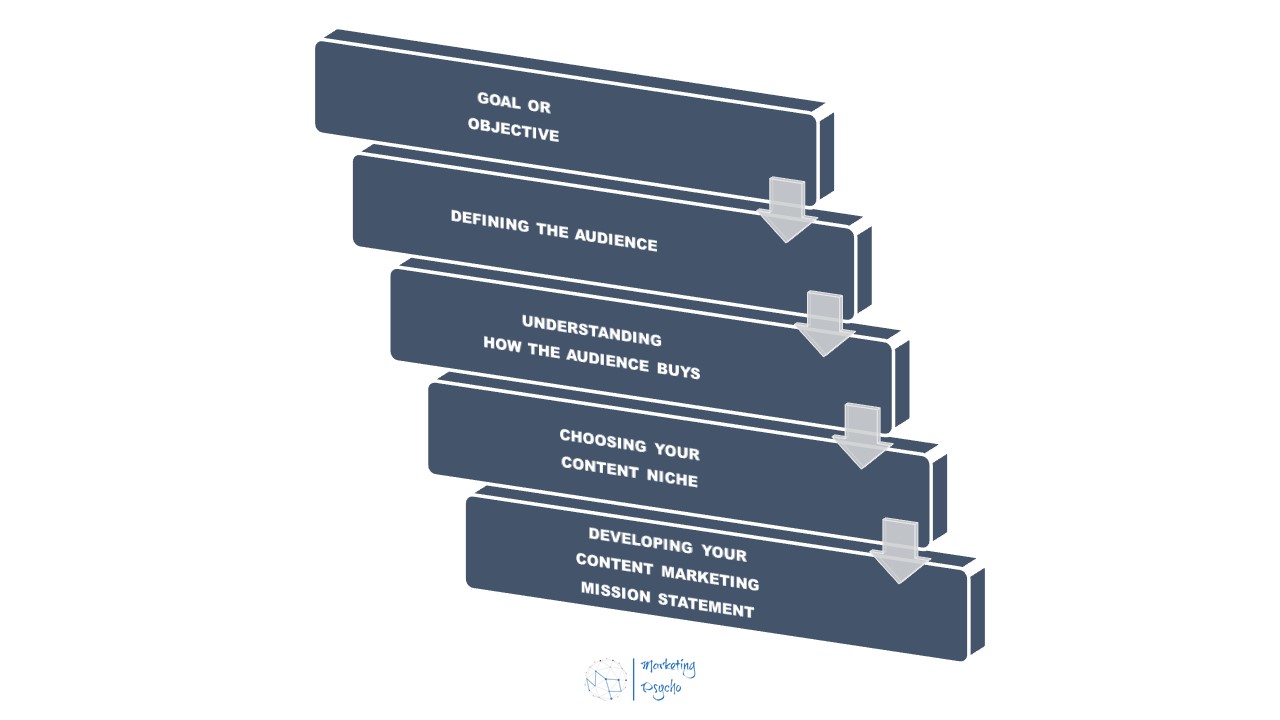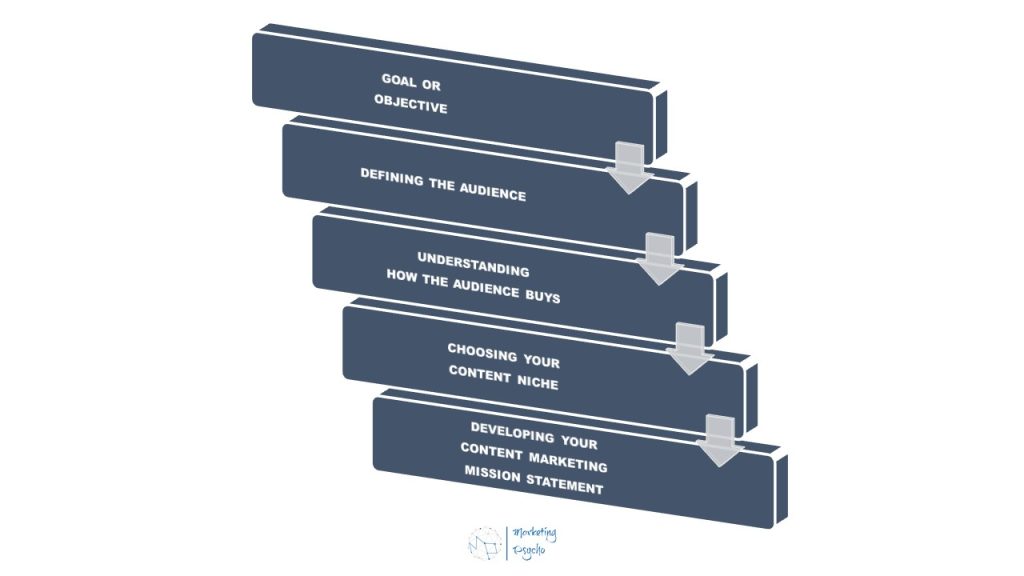 The goal or objective. You must have at least one tangible business goal. If there is no specific goal, then you will not be able to choose the right path and tools, you will not understand why it is necessary. For content marketing, you can use the following business goals: brand awareness or reinforcement, lead conversion and nurturing, customer conversion, customer service, customer loyalty and retention, customer upsell.   
Defining the audience. Before you start any content program, you need to have a clear idea of who your audience is and, ultimately, what you want them to do. You will need a separate persona for each group for which you are creating content.
What do you need to know about your audience persona? Joe Pulizzi suggests asking the following questions to find out.
1. Who is he or she? How does this person live the average day?
2. What's the person's need? This is not "Why does (s)he need our product or service?" but "What are his or her informational needs and pain points as it relates to the stories we will tell?"
3. Why does this person care about us? Remember, the persona most likely doesn't care about your products or services, so it's the information provided to him or her that will make that person care or garner attention.
Understanding how the audience buys. The buying process has changed. Consumers now control the interaction with you; they decide whether they want to receive your message. Therefore, you should have a conversation with them from your first meeting.  
There is a sales process for your company: it means a specific set of actions that your sales department performs to convert a prospect into a customer. There is a buying process for a customer: it means a specific set of actions that they perform before making a purchase decision.
To deliver the best content at the right time, you need a better, more detailed process. To do this, you need to combine the sales process and the buying process. As a result, you will get a completely new approach, which the author called the engagement cycle. The engagement cycle is a specific engagement process that your audience goes through as you help them interact more and more with your brand. This can help develop attractive content at certain stages of the buying process, which either helps a potential buyer make a purchase or helps a customer distribute your content.  
The engagement cycle consists of the following steps:
Map your audience personas to your sales process
Make the content segmentation grid
Map your personas to their buying cycle
Make the customer/content segmentation grid
Choosing your content niche. Your goal is to become a reliable expert in your field. Your content niche can be targeted at either one audience or several. But the author advises narrowing down your audience and, consequently, your niche of content covering this audience. To understand which niche of content you should explore as a business, you should start with a small profitable group of customers. Once you have perfected the content strategy for this group, you will be able to move on to other content niches targeted at different audiences.
Developing your content marketing mission statement. The mission statement should answer the question "Why does the company exist?" Epic content marketing is impossible without a clear and convincing explanation of the reasons. When developing your content marketing mission, make sure that the content around which you create stories is an area in which you really have experience. The content marketing mission statement not only provides the basis for promoting your content strategy but also plays an important role in the entire content creation process. To make your content marketing mission statement effective, Joe Pulizzi advises you to clearly define three things specific to the creation of your content: 
The core audience target
What you will deliver to the audience
The major audience takeaway.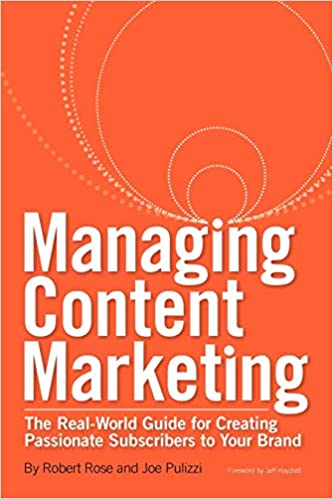 Editorial Calendar
So, the main elements of the epic content marketing process have been disassembled, now it is necessary to understand how to manage this process. The best tool for this is the editorial calendar. The editorial calendar is not limited only to dates and the name of the content, it must be created in accordance with the audience personas, the engagement cycle, and various media channels. You can make an editorial calendar yourself and include all the data you need, but there is also a large amount of software for this. The author lists three components of the editorial calendar:
Understanding what an editorial calendar is and is not 
Organizing the calendar
Developing the editorial style guide
To manage the content creation process, you need to form a team with specific roles and responsibilities. The following roles are required (one person can perform multiple roles at the same time): the Manager or Chief Content Officer (CCO), Managing Editor(s), Content Creators, Content Producers, Chief Listening Officer.
To be successful, you need a marketing culture that includes both a strong marketing and publishing core and a deep understanding of how consistent editorial content can support or change customer behavior.
Here are three things, according to the author, that you should always keep in mind when creating and maintaining a culture of content marketing:
Start to think about your content packages as a series (like a television show). 
Train all product managers in the basics of content marketing. 
Establish a pilot team. 
But to create content, you must not only have a team but also understand what types of content exist. These are not channels, although some of them may mean both the content type and the channel. Joe Pulizzi lists and describes the following types of content:
Blogs
E-Newsletter
White Paper
Article
E-Book
Case Study
Testimonials
Webinar/Webcast
Video
Online News Release
Custom Print Magazine
Print Newsletter
Digital Magazine
E-Learning Series
Mobile Application
Teleseminar
Podcast
Executive Roundtable
Industry Ranking System
Printed Book
Audiobook
Virtual Trade Show
Comic Book
Road Show
Branded Content Tool/Application
Online Game
Infographic
Online Survey Research Project
Discussion Forum
Before you can determine what kind of content you need, you first need to figure out what you have. In addition, you need to determine whether what you have is something valuable. It is quite difficult to go back and evaluate what was created in the past to make sure that it is still interesting for your audience since your current tasks are focused on consistent content creation now. But this must be done for successful content marketing.
Content Platform
It's time to talk about your content platform. It can be created in several different ways: in the form of a website, blog, Twitter, Facebook, printed book, e-newsletter, and much more. But the author advises first of all to own a content platform. You need both your own content and content distributed on other platforms, but the focus should be on a platform that you can control.
So, all the components are in front of you: your goals, your niche, your audience, content types, and the assets you have. Now you need to mix it all to make something worthwhile for your customers. Your content plan should contain the following components:
The channel
The persona
The content goal
Primary content type
Structure
Tone
Channel integration
Desired action
Editorial plan
Your content marketing strategy should also be based on a social media strategy. In your work, you need to study and choose the most effective channels for your business. The author offers the following list:
Social networks such as Facebook, Twitter, and LinkedIn
Video channels such as YouTube and Vimeo
Photo-sharing sites such as Instagram and Flickr
Online communities such as Pinterest, Foursquare, and Quora
Niche content sharing sites such as Tumblr, StumbleUpon, and SlideShare
Measuring the Impact of Content Marketing
And, of course, it is impossible not to mention measuring the impact of content marketing on your business. Measure the metrics that matter to your business. Do not show the analytical report to your top managers. There are three metrics they want to know about, these are sales, cost savings, and retention metrics. They are the ones you need to demonstrate. Joe Pulizzi also prefers to use the term return on objective (ROO) instead of the usual return on investment (ROI), because it focuses the content marketer on the real goal. ROO measurements come in all shapes and sizes; they usually include a few items to give you a complete answer to your question. 
The author presents THE CONTENT MARKETING PYRAMID for measuring ROO, which consists of three separate sections.
Primary content indicators. The top of the pyramid. These are the metrics that you present to senior management (typically sales, cost savings, and retention metrics). These indicators will be very few, they change very rarely, if at all, and are fueled by information, interpretation, and data from below.
Secondary content indicators. The middle of the pyramid. These will be metrics that you associate with team members and specific processes that will help you achieve your goals. As a rule, these are short-term goals. Secondary indicators are the types of measurements that help justify primary indicators (lead quality, number of leads, shorter sales cycles, and so on).
User indicators. The bottom part of the pyramid (the widest). These are audience-based metrics designed to measure activity. These are the types of measurements that help determine secondary indicators (web traffic, likes, page views, and search rankings). All companies should have an analytical program that tracks such data.
In addition to the pyramid, you can also analyze specific indicators to justify your content strategy. The author identifies four such parameters.
Consumption metrics. Here are some of them: Pageviews, Video views, Document views, Downloads, Social conversations. 
Sharing metrics. Your sharing metrics may include Likes, shares, tweets, and pins; Forwards, Inbound links. 
Lead generation metrics. Here are some of the most important indicators in this category: Form completions and downloads, E-mail subscriptions, Blog subscriptions, Blog comments, Conversion rate.
Sales metrics. The metrics you need to understand include Online sales, Offline sales, Manual reporting, anecdotes. 
Remember, if you are going to measure your indicators, they must be traceable. For example, to understand the impact of a single blog post, you should include a call to action that is unique to that piece of content.
Joe Pulizzi warns that his book is not a panacea for all business problems, there are no universal means to solve all problems. But the author hopes that it will help you choose the right direction, where you will encounter difficulties, but with the help of firm confidence, skillfully set priorities, you will achieve amazing results.
---
Find more marketing, management, sales, branding, and business books' reviews in Book Reviews section of my marketing blog.
If you want a monthly update about marketing and sales delivered to your e-mail address, please, subscribe to Marketing Psycho Marketing and Sales newsletter.