Date of Foundation: 1923.08.29
Country: Japan
Revenue: €6,7 billion (2021)
CEO: Michihiro Kitazawa
Products: Semiconductors, Power Supplies, Magnetic Switches
Website: www.fujielectric.com
Company Overview
Fuji Electric is a Japanese electrical equipment company manufacturing power semiconductors, controllers, inverters, pumps, generators, ICs, motors, and power supplies.
Fuji Electric was established in 1923 as a capital and technology tie-up between Furukawa Electric, a spinoff from Furukawa zaibatsu company, and Siemens AG. The name "Fuji" is derived from Furukawa's "Fu" and Siemens' "Ji", since German pronunciation of Siemens is written jiimensu in Japanese romanization.
Fuji Electric's Mission is to:
Contribute to prosperity
Encourage creativity
Seek harmony with the environment
The company emblem represents their pledge of contributing to society utilizing the long-standing trust earned from the customers and the technological prowess that supports Fuji Electric's innovative technology. The brand color Fe Blue is an expression of the company's determination to protect beautiful natural environment and make societies sustainable.
Based on the market data Fuji Electric is the second biggest supplier of the discrete IGBTs and IGBT modules, and the fourth for IPMs in the world.
In 1923 Fuji Electric Manufacturing Co., Ltd. was established as a capital and technology alliance between Japan Furukawa Electric Co., Ltd. and German Siemens AG. The company name derived from these two companies' first sound "Fu" and "Si" and the highest mountain in Japan, Mt. Fuji.
In response to exploding demand for televisions and radios in 1954, Fuji Electric began volume production of selenium rectifiers, electronic components that converted alternating current (AC) to direct current (DC). The company soon took a 90% share of the domestic selenium rectifier market.
In 1955 Fuji Electric signed a contract with Siemens AG for technology transfer of the steam turbine manufacturing. Subsequently delivered the first super-critical, variable pressure turbine in Japan, which was one of the largest in the country at the time. This step to import European technology marked a change of tack in a domestic power generation market dominated by US technology.
In 1959 the company began production of silicon diodes. And in 1970 Fuji Electric established of Fuji Electric Corporation of America responsible for sales of electrical machinery and equipment, semiconductor devices, drive control equipment, and devices in North America and Latin America. Five years later in 1975 the company began manufacturing of bipolar transistors.
In 1984 the company name was changed to Fuji Electric Co., Ltd. One year later they launched the 1st generation of UPS "M-UPS Series" by modifying MOSFETs for main circuit switching element. At the same time, the company utilized voltage dip controlling technology as frontrunner of the industry.
In 1987 Fuji Electric GmbH was established to distribute electrical and electronic machinery and components in Europe and Africa. Same year the first IGBT module was introduced. Ten years later in 1997 Fuji Electric supplied the world's first large-capacity flat IGBT equipped main converters for Shinkansen trains.
In 2010 the company developed a new three-level converter circuit and a new three-level power module, realizing highly efficient electric power conversion. It reduced the power loss of power conversion equipment including power supplies and inverters. Same year the company developed the next-generation power semiconductor SiC module.
In 2016 Fuji Electric began shipping direct water-cooled power modules for automotive applications (Built-in RC-IGBT). During the next year the company supplied SiC equipped main converters for Shinkansen trains. In 2017 they began shipping 7th-generation RC-IGBT for industrial equipment.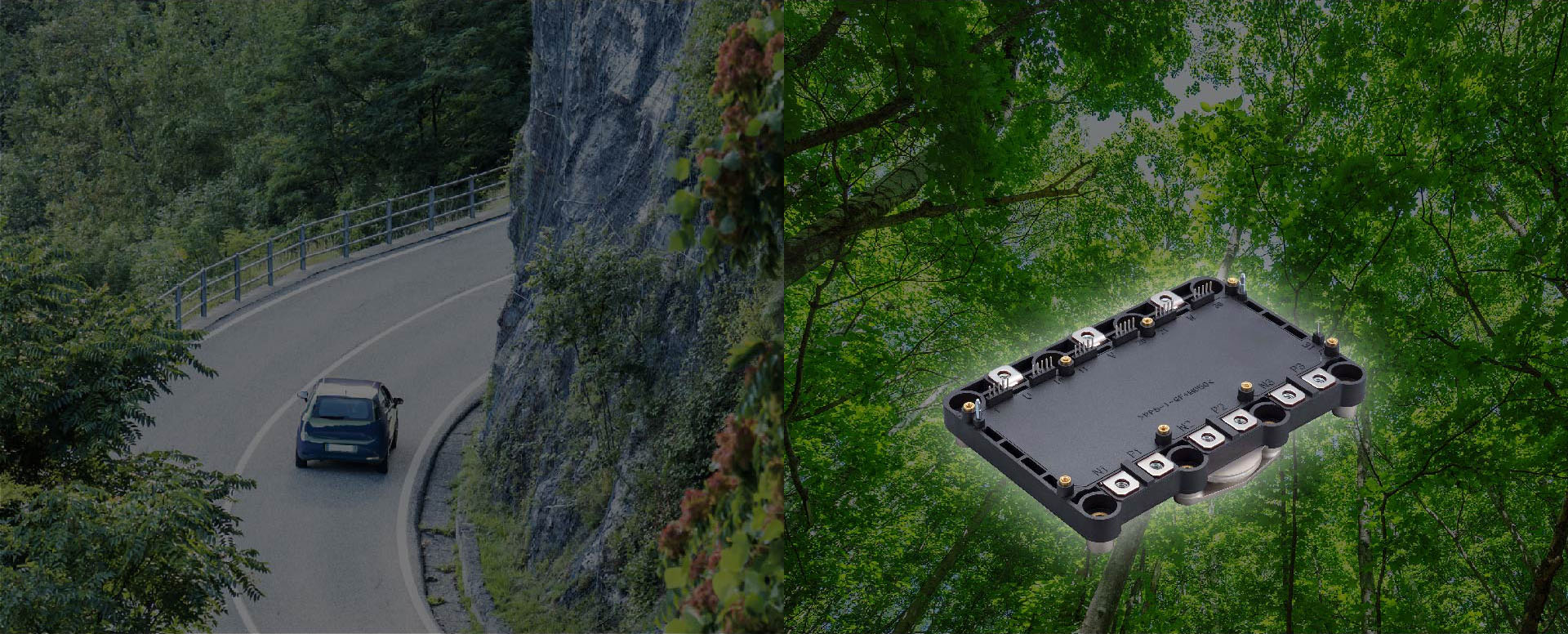 Products
Fuji Electric divides their products in the following categories:
Drives & Inverters
Semiconductors
Power Supply
Sensors & Measurements
Factory Automation
Distributions & Controls
Transmission & Distribution
Social Infrastructure
Energy
Energy Management
Food and Beverage Distribution
Solutions
Equipment Upgrades
Semiconductor product portfolio includes semiconductors and photoconductors. Semiconductors are divided into:
Fuji Electric semiconductors are widely used in wind power generation, solar, welding machines, UPS, switching power supplies, servers, air conditioners, etc.