Date of Foundation: 1999.04.01
Country: Germany
Revenue: €11,06 billion (2021)
CEO: Dr. Reinhard Ploss (Jochen Hanebeck from 2022.04.01)
Products: Semiconductors, Microcontrollers, Sensors
Website: www.infineon.com
Infineon Technologies Overview
Infineon Technologies AG is a German manufacturer of power semiconductors founded in 1999, when the semiconductor operations of the former parent company Siemens AG were spun off. It has about 50 280 employees and is one of the ten largest semiconductor manufacturers worldwide. It is market leader in automotive, power management energy efficient technologies and the IoT.
The company markets semiconductors and systems for automotive, industrial, and multimarket sectors, as well as chip card and security products.
Infineon markets semiconductors and systems for automotive, industrial, and multimarket sectors, as well as chip card and security products. It has subsidiaries in the US in Milpitas, California, and in the Asia-Pacific region, in Singapore and Tokyo, Japan.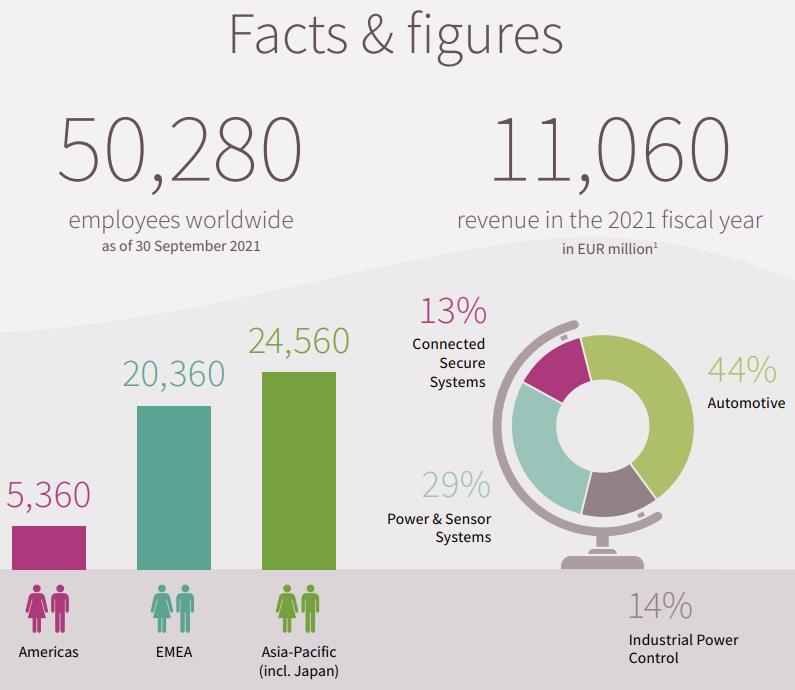 Infineon has a number of facilities in Europe, one in Dresden. Infineon's high-power segment is in Warstein, Germany; Villach and Graz in Austria; Cegléd in Hungary; and Italy. It also runs R&D centers in France, Singapore, Romania, Taiwan, UK, Ukraine and India, as well as fabrication units in Singapore, Malaysia, Indonesia, and China. There's also a Shared Service Center in Maia, Portugal.
After several restructurings, Infineon today comprises four business areas:
Automotive (ATV)
Infineon provides semiconductor products for use in powertrains (engine and transmission control), comfort electronics (e.g., steering, shock absorbers, air conditioning) as well as in safety systems (ABS, airbags, ESP). The product portfolio includes microcontrollers, power semiconductors and sensors. Infineon's semiconductors are essential for supporting the automotive megatrends: electromobility, automated driving, connectivity, and advanced security. They link the real and the digital world, driving the ever-advancing pace of automotive digitalization.
Industrial Power Control (IPC)
The industrial division of the company includes power semiconductors and modules which are used for generation, transmission and consumption of electrical energy. Its application areas include control of electric drives for industrial applications and household appliances, modules for renewable energy production, conversion and transmission. Power semiconductors play a crucial role in increasing efficiency and reducing energy losses along the whole energy conversion chain. As the global leader in power semiconductors, Infineon delivers pioneering products, solutions and services for smart and efficient energy generation, transmission, storage, and use.
Power & Sensor Systems (PSS)
The division Power & Sensor Systems sums up the business with semiconductor components for efficient power management or high-frequency applications. Those find application in lighting management systems and LED lighting, power supplies for servers, PCs, notebooks and consumer electronics, custom devices for peripheral devices, game consoles, applications in medical technology, high-frequency components having a protective function for communication and tuner systems and silicon MEMS microphones.
Infineon's semiconductors are enabling intelligent power management, smart sensitivity, and fast, reliable data processing in an increasingly digitalized world. Infineon's state-of-the-art power and connectivity devices make chargers, servers, mainboards, power tools, and lighting systems smarter, smaller, lighter, and more energy-efficient.
Connected Secure Systems (CSS)
The CSS business provides microcontrollers for mobile phone SIM cards, payment cards, security chips and chip-based solutions for passports, identity cards and other official documents. Infineon delivers a significant number of chips for the new German identity card. In addition, CSS provides solutions for applications with high security requirements such as pay television and Trusted Computing. The IoT is having a huge impact on how we live, work, and communicate. Infineon is at the forefront of computing, wireless connectivity, and trusted technologies that are helping to securely connect the networked systems of today and tomorrow.
History and Major Milestones
In the 1950s Siemens & Halske started to manufacture computers, semiconductor devices, washing machines, and pacemakers in Bavaria. In 1966, Siemens & Halske (S&H, founded in 1847), Siemens-Schuckertwerke (SSW, founded in 1903) and Siemens-Reiniger-Werke (SRW, founded in 1932) merged to form Siemens AG. Siemens formed Kraftwerk Union with AEG in 1969 by pooling their nuclear power businesses.
In 1989 TET (Power Electronics Equitable Company) included the following companies: CVEM (Cegléd Iron-, Electronic- and Instrument Industrial Co-operative), VKI (Electrical Industry Research Institute) and Mercator (AEG Hungarian subsidiary). The TET started the production of bipolar discs and modules with assembly and testing according to a license which was bought from AEG.
On the basis of AEG semiconductor manufacturing center, eupec GmbH was founded next year in Warstein, Germany. This company was 100 % owned by Siemens from 1995. Eupec Hungary Ltd. carried on the semiconductor assembly production, which was started by TET, from November 1996 as a 100% subsidiary of the eupec Germany. Before 1996 1 million semiconductor power modules were produced in Cegléd moreover a dynamic development started with the foundation of the individual company.
In 1999, Siemens' semiconductor operations were spun off into a new company called Infineon Technologies. Its Electromechanical Components operations were converted into a legally independent company: Siemens Electromechanical Components GmbH & Co. KG.
In 2000, eupec facility and the production area were purchased from CVEM in Hungary. In 2001 the site was restructured within the New BIP Project; therefore, the whole bipolar pressure-contact products assembly and testing were made by Cegléd. Infineon AG integrated the Hungarian subsidiary in 2005.
In 2002 Infineon Technologies acquired Ericsson Microelectronics (MIC), Ericsson's internal semiconductor supplier, for approximately €400 million. MIC was a large supplier of Bluetooth and RF components for mobile and high-end power amplifiers.
In 2011 Infineon Technologies sold its Wireless Solutions business, which included mobile phone and RF power transistors for cellular base stations, to Intel for $1.4 billion in cash. It operated as Intel Mobile Communications (IMC).
In 2015 Infineon Technologies acquired International Rectifier, a manufacturer of power semiconductors, for about $3 billion. This acquisition of International Rectifier was an important step for Infineon to foster their position as a global market leader in power semiconductors.
In 2018 Infineon Technologies acquired Siltectra, which developed Cold Split technology to process crystal material efficiently and with minimal loss of material, for €124 million (~$142 million). Infineon planned to use it to split silicon carbide (SiC) wafers, thus doubling the number of chips out of one wafer.
In 2020 Infineon Technologies acquired Cypress Semiconductor in a cash deal worth €9.0 billion (~$10 billion). This acquisition made Infineon one of the world's top 10 semiconductor manufacturers.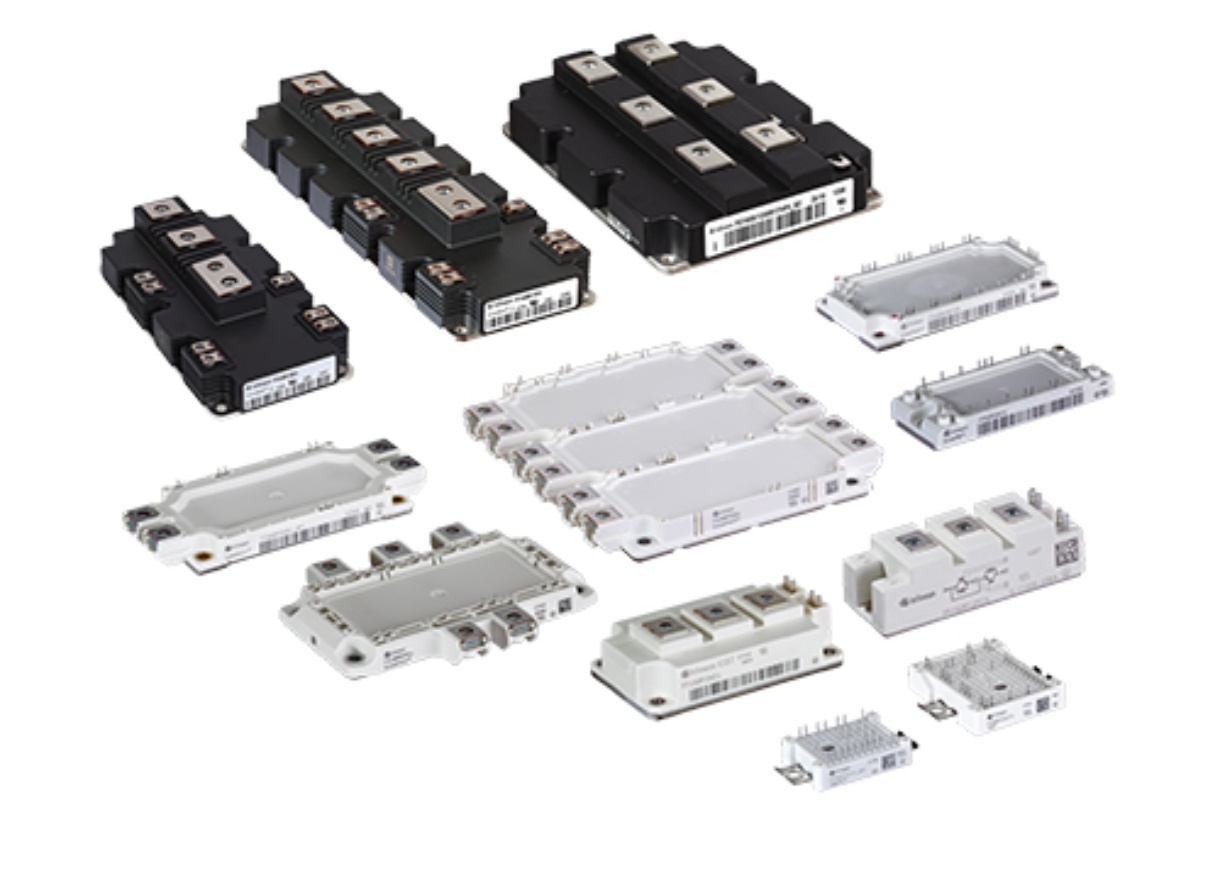 Infineon Technologies Products
Infineon divides their products in the following categories:
Power
ASIC
Battery Management ICs
Clocks & Timing Solutions
ESD and Surge Protection
HiRel
Memories
Microcontroller
Security & smart card solutions
RF & Wireless Control
Small Signal Transistors & Diodes
Sensor
Transceivers
Universal Serial Bus (USB) – Power Delivery Controller
Wireless Connectivity
Software
Power product portfolio include power semiconductors and ICs:
Infineon Technologies offers a wide range of ready to go semiconductor design solutions and reference schematics used in automotive, industrial power control, power management, sensing solutions and security in IoT applications.