B2B Marketing Expo is an annual show held in London, UK. This is a key event for marketers in Europe. This year the marketing show hosted about 500 seminars being presented in parallel during two days of the expo. Among the speakers there were marketing leaders and innovators from companies like Google, LinkedIn, IBM, Fujitsu, Microsoft, Hubspot, SalesForce, Amazon, and others. 200+ companies were involved in the expo showing their product, services, sharing their developments and ideas with marketing world.
The expo is a good place to be to understand what is going on in the world of not just b2b marketing, but b2c marketing, sales and technical innovations going through all of them.
So, here's some short overview of the most exciting presentations which reflect three major trends that will help to grow every business in 2018.
Emma Knox – How to Solve for the Future Customer (Senior Manager, HubSpot)
The presentation was dedicated to the major now movement in marketing according to not just HubSpot marketers, but the major marketing society in Europe. Thus, according to Emma Knox, the main goal for every company in b2b market is to solve the problems of their customers. Customers' goals should be considered as top priority, much more important than goals of the company itself. The product and service companies provide must be dedicated to solving customers' issues.
Year by year the importance of customers' satisfaction is growing in b2b area. Customers' experience is very important since every company need to understand what makes his clients happy and what does not. Unlike the previous generation of business centric companies, today only companies with customer centric business model tend to succeed in their industry.
All companies put their customers' success on top of their own. They do not push them to buy or use their product or service, they let the customers choose themselves how to and when to get in touch.
Moreover, the b2b companies are starting to implement same philosophy with their representatives and distributors building a unique uniform relationship system.
Thus, the organization must have a regular feedback analysis through their marketing and sales teams. This information is a basis to build strong company-customer relationship.
Emma Knox also suggests using various customers' satisfaction data analysis methods like NPS and others.
Raja Saggi – Digital Best Practices for B2B Marketers in 2018 (Head of Marketing, Google)
During his presentation Head of Marketing at Google defined the following trends for 2018, which will have an impact on b2b companies:
Growth of leads' generation and sales via mobile platforms. In 2017 50% of traffic was generated using mobile devices and various mobile platforms. Mobile website is not just something you need to have, it is something your business can die without in 1-2 years from now.
Growth of cloud service importance
Offline-to-online is moving with speed of light
Growth of wireless technology covering the bigger part of the world by 2020-2022
Everything and everyone shouting that the users becoming more and more "mobile" and in the future the number will hit 100% target. This trend is being supported by lot of huge b2b companies around the world providing access to their services and products via mobile experience.
Raja Saggi noted that Google is working on lot of new projects which are aimed at providing better mobile user experience both for Google and other companies. Let us just wait to see them go online.
Jason Miller – How LinkedIn Uses LinkedIn for Marketing (Global Content Marketing Leader, LinkedIn)
Jason Miller in his amazingly made presentation described the functions they use in LinkedIn to promote various information – from targeted ads to blogs advertising.
According to Jason if you do not have a blog you need to start blogging immediately and not just in a way many marketers do, but paying lot of attention, time, your thoughts and ideas to the content you share. Your blog isn't just some one-time ad or something like that. Your blog is a long-term investment in your future traffic, leads, sales. If you share great ideas, then people are likely to get back to your post over and over again.
In his presentation Jason Miller shared some information on how to get a better use of LinkedIn marketing functionality. Thus, LinkedIn is the one and only network to provide you and opportunity to have your targeted ad campaign detailed as never before including certain industries and companies you want to address. And there's a thing called Insight Tag which is a JavaScript code using which at your website gives you a chance to track who visited your website using LinkedIn data. This just gives you a better understanding of your traffic and conversion.
And before running an ad campaign in LinkedIn or any other social network Jason Miller suggests using an old but very helpful thing called A/B testing. This can give you up to 50% better performance of campaign if used correctly.
Scott Brinker – Mastering B2B Marketing Technology
Scott Brinker as a leading marketing technology specialist shared his view and ideas on how technology influences companies and makes them adapt to reality.
Nowadays various sales, marketing, HR and lot of other technologies are just booming giving birth to tens of new companies in this business every day. They offer marketing automation, content marketing solutions, SMM services etc. And every company in b2b faces a great "noise" challenge on their way. It is a difficult decision for every b2b business what path to choose, what technology is better. And only the companies which keep up with technology will succeed. And problem of choice is not the only one. There's another one, which seems to be even bigger. This is how the employees adapt to all these technologies. If employees fail to accept modern technologies, then the company is likely to start losing to its competitors. In this case there's a very tricky issue of keeping up with your colleagues or keeping up with your business.
Indeed, the situation for b2b companies is very challenging, but only in challenge new ideas are being born.
Andrea Clatworthy – ABM, Everyone Is Talking About It (Head of Account Based Marketing, Fujitsu)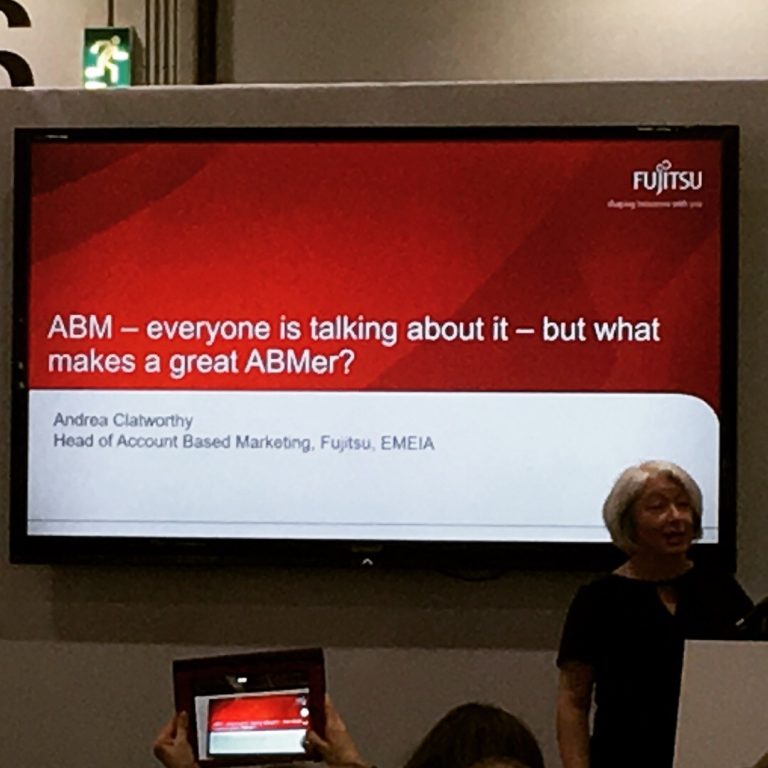 Andrea Clatworthy dedicated her presentation to a growing trend in sales and marketing – Account Based Marketing. ABM is a strategic approach in sales and marketing when company treats a potential or current customer as a separate market and based on that the whole communication is being built.
In this situation cooperation of marketing and sales is of great importance.
Account Based Marketing is aimed at:
– Increasing account relevance
– Engaging earlier and higher with deals
– Aligning marketing activity with account strategies
– Getting the best value out of marketing
– Inspiring customers with compelling content
– Identifying specific contacts, at specific companies, within a specific market
While traditional marketing is targeting certain market segments, ABM is focusing all efforts on certain customers considering them as separate market. Companies use Account Based Marketing when they tend to deliver their unique offer to definite organizations and their employees.
There are the following key components in ABM:
– Key customers definition
– Drawing customers' contact map
– Analysis of customers' contacts requirements
– Running individual programs and content delivery
– Cooperation of marketing and sales
– Measuring the program effectiveness
And the trend is that more and more industrial companies pay lot of attention to Account Based Marketing.
Simon Hall – Digital Marketing for the B2B Customer Life Cycle (Former CMO, Dell)
In his presentation Simon Hall paid attention to the question of customers' retention.
Many companies nowadays are fighting not for getting a bunch of new customers, but for keeping their current clients. This trend is growing as fast as a speeding bullet.
Question of customers' service, their satisfaction and loyalty are not something new, but today it is important as never before. Every new customer becomes a member of "retention club".
According to Bain & Company in cooperation with Harvard Business School even 5% decrease of customers' churn rate can lead to 25-95% of income. Moreover, retaining the current customer is 10 times cheaper compared to drawing a new one.
This is exactly why every b2b company is studying their retention, churn, satisfaction and all other corresponding rates to beat their competitors in this fight for customers. And if you're not doing it today, you might have no tomorrow.
Summary
Based on the bigger part of the Expo and the presentations performed this is quite clear that in b2b the customers' experience, satisfaction and all other things forming the whole company-customer ecosystem is the top priority for every company willing to be successful and keep on track.
This is obvious that in Europe and even in the whole world there are certain trends in b2b area that will dominate this year, and probably keep on growing the next 2-3 years. Keep up with them to succeed:
– Customer oriented business (loyalty, satisfaction, churn and retention, service and experience, NPS etc.)
–  Account Based Marketing (key customer as a separate market)
– Mobility (growth of various mobile platforms and services to perform better customer experience)
If you're not winning, you're losing. It is up to you to choose your way to keep on marketing track.