Working in the field of marketing you always face many challenges, and this is what makes marketing so great! One of the greatest challenges we constantly deal with is monitoring various markets and trends. Together with tracking your competitors, which can be done with the tools I described in Best Marketing Software to Track Competitors, it makes the perfect triangle of the marketing monitor system.
Today I would like to share with you the cheapest (even free of charge) methods and tools to track market situation, the industries you work in, the trends you follow, and even brands and competitors you track.
When I started working in marketing, and even earlier when I spent a lot of time in sales, I used to have all the information I need to monitor right at my hand. I had a spreadsheet, yes, just a regular Microsoft Excel spreadsheet with all necessary data on the industries I have to check from time to time, a lot of links to various industrial internet media, social media, competitors websites, their social media, etc.
So this was and still is the easiest and cheapest way to stay tuned with all the data you need. Just check it regularly and everything will be ok. You can even try to use some special software to help you track the changes that were made on the websites you choose. Back then I used for some time the software called WebSite-Watcher. I'm not sure if it still works and is up to date. It helped me a lot, however, this was quite far from what I needed.
Today there are many different online marketing services that can make your life much easier. Most of them are used by the marketing team I run to help us track a lot of things in quite a unique b2b power semiconductors and power electronics business.
Google Alerts
Google Alerts is the best and easiest way to monitor anything you want. You just go to Google Alerts page, set up the keywords you would like to receive notifications for, and this is it. Now you will be receiving e-mails, which include the keywords you have chosen from all the web.
Moreover GA is totally free of charge which makes it my number one choice for a very budget market monitoring. This is the tool that should be used by every marketer and marketing team. Here you have all the necessary things to help you track the latest news about market trends, specific brands, etc.
Of course, it has a little drawback. The more keywords you have, the more mail you've got, and the more garbage you have to throw away. It requires time, it requires patience, but this is really worth it. We've proven it together with my marketing team.
Awario
Awario is the next best thing I would choose after GA. Now you have to pay at least 300 USD per year. But you receive much more than alerts. Now you have a nice looking dashboard with all the necessary information you need.
The logic is still the same. You choose the keyword you want to track, and all the information will be stored in your account. Awario has more settings and also focuses on social media, so you will be receiving more accurate data from social media compared to Google Alerts.
In Awario there is a special section in your account where you can track the influencers, who make the biggest impact in the field or market you want to monitor. This is really helpful for social media marketers.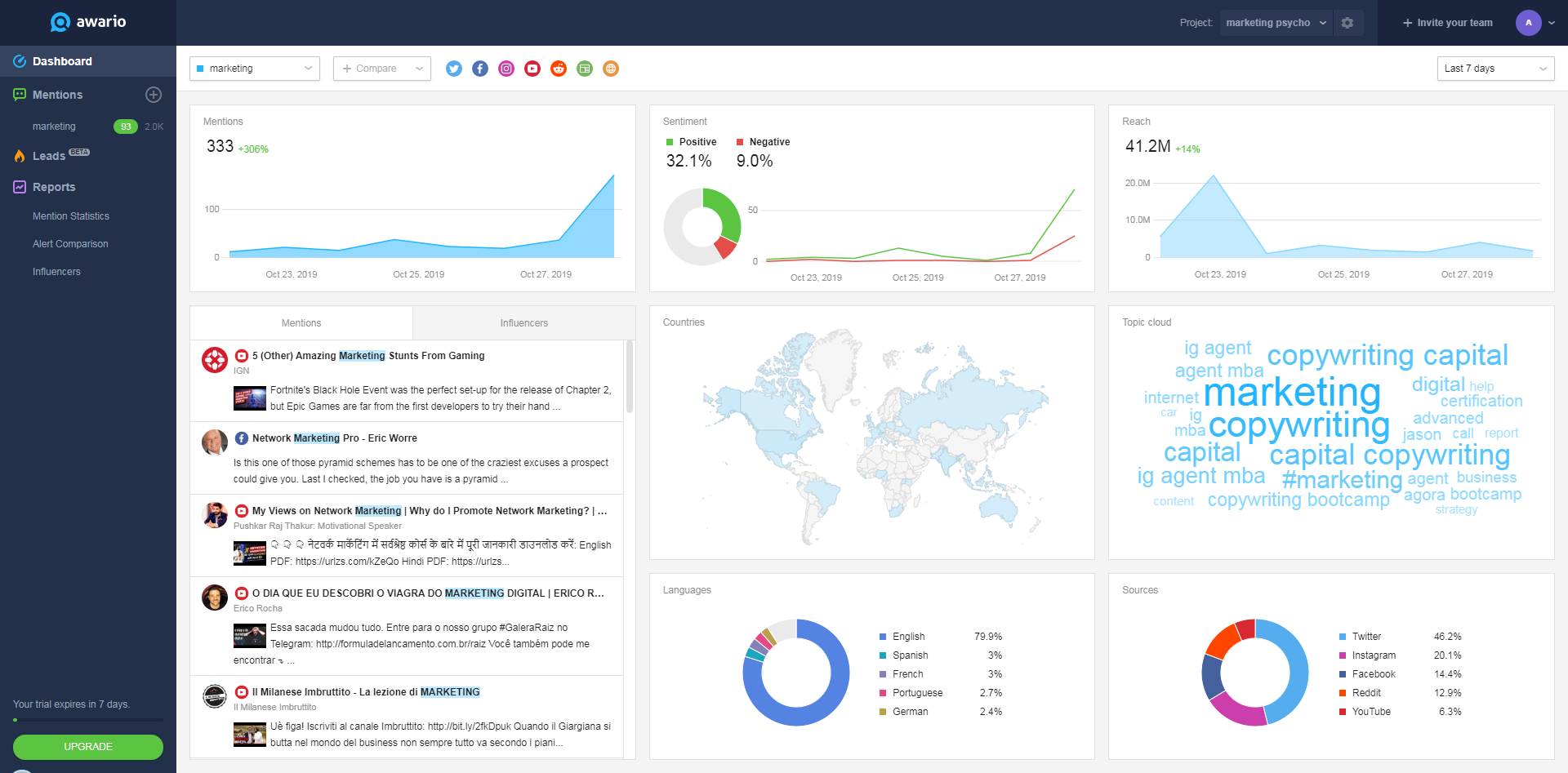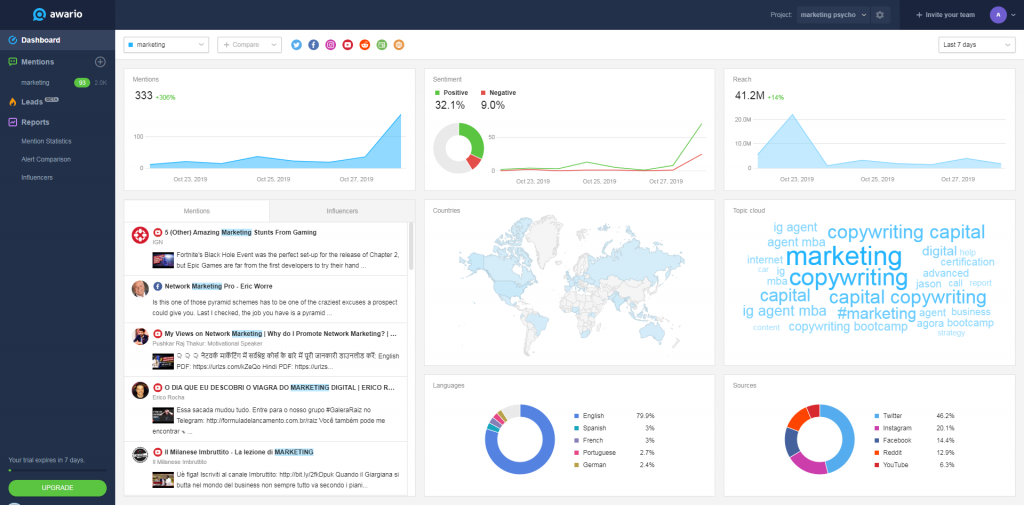 In my opinion, Awario is a great marketing tool to help an individual marketer or even a team to monitor market trends, competitors, selected brands and everything going on in social media.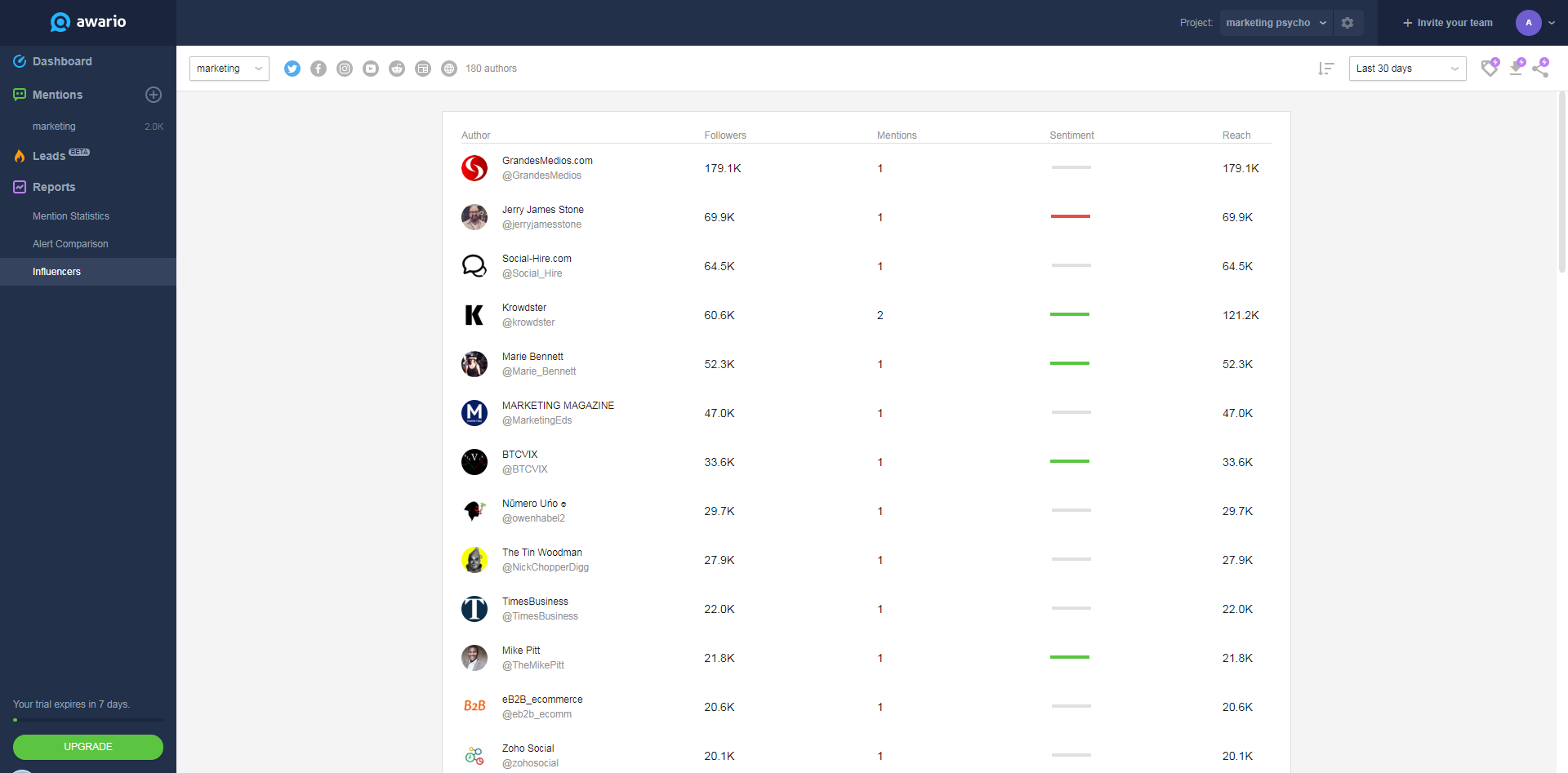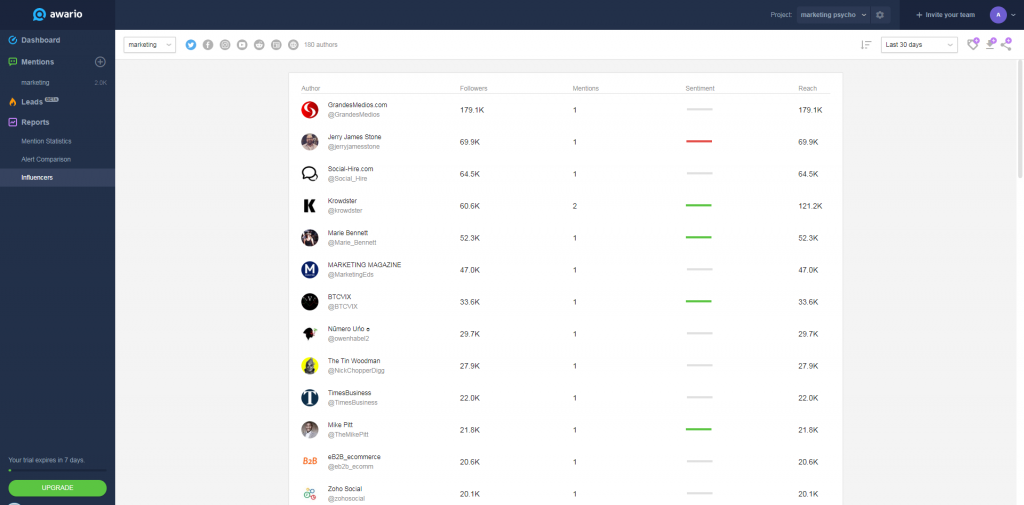 Mention
Last but not least today is Mention. This service is more focused on social media if we compare it with Awario or GA. But this focus makes this monitoring service one of the best and affordable in the market.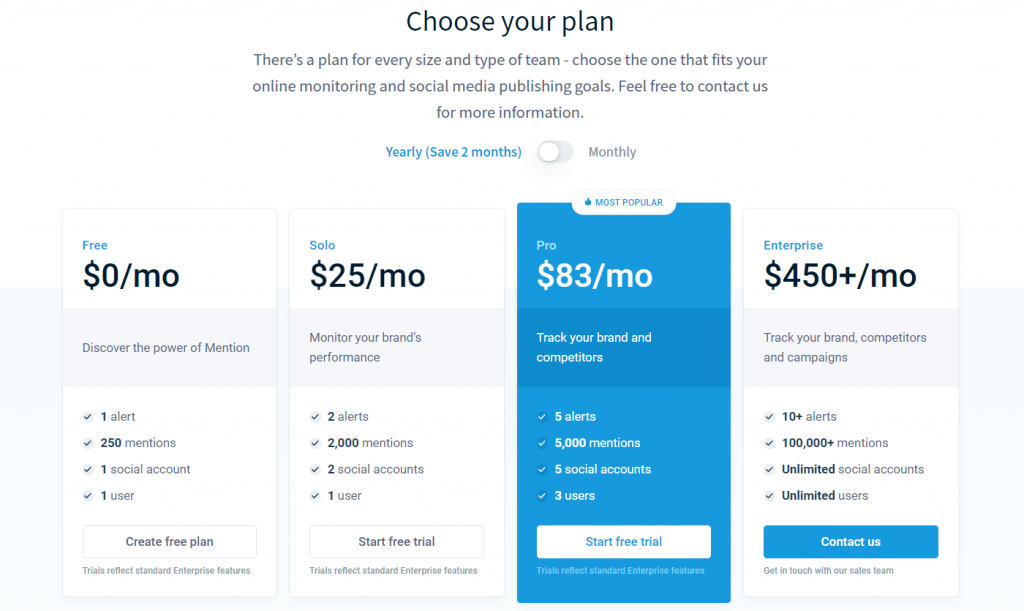 Similar to Awario the cheapest Solo plan will cost you about 300 USD per year. However, Mention offers a very limited, but free plan including one alert, 1 social media, and a total of 250 mentions per day for one user. Of course, this is nothing for companies who has huge competition, or for those who have to track a lot of things. But this as well can be something to start with for the companies who have some specific product or who need to track only one brand.
It as well has a nice interface, a lot of beautiful report charts and the possibility to download it as a spreadsheet for further analysis. It offers you as well to track influencers similar to Awario. But personally for me, Awario seems to be more friendly. Nevertheless, Mention is really worth trying and working with this tool as one of the most reliable alerts services for social media.
You can also use these 4 Best SMM Automation Tools and 3 Great Apps to make your marketing team work more effectively and achieve greater results.