As a marketer, you always have to keep track of your competitors. And every year this task gets more difficult and sophisticated due to the rapid growth of the number of competitor companies and similar business solutions.
Fortunately, there's always a way to keep everything under control and follow your competitor's activities and their marketing efforts on the internet. Today I would like to pay more attention to the marketing software services which can help marketers to track data on competing websites, social media, e-mail marketing campaigns, and SEO.
Of course, there are so many companies offering marketing software that will allow you to acquire and analyze your competitor's data and plan your marketing actions accordingly. But I personally would recommend only four services that will be enough to be fully armed.
SimilarWeb is a service which provides web analytics services for businesses. The company offers its customers information on their clients' and competitors' website traffic volumes; referral sources, including keyword analysis; and website "stickiness" (e.g., time on site, page views, bounce rate), among other features.
Like Alexa Internet, it extrapolates data from a panel of web users who allow to monitor their internet activity, combined with direct observations for a subset of internet properties, such as websites' own traffic statistics. In 2019, it claimed to have the world's largest panel, with hundreds of millions users.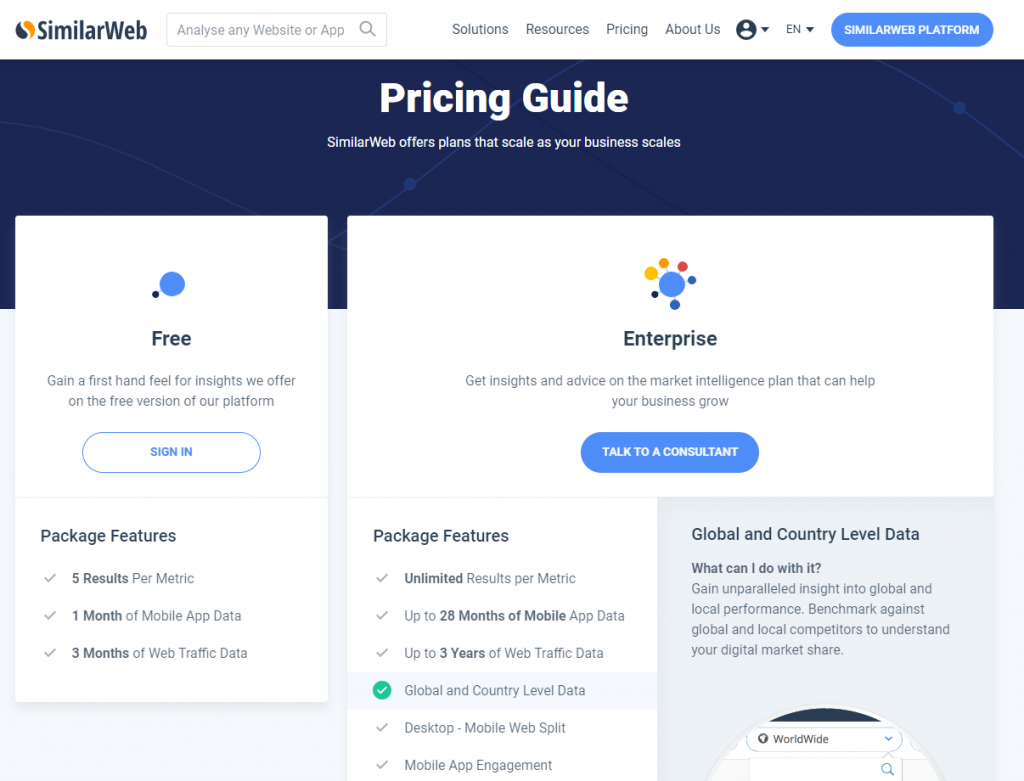 SimilarWeb offers a very good package of options even with free account. Moreover it offers the possibility to generate and download any analytical report in PDF format.
SimilarWeb Report Template
SEMrush is a software as a service (SaaS) company based in Boston that sells online visibility and marketing analytics software subscriptions.
It was founded by Oleg Shchegolev and Dmitry Melnikov as a SEO tool and a browser extension before adopting the SaaS model. This marketing software provides intelligence data including website traffic information, keywords projected Google Ads spend, site audit, topic research, lead generation, and other SEO-related data.
Unlike SimilarWeb SEMrush has a very poor trial period and even poorer testing options to understand the functionality. However, SEMrush has much more marketing tools options to track your competitors' activities on the internet.
Ahrefs is a multinational team with roots in Ukraine and headquarters in Singapore.
Ahrefs' history dates back to 2011, when the company introduced the first version of Site Explorer after a year of preparation and data mining. Site Explorer disrupted the stagnant field of backlink analysis and kick-started a new round of competition among SEO tool providers. It quickly became one of the world's best backlink analysis tools.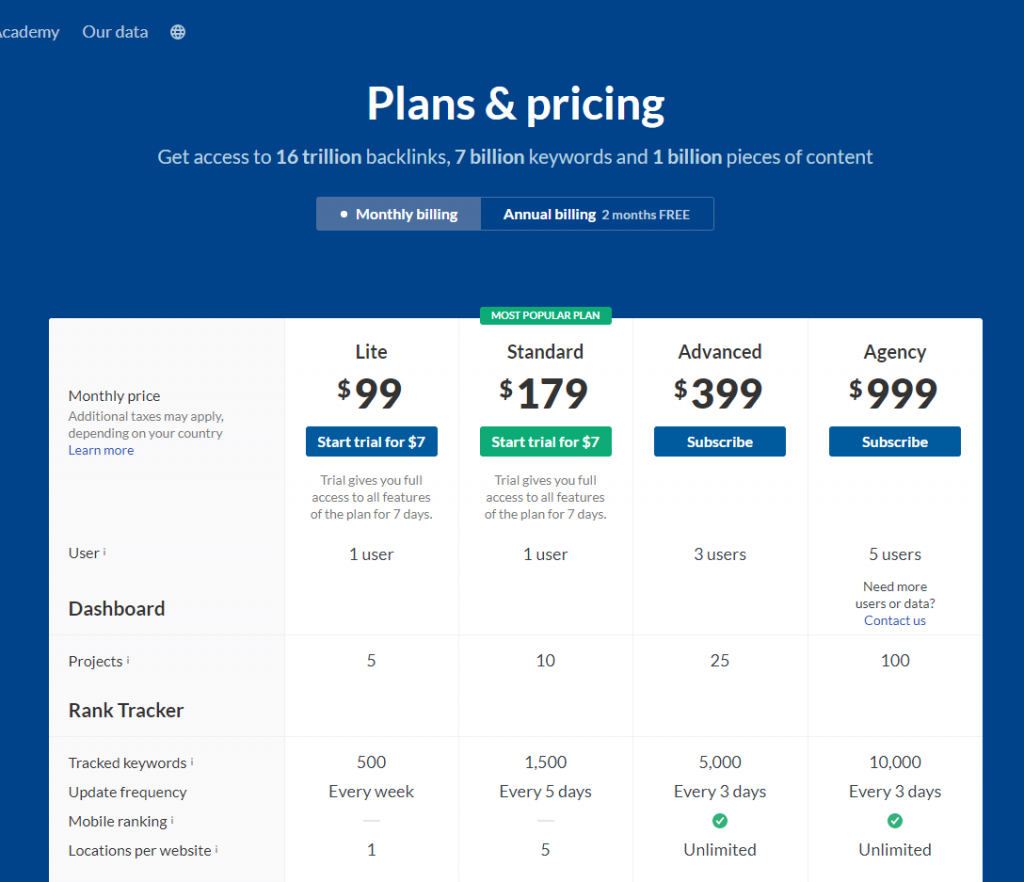 From our humble beginnings, Ahrefs has steadily grown. It started out with a cluster of six servers, and gradually evolved to our current, powerful 60 teraflops system.
Similar to SEMrush it has a lot of features for marketers, but the guys do not offer any free trial period to test the service which makes it harder to evaluate compared to SimilarWeb.
Alexa Internet, Inc. is an American web traffic analysis company based in San Francisco. It is a wholly owned subsidiary of Amazon.
Alexa was founded as an independent company in 1996 and acquired by Amazon in 1999 for $250M in stock. Its toolbar collects data on Internet browsing behavior and transmits them to the website, where they are stored and analyzed. This is the basis for the company's web traffic reporting, including its Alexa Rank. According to its website, it provides web traffic data, global rankings, and other information on 30 million websites. As of 2018, its website is visited by over 3 million people every month.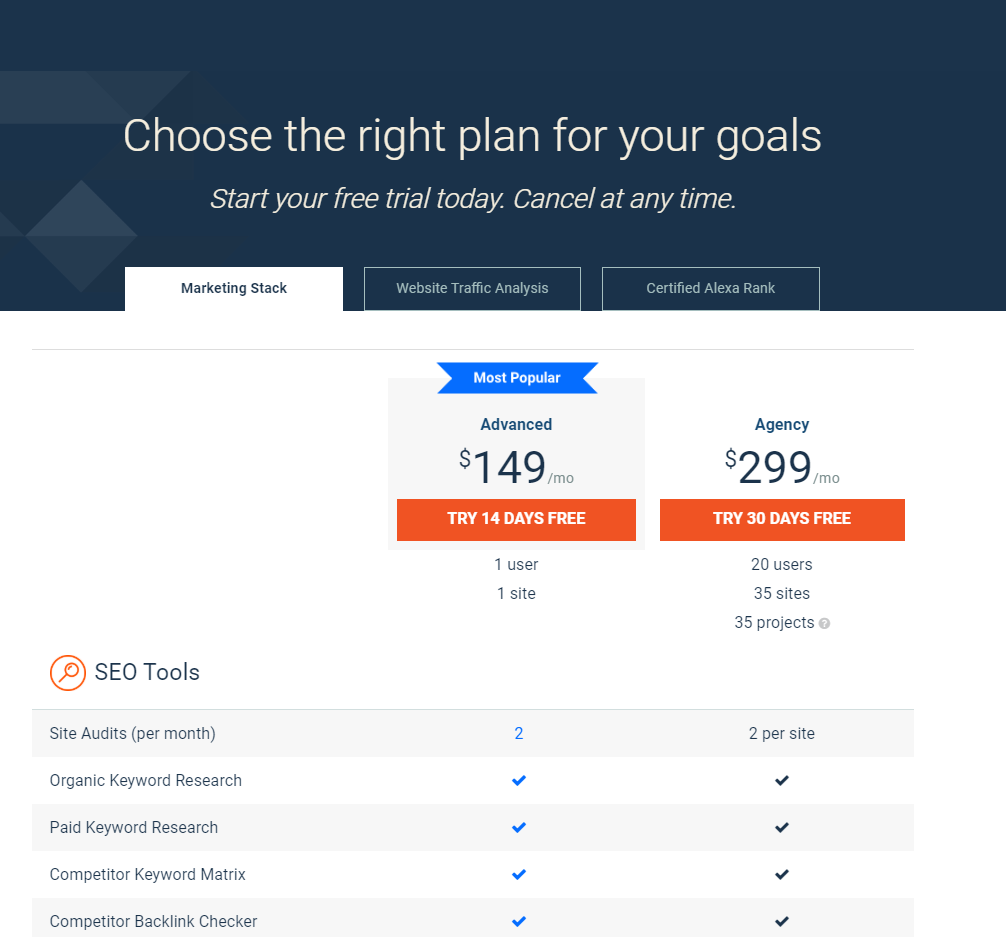 Alexa ranks sites based primarily on tracking a sample set of Internet traffic—users of its toolbar for the Internet Explorer, Firefox and Google Chrome web browsers. The Alexa Toolbar includes a popup blocker (which stops unwanted ads), a search box, links to Amazon.com. It also include the Alexa homepage, and the Alexa ranking of the website that the user is visiting. It also allows the user to rate the website and view links to external, relevant websites.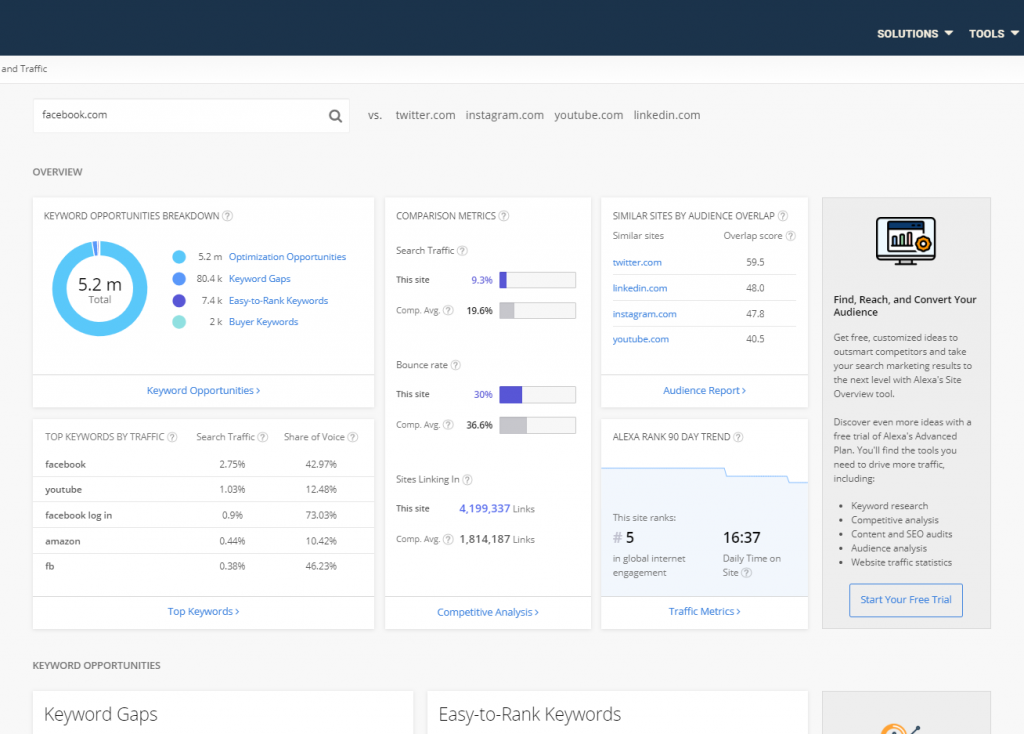 Alexa has limited free access to some data analytics which will be enough to understand general information about the competitors' websites. However not so deep like you can do it in SEMrush or Ahrefs. However, the subscription will allow you to have a full detailed data you need.
If you and your marketing team want to perform well you need to use at least one of the tools described. And I would also recommend to use one of applications I described in 3 Great Apps to Keep Your Marketing Team Running article.