In a modern world of numbers, figures, gigabytes, and just too much information for one to comprehend, any top manager suffers from too many reports with too little sense. Whether we speak of the CEO, CFO, CMO, or any other C-Suite or high-rank manager, they all need a better way to receive the important data to make the right business decisions.
As it turns out, there is a way to help them make their life easier, much easier. And what can make all the odd numbers and charts look better and, in the way, even a five-year-old can understand is dashboard software.
A dashboard is a type of graphical user interface that often provides at-a-glance views of key performance indicators (KPIs) relevant to a particular objective or business process. In another usage, the dashboard is another name for progress reports or reports and is considered a form of data visualization.
The dashboard is often accessible by a web browser or via dashboard software and is usually linked to regularly updating data sources.
Digital dashboards allow managers to monitor the contribution of the various departments in their organization. In addition, they enable the "rolling up" of information to present a consolidated view across an organization. To gauge exactly how well an organization is performing overall, digital dashboards allow you to capture and report specific data points from each department within the organization, thus providing a "snapshot" of performance.
The idea of digital dashboards followed the study of decision support systems in the 1970s. Early predecessors of the modern business dashboard were first developed in the 1980s in the form of Executive Information Systems. Due to problems primarily with data refreshing and handling, it was soon realized that the approach wasn't practical as information was often incomplete, unreliable, and spread across too many disparate sources.
Thus, Executive Information Systems hibernated until the 1990s when the information age quickened pace and data warehousing, and online analytical processing allowed dashboards to function adequately.
Despite the availability of enabling technologies, the dashboard use didn't become popular until later in that decade, with the rise of key performance indicators (KPIs), and the introduction of Robert S. Kaplan and David P. Norton's Balanced Scorecard. In the late 1990s, Microsoft promoted a concept known as the Digital Nervous System, and "digital dashboards" were described as being one leg of that concept. Today, the use of dashboards forms an important part of Business Performance Management (BPM).
Modern dashboard software solutions are very numerous from very simple, which allow you to track several KPIs in your company, to complex solutions which can be used in huge enterprises with thousands of employees and hundreds of departments reporting to the system.
Today I want to focus on top dashboard software solutions which can be used for various tasks, and, of course, with a various budget.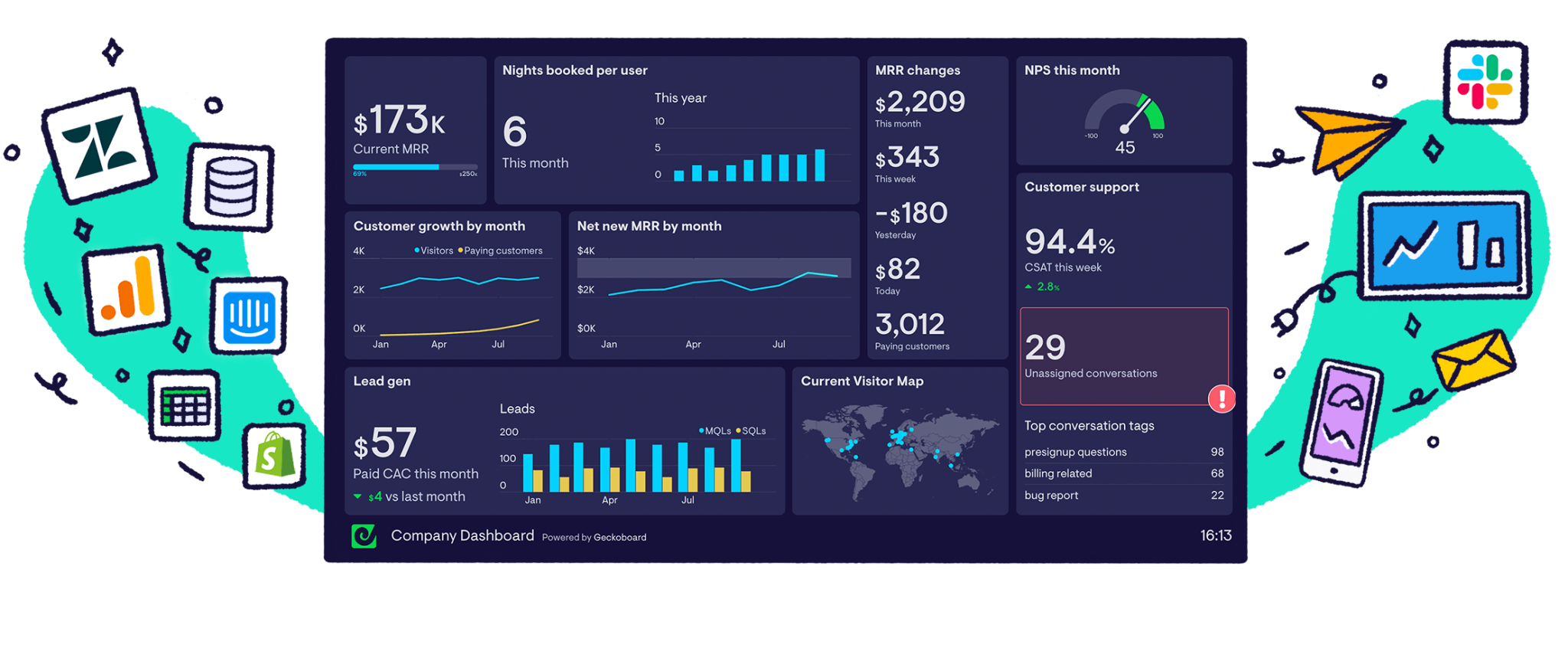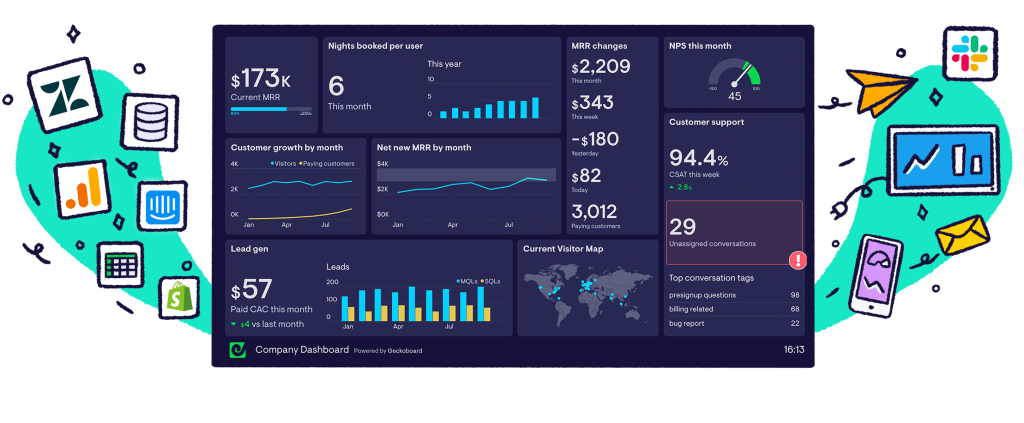 Geckoboard dashboard software is the easiest way to communicate key data to your teams. Access over 60+ data sources, choose from beautifully-designed live visualizations and easily share them with your team whether they're in the office, working remotely, or on the go.
With Geckoboard dashboard software you go with your metrics to your team and not the other way around. Multiple sharing and viewing options allow you to share your data on a TV or big-screen monitor, in your browser tab, or on your mobile phone. So, instead of key business data being buried in spreadsheets and tools, it's visible and actionable for the people who can make a difference: your team.
Users can access a drag-and-drop interface to configure a dashboard with colors, logos and visualizations that suits their company or team. The dashboard loops feature helps users to cycle through multiple dashboards and choose the metrics they need. Geckoboard also offers secure sharing links that allow users to share the metrics within and outside the office.
Data can be imported from applications such as Bitly, Airbrake, Google Analytics, Salesforce, Delighted, Trello, SendGrid, Facebook Ads, Zendesk and more. Users can also upload data from Excel spreadsheets and Google sheets. Custom data integrations are also possible.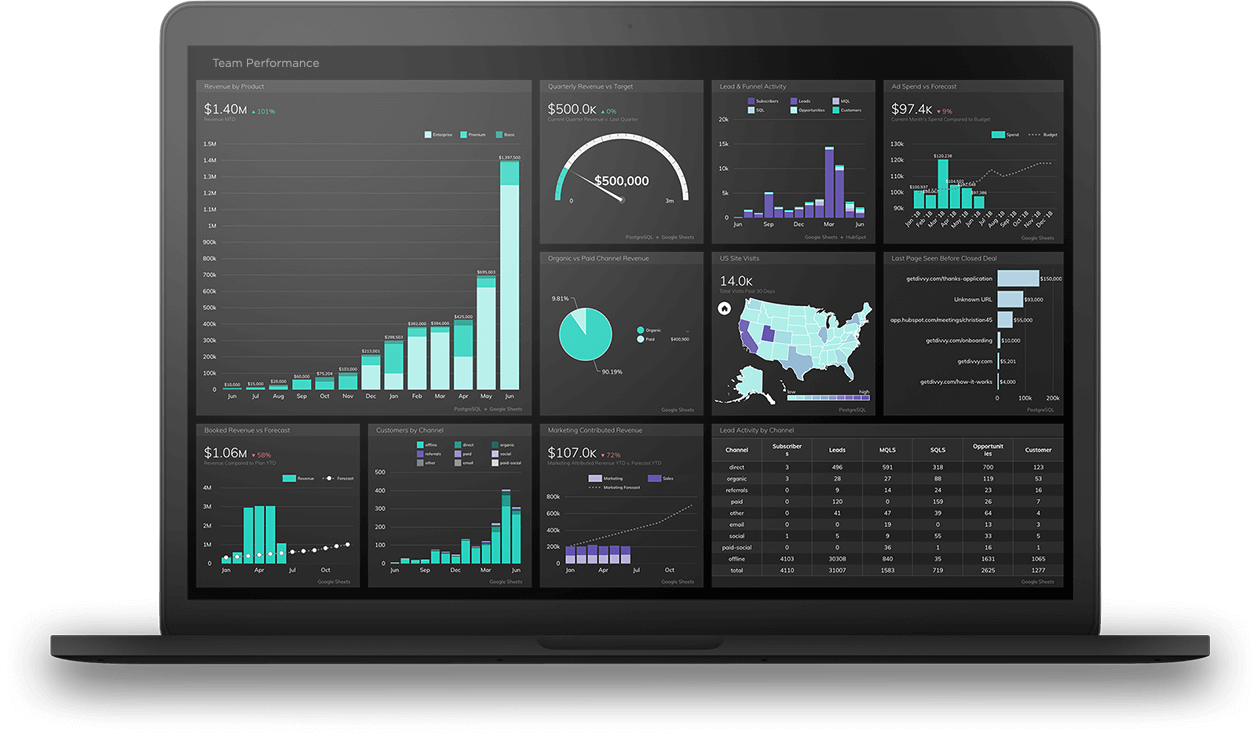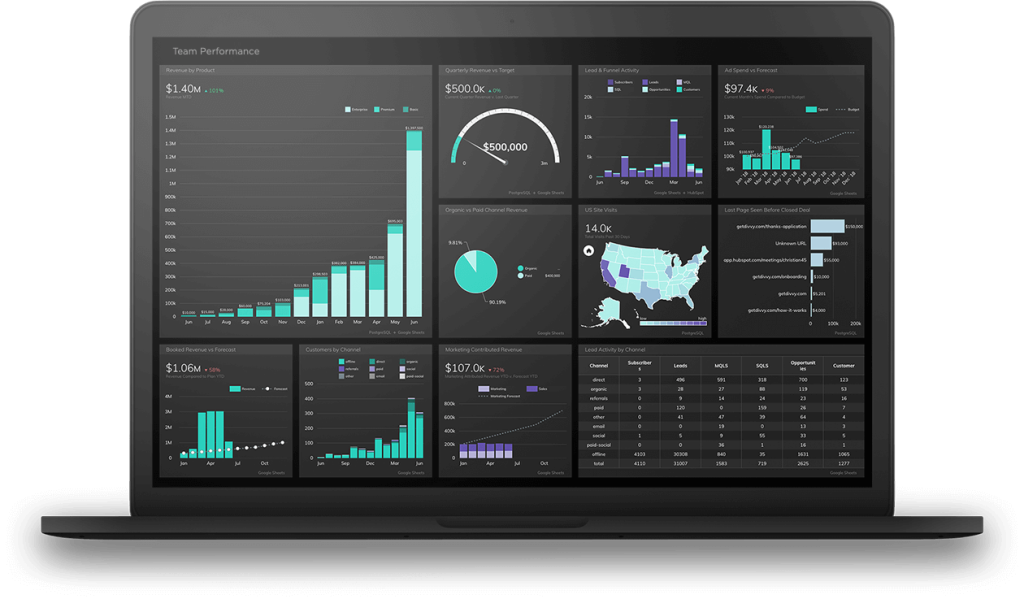 This full-stack business intelligence (BI) platform empowers everyone in your organization to make data-driven decisions. By combining data integrations, data warehousing, and visualization in one easy-to-use platform, any organization can connect and explore its data. And Grow's unlimited-user license gives everyone access to the answers they need without waiting in line for an analyst. Now everyone can make great decisions in real-time to accelerate their growth.
Native integrations connect to the most commonly used platforms, databases, and CRMs to import data seamlessly via APIs that continually import and refresh data, so your metrics are up-to-date and reliable when you need to make critical business decisions.
Once your data is imported, it's easy to prepare, cleanse, & transform data—allowing you to blend multiple data sources to fuel metrics and dashboards. Grow imports your business-critical data and keeps the most relevant and current data on hand, so you don't need a third-party data warehouse.
Grow offers few flexible plans to its customers with the basic cost of a license starting from $50 per month.
Get your data analyzed, wherever it is, from over 250+ datasources. Connect to data from files, feeds, web URLs, databases, business apps, and more with Zoho Analytics.
Upload data from spreadsheets & flat files like Microsoft Excel, CSV, HTML, JSON, XML, text files and more. Feed data from online storage services like Zoho Docs, Google Drive, Box, Dropbox & Microsoft OneDrive. Pull data from Web URL feeds.
You can make use of a variety of charts, widgets, pivot, summary and tabular views to create insightful reports and dashboards. Unify business data across your organization from various functions like marketing, sales, support, finance etc. Seamlessly analyze this unified data and unearth end-to-end insights.
Zoho Analytics is governed by strong Zoho Security Practices, including support for redundancy, backup, confidentiality and privacy, to help ensure your data is secure and safe.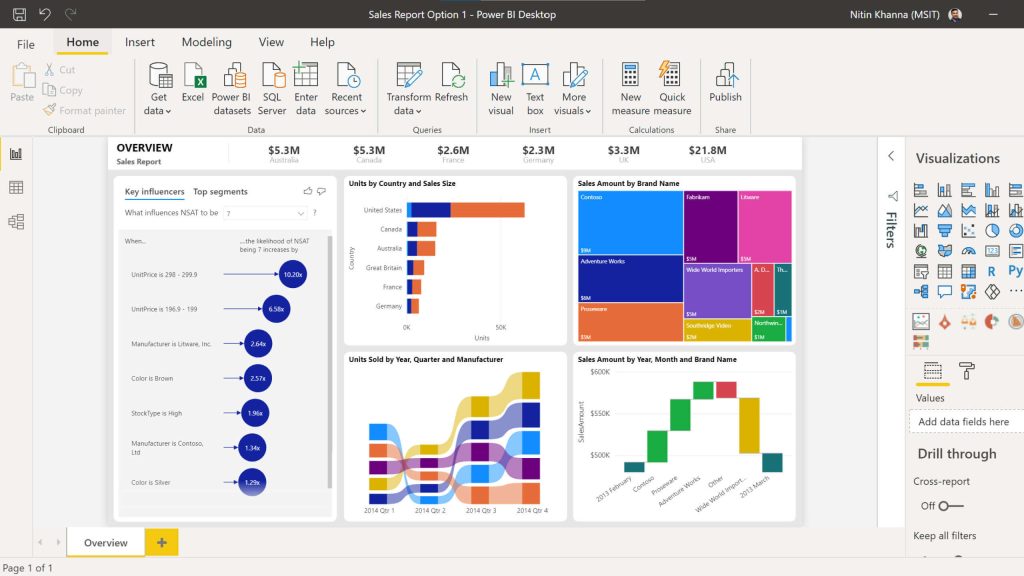 Easily connect to, model, and visualise your data, creating memorable reports personalised with your KPIs and brand. Get fast, AI-powered answers to your business questions – even when asking with conversational language.
With a growing library of 120+ free connectors, everyone gets a complete picture for data-driven decision making. Connect directly to hundreds of on-premises and cloud data sources such as Dynamics 365, Azure SQL Database, Salesforce, Excel, and SharePoint.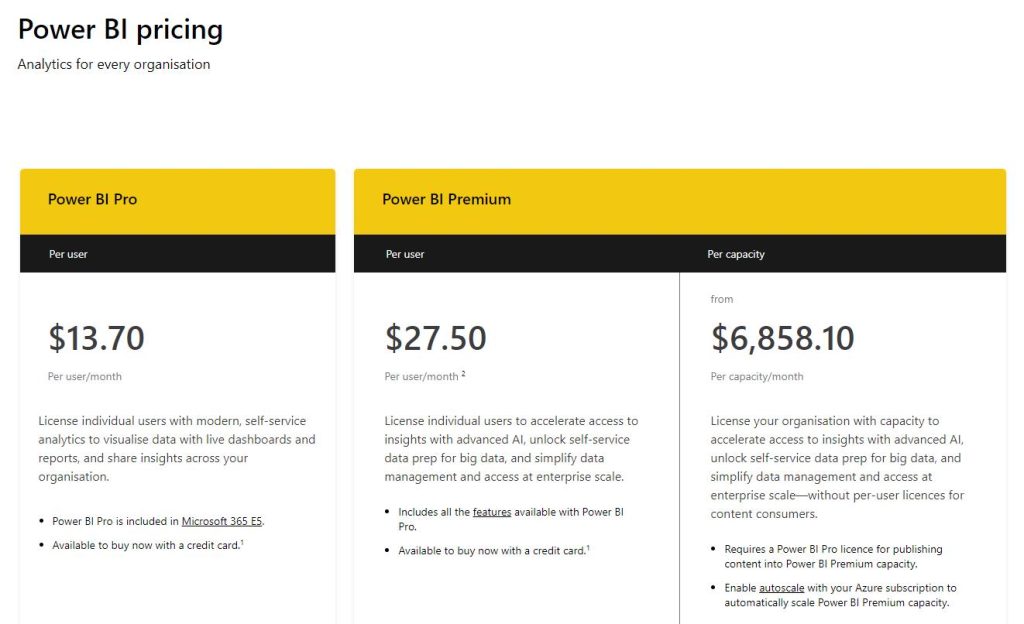 Anyone who's familiar with Microsoft 365 can easily connect Excel queries, data models, and reports to Power BI Dashboards – helping to quickly gather, analyse, publish, and share Excel business data in new ways.
Power BI Desktop is part of the Power BI product suite. To monitor key data and share dashboards and reports, use the Power BI web service. View and interact with your data on any mobile device, just get the Power BI Mobile app on the AppStore, Google Play or the Microsoft Store. To embed stunning, fully interactive reports and visuals into your applications use Power BI Embedded.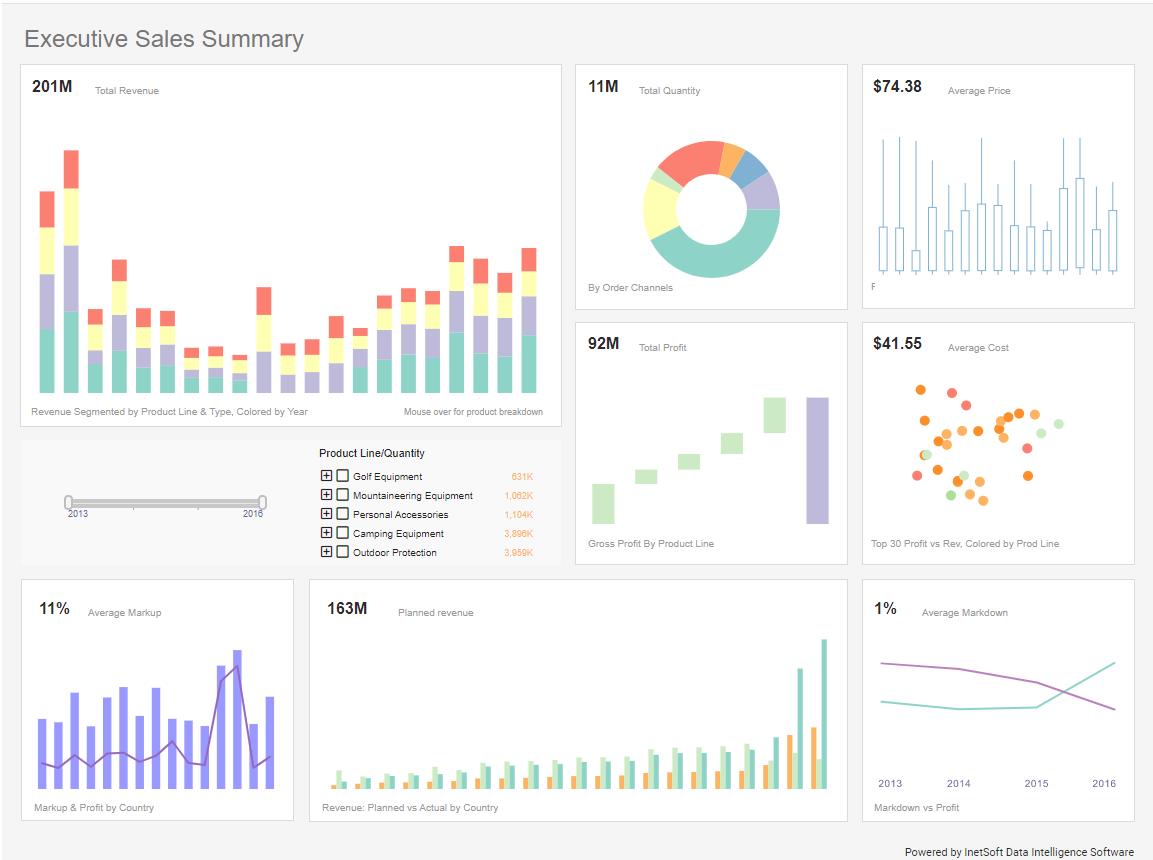 InetSoft's analytics and reporting are designed and optimized for the cloud computing era where software and data are increasingly distributed between cloud-based and in-house applications. The cloud-first, small footprint architecture allows highly flexible options for embedding and rebranding regardless of InetSoft-hosting, self-hosting, hybrid-cloud, or on-premise deployment. The small technical footprint directly leads to cost savings in both software and computing resources.
With traditional business intelligence software, designers need special tools, most likely desktop tools. Many times, they also need to master more than one tool separately for data preparation, dashboarding, analytics, and reporting. On the other hand, self-service business users are given a much-limited web app.
InetSoft's single small footprint, modular web app drastically simplifies the environment for users of all skill levels. The foundation of the web app is a small footprint data mashup engine. Users with knowledge of the data can transform and mash up data from all sources without having to wait for IT to prepare the data.
For the InetSoft-hosted option, the license fee is based on the type of cloud server (instance) to be used and cloud computing providers' instance pricing. The type of instance will be decided after evaluating the usage and data requirements. Options start with an Amazon AWS EC2 t3.medium instance for US$1,000 per year.
IFor on-premise deployments, InetSoft offers named user, concurrent user and server based licenses. This variety of license types allows completely flexible configurations of computing power totally customized by the customer.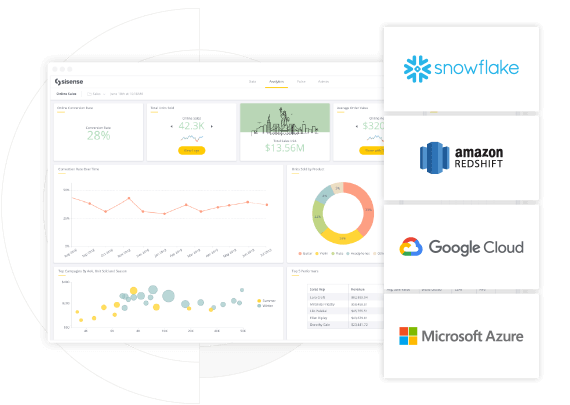 Social media marketing, PPC, search engine optimization – the sheer complexity and volume of marketing data can be overwhelming and easily prevent you from discovering actionable insights. Optimize campaign performance, measure multi-channel marketing efforts, track engagement on social platforms, and more with Sisense. Monitor costs, impressions, and lead quality generated from pay-per-click advertising.
Allow everyone to explore data in their own way. From self-service, drag and drop analysis to leveraging Python, R, and SQL for code-driven experiences, everyone can work together in one robust cloud analytics platform. Robust set of APIs that infuse actionable intelligence where people work – business applications, communication tools, your products, and much more. Data-driven decisions are automatic and instinctive so your organization can gain a competitive edge.
The Sisense data & analytics platform makes it incredibly easy to mashup data across your entire data landscape and transform it into powerful, actionable analytics applications that can be embedded anywhere. From innovative startups to global brands like GE, Wix, Nasdaq, and Philips, thousands of organizations worldwide use Sisense to accelerate innovation and drive digital transformation by embedding Sisense into their businesses.
According to the open sources the pricing starts from $10k per year.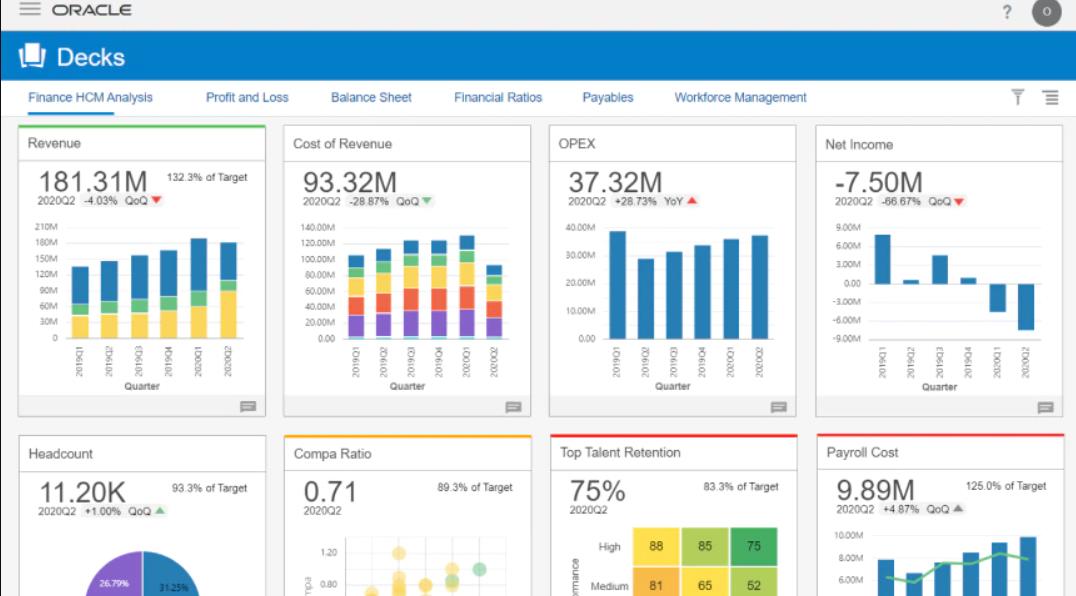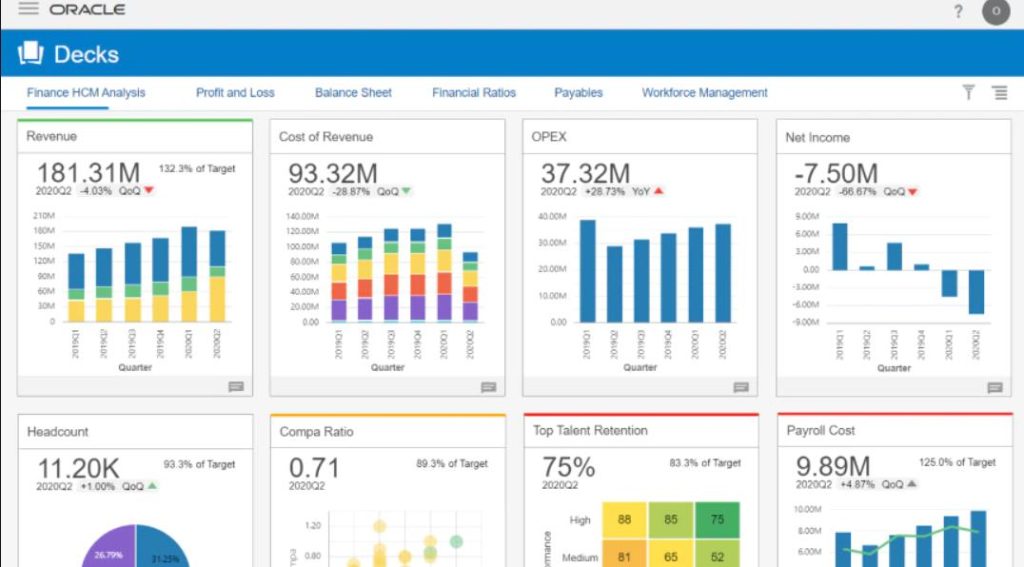 Oracle Analytics is a complete platform with ready-to-use services for a wide variety of workloads and data. Offering valuable, actionable insights from all types of data – in the cloud, on-premises, or in a hybrid deployment – Oracle Analytics empowers business users, data engineers, and data scientists to access and process relevant data, evaluate predictions, and make quick, accurate decisions.
Access ready-to-use services across the business analytics workflow for connecting, preparing, modeling, exploring, sharing, and consuming insights from all data.
Use the latest data analytics technologies, such as AI, machine learning, and natural language processing. Oracle Analytics has been recognized by industry experts for its innovations and robust architecture.
The Oracle Analytics Cloud has two pricing plans: Professional and Enterprise. The Professional plan costs $16 per user, per month, while the Enterprise plan is priced at $80 per user, per month. It also uses the Oracle Compute Unit (OCPU) per hour strategy for companies that prefer that option. The Professional plan will then cost $0.54 OCPU per hour, and users on the Enterprise plan can expect to pay $1.07 OCPU per hour.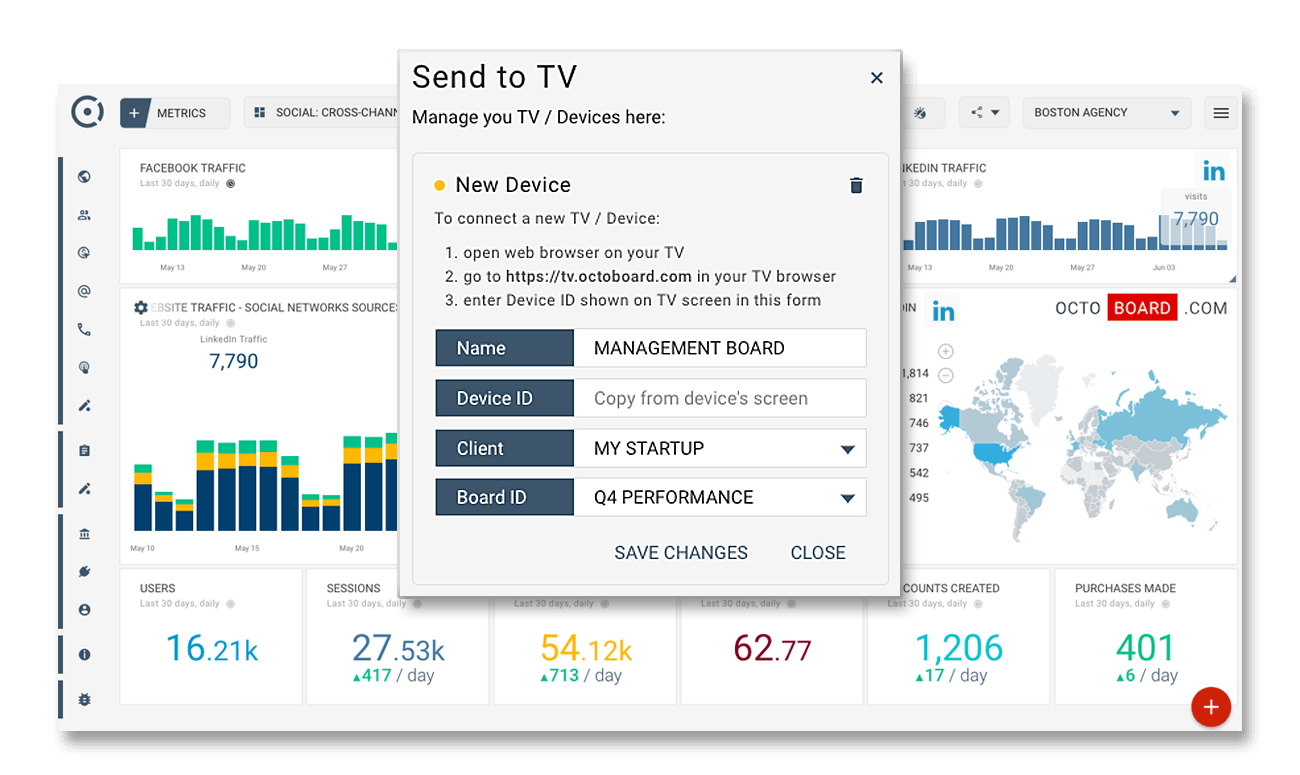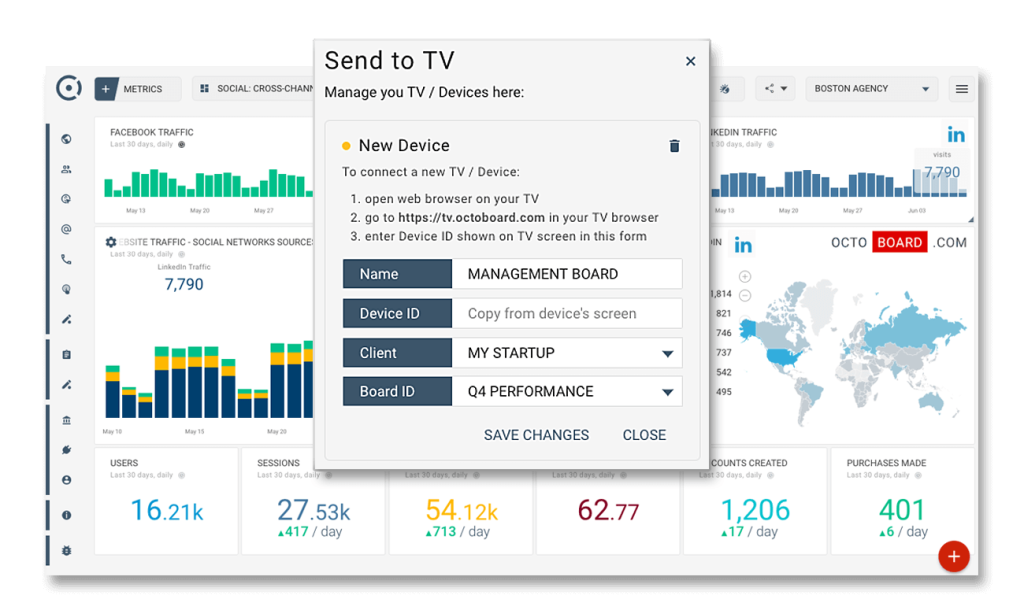 Octoboard is a cloud-based client reporting solution, which assists marketing agencies with managing processes for client reporting, scheduling, and advertising. Key features include custom branding, user management, campaign monitoring, predefined templates, and conversion tracking.
The Octoboard for Agencies platform comes with an activity dashboard, which enables administrators to monitor the performance of paid campaigns across channels such as Google Ads, Facebook Ads, Linkedin, Bing, and more. Teams can analyze clicks, impressions, and conversion rates for PPC channels, as well as share data with clients, managers, and marketing teams. Plus, users can monitor engagement metrics, content reach, competitors, and audiences, across social media platforms.
Octoboard for Agencies integrates with various third-party applications such as Youtube, Twitter, Instagram, Active Campaign, Sendgrid, Alexa, Salesforce, Constant Contact, MailChimp, Yandex, and more. Managers can use templates to create branded reports and dashboards for clients, as well as assign role-based permissions to clients to enhance collaboration. Team members can select sources and view historical data in multiple currencies and formats.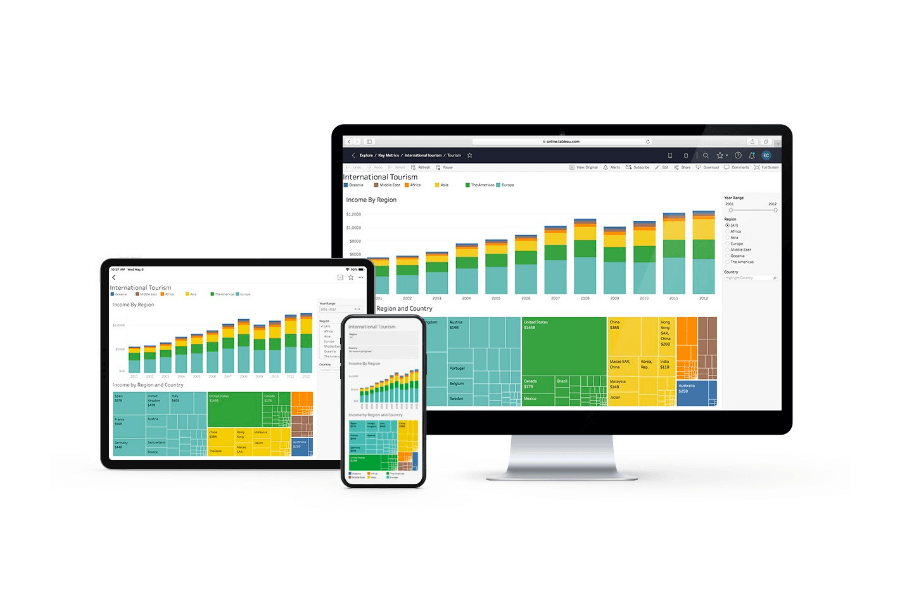 As the market-leading choice for modern business intelligence, Tableau analytics platform makes it easier for people to explore and manage data, and faster to discover and share insights that can change businesses and the world.
Tableau is powerful and intuitive, encouraging curiosity and creativity with unlimited data exploration. Lower the barrier to entry to engage and interact by building visualizations with drag and drop, employing AI-driven statistical modeling with a few clicks, and asking questions using natural language. Augment your people's potential and move from insight to action anywhere you're working.
Tableau provides efficiencies of scale to streamline governance, security, compliance, maintenance, and support with solutions for the entire lifecycle as the trusted environment for your data and analytics from connection, preparation, and exploration to insights, decision-making, and action. Manage all of your data without compromise.


Klipfolio offers an online dashboard platform for building real-time business dashboards. It allows business users to connect to many data services, automate data retrieval, and then manipulate, and visualize the data. Klipfolio uses a schema-less architecture that allows non-technical end users to more easily connect to data sources, and separates data from presentation to more efficiently use and reuse data sources throughout the platform.
Klipfolio has built-in formula editing, allowing end-users to transform, combine, slice, and filter any data before visualizing it. Users are able to access the dashboard from their desktop, tablet, TV, and mobile phone, and share it with colleagues by granting access to the dashboard, or by scheduling email reports.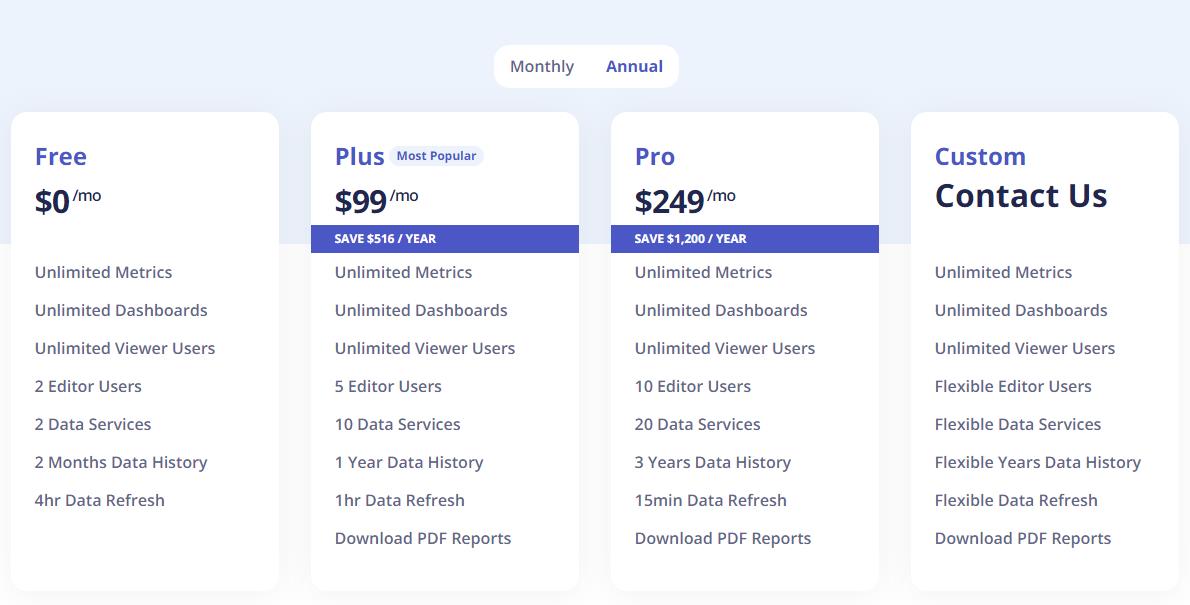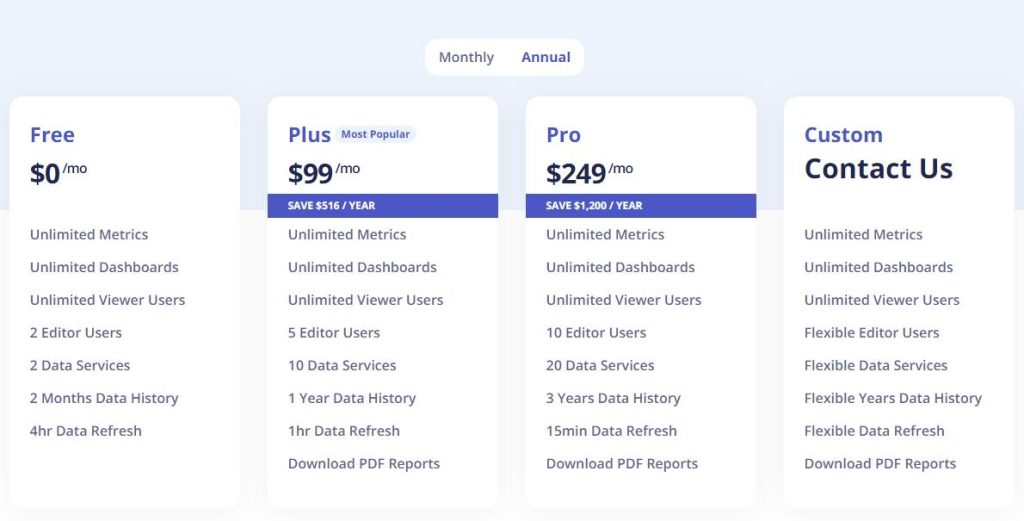 If you are looking for more marketing automation solutions, I recommend you to take a look at Marketing Automation section of the website. There you will find many useful tools to use in your business and drive sales.