It has been a while since my last post about the marketing vocabulary, so this is time to catch up and learn some more marketing words. Today I will describe several terms often used in various businesses. And as a marketer you have to know all of them and operate them right.
B2B (Business-to-Business) – a situation where one business makes a commercial transaction with another. This typically occurs when business:
Sourcing materials for their production process for output
Needs the services of another for operational reasons
Re-sells goods and services produced by others
B2C (Business-to-Customer) – refers to the process of selling products and services directly between a business and consumers who are the end-users of its products or services. Most companies that sell directly to consumers can be referred to as B2C companies.
B2C became immensely popular during the dotcom boom of the late 1990s when it was mainly used to refer to online retailers who sold products and services to consumers through the Internet.
CMO (Chief Marketing Officer) – also called a global marketing officer or marketing director, is a corporate executive responsible for marketing activities in an organization. Whilst historically these titles may have signified a legal responsibility, for example at Companies House in the UK, the titles are less strict/formal in the 21st Century and allow companies to acknowledge the evolving and increasingly significant role that marketers can play in an organisation, not least because of the inherent character of successful marketers. The CMO leads brand management, marketing communications (including advertising, promotions and public relations), market research, product marketing, distribution channel management, pricing, and customer service.
The CMO is a member of the C-suite and typically reports to the chief executive officer. A number of senior vice presidents, vice presidents, directors, and other senior marketing managers responsible for various parts of the marketing strategy may report directly to the CMO.
KPI (Key Performance Indicator) – a type of measure that is used to evaluate the performance of an organization against its strategic objectives. KPIs help to cut the complexity associated with performance tracking by reducing a large amount of measures into a practical number of 'key' indicators.
KPIs can be used to track the operational performance of departments, projects or individuals against targets or goals. They can provide a management tool for gaining insight and decision making.
Key performance indicators define a set of values against which to measure. These raw sets of values, which can be fed to systems that aggregate the data, are called indicators. There are two categories of measurements for KPIs.
Quantitative facts without distortion from personal feelings, prejudices, or interpretations presented with a specific value – objective- preferably numeric measured against a standard.
Qualitative values based on or influenced by personal feelings, tastes, or opinions and presented as any numeric or textual value that represents an interpretation of these elements.
An 'indicator' can only measure what 'has' happened, in the past tense, so the only type of measurement is descriptive or lagging. Any KPI that attempts to measure something in a future state as predictive, diagnostic or prescriptive is no longer an 'indicator' it is a 'prognosticator' – at this point, it is analytics (possibly based on a KPI).
Marketing and sales KPI examples:
New customer acquisition
Customer acquisition cost
Turnover generated by segments of the customers
Profitability of customers by demographic segments and segmentation of customers by profitability
ROI (Return on Investment) – a ratio between net profit (over a period) and cost of investment (resulting from an investment of some resources at a point in time). A high ROI means the investment's gains compare favorably to its cost. As a performance measure, ROI is used to evaluate the efficiency of an investment or to compare the efficiencies of several different investments.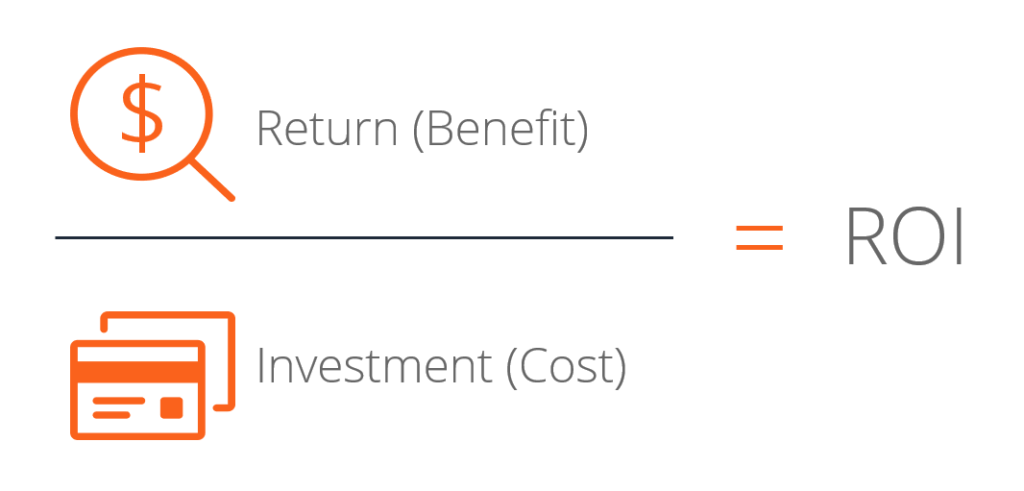 In economic terms, it is one way of relating profits to capital invested.
Return on investment isn't necessarily the same as profit. ROI deals with the money you invest in the company and the return you realize on that money based on the net profit of the business. Profit, on the other hand, measures the performance of the business. Don't confuse ROI with the return on the owner's equity. This is an entirely different item as well. Only in sole proprietorships does equity equal the total investment or assets of the business.
You can use ROI in several different ways to gauge the profitability of your business. For instance, you can measure the performance of your pricing policies, inventory investment, capital equipment investment, and so forth.
ROMI (Return on Marketing Investment) – contribution to profit attributable to marketing (net of marketing spending), divided by the marketing 'invested' or risked. ROMI is not like the other 'return-on-investment' (ROI) metrics because marketing is not the same kind of investment. Instead of money that is 'tied' up in plants and inventories (often considered capital expenditure or CAPEX), marketing funds are typically 'risked'. Marketing spending is typically expensed in the current period (operational expenditure or OPEX).
The idea of measuring the market's response in terms of sales and profits is not new, but terms such as marketing ROI and ROMI are used more frequently now than in past periods. Usually, marketing spending will be deemed as justified if the ROMI is positive. In a survey of nearly 200 senior marketing managers, nearly half responded that they found the ROMI metric very useful.
The purpose of ROMI is to measure the degree to which spending on marketing contributes to profits. Marketers are under more and more pressure to "show a return" on their activities.
ROAS (Return on Ad Spend) – marketing metric that measures the amount of revenue your business earns for each dollar it spends on advertising. For all intents and purposes, ROAS is practically the same as another metric you're probably familiar with: return on investment, or ROI. In this case, the money you're spending on digital advertising is the investment on which you're tracking returns.

At the most basic level, ROAS measures the effectiveness of your advertising efforts; the more effectively your advertising messages connect with your prospects, the more revenue you'll earn from each dollar of ad spend. The higher your ROAS, the better.