As I previously mentioned in Top 10 Power Electronics Events. Part 1 and Part 2, there are many trade fairs and exhibitions around the world in the field of power electronics. Some of them include power semiconductors sections. Some of them are filled with companies that produce power electronics equipment and use power semiconductors.
Since the world is still suffering from the pandemic, many power electronics trade fairs were canceled or are being held online like APEC this week. Only several countries at the moment organize live shows. However, all those shows suffer from the absence of foreign participants and visitors.
One of such countries is Russia. All major power electronics trade fairs were confirmed this year, and last week I had a chance to visit one of such exhibitions – Elektro 2021. So this is the show I would like to describe to you today.
Elektro trade fair has been one of the major Russian events in the electrical and power industry since 1972. For many years it has been organized in the heart of Moscow at Expocentre. Right now the trade fairgrounds are located next to the Moscow International Business Center.
Elektro trade fair covers the following subjects:
Electricity supply
High and low voltage equipment
Electric illumination engineering
Cable-conductor products
Electrical installation products, wiring products, and tools
Metering, control and measuring devices
Automation of buildings, and structures
Energy efficiency
One of the features I like the most about this show is their MatchMaking service. MatchMaking is a service for scheduling business meetings at the exhibition, which allows you to:
Familiarize yourself with the list of exhibitors and visitors in advance before the start of the exhibition
Make appointments with companies you are interested in
Agree on the agenda of business negotiations
According to the data provided by the organizers, Elektro 2019 gathered more than 200 exhibitors from 18 countries with 13500+ visitors. In pre-pandemic time the show was one of the biggest in Russia in this field, however, Elektro 2021, which took place June 7-10, 2021 was much smaller and quieter.
This time there were no power semiconductors companies present at the show. However, some 3-5 years ago several local and foreign manufacturers of power semiconductors presented their products during Elektro trade fair. Let just hope that this situation is only due to the COVID period, and some of the companies are just being cautious. That would be a challenge for the organizers to get the semiconductor companies back to the show, but that will worth the challenge.
Speaking about this year's scale of the show, there were only two medium-size halls with roughly 100+ stand places, and many of the companies had only standard space with no individual design. The official catalog of the show says there were 158 companies presented at the show, though, I think, some Russian distributors represented several brands, that is why the numbers differ. Again, the pandemic made many companies cut their expenses including marketing. So this is the only explanation I can think of. And taking part in Elektro 2021 with a small budget booth is better than skipping the show at all.


According to the organizers' release, despite the difficult situation in the world, the 2021 exhibition gathered a good composition of participants and turned out to be interesting. 158 exhibitors from 13 countries demonstrated their latest developments in an area of about 12,000 square meters. Among them were the companies from Austria, Germany, Spain, Italy, China, Republic of Belarus, Republic of Korea, Republic of Moldova, Russia, Serbia, Slovakia, Turkey, France.
This year, companies from Turkey have expanded their presence at the exhibition, including EAE Elektrik, TP Elektrik, Sem Transformator, Enel Enerji, KLS Plast, ZM Group. The exposition occupied an area of about 250 sq. m. The Ministry of Economy of the Slovak Republic organized a national stand of 8 different companies.
The complete list of the participants is available in the official guide and catalog of the show.
Besides the exhibition, all the visitors and participants could join the business program of the event which included various presentations and discussion sessions from the industry leaders, participating companies, and various institutions. Four days of Elektro 2021 business program were dedicated to various aspects of cooperation in electrical engineering society:
Day of Science and Technology – June 7
Customer Day – June 8
Engineer Day – June 9
Manufacturer Day – June 10
If we get back to power semiconductors, which we are mostly interested in, there were several well-known brands of UPS manufacturers present at the show, which use semiconductors to produce their equipment. Unfortunately, mostly presented by their colleagues from Russia. Besides already mentioned Enel Enerji there were the following companies with friends of mine that produce uninterruptible power supplies:
Besides the Elektro trade fair same time, there was another pack of exhibitions being held at Expocentre – Wire Russia, Tube Russia, Metallurgy Russia, and Litmash Russia. In addition to machinery and equipment for wire production, and wire processing, current technologies in the fields of tube production, tube processing, and tube machining; machinery, plants, equipment and solutions for the casting and processing industries as well as for metallurgical processes were on display. During three days of the exhibition, trade visitors were able to learn about the wide range of products and services offered by Russian and international exhibitors.
Here at Litmash Russia I came across my old friends from induction heating and melting industry, who use fast thyristors and high-frequency IGBTs for their power supplies in this field. These are companies like: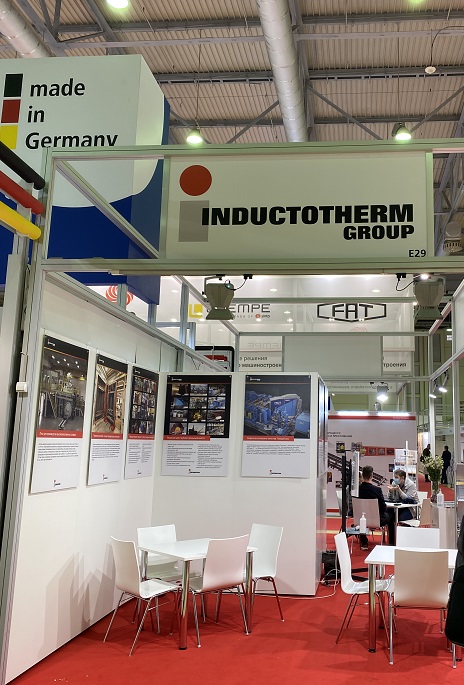 If you are looking for end customers of power semiconductors, then the beginning-middle of June in Moscow might be a great choice for you. Elektro and other trade fairs that are organized the same week at Expocentre have enough to offer even during the pandemic. And I'm sure that 2022 will be positively much better. So if you plan a trip to Moscow in summer, let it be June. Book the dates in your calendar. Elektro 2022 is scheduled for June 6-9, 2022.