We've been waiting for it for a long time. James Bond movies have always been my favorite. The movie series has always included the latest gadgets, and the world-famous brands paid big money for their products to be placed in the movies. And with just a couple of weeks before No Time to Die release, let's join the adventures of 007 agent.
MI6 operative James Bond (Daniel Craig) gains promotion to 00 agent status by assassinating two targets: traitorous section chief Dryden at the British Embassy in Prague and his contact, Fisher.
In Uganda, the mysterious Mr. White (Jesper Christensen) introduces Steven Obanno (Isaach De Bankolé), a high-ranking member of the Lord's Resistance Army, to Le Chiffre (Mads Mikkelsen), an Albanian private banker to terrorists. Obanno entrusts Le Chiffre with a large sum of money to invest; Le Chiffre subsequently buys put options on aerospace manufacturer Skyfleet, betting on the company's failure given his insider knowledge of a terrorist attack.
In Madagascar, Bond pursues bomb-maker Mollaka to an embassy, killing him and blowing up the building. In London, MI6 chief M (Judi Dench) admonishes Bond for causing an international incident and ignoring her orders to capture Mollaka alive. Clues point to corrupt Greek official Alex Dimitrios, whom Bond finds in the Bahamas. After winning his 1964 Aston Martin DB5 in a poker game and seducing his wife Solange, Bond pursues Dimitrios to Miami and kills him. Bond then thwarts the destruction of Skyfleet's prototype airliner, costing Le Chiffre his entire investment, $101,206,000 in total. Due to Dimitrios' failure to carry out the attack, his wife Solange is subsequently tortured and killed.
To recoup his clients' lost money, Le Chiffre organizes a high-stakes Texas hold 'em tournament at the Casino Royale in Montenegro. MI6 enters Bond in the tournament, believing a defeat will force Le Chiffre to seek asylum with the British government in exchange for information on his clients.
Our product placement journey begins in Madagascar during the pursuit scene. Here we can see New Holland bulldozer. Later on his yacht Le Chiffre reads about the pursuit results on his Sony Vaio laptop. The news website has also an ad about Sony BRAVIA TV.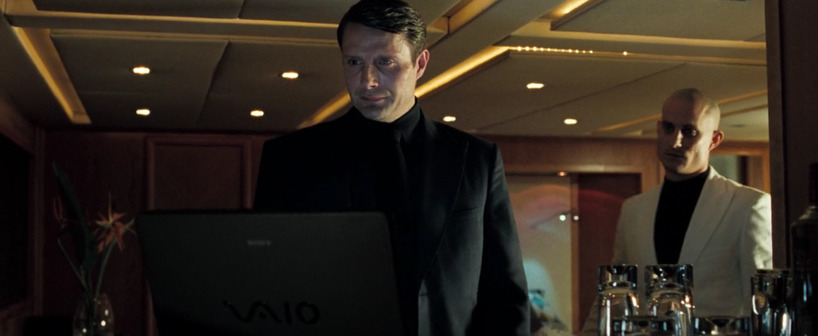 When Bond arrives in the Bahamas we see him use GPS navigation on his Sony Ericsson phone to drive to the Ocean Club. And when searching for the right footage of Dimitrios we see more Sony product placement in the movie – Sony Blu-ray disc and player.
When Bond finishes his business in the Bahamas he goes to Miami airport to save the day. In the airport scene we see Richard Branson, and soon we can see why. Later we can see his Virgin Atlantic placement in the movie.
The airport scene brings us more product placement. First, when Bond enters the airport building, MI6 employee and M discover that there's gonna be a presentation of a prototype airliner. They use Google to find more news. Inside the building we spot Smirnoff Vodka and Heineken beer.
Besides Boeing and Airbus I'd like to pay your attention to the British tugs manufacturer – Douglas (part of Textron company). And no wonder that here we can also see more Sony brands included. Very prominent product placement from the Japanese leading brand.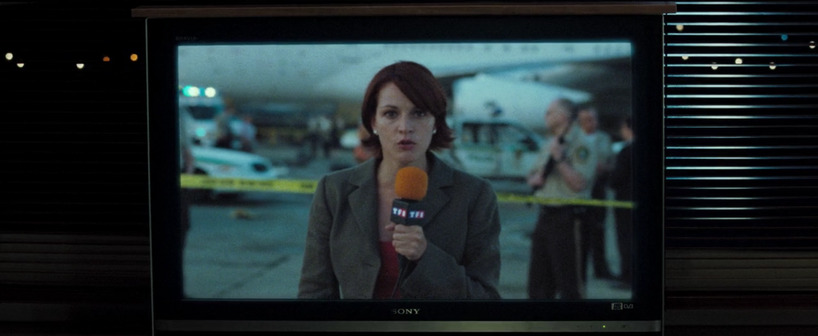 When Bond and Vesper (Eva Green) travel to Montenegro by train we can see them enjoying Château Angélus wine. More drinks like Jägermeister, Becherovka, Bell's, Famous Grouse, etc. are available in the Casino scenes.
When Bond was deceived, and almost got killed in a car crash, we see him being transported together with Vesper to Le Chiffre's hideout. He we can spot Bond's Omega watch he was talking about with Vesper on their way to Montenegro.
In Venice part of Casino Royal movie we see more Sony branding. Sony camera now joins the laptop and mobile phone.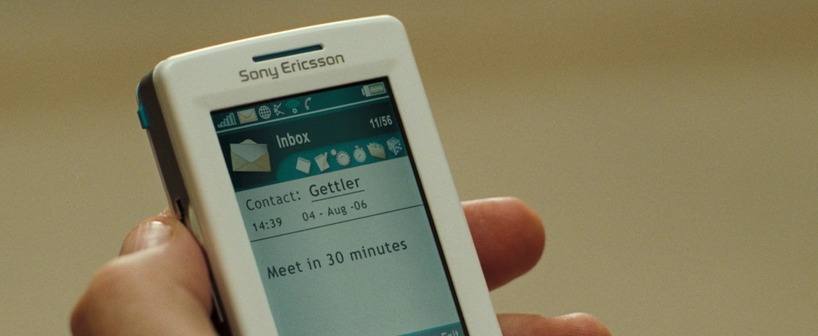 Following the events of the previous film Casino Royale, James Bond is driving from Lake Garda to Siena, Italy, with the captured Mr. White in the trunk of his Aston Martin DBS V12. After evading pursuers, Bond delivers White to M, who interrogates him regarding the mysterious organisation, Quantum. When White responds that their operatives are everywhere, M's bodyguard Craig Mitchell suddenly shoots one of the guards and attacks M. Bond chases Mitchell and eventually kills him; White escapes in the confusion.
After returning to London, and searching Mitchell's flat, Bond and M discover Mitchell had a contact in Haiti, Edmund Slate. Bond learns Slate is a hitman sent to kill Camille Montes (Olga Kurylenko) at the behest of her lover, environmentalist entrepreneur Dominic Greene (Mathieu Amalric), who is helping exiled Bolivian General Medrano (Joaquín Cosio), who murdered Camille's family, to overthrow the government and become the new president, in exchange for a seemingly barren piece of desert.
After rescuing Camille from Medrano, Bond follows Greene to a performance of Tosca in Bregenz, Austria. Meanwhile, the head of the CIA's South American section, Gregg Beam, along with agent Felix Leiter (Jeffrey Wright), strike a noninterference deal with Greene for access to putative stocks of Bolivian oil, which the CIA believes to be the reason for Greene's interest in the land.
The first brand we spot in the movie is Hitachi with its commercial vehicles.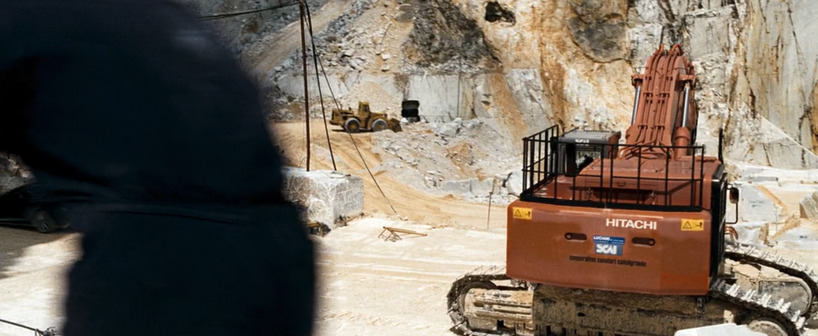 When bond arrives in Haiti we see him wearing another Omega watch. The brand will stay for long with James. Later in the scene when Bond rescues Camille we see him using the boat with Yamaha engine.
In the second James Bond movie starring Daniel Craig Sony continues to entertain their audience with their products like smartphones, TVs, and phones.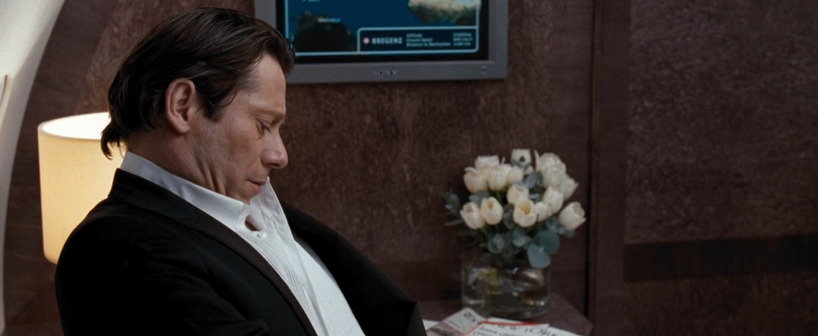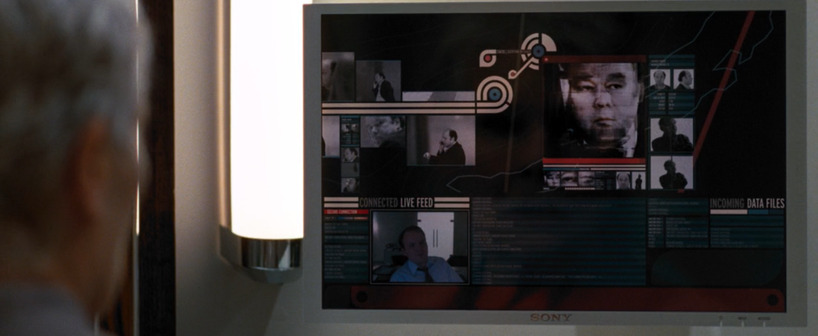 In one of the movie's scenes we can see the payment terminal produced by Ingenico. Small and medium business oriented product.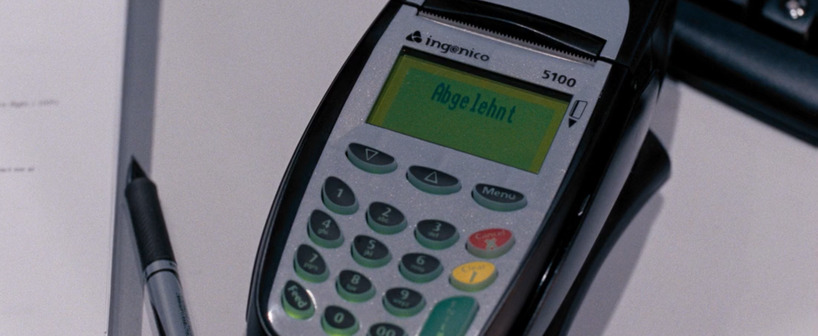 And this is it for Quantum of Solace. More brands are waiting in Skyfall.
In Istanbul, MI6 agents James Bond and Eve Moneypenny (Naomie Harris) pursue mercenary Patrice, who has stolen a hard drive containing details of undercover agents. As Bond and Patrice fight atop a moving train, M orders Moneypenny to shoot Patrice, despite not having a clear shot; Moneypenny inadvertently hits Bond, who falls into a river. Bond is presumed dead and Patrice escapes with the hard drive.
Three months later, due to a public inquiry into M's handling of the stolen hard drive, she is pressured to retire by Gareth Mallory (Ralph Fiennes), the chairman of the Intelligence and Security Committee of Parliament and a former SAS officer. Although she claims she is still useful, MI6's servers are hacked, and M receives a taunting computer message moments before the MI6 building explodes.
Bond, who used his presumed death to retire, learns of the attack and returns to service in London. He fails a series of physical, medical, and psychological examinations, but M approves his return to the field, ordering him to identify Patrice's employer, recover the hard drive, and kill Patrice.
The first scenes of Skyfall in Istanbul traditionally give us a look at the commercial vehicles. This time this is probably the most popular brand for this market segment – Caterpillar.
Another regular brand in James Bond movies, and even in promo videos, is Heineken beer. We can see it during the chasing scene. And of course Sony is here as well. Now with their all-in-one PC and laptops.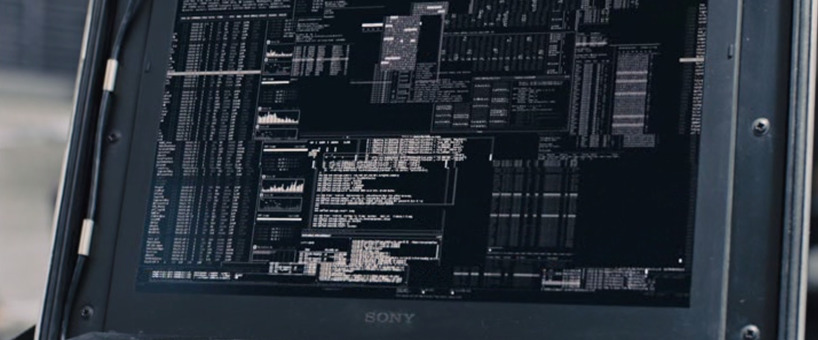 And there is no Bond if there is no Omega. This time it is Omega Planet Ocean 600M we see James wearing. Later in the movie we will see Omega ads in London Underground.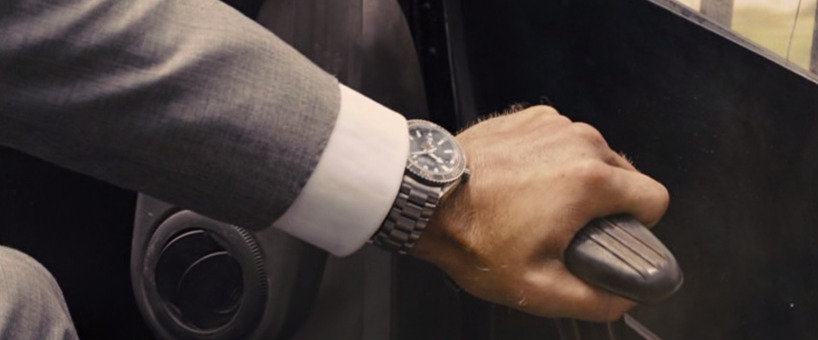 When Moneypenny gets ready for her perfect shooting position we can see the TCDD (Turkish State Railways) logo on a train through the optics.
After his "death" Bond is enjoying his new life with a bottle of Heineken until he watches CNN news report about the attack on MI6. He watches it on Sony TV, of course. In the scene when MI6 network is hacked we will also see Heineken beer.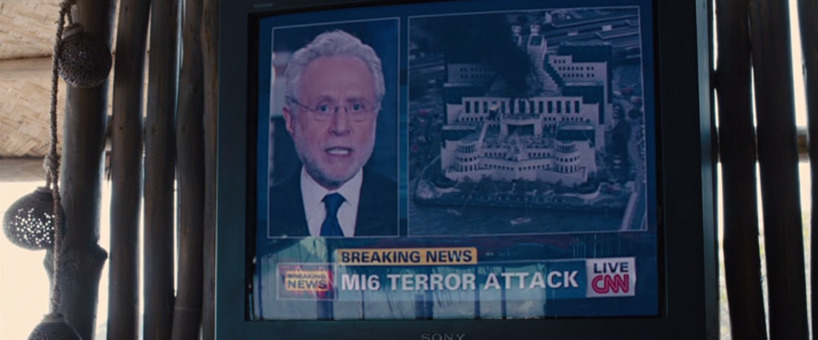 When Bond returns to London MI6 receives even more damage with their agents being exposed and killed across the globe. BBC successfully covers the story.
When Bond faces Raoul Silva (Javier Bardem) his former colleague offers him to drink The Macallan whisky. Not a bad treat for a guest.
Bond had enough time and Q (Ben Whishaw) gadgets to alert MI6 reinforcements who capture Silva for rendition to Britain.
At MI6's new underground headquarters, Q attempts to decrypt Silva's laptop, but inadvertently gives it access to the MI6 servers, allowing Silva to escape. Q concludes Silva wanted to be captured as part of a plan to kill M, whom he resents for disavowing and betraying him to the Chinese government in 1997, leaving him to be tortured and disfigured. Bond chases Silva through the London Underground and thwarts Silva's attack at a Parliament inquiry where M is present.
Instructing Q and Bill Tanner (Rory Kinnear) to leave an electronic trail for Silva to follow, Bond uses his Aston Martin DB5 to take M to Skyfall, his childhood home in the Scottish Highlands. They meet Skyfall's gamekeeper Kincade, and together the trio set up a series of booby traps throughout the house.
When Silva's men arrive, Bond, M, and Kincade kill most of them, but M is wounded. Silva arrives by helicopter with more men and heavy weapons, so Bond sends M and Kincade through a priest hole to hide in a nearby chapel, and rigs propane tanks to explode. As the house and the helicopter are destroyed, Bond escapes down the same tunnel.
Silva survives the destruction of the house, following Kincade and M to the chapel. Confronting M, Silva forces his gun into her hand and presses his temple to hers, begging her to kill them both. Bond arrives and kills Silva by throwing a knife into his back. M then succumbs to her wounds and dies in Bond's arms.
Following M's funeral, Moneypenny formally introduces herself to Bond and tells him she is retiring from fieldwork to become secretary for Mallory, the newly appointed M. Bond meets with Mallory, and tells him he is ready to get back to work.
A posthumous message from the previous M leads MI6 agent James Bond to carry out an unauthorised mission in Mexico City on the Day of the Dead, where he stops a terrorist bombing plot. Bond kills Marco Sciarra, the terrorist leader, and takes his ring, which is emblazoned with a stylised octopus before stealing a helicopter to escape.
Upon his return to London, Bond is suspended from field duty by Gareth Mallory, the current M, who is engaged in a power struggle with Max Denbigh (Andrew Scott) (whom Bond dubs "C"), the Director-General of the new, privately backed Joint Intelligence Service formed by the merger of MI5 and MI6. C campaigns for Britain to join the global surveillance and intelligence initiative "Nine Eyes", and uses his influence to close down the '00' field agent section, which he believes is outdated.
Bond disobeys M's orders and travels to Rome to attend Sciarra's funeral. He saves and seduces Sciarra's widow, Lucia (Monica Bellucci), who tells him Sciarra belonged to an organisation of businessmen with criminal and terrorist connections. Bond uses Sciarra's ring to infiltrate a meeting to select Sciarra's replacement, where he identifies the leader, Franz Oberhauser.
After hearing Oberhauser (Christoph Waltz) give the order for the "Pale King" to be assassinated, Bond is pursued across the city in his Aston Martin DB10 by the organisation's assassin, Mr. Hinx (Dave Bautista), driving a Jaguar C-X75. Eve Moneypenny informs Bond that the Pale King is Mr. White, a former member of the organisation's subsidiary Quantum who had fallen afoul of Oberhauser. Bond asks her to investigate Oberhauser, who was presumed dead 20 years earlier.
Spectre has very few brands included in the movie. After the accident in Mexico, Bond flies back to London to learn that the newspapers have already prepared stories about his latest visit to the North America. These newspapers are The Guardian and The Times. CNN joins the news reports as well, however only when Spectre attacks the South Africa to make them support "Nine Eyes".
And of course there are two brands that have been with us and Daniel Craig for the past three movies – Sony and Omega. And they are present in Spectre as well. Sony placed their TV and smartphone.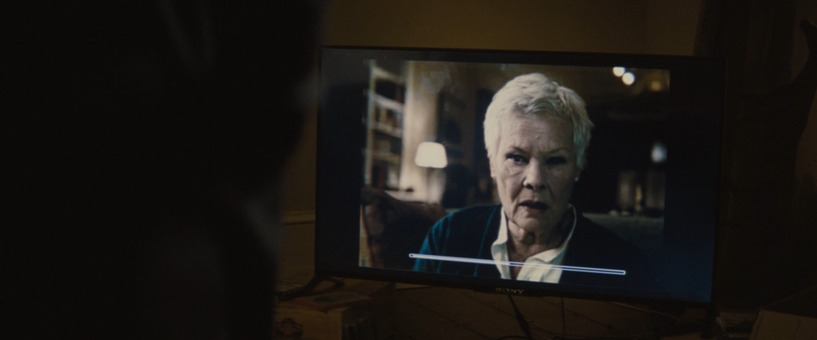 And Omega introduced their limited to 7,007 models SEAMASTER 300.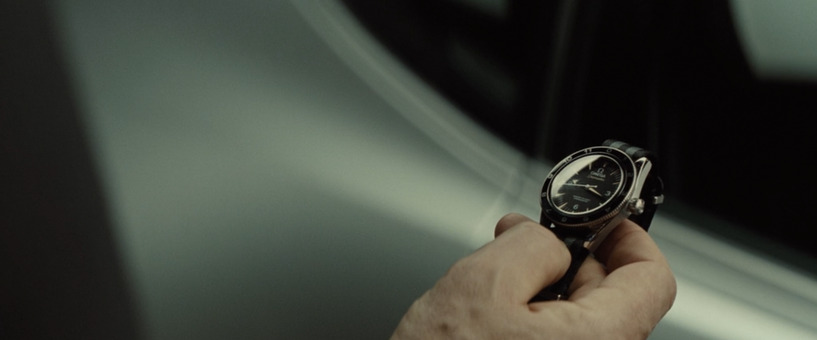 James Bond No Time to Die is scheduled end of September. And I'm sure that it won't disappoint us. Stay tuned for the updated article including No Time to Die product placement.
And if you love product placement like I do, I highly recommend you to visit Product Placement section of the website. You will find more movies analysed there.
October will bring us another amazing adventures franchise.