Business Model Canvas is a business planning tool for describing a company's business models. The creator of this model is Alexander Osterwalder, a Swiss business theorist, and entrepreneur.
Business Model Canvas consists of 9 blocks, each of which describes the business activities of the company. These blocks can be grouped into 4 categories that correspond to the main business areas:
Infrastructure
This category includes three model blocks:
Key Partners – third-party organizations that help the company function and create value. Companies build partnerships to reduce risks or obtain resources, and these relationships become the foundation of many business models
Key Activities are the main activities of the company that help create value
Key Resources are the tools that you need to create value. This block includes material, intellectual, human, and financial resources
Offering
Value Propositions are products and services that the company can offer to meet the needs of the client. Value Propositions are achieved by the following means: novelty, design, brand, price, convenience, and so on.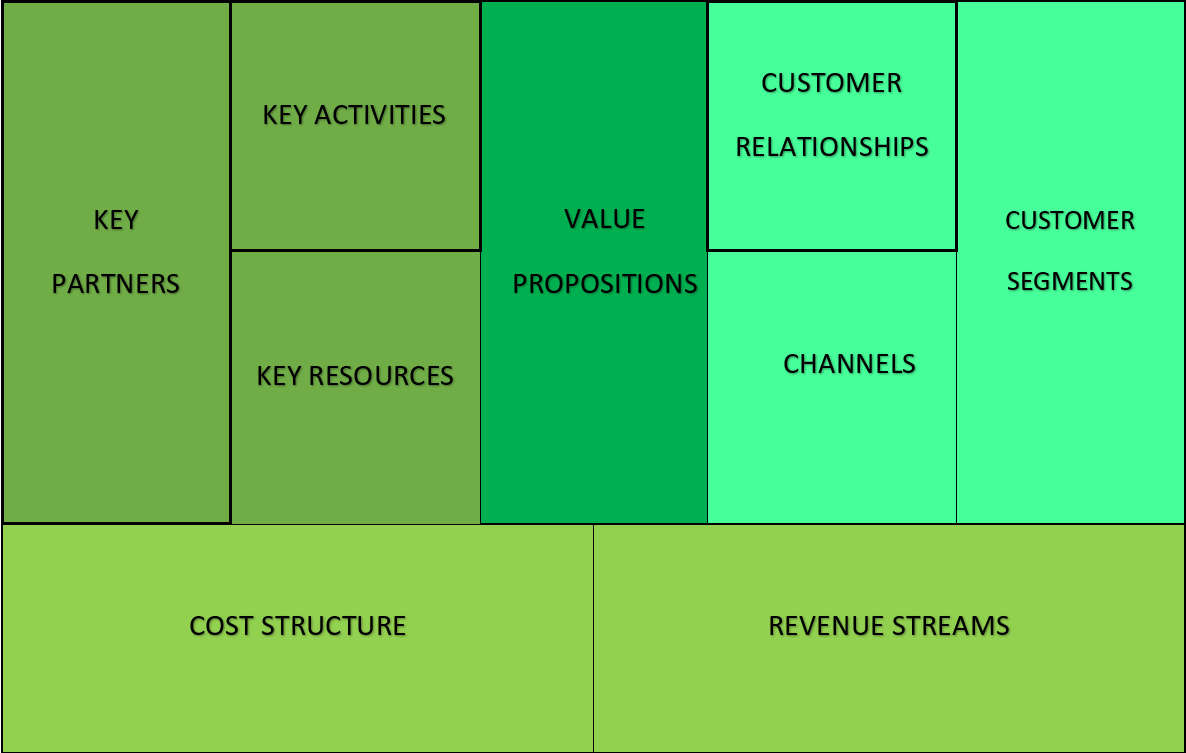 Customers
This category consists of 3 blocks:
Customer relationships are the types of relationships that a company builds with its customers. You can distinguish the following types of customer relationships: personal support, self-service, automated service, communities, and so on.
Channels are ways to deliver a product or service to a customer. The company can use partner channels, which require more investment but allow you to reach a wider audience.
Customer Segments – a group of clients that the company serves. The company should, first and foremost, determine their segment. You can divide the Clients by different characteristics: gender, age, income, interests, hobbies, location, needs. To simplify the segmentation process, you need to understand what market you are working in. There are usually the following types of markets: mass market, niche market, diversity, and multi-sided platform/market.
Finances
Cost Structure is the most significant expense of the company. They following types of costs can be distinguished: fixed costs, variable costs, economies of scale, and economies of scope. At this stage, you need to understand what your business is most dependent on and how you can reduce costs for these items. If you can't reduce your expenses here, optimize your expenses in other, less critical areas.
Revenue Streams – a way to generate income for the company. There are the following sources of revenue: asset sale, subscription fees, lending, leasing, renting, licensing, white-label sales, etc.
Business Model Canvas is suitable for both beginners and established companies.
For beginner companies, the model will allow them to assess the current market position and identify development prospects. But the biggest advantage is that this template combines all aspects of the company's activities in a simple scheme. For established companies, this method will be able to identify weaknesses and quickly adjust the work.
Find more analytical and strategic marketing information in the corresponding sections of the website.