Power Semiconductors Weekly Vol. 68
Solitron Devices introduced SD11720, 1200V Silicon Carbide (SiC), low RDS(on) MOSFET.
Complimenting a strong offering of high voltage MOSFETs for high reliability/military applications Solitron is expanding its silicon carbide product offering for demanding commercial and industrial applications. Packaged in a TO-247 the SD11720 is ideally suited for EV, Renewable Energy, Motor Drive, Induction Heating and High Voltage power supply applications.
The SD11702 offers 58A of continuous drain current with low RDS(on) of 50mΩ. Designed for use as a power semiconductor switch the SD11720 outperforms silicon MOSFETs blocking voltage, on resistance, and junction capacitances.
The SD11720 offers ultra-fast switching and low losses allowing systems to provide high power density, reduced size, weight and improved efficiency. Silicon Carbide also provides minimal variation versus temperature with an operating temperature of -40°C to 175°C.
Leapers Semiconductor introduced the Demo Inverter Platform using the latest HPD series SiC MOSFET power modules.
By using 1200V HPD SiC MOSFET power modules, this water-cooled inverter reached peak power over 400kW. During the testing stage this demo inverter has been successfully tested in the motor load reaching over 650 A (RMS).
This inverter will be an ideal solution for electric passenger vehicles, commercial vehicles, heavy trucks, and construction machinery. It is compatible with 400V and 850V e-drive systems.
Leapers Semiconductor offers this demo inverter to its customers to evaluate the HPD series SiC MOSFET power modules.
Leapers Semiconductor will present this demo inverter platform during the PCIM Europe trade show which will be held in Nuremberg, Germany, May 10-12, 2022. All visitors and participants can meet Leapers Semiconductor's team at the Booth 520 in Hall 7.
Infineon Technologies AG launched the new TRENCHSTOP™ 1700 V IGBT7 chip in the standard industrial package EconoDUAL™ 3. With this new chip technology, the EconoDUAL 3 provides a leading current of 900 A and 750 A, and enables an improved power range for inverters. The modules target a wide range of applications including wind, drive and static VAR generators (SVG).
Compared to modules with the previous IGBT4 chipset, the FF900R17ME7_B11 with the TRENCHSTOP IGBT7 chip enables up to 40 percent higher inverter output current in the same package size. The new 1700 V IGBT7 modules also feature significantly lower static and dynamic losses while addressing applications with prevailing static losses in diode chips. In addition, the new chip technology offers enhanced du/dt controllability and improved diode softness. Induced by cosmic rays, the FIT rate has also been significantly improved – an important parameter when working with high DC link voltage. Furthermore, the new power modules feature a maximum overload junction temperature of 175°C.
In addition to the best-in-class 1700 V EconoDUAL 3 with 900 A, a 750 A module with a larger diode has also been introduced to further increase the flexibility of the new portfolio. Overall, the new EconoDUAL 3 1700 V modules with the TRENCHSTOP IGBT 7 chip can increase the power density of the inverter and achieve a new level of performance in a wide range of applications.
Based on its unique and patented SmartSiC™ technology, Soitec's new silicon carbide (SiC) substrates are designed to improve the performances of power electronics devices and boost electric vehicles' energy efficiency.
Soitec, an industry leader in designing and manufacturing innovative semiconductor materials, has released its first 200mm silicon carbide SmartSiC™ wafer. With the release, Soitec is able to enlarge its SiC product portfolio beyond 150mm, take the development of its SmartSiC™ wafers to the next level and cater to the growing demand of the automotive market.
The SmartSiC™ substrate in 200mm emerged from Soitec's pilot line at its Substrate Innovation Center within CEA-Leti in Grenoble. The release enabled Soitec to demonstrate the quality and performance of a 200mm SmartSiC wafer and conduct a first round of key customer validations.
Soitec launched the construction of a new fab in France, Bernin 4, in March 2022. It is primarily dedicated to the manufacturing of SmartSiC™ wafers in 150mm and 200mm and is expected to be operational by the second half of 2023.
Soitec's unique SmartSiC™ technology allows to significantly enhance the performance of power electronics devices and boost electric vehicles' energy efficiency. The technology consists in bonding a very thin layer of high quality SiC to a very low resistivity polySiC wafer.
DENSO Corporation, a leading mobility supplier, and United Semiconductor Japan Co., Ltd. ("USJC"), a subsidiary of global semiconductor foundry United Microelectronics Corporation ("UMC"), announced that the companies have agreed to collaborate on the production of power semiconductors at USJC's 300mm fab in order to serve the growing demand in the automotive market.
An insulated gate bipolar transistor (IGBT) line will be installed at USJC's wafer fab, which will be the first in Japan to produce IGBTs on 300mm wafers. DENSO will contribute its system-oriented IGBT device and process technologies while USJC will provide its 300mm wafer manufacturing capabilities to bring 300mm IGBT process into mass production, scheduled to start in the first half of 2023. This collaboration is supported by the renovation and decarbonization program for indispensable semiconductors of Japan's Ministry of Economy, Trade and Industry.
As the development and adoption of electric cars accelerate amid a global effort to reduce carbon emissions, the demand for semiconductors required in the electrification of vehicles is also rapidly increasing. IGBTs are core devices in power cards, serving as efficient power switches in inverters to convert DC and AC currents in order to drive and control electric vehicle motors.
"DENSO is very glad to be the member of first companies in Japan to start mass production of IGBTs on 300 mm wafers," said Koji Arima, President of DENSO. "Semiconductors are becoming increasingly important in the automotive industry as mobility technologies evolve, including automated driving and electrification. Through this collaboration, we contribute to the stable supply of power semiconductors and electrification of automobiles."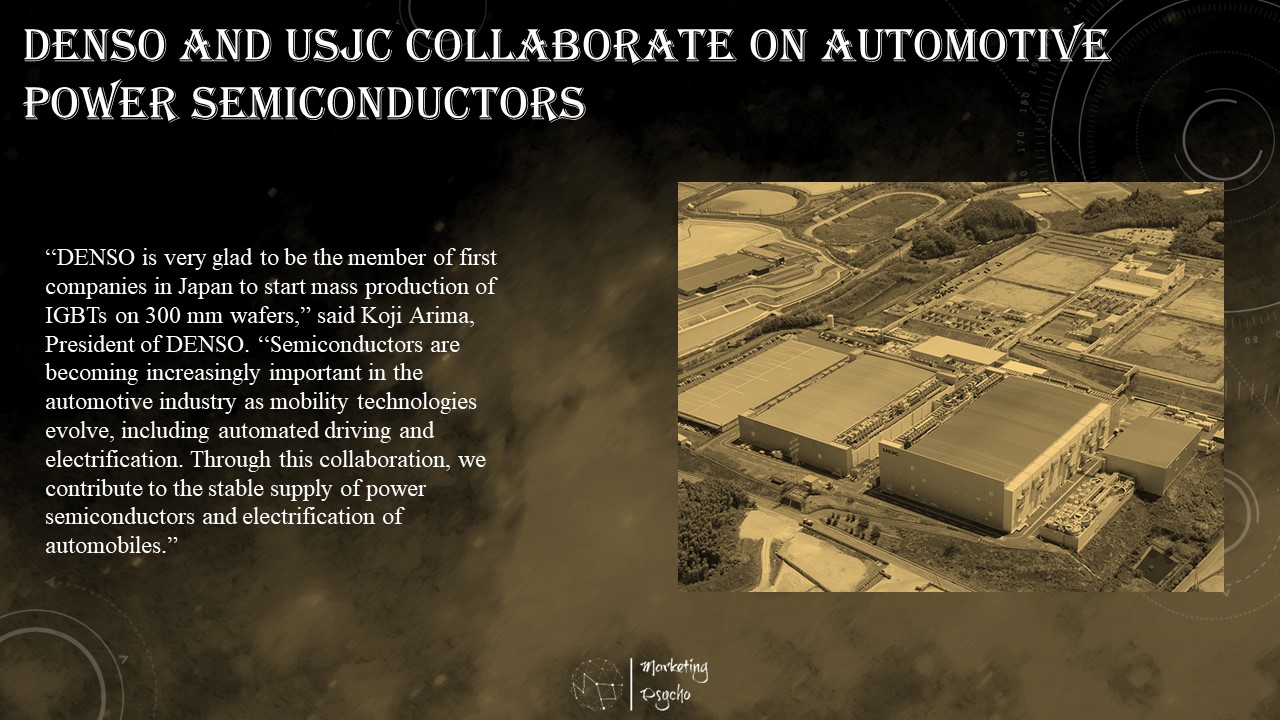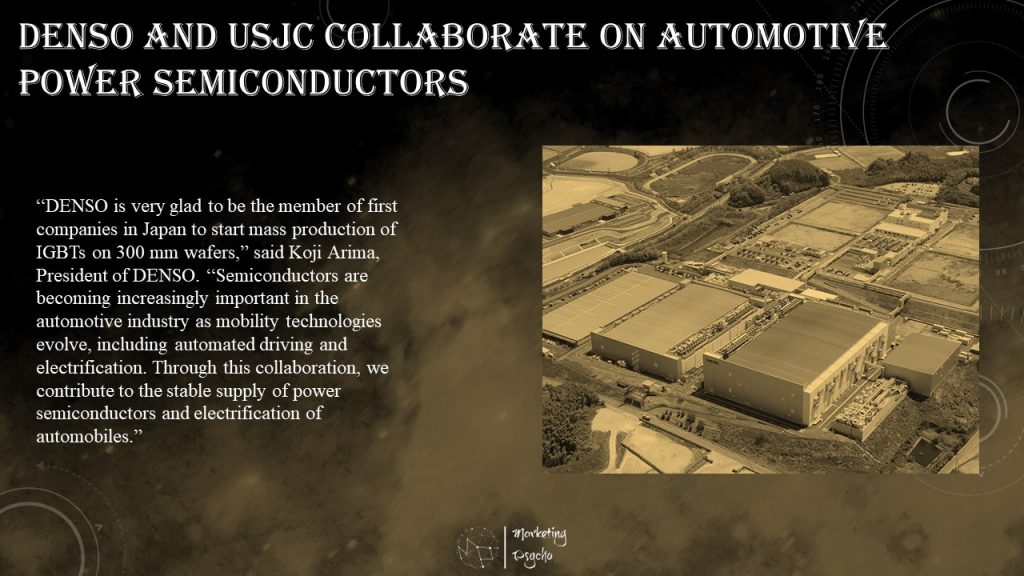 "As a key foundry player in Japan, USJC is committed to supporting the government's strategy to boost domestic semiconductor production and the transition to more environmentally friendly electric vehicles," said Michiari Kawano, President of USJC. "We are confident that our foundry services certified by automotive customers combined with DENSO's expertise will produce high quality products to power the automotive trends of tomorrow."
"We are pleased to have this win-win collaboration with a leading company such as DENSO. This is an important project for UMC and will expand our relevance and influence in the automotive segment," said Jason Wang, Co-President of UMC. "With our robust portfolio of advanced specialty technologies and IATF 16949 certified fabs in diversified locations, UMC is well placed to serve demand across auto applications, including advanced driver assistance systems, infotainment, connectivity, and powertrain. We look forward to capitalizing on more cooperation opportunities going forward with top players in the automotive space."
II‐VI Incorporated, the world's largest ion implant foundry with disk refurbishing services, announced that it will extend its ion implanter disk refurbishing services to Asia, with a multimillion-dollar expansion in Hsinchu City, Taiwan, which is expected to come online in July 2022.
The acute shortages of semiconductor devices in the global supply chain are driving the strong demand for refurbishment of wafer fabrication equipment. The expansion in Taiwan will effectively double II-VI's global disk refurbishing capacity. Batch implanter tool owners in Asia will benefit from a rapid turnaround service that will enable them to maintain their tools in operation and sustain their production output.
"The market demand for used ion implant equipment already exceeds availability by about a factor of ten, including in Asia," said Sohail Khan, Executive Vice President, New Ventures & Wide-Bandgap Electronics Technologies. "Our 25 years of expertise and innovations in disk refurbishment enable our customers to achieve an average of 30% savings on cost of ownership over OEM service. By coming to us, customers will reduce their maintenance costs and get the most out of their ion implanter equipment from higher reliability and longer service life."
As a leading global provider of foundry ion implantation services and support, II-VI implants tens of thousands of wafers per week and adds tools and capacity as required to support customers' changing needs. II-VI's world-class technical expertise, rigorous quality program, and broad range of tooling offer a powerful and flexible outsourcing option for ion implantation, serving production manufacturing and R&D environments. II-VI maintains a large complement of high- and medium-current and high-energy production implanters handling 2-inch to 12-inch substrates. II-VI provides ion implantation services for silicon and compound semiconductor wafers, including heated ion implantation for silicon carbide wafers.
Join STMicroelectronics for a 1-hour webinar where its experts will share insights and discuss the major trends in car electrification, highlighting the fundamental role of power semiconductors in electrical vehicles.
In addition to a high-level overview of the topologies, they will look at new features and requests from carmakers and explore how power semiconductors can help automotive engineers improve performance and find more cost-effective designs.
You will learn how the innovative new features of ST's power portfolio can help engineers successfully meet today's design challenges in terms of technologies, packaging and reliability.
Agenda:
Overview of major trends and recent developments in electric vehicles
A review of ST's product portfolio and developer resources for EV applications

Topology & Technology: Traction Inverter

Topology & Technology: OBC

Topology & Technology: E-Compressor

Benefits and design considerations when using top-side-cooling SMT packages
Date: May 12, 2022
Time: 3 PM CEST
Duration: 1 Hour
---
Subscribe to Power Semiconductors Weekly and watch it on YouTube every Tuesday.
If you prefer a monthly update about the world of power semiconductors delivered to your e-mail address, please, subscribe to Marketing Psycho Power Semiconductors newsletter.