Power Semiconductors Weekly Vol. 58
The highest possible system efficiency is a key requirement for modern power electronics which is driving the development of increasingly higher power densities. However, high system values are at stake should short-circuit events occur. To prevent this and enable systems with the best protection, Infineon Technologies AG is expanding its portfolio of isolated EiceDRIVER™ Enhanced gate drivers with the F3 Enhanced (1ED332x) family. The gate driver family implements reliable and versatile protection to prevent destructive short-circuit events. This allows both conventional power switches, such as IGBTs, as well as CoolSIC™ wide-bandgap devices to be protected. The driver family is designed for industrial drives, solar systems, electric vehicle charging, energy storage systems, commercial air conditioning and other applications.
The EiceDRIVER F3 Enhanced is housed in a 300 mil wide-body DSO 16 package with a large creepage distance of 8 mm. The single-channel isolated gate driver offers an exceptional high common-mode transient immunity (CMTI) of up to 300 kV/us and typical output currents of up to 8.5 A. The tight propagation delay matching allows minimum deadtime improving system efficiency and decreasing harmonic distortion. The driver family provides short-circuit clamping and active shutdown as well as an active Miller clamp.
The devices are designed for wide power ranges and support 40 V absolute maximum output voltage. In addition, the driver family is suitable for operation at high ambient temperatures and in fast switching applications, making it perfect for rugged environments. As a result, it is ideally suited for conventional IGBTs, IGBT7 and silicon carbide (SiC) MOSFETs. Moreover, with its 2300 V capability, it supports power switches beyond 1200 V blocking voltage. UL 1577 and VDE 0884-11 (reinforced isolation) certifications ensure high application reliability and guarantee a long service life.
Vishay Intertechnology, Inc. introduced the latest device in its fourth generation of 600 V E Series power MOSFETs. Providing high efficiency for telecom, server, and datacenter power supply applications, the Vishay Siliconix n-channel SiHK045N60E slashes on-resistance by 27 % compared with previous-generation 600 V E Series MOSFETs, while delivering 60 % lower gate charge. This results in the industry's lowest gate charge times on-resistance for devices in the same class, a key figure of merit (FOM) for 600 V MOSFETs used in power conversion applications.
Vishay offers a broad line of MOSFET technologies that support all stages of the power conversion process, from high voltage inputs to the low voltage outputs required by the latest electronic systems. With the SiHK045N60E and upcoming devices in the fourth-generation 600 V E Series family, the company is addressing the need for efficiency and power density improvements in the first stages of the power system architecture — power factor correction and hard-switched AC/DC converter topologies.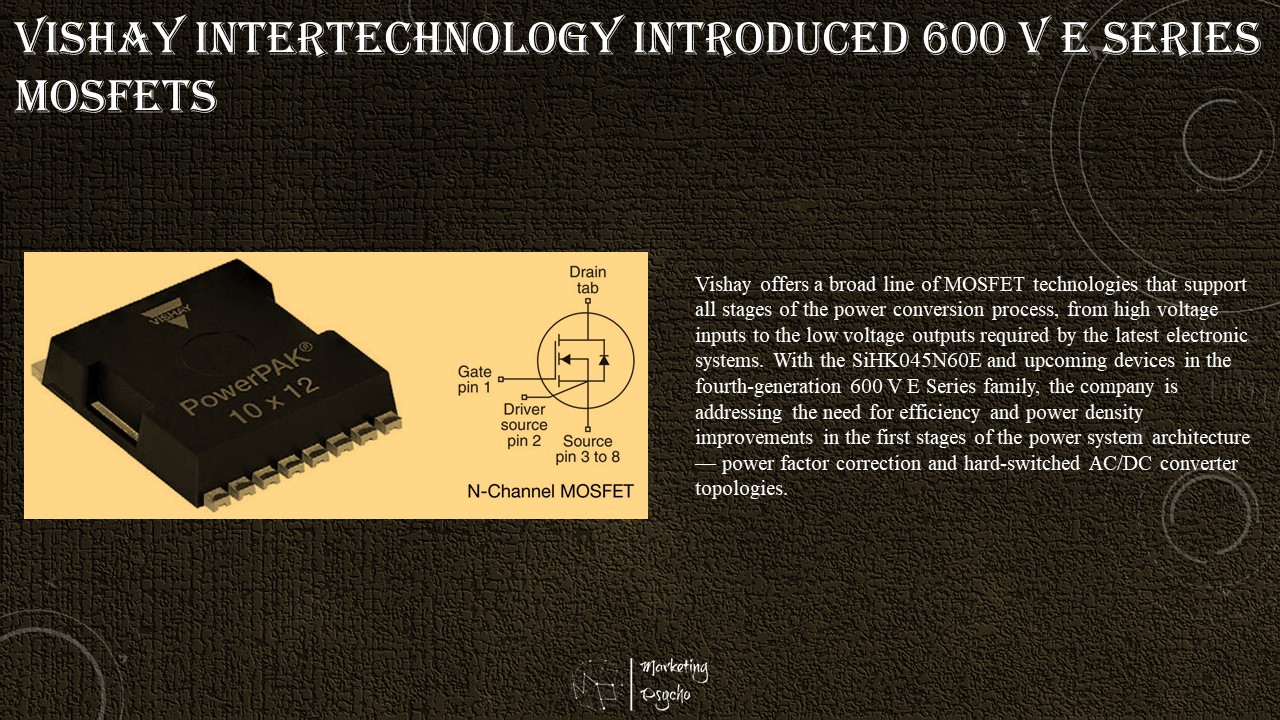 Built on Vishay's latest energy-efficient E Series superjunction technology, the SiHK045N60E features low typical on-resistance of 0.043 Ω at 10 V and ultra-low gate charge down to 65 nC. The device's FOM of 2.8 Ω*nC is 3.4 % lower than the closest competing MOSFET in the same class. For improved switching performance, the SiHK045N60E provides low effective output capacitance Co(er) of 117 pF. These values translate into reduced conduction and switching losses to save energy. The SiHK045N60E's thermal resistance RthJC of 0.45 °C/W is 11.8 % lower than the closest competing device, providing a higher thermal capability.
Offered in the PowerPAK® 10×12 package, the device released today is RoHS-compliant, halogen-free, and designed to withstand overvoltage transients in avalanche mode with guaranteed limits through 100 % UIS testing.
Transphorm, Inc., a pioneer in and global supplier of high reliability, high performance gallium nitride (GaN) power conversion products, announced that it will demonstrate leading-edge R&D results from its 1200-volt GaN device at the International Symposium on Power Semiconductor Devices and ICs (ISPSD), a prestigious IEEE conference in the power semiconductor industry.
The 1200V GaN device delivers greater than 99 percent efficiency and performs well against a leading SiC MOSFET of similar on-resistance. Partially funded by the ARPA-E CIRCUITS program, Transphorm is developing the technology for electric vehicle mobility and infrastructure power systems as well as industrial and renewable energy systems. This major milestone further strengthens Transphorm's ability to support the broadest range of power—from 45W to 10K+ kW—across the widest range of cross-industry applications when compared to any other GaN supplier today.
The ISPSD presentation in May will provide detailed information of device configuration and performance analysis conducted using a hard-switched, synchronous boost half bridge topology. The initial 1200V GaN device in a TO-247 package has an RDS(on) of 70 milliohms and easily scales to lower resistance and higher power levels. Early results show notably low leakage with a breakdown voltage of greater than 1400 volts.
"Building on Transphorm's unique vertically integrated capability, our engineers have yet again pushed the limits of what's possible with GaN," said Umesh Mishra, CTO and Co-founder, Transphorm. "We aim to bring to market an ultra-high voltage, reliable GaN product that will give customers more choice when developing power systems. Our 1200-volt GaN FET will enable excellent performance with greater designability and cost effectiveness than SiC solutions. We see this as an important milestone for the GaN power electronics industry."
To date, commercially available high power GaN transistors generally range from 600 to 650 volts, with the only 900V GaN device available from Transphorm. Transphorm's core product portfolio is comprised of normally-off 650V devices in well-known TO-XXX and PQFN packages, addressing one of the broadest range of power applications among any GaN provider in the market. This enables customers to leverage GaN's inherent advantages—high power density, high power efficiency, low switching loss, and lower overall system cost—while working with reliable devices that are easier to design in and drive versus alternative e-mode GaN or SiC options. Demonstrating the 1200V FET's performance promises to expand Transphorm's portfolio and ultimate market opportunity by supporting demanding, high performance power system applications traditionally relying on SiC solutions.
"1200V GaN has been discussed within the industry for some time, but often perceived as rather difficult to achieve," said Dr. Isik Kizilyalli, Associate Director for Technology at the Advanced Research Projects Agency – Energy (ARPA-E). "As part of the ARPA-E CIRCUITS program led by the Illinois Institute of Technology, the Transphorm team has demonstrated an important breakthrough, showcasing GaN performance at the 1200-volt device node with high efficiency 800-volt switching."
Transphorm's 1200V FETs are expected to be available for sampling in 2023.
In an additional move to combat the ongoing global chip shortage, Bosch plans to further extend its wafer fab in Reutlingen. More than a quarter of a billion euros is to be invested in creating new production space and the necessary clean-room facilities between now and 2025. This will give Bosch the firepower to meet the continuously growing demand for chips used in mobility and IoT applications. "We are systematically expanding our manufacturing capacity for semiconductors in Reutlingen," says Dr. Stefan Hartung, chairman of the board of management of Robert Bosch GmbH.
"This new investment will not only strengthen our competitive position, but will also benefit our customers and help combat the crisis in the semiconductor supply chain." The construction of a new extension in Reutlingen will create an additional 3,600 square meters of ultramodern clean-room space. As of 2025, this additional capacity will produce semiconductors based on technology already in place at the Reutlingen plant. Bosch is also extending an existing power supply facility and will construct an additional building for media supply systems serving both the new and existing production areas. The new production area is scheduled to go into operation in 2025.
In October 2021, Bosch announced it would be spending more than 400 million euros in 2022 alone on expanding its semiconductor operations in Dresden and Reutlingen, Germany, and in Penang, Malaysia. Around 50 million euros of this sum is earmarked for the wafer fab in Reutlingen. In addition, Bosch also announced plans to invest a total of 150 million euros in the creation of additional clean-room space in existing buildings at the Reutlingen facility over the period from 2021 to 2023. The further expansion of the site, which will see a new extension to the manufacturing facilities, will now supplement these measures. All in all, clean-room space in Reutlingen is set to grow from around 35,000 square meters at present to over 44,000 square meters by the end of 2025.
The Reutlingen wafer fabs use 150- and 200-millimeter technology, while the Dresden plant makes chips on 300-millimeter wafers. Both employ cutting-edge manufacturing methods based on data-driven process control. "AI methods combined with connectivity have helped us achieve continuous, data-driven improvement in manufacturing and thereby produce better and better chips," says Markus Heyn, member of the board of management of Robert Bosch GmbH and chairman of the Mobility Solutions business sector. This includes the development of software to enable automated classification of defects. Bosch is also using AI to enhance materials flows. With its high level of automation, this state-of-the art production environment in Reutlingen will safeguard the plant's future and the jobs of the people working there.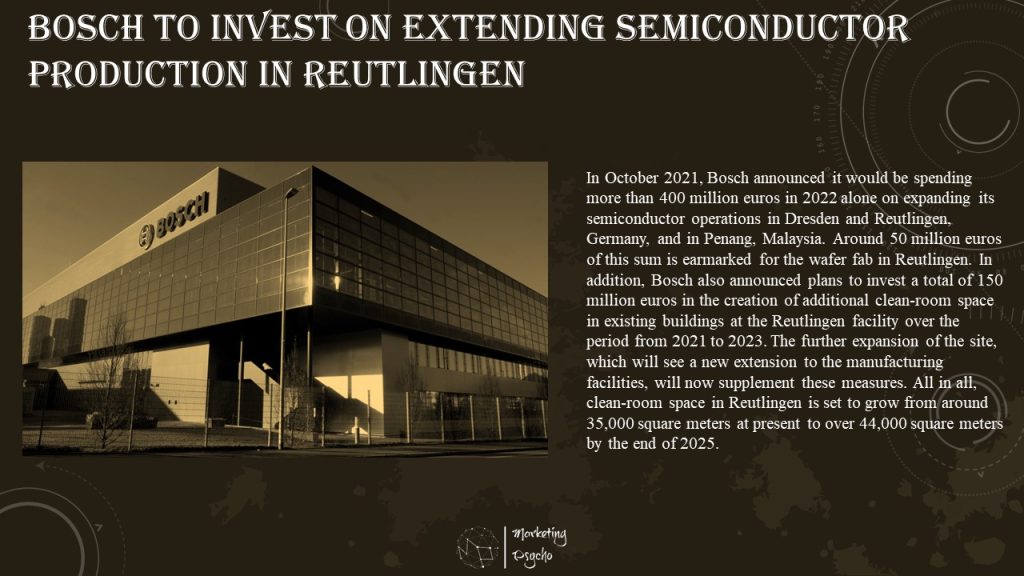 Bosch has been developing and manufacturing semiconductors for over 60 years, and for more than 50 of those years in Reutlingen – both for automotive applications and for the consumer electronics market. Bosch-manufactured semiconductor components include application-specific integrated circuits (ASICs), microelectromechanical systems (MEMS sensors), and power semiconductors. The further expansion of the Reutlingen site will primarily serve the growing demand for MEMS in the automotive and consumer sectors and for silicon-carbide power semiconductors.
"Bosch is already a leading chip manufacturer for automotive applications," Heyn says. "And this is a position we intend to consolidate." Measures to achieve this include the development and manufacture of chips made of silicon carbide, which Bosch has been producing since December 2021. Chips made of this innovative material are destined to play an increasingly important role in electromobility. Bosch is currently the only automotive supplier worldwide manufacturing power semiconductors made of silicon carbide.
The Reutlingen plant currently employs around 8,000 associates. They work in the development and production of semiconductors and electronic control units, in administration, and in the eBike Systems division.
The National Academy of Engineering has elected Wolfspeed, Inc. co-founder and Chief Technology Officer (CTO) Dr. John Palmour into the organization's 2022 class for the development of Silicon Carbide-based advanced electronic devices.
Palmour was one of the graduate students from North Carolina State University who founded the company (then, Cree) in 1987 with the belief that Silicon Carbide could enable superior semiconductor technology. With his knowledge and expertise, Palmour has helped Wolfspeed transform and evolve. Now, over 30 years later, the business has grown into a pure-play semiconductor powerhouse leading the industry transition from silicon to Silicon Carbide.
"We all feel privileged to be working alongside John," said Wolfspeed Chief Executive Officer Gregg Lowe, "His passion and expertise with this transformational technology has led our team to groundbreaking innovation over the years and today is enabling us to help our customers reach new levels of energy efficiency."
Silicon Carbide is currently utilized in many technologies from electric vehicles to gaming systems to industrial motors, renewable energy and energy storage. Palmour has championed and innovated Silicon Carbide for power and GaN on Silicon Carbide for RF for over 30 years, enabling faster, more energy-efficient technologies that are foundational for many industries as they prepare and adapt for a more sustainable future. The company congratulates him and the other innovators who were also elected to the 2022 class.
Palmour has authored a total of 386 scientific publications and holds 81 U.S. patents in the areas of processing and device designs for silicon carbide and gallium nitride electronic devices.
Membership in the National Academy of Engineering is one of the highest professional distinctions for an engineer, honoring those who have made outstanding contributions to engineering research and practice, including pioneering of new and developing fields of technology and making major advancements in engineering.
This year, 111 new members and 22 international members were elected. Their formal induction will take place on Oct. 2, 2022, at the National Academy of Engineering's Annual Meeting.
Vishay Intertechnology, Inc., one of the world's largest manufacturers of discrete semiconductors and passive electronic components, announced that Dr. Gerald Paul has decided to retire as President and Chief Executive Officer and as a member of the Board of Directors on December 31, 2022. The Board of Directors has appointed Joel Smejkal, Executive Vice President, Corporate Business Development, to succeed Dr. Paul as President and Chief Executive Officer. The Board also intends to appoint Mr. Smejkal to the Board of Directors, effective upon Dr. Paul's retirement. In addition, the Board has appointed Jeff Webster, Executive Vice President, Business Head Passive Components, to the newly created position of Chief Operating Officer, reporting to the Chief Executive Officer. Both Messrs. Smejkal and Webster will assume their new roles on January 1, 2023.
"On behalf of the Board, I want to thank Gerald for his exemplary commitment to Vishay over the course of his 44-year career at the Company and, as CEO since 2005, his outstanding stewardship of Vishay's financial stability and market leadership positions. We are very grateful for his service and wish him the best in his retirement," said Marc Zandman, Executive Chair of the Board.
In anticipation of Dr. Paul's eventual retirement, the Board's independent Nominating and Corporate Governance Committee, in conjunction with the Board of the Directors, has been engaged in succession planning for some time to ensure a smooth evolution of Vishay's strategic priorities. Both Mr. Smejkal and Mr. Webster are veteran executives at Vishay who were promoted to their current positions in 2020. Commenting on their new appointments, Mr. Zandman added, "Joel possesses the right combination of attributes to assume the reins of the Company: extensive experience in engineering, marketing, operations, and sales gained over the past 32 years at Vishay; proven leadership skills; and, more recently, involvement in developing the Company's growth strategies. In creating a Chief Operating Officer position at Vishay, the Board will be leveraging Jeff's deep knowledge of Vishay's global operations and accomplishments as head of our passive components business. The Board is confident that the promotions of these two executives will serve Vishay well as it enters the next chapter in its 60-plus year history."
Commented Dr. Paul, "Having enjoyed a rewarding career at Vishay, I have informed the Board of my decision to retire at the end of the year and begin preparing for a change in leadership at the Company. It has been a privilege to serve as the Company's Chief Executive Officer and I want to thank our customers, partners, employees, stockholders, and the Board for their support over the past 17 years. I wish to congratulate Joel and Jeff on their appointments and look forward to working with them for the balance of the year on an orderly transition of executive responsibilities. Under their leadership, I am confident Vishay will continue to thrive."
Joel Smejkal has served as Executive Vice President, Corporate Business Development since July 1, 2020. He has held various positions of increasing responsibility since joining Vishay in 1990, including Executive Vice President, Business Head Passive Components and Senior Vice President Global Distribution Sales. His experience with Vishay includes worldwide and divisional leadership roles in engineering, marketing, operations, and sales.
Jeff Webster has served as Executive Vice President, Business Head Passive Components since July 1, 2020. He has held various positions of increasing responsibility since joining Vishay in 2000 including Senior Vice President Global Quality and Vice President Global Quality – Actives.
Taiwan Semiconductor offers the entire range of Rectifier Diodes. Rectifiers are often perceived as easy products to design with. There is a choice of thousands of components. Design engineers could benefit from a better understanding of the underlying technologies to make the best choice, as the datasheets often do not give this information.
In this webinar, Taiwan Semiconductor will give you an update on the most relevant new technology evolutions.
Key Takeaways:
Understand how Transient Thermal Impedance can influence your package choice.
Learn more about the different front end technologies to manufacture rectifiers.
Why do Planar Schottky diodes have a long-term future (vs Trench)?
Billions of Rectifiers are produced every year. What can you do to reach zero defects?
Date: March 03, 2022
Time: 3 PM CET
Duration: 50 min
---
Subscribe to Power Semiconductors Weekly and watch it on YouTube every Tuesday.
If you prefer a monthly update about the world of power semiconductors delivered to your e-mail address, please, subscribe to Marketing Psycho Power Semiconductors newsletter.