Power Semiconductors Weekly Special Vol. 03. WBG Semiconductors Events 2021
For the past couple of decades, the development of wbg semiconductors went through various stages, and the last several years made it possible for SiC and GaN devices to reach new levels of integration in power electronics applications. WBG semiconductors market has already reached 1 billion USD and continues to grow.
This is no surprise, that almost every power semiconductors manufacturer is working with SiC or GaN to develop new power devices that will contribute to more efficient power generation, transmission, storage and consumption.
Not long ago my colleagues from Bodo's Power Magazine and AspenCore held their virtual conferences dedicated mostly to wbg semiconductors. And in this power semiconductors weekly special report I want to briefly update what solutions were presented there. So, let's take a look at what is new in wbg semiconductors industry.
Bodo's Wide Bandgap Event was held November 30 – December 3, and during 4 days the industry leaders shared their ideas, updates, and forecasts concerning 4 major topics:
Silicon carbide
Gallium nitride
Passives & magnetics
Test, Measurement & Simulation
During SiC conference day companies like Infineon, STMicroelectronics, ROHM, Microchip, Vincotech, WeEn, onsemi, Fuji Electric, Hitachi, GeneSiC, StarPower, Wolfspeed, Alpha and Omega, and many others presented their silicon carbide solutions.
Silicon carbide is pushing automotive and many other industries to achieve better performance with smarter and smaller devices. EV chargers, storage systems, and other power electronics equipment benefit from SiC technology.
The second day of the conference was dedicated to GaN. Similar to SiC, all major GaN players contributed to the event. Companies like Nexperia, GaN Systems, Navitas, Texas Instruments, Power Integrations, X-FAB, Transphorm, and other shared their GaN technology developments and vision what to expect in the future.
We can expect GaN shift from consumer electronics to high power applications. Datacenters and storage systems will continue to adopt GaN technology. Thus, GaN transistors used in energy storage systems provide several times less power loss. If we speak of the EV market, here compared to current solutions, GaN technology helps to extend mileage of the electric vehicles.
If for some reason you missed the conference, you can visit Bodo's Wide Bandgap Event website, register, and get access to all presentations to get more insights into wide bandgap semiconductors, and learn from the original source everything you wanted to know about SiC and GaN solutions, and even more than that.
Here's the agenda of the first two days:
SiC Day
Welcome Message (Bodo Arlt, Publishing Editor, Bodo's Power Systems)
Keynote presentation: How to connect outstanding SiC chip performance to the system using the right ecosystem (Dr. Peter Friedrichs, Vice President SiC, Infineon)
Introduction to Silicon Carbide SiC MOSFETs: design, products, applications (Jan Huijink, Technical Marketing Manager, WeEn Semiconductors)
EV-Charging with SiC Technology (Dr. Marija Jankovic, Field Application Engineer – Power Systems, ROHM Semiconductor)
Running with SiC from Discretes to Modules – Using the same SiC-die we will show the performance evolution using 3-pin, 4-pin, molded Modules and Power Modules (Ales Loidl, Power & Energy Application Lab Manager, STMicroelectronics)
The Value of Using Silicon Carbide in Energy Storage Systems (Simon Tomkins (with Guy Moxey) Senior Field Applications Engineer (Senior Director Marketing), Richardson RFPD (and Wolfspeed)
Live Q&A on S1, S2, S3, S4, S5 (Bodo Arlt, Publishing Editor, Bodo's Power Systems)
Two Levels are Better than Three: Simplifying Topologies with 1700 V SiC MOSFETs (Kevin Speer, Senior Manager, SiC Power Solutions, Microchip)
Solving the Challenges of EV Charger Designs with SiC Power Modules (Tiago Jappe, Product Marketing Manager, Vincotech)
Improving Reliability and Efficiency of SiC Power Designs using onsemi M3 series SiC MOSFETs (Jonathan Harper, Member of Technical Staff, Industrial Power Systems, onsemi)
Switching characteristics of Fuji Electric's 1700V and 1200V 2Gen SiC Trench gate MOSFET devices (Steffen Ewald, Manager Application Engineering, Fuji Electric Europe)
SiC Power Modules – Enabling High Power and High Temperature Applications (Dr. Praneet Bhatnagar, Principal Application Engineer, Hitachi)
Live Q&A on S6, S7, S8, S9, S10 (Bodo Arlt, Publishing Editor, Bodo's Power Systems)
Criteria to judge SiC Power MOSFETs (Sumit Jadav, Applications Engineer, GeneSiC Semiconductor)
Trends in Automotive Power Module Packaging (Marcus Lippert, Business Development Manager, StarPower Europe)
To Motor Drive or not to Motor Drive that is the SiC Question (Guy Moxey, Senior Director Marketing, Wolfspeed)
aSiC MOSFETs: Minimum Complexity with Maximum Performance (Dr. David Sheridan, Sr. Director SiC and GaN Power Products, Alpha and Omega Semiconductor)
Comparing design approaches to leading manufacturers SiC FETs (Stephen Russell, Senior Process Analyst – Power Devices, TechInsights)
Live Q&A on S11, S12, S13, S14, S15 (Bodo Arlt, Publishing Editor, Bodo's Power Systems)
Using Advanced Manufacturing Techniques for the Design of High-Reliability Power Components (Jens Eltze together with HelenAnn Brown and Gina Rotermund, Director of Business Development, Apex Microtechnology)
Solid-state breakers with low resistance SiC FETs (Dr. Anup Bhalla, VP of Engineering, Qorvo (former UnitedSiC)
Suppressing Gate Oscillations in SiC Power Modules (Dr. Yanfeng Shen, Electric Engineer – Power Electronics, Danfoss)
A SiC MOSFET Intelligent Power Module Platform for Compact & Efficient Inverters (Pierre Delatte, CTO, CISSOID)
Live Q&A on S16, S17, S18, S19 (Bodo Arlt, Publishing Editor, Bodo's Power Systems)
GaN Day
Keynote presentation: On the benefits of GaN HEMTs for low and high power applications (Dr. Gerald Deboy, Distinguished Engineer Power Discretes and System Engineering, Infineon)
Performance breakthrough by using GaN transistors for power converters in a real application environment (Dr. Ester Spitale, Technical Marketing Manager, STMicroelectronics)
GaN-on-SOI for highly-integrated GaN-Ics (Dr. Urmimala Chatterjee, R&D Engineer, imec)
Switching evaluation of fast GaN devices (Sebastian Klötzer, Principal Application Engineer, Nexperia)
Innoscience brings GaN technology to the next level: mass manufacturing and applications (Dr. Denis Marcon, General Manager, Innoscience)
Live Q&A on G1, G2, G3, G4, G5 (Bodo Arlt, Publishing Editor, Bodo's Power Systems)
X-FAB – Processing GaN in a CMOS environment (Agnes Jahnke, Product Marketing Manager SiC & GaN, X-FAB)
GaN and Gate-Driver: a Powerful Combination to Boost your Application (Dr. Mike Wens, CEO, Managing Director, MinDCet)
GaNFast Architecture, Performance in High-Power Systems (Stephen Oliver, VP Corporate Marketing & Investor Relations, Navitas Semiconductor)
Sustainability: GaN is Doing Its Share (Cam Pham, Technical Sales Director, EMEA, GaN Systems)
GaAs from RF into power – next Gen WBG Diodes (Christopher Rocneanu, VP of Business Development, Foxy Power for 3-5 Power Electronics)
Solving Key Automotive Electrification Design Challenges with Heyday power-thru gate drivers (Bernard Keogh, Principal Engineer, Heyday Integrated Circuits)
Live Q&A on G6, G7, G8, G9, G10, G11 (Bodo Arlt, Publishing Editor, Bodo's Power Systems)
The benefits of using 650-V GaN FETs in 800-V power converters (Ramanan Natarajan, Applications and Marketing Manager, GaN power products, Texas Instruments)
GaN-Based Power Devices – Beyond the Primary Switch (Andrew Smith, Director of Technical Outreach, Power Integrations)
GaN-based motors make eMobility solutions faster, lighter, and more efficient (Marco Palma, Director of Motor Drive Systems and Applications, Efficient Power Conversion)
GaNFast Power IC Solutions for EV, Solar & Industrial (Alessandro Squeri, Senior Director Europe Sales, Navitas Semiconductor)
Competing from Low to High Power and Beyond (Philip Zuk, SVP Technical Marketing and Business Development, Transphorm)
Live Q&A on G12, G13, G14, G15, G16 (Bodo Arlt, Publishing Editor, Bodo's Power Systems)
Shortly after Bodo's Wide Bandgap Event, on December 7-9, AspenCore held its PowerUP Expo dedicated to various aspects of power electronics including wide bandgap semiconductors. This was a virtual conference, the second day of which was all about SiC and GaN.
During that day the representatives of the leading power electronics universities, associations, and power semiconductors manufacturers discussed the technology status and trends, what should be done to make wide bandgap semiconductors a more mass product.
Companies like Infineon, Wolfspeed, Nexperia, STMicroelectronics, Qorvo (former UnitedSiC), onsemi, Power Integrations, and other shared their updates on how they react to the challenging market behavior and what they do to introduce SiC and GaN technology solutions to the end user applications.
Besides their presentations the industry leaders discussed the benefits SiC and GaN have compared to Si semiconductor devices.
Right now, the presentations of PowerUP Expo website are no longer available, however, you can always get in touch with the speakers to discuss the topics covered.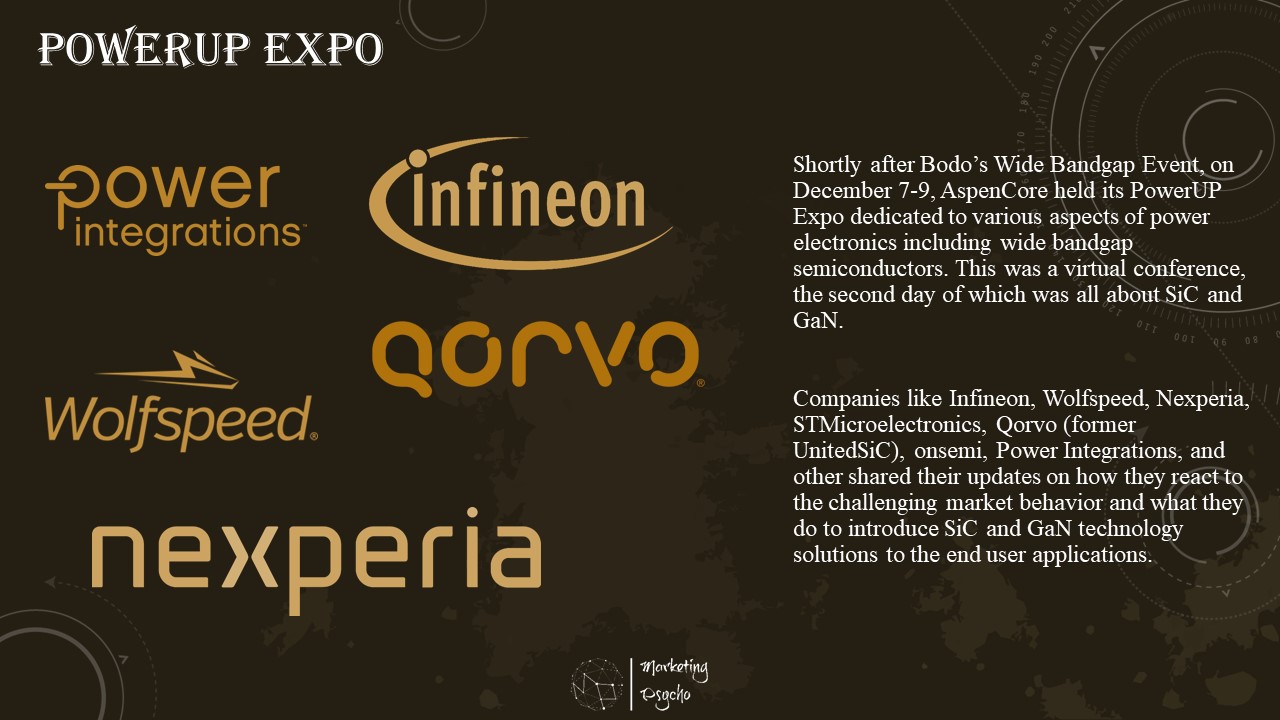 Here's the agenda for the second day of PowerUP Expo dedicated to SiC and GaN:
Welcome and opening by Maurizio Di Paolo Emilio, Editor of EE Times & Power Electronics News and Anne-Francoise Pelé of Editor EE Times
SiC Power Technology Status and Barriers to Mass Commercialization by Victor Veliadis, Ph.D., Professor in Electrical and Computer Engineering, North Carolina State University, Executive Director and CTO, PowerAmerica
Recent Progress in Vertical Gallium Nitride Power Devices by Robert Kaplar, Manager of the Semiconductor Material and Device Sciences Department at Sandia National Laboratories
GaN – Addressing the challenges of a booming market by Toni Versluijs, General Manager MOS & GaN Business, Nexperia
Latest developments in compound materials usher in new power packaging concepts by Filippo Di Giovanni, Strategic Marketing, Innovation and Key Programs Manager, STMicroelectronics
Ultra-low Rds(on) 750V switches enable new frontiers in inverter and circuit protection power electronics by Dr. Anup Bhalla, Vice-President of Engineering, Qorvo (former UnitedSiC)
Paralleling GaN FETs by Scott Durkin, Principal GaN Applications Engineer, Nexperia
Higher power density, manufacturing costs reduction and higher efficiency enablement in On Board Chargers – thanks to WBG devices by Rafael Antonio Garcia Mora, System Application Engineer for OBC Application, Infineon Technologies
Design considerations when selecting semiconductor materials for high power applications by Anuj Narain, Director Power Platforms and Applications, Wolfspeed
Wide Bandgap Semiconductors: The next wave of GaN and SiC – Panel Discussion with Industry Experts, moderated by Maurizio Di Paolo Emilio, Editor of EE Times and Power Electronics News
Innoscience moves GaN to the next stage: mass manufacturing and applications by Dr. Denis Marcon, General Manager, Innoscience
Modern Telecom & Datacenter SMPS powered by Si, SiC & GaN by Francesco Di Domenico, Lead Principal Application Engineering, Infineon Technologies
onsemi Industrial Silicon Carbide Solutions by CJ Waters, Technical Marketing Engineer, Power Solutions Group AMR, onsemi
Could your application benefit from GaN? by Andy Smith, Director of Technical Outreach, Power Integrations
GaN intelligent power stage for high frequency converter by Gianni Vitale, Application Director, STMicroelectronics
Moreover, you can already save a slot in your schedule for the next PowerUP Expo event which is to be held in June. Don't miss it!
Subscribe to Power Semiconductors Weekly and watch it on YouTube every Tuesday.
If you prefer a monthly update about the world of power semiconductors delivered to your e-mail address, please, subscribe to Marketing Psycho Power Semiconductors newsletter.