Power Semiconductors Weekly Special Vol. 01. PCIM Europe Digital Days 2021
Second year in a row one of the most important trade fairs in the world of power semiconductors was held digitally. PCIM Europe Digital Days 2021 took place May 3-7, 2021 on a digital events platform Talque. Despite the pandemic restrictions, this power electronics show proved to be one of the most exciting events in the industry. Major manufacturers of power semiconductors presented their new projects and shared their ideas about the future of power semiconductors industry.
This power semiconductors weekly special edition covers the products presented by the main manufacturers of power semiconductors during PCIM Europe Digital Days 2021.
During PCIM Europe Digital Days 2021 Mitsubishi Electric presented several new power semiconductors and held various product and applications webinars.
The presented products include:
2nd gen SiC MOSFET Industrial module for 1200V and 1700V for several applications such as auxiliary supply, elevator, UPS, PV, CT, MRI. The module is equipped with Real Time Control (RTC) to provide short-circuit protection. The line-up for 1200V has been expanded from 300 A up to 1200A widely for several applications
LV100 optimized for renewable and industrial applications equipped with the latest 7th generation IGBT and Diode chips with superior trade-off providing significant power loss reduction
Standardized dual packages LV100 and HV100 with 6 kV and 10.2 kV insulation voltage
New 6in1 modules in compact packages for electric & hybrid vehicles
Comprehensive T/T1 product line-up for 650 V, 1200 V and 1700 V in various circuit topologies with superior long-term reliability package structure based on resin insulated metal baseplate and hard resin encapsulation
G1 series IPMs with advanced internal drive circuit with integrated protection functions
X series power semiconductor modules with current rating increased by 50 % compared to conventional package and latest package technology, which enhances power cycle lifetime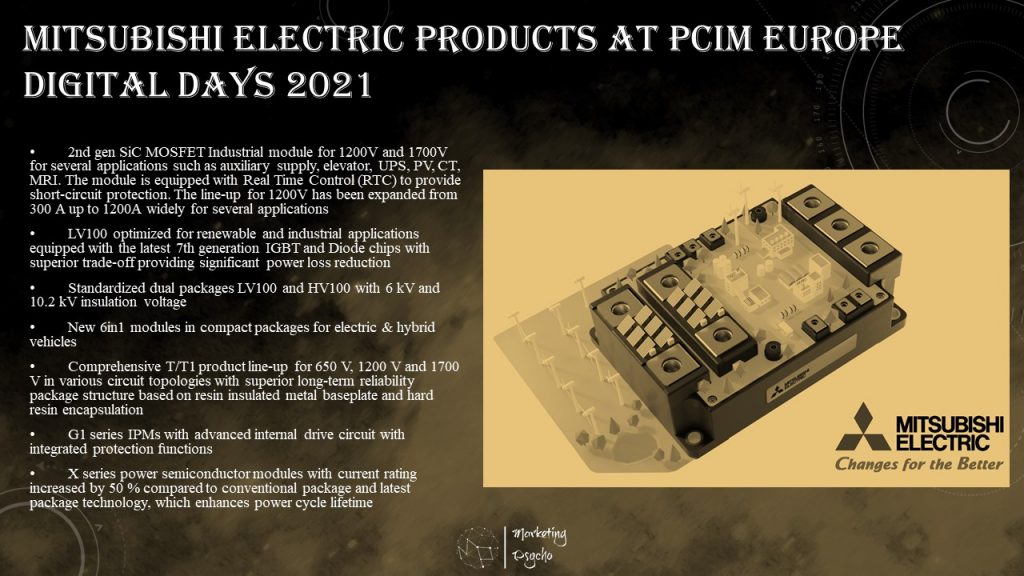 More information about the presented power semiconductors can be found at PCIM Europe Digital Days 2021 Talque platform or at Mitsubishi Electric website. You can experience a whole new digital experience in the special section of Mitsubishi Electric Website.
Semikron prepared a lot of product material and presented the following devices:
New 1700V IGBT E7 Portfolio in the SEMiX 3 Press-Fit. The new IGBT E7 offers the same current rating with greatly reduced chip area. Along with this outstanding jump in power density, the forward voltage has also dropped by up to 20%, allowing for reduced conduction losses and increased efficiency.
SEMITOP E1/E2 with IGBT T7 in a CIB (Converter-Inverter-Brake) topology from 10A to 50A and in sixpack configurations from 25A to 100A.
SEMiX 6 Press-Fit for medium power range from 75A to 200A in CIB and 100A to 250A in sixpack configurations. The modules use IGBT M7, delivering up to 75kW of motor power.
SEMITRANS 2 and 3 half-bridges for medium to high power applications that cover the full range from 150A to 800A. The classic 34mm and 62mm packages use IGBT M7.
SEMITRANS 10+ – the natural extension to the next level of power density. Equipped with the latest generation 7 IGBTs, it achieves a new nominal current rating of 1800A in half-bridge configurations. The additional AC terminal extends the output current range and supports the powerful chipset to its full potential. As with the standard SEMITRANS 10, the SEMITRANS 10+ is also a key component to a full multiple sourcing approach.
SEMITRANS 20, which allows low-cost industrial and high reliability traction designs in the same package. While focused on cost optimization, the SEMITRANS 20 Industrial version extends power cycling beyond the conventional design. With three AC terminals, the SEMITRANS 20 allows extremely high output current, especially helpful in ANPC configurations for solar and energy storage. The SEMITRANS 20 Traction version achieves five times the power cycling compared to the conventional design through enhancements such as sintering, Silicon Nitride ceramic, AlSiC baseplate and aluminum-clad copper wire bonds. If power cycling is not a concern, then enjoy up to 25% higher output power and higher overload conditions.
Besides, the company like many others held various webinars and presentations which are now available on-demand on Semikron website.
As expected Infineon Technologies had various presentation and provided details about the following power semiconductors:
HybridPACK™ Drive CoolSiC™ for your electrification journey: This six-pack power module in 1200 V is optimized for BEV traction inverters, highly scalable from the world of silicon, combining performance and reliability
New 4.5 kV IHV modules for highly demanding industry applications like HVDC with maximum output power and highest efficiency
XHP™ IGBT modules and proven IHV modules delivering best-in-class reliability and highest power density
New high-power IGBT portfolio with discrete 650 V TRENCHSTOP™ IGBT7 T7 and 1200 V TRENCHSTOP™ IGBT7 S7 bringing significant loss reductions to industrial motor drives
650 V CoolSiC™ Hybrid discretes for plug-and-play efficiency boosts in UPS designs
2300 V voltage class PrimePACK™ 3+ module for 1500 V PV central inverters
Within the digital event Infineon held the Zoom webinar dedicated to the perspective of wide bandgap semiconductors for datacenters.
More details can still be found at PCIM Europe Digital Days 2021 platform.
Japanese manufacturer of power semiconductors presented the following semiconductor projects during PCIM Europe Digital Days 2021:
1700V and 3300V High Power next Core (HPnC) IGBT modules based on the 7th generation "X Series" chip technology. Thus, the power dissipation has been reduced while the power density has been increased. A base plate with low linear expansion coefficient as well as ultrasonic bonding technology are used to improve the thermal power cycling capability and hence realize a higher reliability of the module
7th-Generation "X Series" RC-IGBT module for industrial applications
All Sic and Hybrid modules
Small IPM modules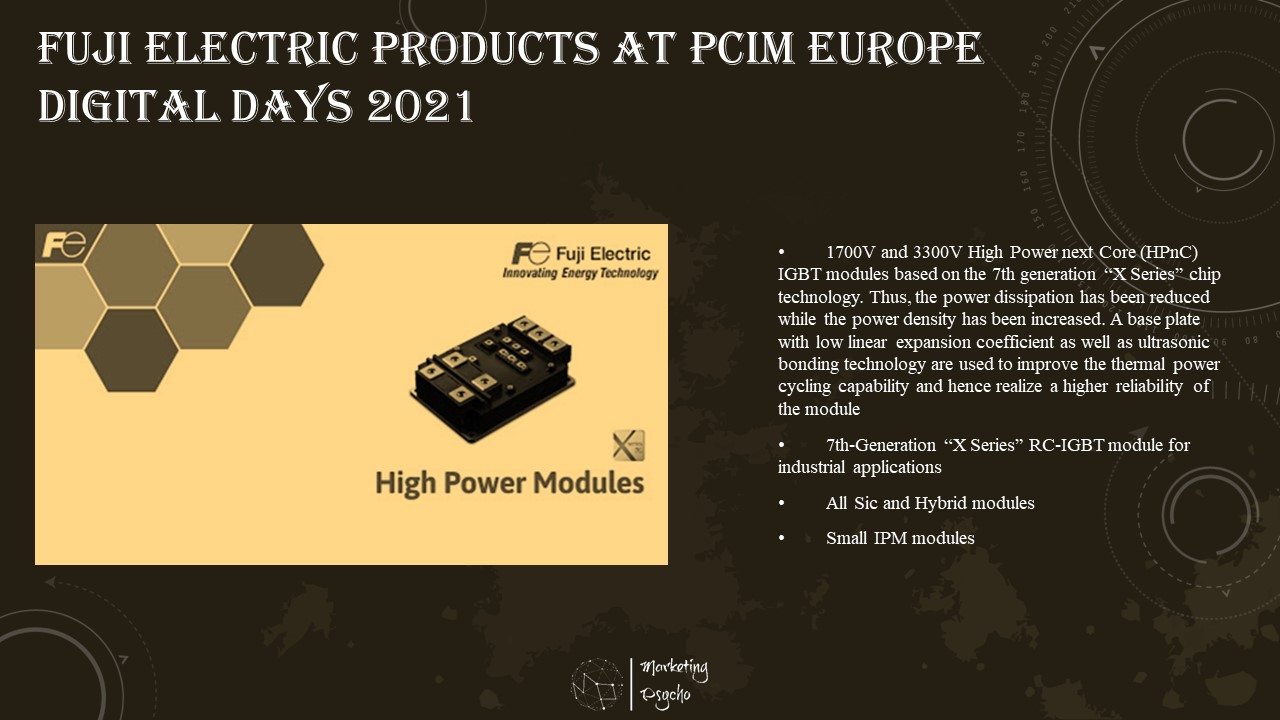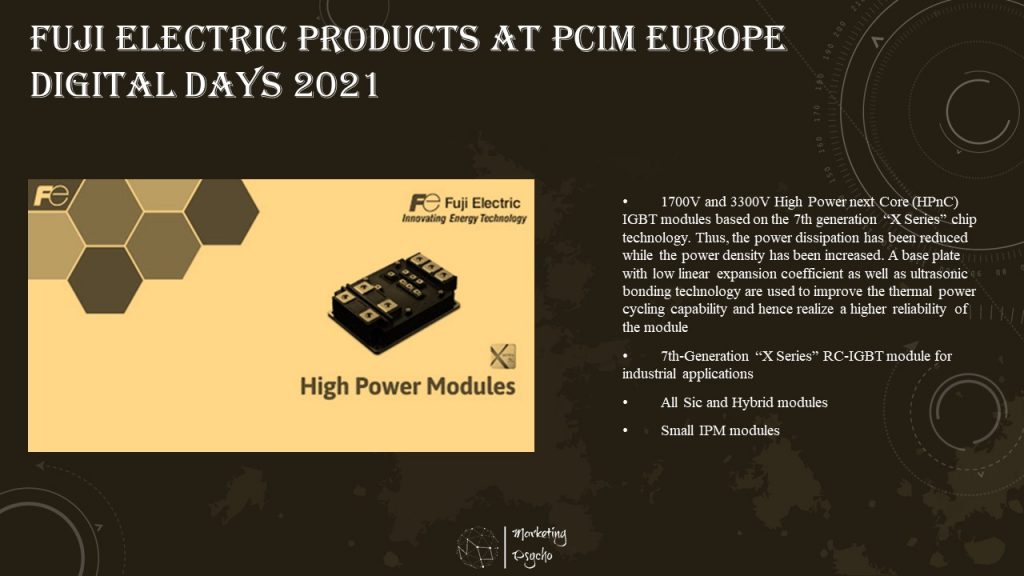 Take a virtual tour to Fuji Electric booth and find out more.
Hitachi Abb Power Grids had huge success with some of their new power semiconductor projects like:
RoadPak SiC e-mobility module. The key benefit is the high-current rating in a small package that is enabled by the use of SiC, combined with very small stray inductance
New LoPak for 1200V applications. These new modules feature the next generation of ultra-low-loss, rugged Trench IGBT technology used to fabricate the silicon switch and optimized diodes.
SiC LinPak modules. They deliver several benefits, including a massive reduction of switching losses, an increase in current density and higher maximum junction temperature. These enhancements mean power conversion system efficiency is improved, a smaller footprint is achieved, and cooling requirements are much lower. The new SiC LinPaks enable increased switching frequency, significantly reducing filtering requirements. This makes the output wave curve much smoother, protecting the motor turned by the drive
IGCT 4.5kV Generation 3. The latest family member of IGCTs exhibit up to 30 percent higher turn-off capability compared to previous generation devices. By applying an outer gate ring structure, the use of a monolithic cathode side molly was possible. This allows for a more efficient and homogeneous wafer cooling on the cathode side compared to previous IGCT generation. By applying an asymmetric anode and cathode side pole piece the total thermal impedance was lowered. The result is a device with improved thermal performance and increased reliability
60Pak diode and thyristor modules with highest performance, outstanding reliability and increased overload capability
Search for more information about Hitachi ABB Power Grids power semiconductors at their official website.
The British manufacturer of power semiconductors presented the whole spectrum of devices:
IGBT & FRD modules

Trench IGBT technology options up to 1.7kV & 3600A
1.2kV to 6.5kV voltage range in major industry package range available.
Half bridge, single switch & dual switch circuit configurations.
High reliability in power cycling environment
New high current HV trench IGBT range > 3.3kV with availability from 2H 2021 Low gate charge design, Reduced conduction loss (VCE sat), Reduced switching losses (Eon & Eoff) & Increased RBSOA performance
Complementary full FRD modules options to 6.5kV

PressPack IGBT
Thyristor and Rectifier Hockey Puck Devices
HVDC Thyristors
AsymmetricBypassThyristor
IGCTs
PowerAssemblies
The UK-based company provides the full spectrum of power semiconductors. You can learn more about the company and products at the official website.
The company from the USA presented their standard product line. Similar to their colleagues from UK Littelfuse can offer a lot like:
Trench Series XPT™ Discrete IGBTs for 1200V. Utilizing XPT™ 4th generation GenX4™ thin-wafer technology and Trench IGBT process, this 1200V devices helps to reduce gate driver requirements
5th Generation High Power Sonic Diodes. These diodes incorporate state-of-the-art silicon bonding technology with a unique manufacturing process and lifetime control to offer a class-leading trade-off between conduction and switching losses. The wide safe operating area (SOA) makes them ideal as freewheeling diodes for snubbersless IGBT and IGCT applications or any application which requires a fast, low loss diode
Industry-standard diode and thyristor modules
1700V SiC MOSFETs and Schottky Barrier Diodes
600V and 650V X3-Class Ultra Junction MOSFETs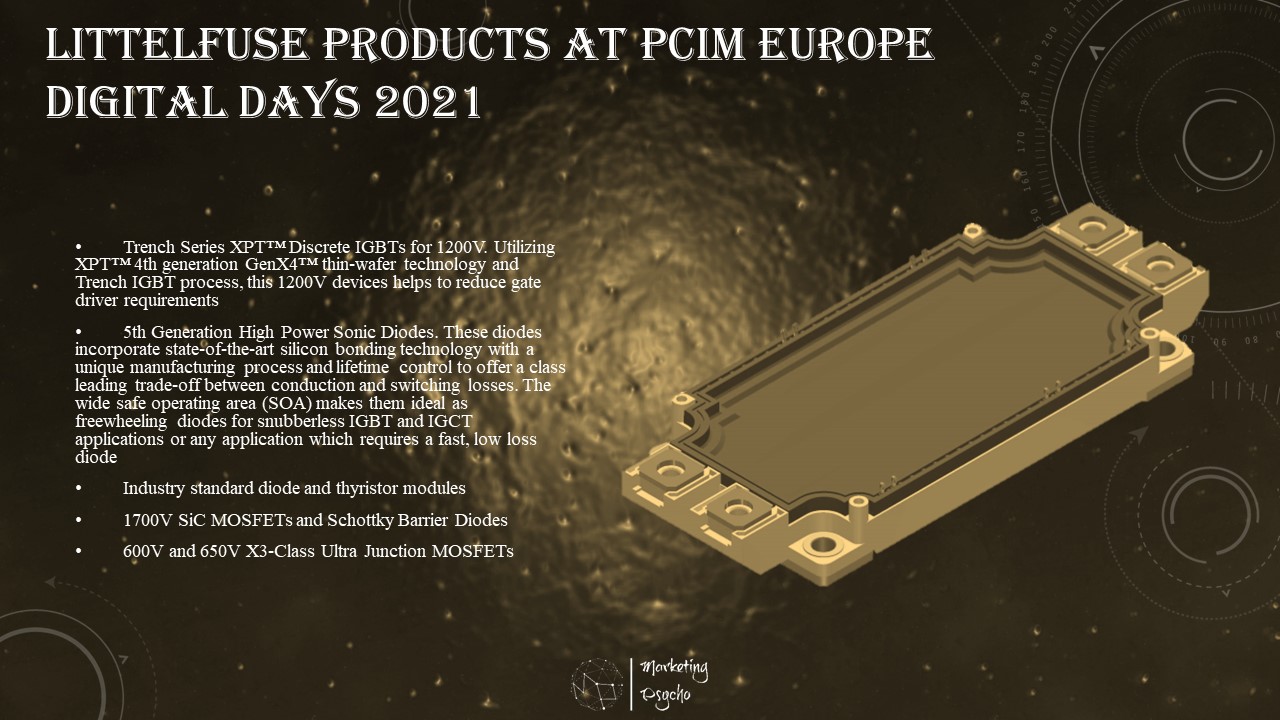 As one of the market leaders in SiC, ON Semiconductor is committed to providing a full ecosystem from SiC wafering to system design-in support. SiC devices cover a wide range of voltage and current classes in a broad variety of packages, resulting in one of the largest and most comprehensive portfolios in the industry.
On Semiconductor presented the following portfolio features:
Enhanced reliability with patented termination
Stability of key parameters during real application conditions
A full portfolio of diodes and MOSFETs in 650 V, 900 V, 1200 V, and 1700 V
A broad base of packages, from bare dice to high power modules
All devices automotive and industrial qualified
Application expertise to support design-in activities
Wolfspeed's innovative product families include RF devices as well as SiC Power products including Bare Die, Schottky Diodes, MOSFETs and Power Modules. All products can be found in industry leading electric vehicles, on and off board chargers, solar power inverters, UPS and more. SiC components deliver up to 25% fewer losses, up to 60% smaller systems, and up to 20% lower overall system costs when compared with silicon components.
Presented products:
SiC power modules
Discrete SiC MOSFETs
Bare dies
The company held the webinar hosted by Guy Moxey. His presentation and product information can be found at PCIM Europe Digital Days 2021 platform.
SIRECTIFIER Electronics Technology Corporation, founded in 1993, is a professional manufacturer and a global supplier of products and services in the field of Power Electronics. Now it is one of the biggest manufacturer of Power Semiconductor modules in China.
Presented products:
IGBT modules
Thyristor modules
Fast recovery epitaxial diodes
SiC and GaN devices in TO220AB, TO220AC, TO247AC, TO247AD, TO218 packages
Rectifier diode bridges
More details are available at Sirectifier website.
ST has a long history of innovations in the field of power and energy management. They design and build products, solutions, and ecosystems that enable safe, power-efficient industrial and automotive applications, harnessing the capabilities of wide bandgap semiconductor solutions such as Silicon Carbide (SiC) and Gallium Nitride (GaN). ​
650V and 1200V Silicon Carbide diode families
Solar inverter, motor drive, UPS and Electric Vehicle circuit designers looking for efficiency, robustness and fast time-to-market will appreciate ST's 650V and 1200V Silicon Carbide Diode families covering 2 A to 40 A in through-hole and surface mount package options, including the insulated TO-220AB/AC and PowerFLAT 8×8 HV innovations.
L9502 Isolated gate driver & ACEPACK Drive
Based on ST's 3rd generation state-of-the-art 750V and 1200V SiC MOSFET technology, ACEPACK Drive power modules ensure outstanding current density combined with extremely low conduction losses as well as light-load power losses; boosting system efficiency for extended driving ranges.
The perfect companion for ACEPACK Drive modules, our L9502 single-channel, automotive-grade, galvanically insulated gate drivers are ASIL-D systems-ready and provide a high current output combined with sophisticated diagnostics and protection features configurable through SPI.
With the experience of 88 years on the field, SanRex is known for high-quality power semiconductor devices and power supply products. Power semiconductor selection offers a wide range of diodes, thyristors and triacs that are applicable for different industrial needs. Since the development of the first arc power supplies for movie projectors in 1933, SanRex has become a well-known name globally also in power supply manufacturing.
3S SiC MOSFET family
Applicaple for various applications including Induction Heating, Industrial Inverters, Solar Inverters, Battery Chargers for Electrical Vehicles, Motor Drives and many more.
Size of about one third of a conventional module package
Package built by using SanRex's own Techno Block technology – diode function is included on the die
Very low package inductance enables smooth operation even at high frequencies
High short circuit capability and low output characteristics ensure the safeness of the device
Top-notch power cycle capability: three times longer than conventional modules
Our expertise and support on documentation, technical support and device design
DF-NB -Series
Great fit for applications like Packaged Air Conditioners, Motor Drives, Servo Controllers, Battery Chargers, General Power Supplies, and Industrial Inverters
Extremely compact size perfect for products requiring easy design
Higher current maintenance and greater robustness made possible by the module's two narrow pins
Cost-efficient due to the product's very small size
Built by using double-sided soldering and transfer molding technology
Lifetime expectancy of over 100 years (when ΔTj<50 ℃) enabled by excellent power cycling capability
Well-fitted for automated assemblies
The company is a leading expert in the high-volume production of essential semiconductors, components that are required by every electronic design in the world. Nexperia produces consistently reliable semiconductor components at high volume: more than 90 billion annually.
Power MOSFETs
For system efficiency & performance, including fast & efficient switching, Power MOSFETs for power supplies & industrial applications need to offer a growing range of features. Including soft-start, live insertion, short-circuit resilience, avalanche ruggedness & careful thermal management. Nexperia unique superjunction technology delivers robust & reliable power MOSFETs operating up to 100 V in its market-leading copper-clip LFPAK package range. Including new specialized application-specific MOSFETs (ASFETs) optimized to address specific application requirements or functionality, and our innovative current-sharing MOSFET technology.
Automotive Power MOSFETs
An in-depth understanding of automotive system requirements and focused technical capability enables Nexperia to provide power MOSFETs for a wide spectrum of applications. With over 400 product types, up 100 V, & drain currents up to 425 A, housed in market-leading robust package technologies. And as a long-term supplier to the automotive industry, you can be assured Nexperia maintains the highest quality & reliability standards. Including the innovative half-bridge MOSFET solution in one space-saving package.
Power GaN FETs
Whether designing a motor drive/controller for the next generation of battery-electric vehicles, or a power supply for the latest 5G telecommunication networks, Nexperia's GaN FETs will be key to your solution. With high power performance & high-frequency switching, the design & structure of our normally-off GaN FET products ensure standard, low-cost gate drivers can be used in your design. With industry-standard TO-247, and the development of Nexperia robust copper-clip technology in SMD CCPAK.
Bipolar Power Transistors
Nexperia's bipolar power transistors deliver high thermal and electrical performance. Available in DPAK and LFPAK56 packages, from 40 – 100 V and 2 – 15 A, they offer the choice between a standard and high-performance power solution for applications where the highest reliability is required and space is at premium. They are AEC-Q101 qualified and specified up to 175°C.
Bipolar Power Diodes
Nexperia's power diodes offering includes more than 120 Schottky, fast recovery, and the novel Silicon Germanium (SiGe) rectifiers. These three product groups ensure the best fit for your power circuitry – no matter if you need a device that is highly efficient, fast switching, or thermally very stable. All Nexperia power diodes are housed in size- and thermally-efficient CFP packages that have become the new industry standard for state-of-the-art power diodes. By featuring a solid copper clip the packages' thermal resistance is reduced and transfer of heat into the ambient environment is optimized, allowing small and compact PCB designs. They are AEC-Q101 qualified and specified up to 175°C.
Nexperia presented:
2nd generation power GaN FETs
Current sharing MOSFETs
LFPAK88, which delivers industry leading power density in truly innovative 8 mm x 8 mm footprint
DPAK and LFPAK56 power bipolar transistors
More product data and webinars recordings are available at PCIM Europe Digital Days 2021 platform.
ROHM Semiconductor presented BM63373S-VA/-VC – an Intelligent Power Module composed of gate drivers, bootstrap diodes, IGBTs, fly wheel diodes.
The 3rd generation IGBT IPM BM6437xS-VA series offers 6 IGBTs, 6 fast recovery bootstrap diodes, and 2 driver ICs (High side and Low side) in a single package. The integrated components provide an excellent EMI performance while also contributing to an improved loss behavior.
It features:
3phase DC/AC Inverter 600V/10A
Low Side IGBT Open Emitter
Built -in Bootstrap Diode
High Side IGBT Gate Driver (HVIC): SOI (Silicon On Insulator) Process, Drive Circuit, High
Voltage Level Shifting, Current Limit for Bootstrap Diode, Control Supply Under-Voltage Locked Out (UVLO)
Low Side IGBT Gate Driver (LVIC): Drive Circuit, Short Circuit Current Protection (SCP),
Control Supply Under Voltage Locked Out (UVLO), Thermal Shutdown (TSD), Temperature Output by Analog Signal (VOT)
Fault Signal (LVIC) Corresponding to SCP (Low Side IGBT), TSD, UVLO
Fault Input Interface 3.3V, 5V Line
UL Recognized: UL1557 File E468261
Experience ROHM Semiconductor online presence at their special landing page for the event.
Vishay presented its SiC Schottky Diodes.
Vishay's 4 A to 40 A SiC Schottky diodes provide a positive VF temperature coefficient for easy paralleling. The devices have virtually no recovery tail or switching losses, and their MPS structure provides high ruggedness against forward current surge events.
Vishay's SiC Schottky diodes are an optimal choice for application designs requiring further switching loss improvement in high frequency conditions and fewer effects from temperature variances. Compared to a pure Si-based solution design, engineers gain higher flexibility in system optimization for AC/DC PFC and DC/DC ultra-high frequency output rectification in flyback power supplies and LLC converters.
Learn more about Vishay products at the company's official website.
The company was established in 2016 as the continuation of NXP's Bipolar Power Business Line. WeEn Semiconductors Co., Ltd, is the global joint venture between NXP Semiconductors N.V. and Beijing JianGuang Asset Management Co. Ltd (JAC Capital). WeEn Semiconductors' business and operations center is located in Shanghai, China.
The company presented:
1200V hyperfast diodes
SiC Schottky diodes
High-voltage SCRs
Power diode bridges and modules
Find out more at WeEn Semiconductors official website.
If you prefer a monthly update about the world of power semiconductors delivered to your e-mail address, please, subscribe to Marketing Psycho Power Semiconductors newsletter.
Find more information about power semiconductors in Marketing in Power Electronics section of the website.