Power Semiconductors Weekly Vol. 99
Renesas Electronics Corporation announced a new gate driver IC that is designed to drive high-voltage power devices such as IGBTs (Insulated Gate Bipolar Transistors) and SiC (Silicon Carbide) MOSFETs for electric vehicle (EV) inverters.
Gate driver ICs are essential components to EV inverters, providing an interface between the inverter control MCU and the IGBTs and SiC MOSFETs that deliver power to the inverter. They receive control signals from the MCU in the low-voltage domain and transfer these signals to rapidly turn power devices on and off in the high-voltage domain. To accommodate the higher voltages of EV batteries, the RAJ2930004AGM has a built-in 3.75kVrms (kV root mean square) isolator, which is higher than the 2.5kVrms isolator in the previous generation product and can support power devices with a withstand voltage of up to 1200V. In addition, the new driver IC boasts superior CMTI (Common Mode Transient Immunity) performance at 150 V/ns (nanosecond) or higher, providing reliable communication and increased noise immunity while meeting the high voltages and fast switching speeds required in inverter systems. The new product offers the basic functions of a gate driver in a small SOIC16 package, making it ideal for cost-effective inverter systems.
The RAJ2930004AGM can be used together with Renesas IGBTs as well as with IGBTs and SiC MOSFETs from other manufacturers. In addition to traction inverters, the gate driver IC is ideal for a wide range of applications that use power semiconductors, such as on-board chargers and DC/DC converters. To help developers bring their products to market quickly, Renesas offers the xEV Inverter Kit solution that combines gate driver ICs with MCUs, IGBTs, and power management ICs, and plans to release a version incorporating the new gate driver IC in the first half of 2023.
"Renesas is pleased to offer the second-generation gate driver IC for automotive applications with high isolation voltage and superior CMTI performance," said Akira Omichi, Vice President of Renesas' Automotive Analog Application Specific Business Division. "We will continue to drive application development for EVs by offering solutions that minimize power loss and meet high levels of functional safety in our customers' systems."
Key Features of the RAJ2930004AGM Gate Driver IC
Isolation capabilities
Withstand Isolation voltage: 3.75kVrms
CMTI (Common Mode Transient Immunity): 150V/ns
Gate drive capabilities
Protection/fault detection functions
On-chip active Miller clamp
Soft turn-off
Overcurrent protection (DESAT protection)
Under voltage lockout (UVLO)
Fault feedback
Operating temperature range: -40 to 125°C (Tj:150°C max.)
This product will help increase the adoption of EVs by realizing cost-efficient inverters, thereby minimizing environmental impacts.
Ideal Power Inc., pioneering the development and commercialization of the highly efficient and broadly patented B-TRAN™ bidirectional semiconductor power switch, announced the launch of its first commercial product, the SymCool™ Power Module. This multi-die B-TRAN™ module, rated at 1200V 100A and incorporating double-sided cooling, is designed to meet the very low conduction loss needs of the solid-state circuit breaker (SSCB) market. Modules can be paralleled to achieve a wide range of high power SSCB ratings for utility, industrial and military applications.
"The introduction of our first commercial product marks a pivotal development for Ideal Power's B-TRAN™ technology, and we could not be more excited," stated Dan Brdar, President and Chief Executive Officer of Ideal Power. "The SymCool™ Power Module was designed specifically to enable SSCBs to deliver very low conduction losses. B-TRAN™-enabled SSCBs are expected to be smaller and more efficient than SSCBs using traditional semiconductor switches while operating orders of magnitude faster than conventional electromechanical breakers.
"We believe our SymCool™ Power Module is well-suited for the large, growing circuit breaker market, with the market projected to grow at a compound annual growth rate (CAGR) of over 6% to approximately $26 billion by 2027. With clear advantages over electromechanical, IGBT and MOSFET-based breakers, we believe B-TRAN™ enabled SSCBs are ideal for a range of utility, military and industrial power control applications. Today's introduction is a tremendous achievement for our entire team and marks the realization of our vision for our bidirectional, low loss power semiconductor architecture. We look forward to our first commercial sales later in 2023 as we execute our B-TRAN™ product roadmap," concluded Brdar.
Key advantages of the SymCool™ Power Module include:
Circuit breakers continuously conduct current, so it is critical to keep conduction losses to a minimum. The SymCool™ Power Module exhibits dramatically lower conduction losses compared to IGBTs, thereby allowing for energy savings that are necessary as power grids are modernized. In particular, integration of renewable energy sources and energy storage systems into the grid will require circuit breakers that do not waste the precious energy generated by solar or wind. The low conduction losses of the SymCool™ Power Module meet this requirement.
Bidirectional: Fewer Switches Needed
The SymCool™ Power Module utilizes Ideal Power's groundbreaking innovation of a dual-sided semiconductor with inherent bidirectional capability. Existing power semiconductors, such as IGBTs, are single-sided and operate as unidirectional switches. The SymCool™ Power Module takes the bidirectional concept, validated in the Ideal Power B-TRAN™ single-chip package, to a higher-current capability using multiple B-TRAN™ chips configured in parallel. The result is a product that will finally enable the SSCB market.
In addition to saving energy, the inherent bidirectional capability of the SymCool™ Power Module means that half as many high-voltage switches are needed compared to implementation with IGBT modules, which need a dedicated switch for each direction of energy flow. Fewer components translate to a smaller, more cost efficient SSCB. As new applications, such as Vehicle-to-Grid, Vehicle-to-Home, and Vehicle-to-Vehicle (V2X) emerge with the adoption of electric vehicles, bidirectional functionality is needed. Renewable energy microgrids and key military applications also require bidirectional circuit breakers that operate quickly, and the bidirectional SymCool™ Power Module offers clear advantages for SSCBs in these applications.
Another benefit realized by the dual-sided structure of B-TRAN™ is the advanced module packaging developed to maximize thermal efficiency. The SymCool™ Power Module has innovative dual-sided cooling with built-in temperature sensing. Heat is dissipated from both the top and bottom surface without wire bonding to meet the ever-increasing demand for reliability, durability and efficiency. This allows for a smaller, lower cost thermal management system, and greater overall efficiency of the SSCB.
The SymCool™ Power Module offers a compelling solution to SSCB applications with its combination of greater efficiency, bidirectional capability, and advanced dual-sided cooling package. This will enable a new generation of very fast acting SSCB designs, while simultaneously saving energy, allowing more compact equipment, and saving overall system cost.
Circuit Breakers are Everywhere
Circuit breakers perform critical functions in controlling the flow of electricity and containing high currents created by faults in that flow in a wide variety of applications. In addition to high demand for circuit breakers from renewable energy, microgrids, energy storage, and EV applications, there is tremendous need to upgrade aging infrastructure, including utility transmission and distribution networks and railway systems.
Two critical circuit breaker operating requirements are fast switching and low conduction losses. Traditional mechanical circuit breakers are slow acting and prone to wear and arcing; IGBT and MOSFET-based SSCBs suffer from high conduction losses. The fast-switching speed of B-TRAN™ solves the slow operating time and electrical arcing of electromechanical circuit breakers while also providing more than 50% lower conduction losses compared to SSCBs utilizing conventional semiconductor power switches. These result in lower cost and less complex cooling systems, benefits that significantly impact the economics of SSCBs and improve the economics of transmission and distribution. This is why B-TRAN™ is an enabling technology for SSCBs.
Navitas Semiconductor, and KATEK GROUP announced that KATEK's coolcept fleX family of Steca solar inverters have adopted new, leading-edge GeneSiC power semiconductors for improved efficiency, size, weight and cost, with significant market size expansion.
Installed solar power capacity is expected to exceed that of natural gas in 2026, and of coal by 2027, becoming the largest in the world, a 3x increase in installed capacity from 2022-2027. The global levelized cost of electricity from solar is now 40% lower than coal and natural gas.
Silicon carbide (SiC) is a new 'wide bandgap' power semiconductor material that is rapidly replacing legacy silicon chips in high-power, high-voltage applications such as renewable energy, energy storage and micro-grids, EVs and industrial applications. GeneSiC 'trench-assisted planar-gate' SiC MOSFET technology delivers no-compromise. high-temperature, high-speed performance, resulting in up to 25°C lower case temperature, and up to 3x longer life than alternative SiC products. With the highest-published 100%-tested avalanche capability, 30% longer short-circuit withstand time, and stable threshold voltage for easy paralleling, GeneSiC MOEFTs are ideal for high-power, fast-time-to-market applications.
Steca – A KATEK Brand – is a pioneer in the renewable energy industry and develops and produces high-end power electronics for grid inverters and energy storage as well as control technology for photovoltaic systems and fuel cell systems. The Steca coolcept fleX model solar inverter converts DC power from a string of solar panels into 4.6 kW AC power for use in the home, returning to the grid, or being stored locally for later use – to smooth demand and/or support power during an outage.
"Next-generation GeneSiC technology has enabled a major step in system performance without compromising our high engineering standards, especially regarding EMI," said Dr. Peter Grabs, KATEK's Director of Innovation, Research and Development. "Navitas' excellent quality – with zero failures – and consistent, short lead-time delivery are critical success factors as we expand production into new markets."
Each 4.6 kW Steca coolcept flex inverter uses 16x GeneSiC G3R75MT12J SiC MOSFETs. These 1,200 V, 75 mΩ-rated devices are used in a two-level converter, with bi-directional boost converters and an H4-topology for AC voltage output. Increased switching frequency shrinks the size and weight of 'passive' components, which optimizes the KATEK unit in size and weight compared to legacy silicon-based inverters.
"Navitas and KATEK are aligned in the mission to 'Electrify Our World™' and accelerate the transition from 80% fossil-fuel sources of electricity and uses, to 80% renewable sources and electrical uses," noted Dr. Ranbir Singh, Navitas EVP for the GeneSiC business line. "Both companies also share a focus on sustainability, in line with the UN's Sustainable Development Goals."
Power semiconductors are used in many electrical applications – from small power to very high power. Due to this widespread use, increasing the efficiency and robustness of these components – for example, by reducing forward losses or increasing the short-circuit capability – has an enormous impact on the energy efficiency and durability of the respective application.
This fact was the starting point for the joint project "Power2Power", which was funded by the European Union, the Federal Ministry of Education and Research, and the states of Saxony and Thuringia over a period of three years, and in which the Professorship of Power Electronics (Head: Prof. Dr. Thomas Basler) at Chemnitz University of Technology was also involved. The joint project with 43 partners was coordinated by Infineon. The project volume amounted to a total of around 74 million euros, of which around 528,000 euros were allocated to Chemnitz University of Technology.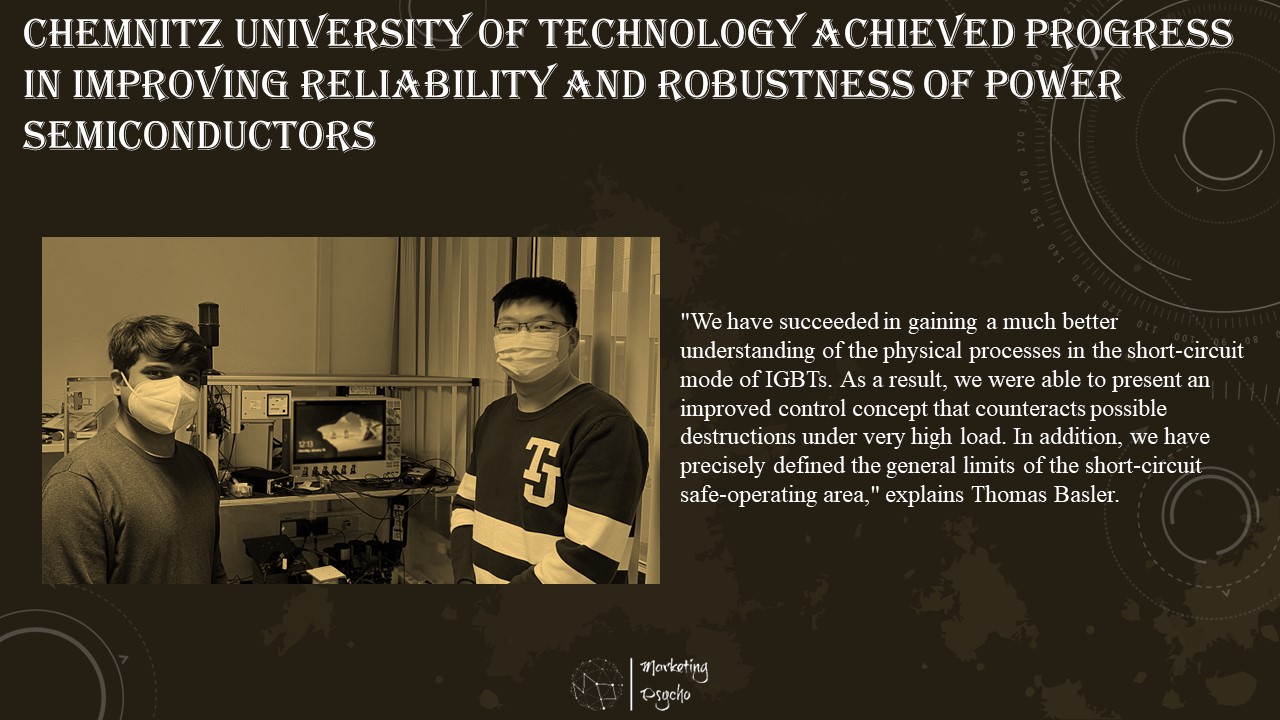 The focus of the subprojects, addressed by the Professorship of Power Electronics at Chemnitz University of Technology, was on the research of reliability and robustness of power semiconductors. Specifically, this involved the improvement of "Insulated Gate Bipolar Transistors" (IGBT). These are transistors that are controlled via a small gate voltage and are essential for power electronics, for example for energy conversion in wind turbines or motor control in electromobility. As part of the joint project, the researchers from Chemnitz have succeeded in taking a significant step towards the production of intelligent power electronics for more energy-efficient applications.
"We have succeeded in gaining a much better understanding of the physical processes in the short-circuit mode of IGBTs. As a result, we were able to present an improved control concept that counteracts possible destructions under very high load. In addition, we have precisely defined the general limits of the short-circuit safe-operating area," explains Thomas Basler. With these findings and developments, the IGBT can be better utilized in the application and the overall robustness of the system can be increased. The results of Prof. Basler's research group will be of particular importance in the field of renewable energies in the future, as highly efficient and robust IGBTs are a core element in these applications.
"In addition, applications in electromobility and traction, for example in high-speed trains and trams, also benefit," adds Basler. Especially in traction technology, reliability demands are very high, as they have to last up to 30 years. "Within the joint project, we were able to provide contributions for improved prediction of the power-cycling lifetime and develop design rules for optimized power module layouts," says Basler.
RF and mmWave specialist, Filtronic has enhanced its hybrid and semiconductor packaging capabilities by investing in a fully automated wedge bonder suitable for power semiconductors, automotive power modules, and industrial power hybrids. The state-of-the-art auto-wedge bonder improves capacity and adds volume process capabilities that will enable the company to explore new markets. This addition to Filtronic's production line will allow the company to offer greater that 1um die bonding accuracy, improving production yields and delivering highly repeatable packaging solutions.
Bonding custom compound semiconductor die for high reliability and system critical applications requires precision and high levels of accuracy. Historically Filtronic has used automated die attach and ball bonding but relied on highly trained operators to perform specialist wedge bonding operations. This approach has delivered high quality products but constrained factory throughput and limited the applications served. The automated wedge bonder investment fully automates the front-end assembly at the Filtronic hybrid manufacturing facility in Sedgefield County Durham and delivers significantly faster bonding speed using a variety of wire diameter from 0.5 mil – 3 mi It will be highly complementary to the specialist manual processes required for legacy applications.
"The automated wedge bonder further improves Filtronic's agility, allowing us to introduce new products quicker than ever before, without compromising on quality," explained Marc Adamson, Continuous Improvement Manager at Filtronic. "Our team of experts have trained to become specialists in the artisan skill of manual wire bonding, in some cases over several years. The introduction of the automated wedge bonder frees them up to work on alternative use cases, improving Filtronic's agility across the entire business.
"Filtronic is committed to investing in resources which allow us to consistently deliver volume production with pinpoint accuracy at high tolerances," continued Adamson. "The introduction of this new piece of equipment is the next step in our long-term plan to continuously improve our service offering for customers."
The silicon carbide chip manufacturer Wolfspeed announced it will officially name its new Siler City facility after co-founder John Palmour. Palmour passed away at age 62 in November.
The full name of the incoming facility is the John Palmour Manufacturing Center for Silicon Carbide. The 445-acre manufacturing plant will be housed at the Chatham Advanced Manufacturing site. It is expected to bring in more than $5 billion and 1,800 jobs to the county over the next two decades and is the largest economic development deal in state history.
Palmour authored or co-authored more than 266 publications and was a co-inventor on 46 U.S. patents and 135 corresponding foreign patents. In 2013, he was named an IEEE Fellow. He played an active role in driving research collaborations with N.C. State engineering faculty and students and created a scholarship endowment in the MSE Department at N.C. State in honor of his father, a longtime N.C. State ceramic engineering professor. Palmour was also elected as a member of the prestigious National Academy of Engineering.
"The contributions John made to science and our world are immeasurable and will be felt for generations to come," Wolfspeed officials said in a statement after his passing.
---
Subscribe to Power Semiconductors Weekly and watch it on YouTube every Tuesday.
If you prefer a monthly update about the world of power semiconductors delivered to your e-mail address, please, subscribe to Marketing Psycho Power Semiconductors newsletter