Power Semiconductors Weekly Vol. 96
It is not a secret that the 800V platform has significant advantages over the 400V platform. It helps to get shorter charging times through fast charging and supercharging, reducing users' range anxiety and improving their experience. In the nearest future, the mainstream supercharging will enable the power battery to be charged from 20% to 80% in 12-15 minutes, while the higher voltage also brings higher efficiency and lower losses. In order to meet the requirements of the 800V platform and improve the efficiency of the whole vehicle, SiC power devices have been widely used in OBC, DC/DC, main drive inverter, on-board air compressor, etc.
Unlike the conventional vehicles, the air-conditioning system of an electric vehicle is not only responsible for the thermal management of the cockpit, but also the thermal management of the battery system and the thermal management of the electric motor control. The compressor is the heart of the air-conditioning system. According to the research data, the air conditioning system accounts for up to 21% of the energy consumption of a medium-sized electric vehicle in summer.
In addition, the application of air conditioning compressors for electric vehicles is also more specific. In the process of DC fast charging, the power battery will heat up sharply in a short period of time, which requires 800V high power electric air conditioning compressor to cool down the power battery quickly to ensure the safety and efficiency of charging. In this scenario, the power capacity of the passenger car air conditioning compressor needs to be designed at around 10kW Max. In everyday applications, the user is mostly in light duty conditions: compressor power consumption is typically 300-1000W in spring and autumn, and 1000-2500W in summer and winter.
SiC modules are ideally suited to this area: at 800V, high efficiency and low losses can be achieved under both light and heavy load conditions, thus reducing overall vehicle losses and improving mileage, taking full advantage of the 800V platform.
For this reason, Leapers Semiconductor has launched a new automotive-grade E0 series SiC power module: DFS80FB12EYQ1, with an output current of up to 25A to meet the needs of passenger car air compressors on the 800V platform, with a smaller controller size and higher reliability than discrete semiconductor devices.
Recently introduced by Leapers Semiconductor DFS80FB12EYQ1 is a three-phase SiC power module designed with a high-performance automotive grade SiC MOSFET chip in E0 package.
DFS80FB12EYQ1 SiC power module features:
1200V Blocking voltage
25A Max effective current
80mOhm Rds(on)
The performance specifications of DFS80FB12EYQ1 can perfectly match the needs of 800V air-conditioning compressors, helping electric compressor manufacturers to fully exploit the architectural advantages of the 800V high-voltage platform, especially to improve the power conversion efficiency of the thermal management system for the whole vehicle in summer and winter.
Besides air conditioning applications, DFS80FB12EYQ1 SiC power module can be used in:
DC/DC converters
Frequency converters
UPS systems
High frequency applications
Unlike other products in the industry, all E series SiC power modules manufactured by Leapers Semiconductor are epoxy encapsulated providing excellent thermal performance and much higher power density compared to silicone gel products, thus meeting the needs of more high reliability and high-performance applications.
onsemi, a leader in intelligent power and sensing technologies, introduced "EliteSiC" as the name of its silicon carbide (SiC) family. Past week, the company showcased three new members of the family – the 1700 V EliteSiC MOSFET and two 1700 V avalanche-rated EliteSiC Schottky diodes – at the Consumer Electronics Show (CES) in Las Vegas. The new devices provide reliable, high-efficiency performance for energy infrastructure and industrial drive applications and highlight onsemi's position as a leader in industrial silicon carbide solutions.
With the 1700 V EliteSiC MOSFET (NTH4L028N170M1), onsemi delivers higher breakdown voltage (BV) SiC solutions, required for high-power industrial applications. The two 1700 V avalanche-rated EliteSiC Schottky diodes (NDSH25170A , NDSH10170A) allow designers to achieve stable high-voltage operation at elevated temperatures while offering high efficiency enabled by SiC.
"By providing best-in-class efficiency with reduced power losses, the new 1700 V EliteSiC devices reinforce the high standards of superior performance and quality for products in our EliteSiC family as well as further expand the depth and breadth of onsemi's EliteSiC," said Simon Keeton, executive vice president and general manager, Power Solutions Group, onsemi. "Together with our end-to-end SiC manufacturing capabilities, onsemi offers the technology and supply assurance to meet the needs of industrial energy infrastructure and industrial drive providers."
Renewable energy applications are consistently moving to higher voltages with solar systems from 1100 V to 1500 V DC Buses. To support this change, customers require MOSFETs with a higher BV. The new 1700 V EliteSiC MOSFET offers a maximum Vgs range of -15 V/25 V, making it suitable for fast switching applications where gate voltages are increasing to -10V, delivering increased system reliability.
At a test condition of 1200 V at 40 Amps, the 1700 V EliteSiC MOSFET achieves a gate charge (Qg) of 200 nC – which is market-leading compared to equivalent competitive devices that are closer to 300 nC. A low Qg is critical to achieving high efficiency in fast switching, high-power renewable energy applications.
At a BV rating of 1700 V, the EliteSiC Schottky diode devices offer improved margin between the maximum reverse voltage (VRRM) and the peak repetitive reverse voltage of the diode. The new devices also provide excellent reverse leakage performance with a maximum reverse current (IR) of just 40 µA at 25°C and 100 µA at 175°C – significantly better than competitive devices that are often rated at 100 µA at 25°C.
Wolfspeed, Inc. announced the company will be supplying Silicon Carbide devices to power future Mercedes-Benz® Electric Vehicle (EV) platforms, enabling greater efficiency in the powertrain. Wolfspeed's semiconductors will be incorporated into next generation powertrain systems for several Mercedes-Benz vehicle lines.
"Coming from a long-term technical collaboration history between our companies, we have now chosen Wolfspeed as one of our key partners for future Silicon Carbide devices, thus securing preferred long-term supply, technology and quality of this decisive semiconductor component for our electrification offensive," said Dr. Gunnar Güthenke, Head of Procurement and Supplier Quality for Mercedes-Benz.
As a leader in luxury vehicles, Mercedes-Benz understands the need for superior performance. By leveraging Wolfspeed's expertise and Silicon Carbide devices to improve vehicle range and power, Mercedes-Benz plans to have some of the most efficient EVs on the road.
"We are pleased to be supporting Mercedes-Benz, an organization with a long, successful history of providing world-class performance and luxury vehicles, as they introduce next-generation EVs to the market with highly efficient power systems," said Gregg Lowe, CEO of Wolfspeed. "We are continuing to invest in our manufacturing capacity to support a steepening demand curve for Silicon Carbide devices that will not only improve EV performance and drive greater consumer adoption, but also support the sustainability efforts of global automotive leaders like Mercedes-Benz."
The Silicon Carbide power devices for Mercedes-Benz will be produced at Wolfspeed's facilities in Durham, North Carolina and its new 200mm Mohawk Valley Fab in Marcy, New York. This Mohawk Valley Fab is the world's largest Silicon Carbide fabrication facility and is dramatically expanding Wolfspeed's production capacity. Earlier this year Wolfspeed also announced it was beginning construction on a new Silicon Carbide materials facility in North Carolina, which will expand its Silicon Carbide capacity by more than 10x.
Aehr Test Systems, a worldwide supplier of semiconductor test and reliability qualification equipment, announced financial results for its second quarter of fiscal 2023 ended November 30, 2022.
Fiscal Second Quarter Financial Results:
Net sales were $14.8 million, up 54% from $9.6 million in the second quarter of fiscal 2022.
GAAP net income was $3.7 million, or $0.13 per diluted share, compared to GAAP net income of $717,000, or $0.03 per diluted share, in the second quarter of fiscal 2022.
Non-GAAP net income was $4.5 million, or $0.16 per diluted share, which excludes the impact of stock-based compensation, compared to non-GAAP net income of $1.4 million, or $0.05 per diluted share, in the second quarter of fiscal 2022.
Bookings were $10.8 million for the quarter ended November 30, 2022.
Backlog as of November 30, 2022 was $15.5 million. Effective backlog, which includes all orders since the end of the second quarter, is over $23.5 million.
Fiscal First Six Months Financial Results:
Net sales were $25.5 million, up 67% from $15.3 million in the first six months of fiscal 2022.
GAAP net income was $4.3 million, or $0.15 per diluted share, compared to GAAP net income of $1.4 million, or $0.05 per diluted share, in the first six months of fiscal 2022.
Non-GAAP net income was $5.8 million, or $0.20 per diluted share, which excludes the impact of stock-based compensation, compared to non-GAAP net income of $1.0 million, or $0.04 per diluted share, in the first six months of fiscal 2022, which excludes the impact of stock-based compensation and forgiveness of loans from the Paycheck Protection Program.
An explanation of the use of non-GAAP financial measures and a reconciliation of Aehr's non-GAAP financial measures to the most directly comparable GAAP financial measures can be found in the accompanying tables.
Gayn Erickson, President and CEO of Aehr Test Systems, commented:
"We had a very solid quarter, reflecting strong sequential and year-over-year growth in revenue and net income, both ahead of consensus estimates. Our momentum in silicon carbide wafer level burn-in continues to grow. We see this momentum continuing for the next several years as companies are adding significant capacity in silicon carbide semiconductors to address the incredible forecasted demand, particularly for the electric vehicle and electric vehicle charger markets.
"Forecasts from William Blair estimate that the silicon carbide market for devices in electric vehicles alone, such as traction inverters and on-board chargers, is expected to grow from 119,000 6-inch equivalent silicon carbide wafers for electric vehicles in 2021 to more than 4.1 million 6-inch equivalent wafers in 2030, representing a compound annual growth rate (CAGR) of 48.4%. Total 6-inch equivalent silicon carbide wafers for all current addressable markets are expected to grow to nearly 7 million 6-inch equivalent silicon carbide wafers in 2030.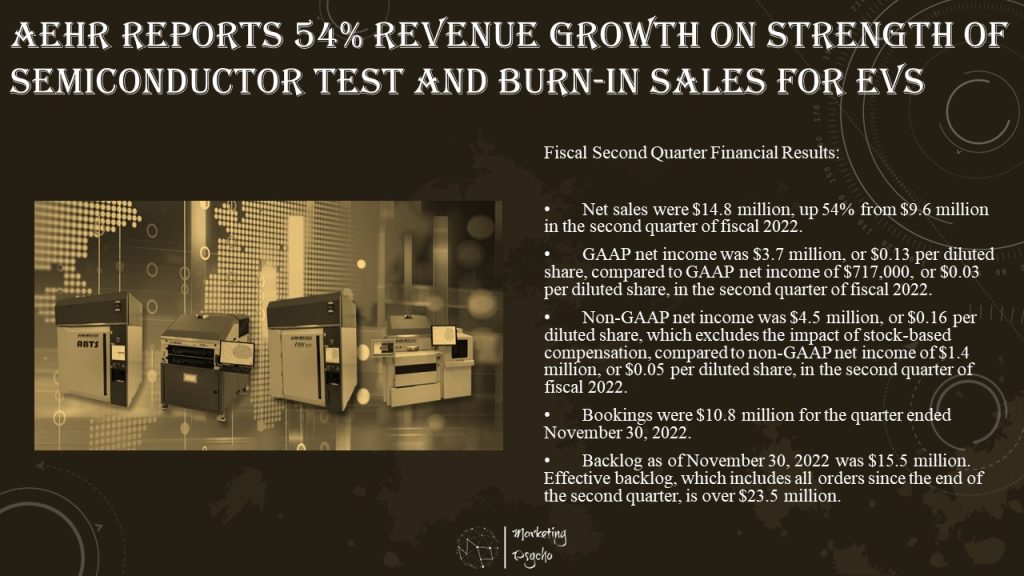 "We are excited to have added two new customers for silicon carbide test and burn-in during the quarter. The first is a major silicon carbide semiconductor supplier that purchased our FOX-NPTM dual wafer test and burn-in system used for engineering and device qualification during the quarter, and after the quarter closed has since placed their first orders for two of our FOX-XP multi-wafer systems for volume production test and burn-in of their silicon carbide wafers, including the order we announced today. This customer serves several significant markets including the electric vehicle industry and selected our FOX-XP multi-wafer test and burn-in system configured with our new fully integrated and automated WaferPakTM Aligner for high volume hands-free operation. They have indicated to us they plan to order a significant number of FOX-XP systems for volume production of their silicon carbide devices at facilities around the world to meet the rapidly expanding forecasted market demand for silicon carbide devices for electric vehicles and other industrial markets. The second new customer added this quarter is a multibillion-dollar annual revenue global manufacturer of semiconductors who purchased our FOX-NP test and burn-in system for qualification of their silicon carbide devices for multiple markets including electric vehicles. We anticipate that this customer will move to high volume production using our FOX-XP systems after customer qualifications.
"Adding two new customers now provides more optimism about our ability to gain significant market share of the test and burn-in market for silicon carbide devices. These customers expand our penetration beyond our initial lead silicon carbide wafer level burn-in customer that continues to ramp their capacity and use of our FOX-XP multi-wafer test and burn-in systems and WaferPaks. Our lead customer continues to forecast orders for significant numbers of FOX-XP systems and WaferPak Contactors over the next several years.
"In addition to the customers that have now placed initial orders with Aehr for silicon carbide wafer level test and burn-in systems, our ongoing benchmarks and evaluations with multiple prospects made great progress during the quarter. These include significant market leaders in silicon carbide as well as several companies entering the silicon carbide power semiconductor space. We expect several of these companies to place their initial orders with us before the end of this fiscal year ending May 31, 2023. We also continue to see very positive responses from our discussions with a number of new potential customers in silicon carbide this quarter and have also begun detailed discussions with gallium nitride semiconductor suppliers from around the world. Both silicon carbide and gallium nitride semiconductors address the high voltage power semiconductor markets that are significant opportunities for our FOX wafer level test and burn-in systems and WaferPak full wafer contactors. Both device types are forecasted to grow significantly over the next several years and into the future.
"We are also seeing a strong recovery of our silicon photonics wafer level test and burn-in business after the weakness we saw during the pandemic. Halfway through this fiscal year, we have shipped over $5 million in systems, upgrades and WaferPaks to silicon photonics customers, which is over 300% of last fiscal year's first half revenue for silicon photonics. This jump in revenue is also spread across multiple customers and much of it is for new product designs and qualifications. We have systems installed at over a half dozen customers testing silicon photonics devices used in 5G infrastructure, data and telecommunications transceivers, and a few yet to be announced applications that we are very excited about. With multiple market leaders announcing plans to integrate photonics transceivers into their microprocessors, graphics processors, and chipsets, we believe silicon photonics will become a significant market for wafer level test and burn-in over the next several years.
"Looking ahead, we continue to believe that we will receive production orders from additional silicon carbide companies beyond our current customers and begin shipping systems to meet their production capacity by the end of our current fiscal year that ends May 31, 2023. We are very optimistic for a strong second half of this fiscal year and believe the momentum will continue into our fiscal 2024."
Jochen Hanebeck, CEO of Germany-based automotive chip supplier Infineon, voiced his thoughts on the ongoing trend of semiconductor self-sufficiency in a recent interview with Nikkei. According to him, "total self-sufficiency" is unattainable.
Even though Hanebeck believes that the chip shortage will be improved in the short term, the growing demand for semiconductor driven by vehicle electrification and clean energy in the long run will still render the supply of automotive chips and power semiconductors insufficient.
In the interview, the Infineon CEO also observed that foundries have not aggressively boosted the production capacities for non-cutting-edge products and noted that the power semiconductor sector is troubled by a chronic lack of investment, since many companies have opted to use fully depreciated production lines for volume production, instead of committing new capital to build production lines and compromise margins.
Regarding the historical number of subsidies spent by various governments on building autonomous chip supply chains, the Infineon CEO worried that industrial policies geared for certain sectors might reduce supply chain efficiency and cautioned that governmental funds should avert inefficient bureaucracy and slowing technology innovations.
In another recent interview with German newspaper Frankfurter Allgemeine Zeitung, Hanebeck revealed that Infineon is ready to spend several billions of euros on acquisition, without revealing potential targets. As indicated by the German chipmaker's Annual Report in 2022, Infineon targets an annual revenue growth of more than 10%, up from the previous goal of 9%, and an average 25% segment result margin, up from the previous 19% target which Infineon deemed "too conservative."
It has also set a liquidity target of EUR1 billion – serving as a liquidity reserve for pension and contingent liabilities – in addition to having at least 10% of revenue allocated, allowing the company sufficient cash to finance business operation and investment.
Infineon has introduced a free cash flow target that replaces its previous investment rate target. According to the company, free cash flow, adjusted for large investments in frontend buildings, should fall within a range of 10% to 15% of revenue – achievable if Infineon ensures its operating cash flow grow at a faster rate in the long term than its investment expenditures.
As indicated in its annual report, Infineon's annual revenue rose from EUR11 billion to EUR14.2 billion from FY2021 to FY2022, up by 29%.
Join Wolfspeed for this webinar as they demonstrate how the SpeedVal Kit™ is going to revolutionize the Silicon Carbide evaluation experience. This modular evaluation platform enables switching loss testing and system testing of discrete SiC MOSFETs in any package and works with a variety of gate driver cards developed by Wolfspeed partners.
This platform incorporates other key system elements including the gate driver, current sensors, magnetics, and control which enables engineers to test an entire system before building their first prototype. The modularity allows the user to switch between different MOSFETs and gate drivers in just seconds and is unlike any other power evaluation system on the market today.
This presentation will cover the benefits of this platform and highlight key technical challenges addressed in the design.
Key Take-Aways:
Accelerating test and development with the SpeedVal Kit
Accurately sensing currents in Silicon Carbide testing
Accurate switching loss measurements
Achieving modularity without sacrificing performance
Date: January 12, 2023
Time: 5 PM CET
---
Subscribe to Power Semiconductors Weekly and watch it on YouTube every Tuesday.
If you prefer a monthly update about the world of power semiconductors delivered to your e-mail address, please, subscribe to Marketing Psycho Power Semiconductors newsletter