Power Semiconductors Weekly Vol. 93
Industrial electric welding, electric furnace heating and contactless power supply equipment are widely used in industrial fields, such as automated production lines and robot welding equipment in industrial electric welding; metal parts normalizing, annealing and quenching heating equipment in electric furnace heating; AGV wireless carts in contactless power supply, etc.
As such equipment becomes more intelligent, smaller and energy efficient, equipment manufacturers are placing higher demands on the power modules they use. In addition, such applications require high switching control frequency of power modules, often exceeding 20kHz, which has reached the upper limit of IGBT modules and brings great power losses.
The superior characteristics of third-generation semiconductor SiC materials, with switching control frequencies up to and beyond 100 kHz and extremely low switching losses, result in higher power density, higher efficiency, and longer service life, which is very suitable for this application scenario.
Today, many manufacturers of equipment for industrial welding, furnace heating, and contactless power supply are already using SiC modules in their high-end products.
Therefore, Leapers Semiconductor has expanded its E0 series SiC power module product line with DFS26HH12EYQ1 coming in H-bridge topology and compact design.
DFS26HH12EYQ1 SiC power module features:
1200 V Blocking voltage
75 A (Tf=65℃) Output current
26 mΩ Rds(on)
175°C Maximum junction temperature
Epoxy Potting
Extreme reliability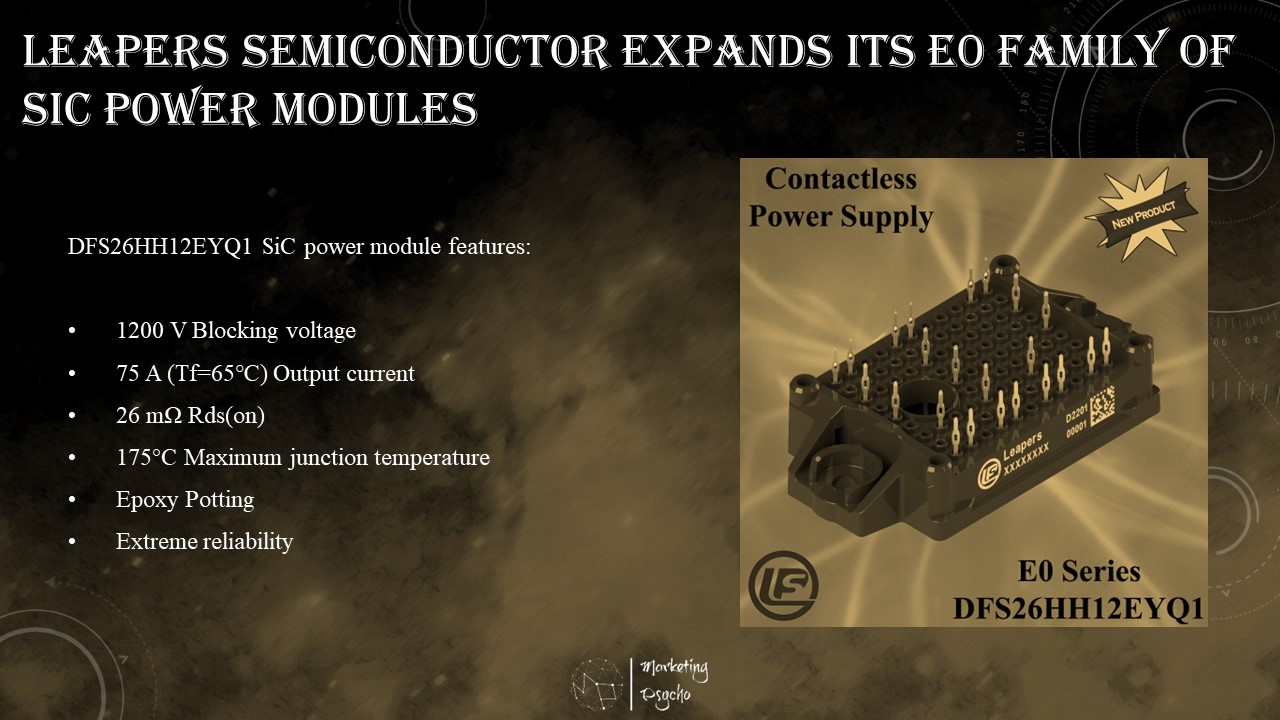 This E0 series DFS26HH12EYQ1 SiC power module produced by Leapers Semiconductor can perfectly match the needs of industrial electric welding, electric furnace heating, contactless power supply and other equipment.
In addition to the listed applications, DFS26HH12EYQ1 can be a great choice for:
Unlike other products in the industry, all E series SiC power modules manufactured by Leapers Semiconductor are epoxy encapsulated providing excellent thermal performance and much higher power density compared to silicone gel products, thus meeting the needs of more high reliability and high-performance applications.
Mitsubishi Electric Corporation announced that its new SLIMDIP-Z power semiconductor module, featuring an extra-high 30A rated current for use in inverter systems of home appliances, will be released in February 2023. The compact module will enable the SLIMDIPTM series to meet a wider range of power and size needs for inverter units, specifically by simplifying and downsizing systems for multifunctional and sophisticated products such as air conditioners, washing machines and refrigerators.
The demand is growing for power semiconductors capable of efficiently converting electric power to help realize a low-carbon world. In 1997, Mitsubishi Electric commercialized its first DIPIPMTM as a high-performance intelligent power module with a transfer-mold structure incorporating a switching device and a control IC to drive and protect the switching element. Since then, DIPIPMs have been widely adapted for use in large appliances and inverters for industrial motors, contributing to the downsizing and energy-efficiency of inverter boards.
Torex Semiconductor Ltd. and YES POWERTECHNIX have entered into a strategic cooperation in the power semiconductor business that centered on compound semiconductors. Going forward, to enhance brand products of both companies in a wider global market. A basic agreement was signed on the following four points.
Mutual cooperation of purchase and resale of the products under the brand of both Parties by way of OEM or ODM method.
Effective utilization of resources owned by both Parties (human resources, test and manufacturing facilities)
Collaborative product development
Co-marketing and sales cooperation of both Parties' products
From designing to manufacturing, YPTX is a leading company that handles everything of SiC devices (diodes and transistors) in South Korea. In addition to head office, YPTX also has research laboratories and manufacturing lines in the same country. Both lines produce 150mm SiC wafers on a scale of tens of thousands wafers per year, and support SiC device foundry services.
Torex and its subsidiary, Phenitec Semiconductor Co., Ltd., are developing power semiconductor devices to bring them to market. In collaboration with YPTX, Torex will strengthen development and lineup expansion of SiC devices.
Wolfspeed, Inc. announced the expansion of an existing multi-year, long-term Silicon Carbide wafer supply agreement, now worth approximately $225 million, with a leading power device company. The expanded agreement calls for Wolfspeed to supply the company with 150 mm Silicon Carbide bare and epitaxial wafers, reinforcing the company's vision for an industry-wide transition from silicon to Silicon Carbide semiconductor power devices.
"Wolfspeed has an unmatched level of experience with Silicon Carbide and, as a result, is a key player in supplying the rapidly growing demand for Silicon Carbide," said Dr. Cengiz Balkas, SVP and GM of Materials for Wolfspeed. "This agreement further strengthens our long-time cooperation with a best-in-class power semiconductor manufacturer. This well-established partnership, paired with our most recent announcement of a multi-billion-dollar materials expansion in North Carolina, is a huge step forward in our mission of transitioning the industry from silicon to Silicon Carbide."
Wolfspeed is the global leader in the manufacturing of Silicon Carbide wafers and epitaxial wafers. The recently announced expansion of the company's Silicon Carbide materials footprint will enhance its market leadership and improve the company's ability to supply wafers to current and potential customers – a critical part of the larger wide bandgap semiconductor supply chain.
The adoption of Silicon Carbide-based power solutions is rapidly growing across multiple markets, including industrial and automotive. Silicon carbide solutions enable smaller, lighter and more cost-effective designs, converting energy more efficiently to unlock new clean energy applications. To better support these growing markets, device manufacturers are interested in securing access to high-quality Silicon Carbide substrates to support their customers.
The supply agreement enables Silicon Carbide applications in broad markets such as renewable energy and storage, electric vehicles, charging infrastructure, industrial power supplies, traction and variable speed drives.
Monolithic Power Systems, Inc. (MPS), a leading company in high-performance power solutions, announced that MPS and Vanguard International Semiconductor Corporation (VIS), a leading specialty IC foundry service provider, have entered into a foundry agreement to produce power semiconductors.
MPS will utilize VIS's 8-inch (200mm) wafer fabrication capabilities in its Singapore and Taiwan
manufacturing facilities. To secure semiconductor supplies for the long term, MPS is deepening partnerships with suppliers at key points in the supply chain. The products manufactured at VIS will meet the growing demand for power devices in datacenters, electric vehicles, solar inverters, robotics, and space systems.
"We are excited to partner with VIS to take advantage of their advanced and highly reliable platform to expand our capacity and meet our growing customers' demands," said Deming Xiao, SVP of Operations for MPS. "VIS's leading specialty IC manufacturing expertise, combined with MPS's product design capability, will deliver greater energy efficiency to new markets and applications, contributing to environmental sustainability."
This agreement is a model of how MPS will augment its existing supplier relationships in Korea, Taiwan, Singapore, and China by building more secure and resilient supply-chain partnerships while accelerating the development of next-generation technological innovation.
EPC and Vanguard International Semiconductor Corporation (VIS) jointly announced a multi-year production agreement to produce gallium nitride-based power semiconductors. EPC will utilize VIS' 8-inch (200 mm) wafer fabrication capabilities, significantly increasing manufacturing capacities for EPC's high-performance GaN transistors and integrated circuits. Manufacturing will commence in early 2023.
The products manufactured at VIS, an Automotive IATF 16949 certified foundry, will meet the growing demand for GaN power devices in data centers, electric vehicles, solar inverters, robotics, and space systems.
"EPC's GaN devices have superior performance, are easy to use, are extremely small, highly reliable, and very affordable. We are excited to partner with VIS to take advantage of their advanced, highly reliable, GaN platform to expand our capacity and meet our growing customers' demands," said Alex Lidow, CEO and co-founder of EPC.
"VIS' leading specialty IC manufacturing expertise, combined with EPC's product design capability and outstanding figure of merit (FOM) of GaN, will deliver greater energy efficiency for more eco-friendly high-performance computing and electric vehicle applications," said John Wei, COO of VIS. "We are thrilled to partner with EPC to bring this new-generation power device to new markets and applications, making contributions to environmental sustainability."
---
Subscribe to Power Semiconductors Weekly and watch it on YouTube every Tuesday.
If you prefer a monthly update about the world of power semiconductors delivered to your e-mail address, please, subscribe to Marketing Psycho Power Semiconductors newsletter.