Power Semiconductors Weekly Vol. 90
Infineon Technologies AG recently added EasyPACK™ 4B to its Easy power module family. The lead-type of the new family targets applications in photovoltaic string inverters. In this application it can achieve up to 352 kW and allows a significant increase in output power of about 40 percent compared to last generation PV inverter of 250 kW using EasyPACK 3B. The module aims to enable a simpler but more powerful inverter design with higher power density and reduced system costs. The device is ideal for 1500 V DC solar string inverters.
With the introduction of the F3L600R10W4S7F_C22 lead-type, EasyPACK 4B is now the largest package in the Easy family with three DCB substrates. Nevertheless, it still features a no-baseplate design, 12 mm height, PressFit pins and flexible pinout, and more. Like the other Easy packages, it offers flexibility in platform-based solutions. The package extends the EasyPACK 3B hold-down concept to ensure low thermal resistance (R th) and to increase robustness and quality. Just like the existing Easy family members, the new EasyPACK 4B has optimized stray inductance for reduced design efforts.
The lead-type power module F3L600R10W4S7F_C22 features an advanced three-level NPC (ANPC) topology that combines the latest generation of 1200 V CoolSiC™ Schottky diode with the latest 950 V TRENCHSTOP™ IGBT7 chip technology for up to 600 A. ANPC is a popular topology in solar string inverters and ensures high efficiency as well as low power losses. This combination of topology and chip optimizes the usefulness of the power semiconductor.
ROHM has signed a joint development agreement with Mazda Motor Corporation (Mazda) and Imasen Electric Industrial Co., Ltd., (Imasen) for inverters and SiC power modules to be used in the electric drive units of electric vehicles, including e-Axle.
As the 'heart of the EV', e-Axle integrates a motor, reduction gearbox, and inverter into a single unit that plays a large part in determining the driving performance and power conversion efficiency of electric vehicles. SiC MOSFETs in particular are expected to improve efficiency even further.
ROHM will carry out joint inverter development for e-Axle by participating in a 'cooperative framework for the electric drive units development and production' with companies such as Imasen and led by Mazda. At the same time, ROHM will contribute to the creation industry-leading compact, high efficiency electrical units by developing and supplying advanced SiC power modules that provide improved performance.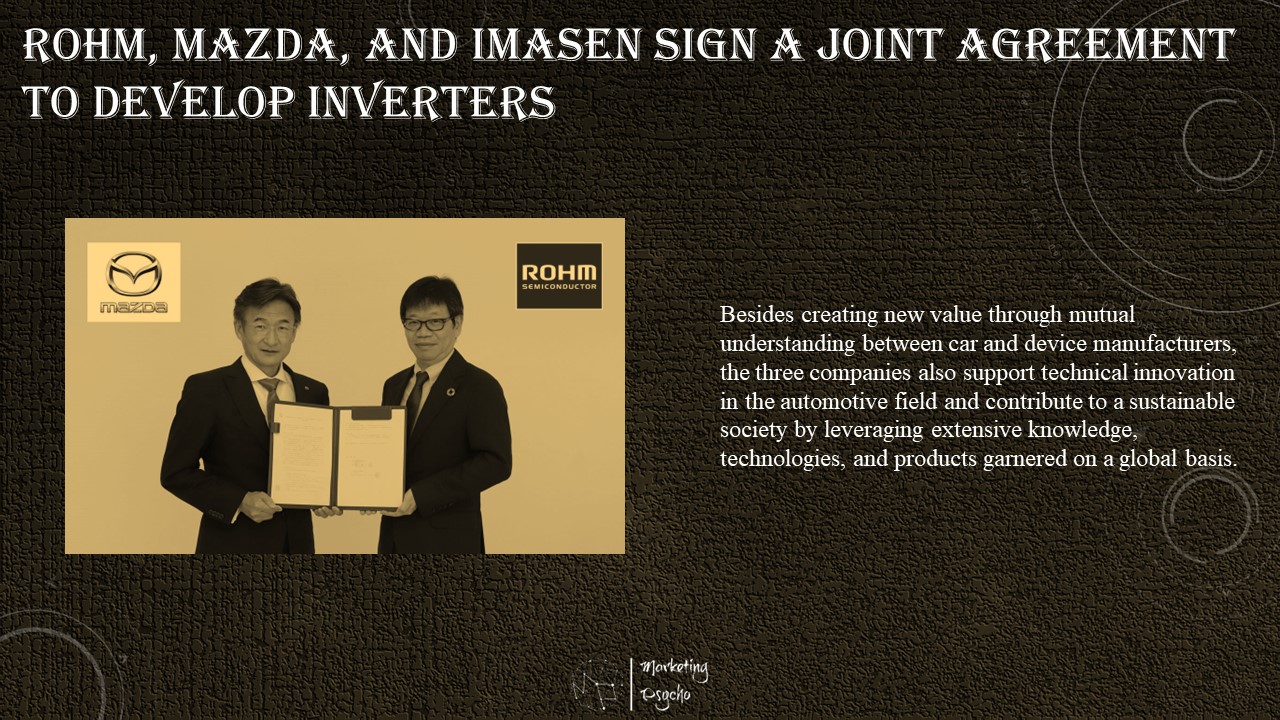 Through this collaboration, ROHM will develop even more competitive SiC MOSFETs and modules by working backwards from the finished vehicle to understand the performance and optimal drive method required of power semiconductors.
Besides creating new value through mutual understanding between car and device manufacturers, the three companies also support technical innovation in the automotive field and contribute to a sustainable society by leveraging extensive knowledge, technologies, and products garnered on a global basis.
Ichiro Hirose, Director and Senior Managing Executive Officer; Oversight of R&D, Cost Innovation and Innovation, Mazda Motor Corporation
'We are pleased to collaborate on the development and production of e-Axle with ROHM, who hopes to create a sustainable mobility society through outstanding semiconductor technologies and advanced system solution development capabilities, to co-create a new value chain that directly links semiconductor devices and vehicles in both directions as electrification brings us closer to carbon neutrality. By partnering with like-minded companies, Mazda is committed to injecting 'driving pleasure' into every product – including electric vehicles.'
Katsumi Azuma, Director and Senior Managing Executive Officer and COO, ROHM Co., Ltd.
'We are extremely pleased to work together on the development and production of e-Axle with Mazda, who is committed to providing 'driving pleasure' that expresses the inherent appeal of cars. Through this partnership, we hope that by reflecting the true demands and requests in our products we can develop automotive systems that contribute to decarbonization while allowing us to gain a deeper understanding of Mazda's goal of creating cars that are sustainable with the earth and society. As the role of semiconductors in the automotive market continues to grow, ROHM will strive to manufacture high quality products and contribute to the creation of a sustainable mobility society by offering a wide range of solutions.'
The SEMIKRON Innovation Award and the SEMIKRON Young Engineer Award is given for outstanding innovations in projects, prototypes, services or novel concepts in the field of power electronics in Europe, combined with notable societal benefits in form of supporting environmental protection and sustainability by improving energy efficiency and conservation of resources.
Both prizes have been initiated and are donated by the SEMIKRON Foundation which is awarding the prizes in cooperation with the European ECPE Network.
With the award the SEMIKRON Foundation wants to motivate people of all ages and organizations of any legal status to deal with innovations in power electronics, a key technology of the 21th century, in order to improve environmental protection and sustainability by energy efficiency and conservation of resources.
The SEMIKRON Innovation and Young Engineer Prizes 2023 will be awarded in the frame of the ECPE Annual Event in March 2023 in Erding/Muinch. A single person or a team of researchers can be awarded.
SEMIKRON Innovation Award includes prize money of EUR 10,000.00.
SEMIKRON Young Engineer Award for researchers who have not yet completed their 30th year of age includes prize money of EUR 3,000.00.
Selection criteria:
The award targets at projects, prototypes, services and novel concepts developed in Europe, which did not yet appear on the market, which are used in a novel application, or which form an absolute novelty, and therewith fulfil the requirement to be extraordinary and remarkable. Sole project proposals are not in the scope of the call, the innovation should have been verified by experiment or simulation. The degree of innovation has to conform to international standards.
Societal benefit of the innovation regarding the increase of energy efficiency, conservation of resources, sustainability and environmental protection.
Selection procedure:
The selection procedure for the prize winners is organised in cooperation with ECPE European Center for Power Electronics e.V.. The submitted proposals will be passed to an independent and neutral evaluation committee of experts for discussion and assessment. The expert reviewers are appointed by the SEMIKRON Foundation in agreement with the ECPE Board of Directors. The number of experts should be at least five. The evaluation committee decides on the submitted proposals by majority vote. Selection and awarding of the prize winners is done with exclusion of the jurisdiction. To apply for the SEMIKRON Awards own applications as well as proposals from third parties are welcomed.
The deadline for submission ends on 20.01.2023!
Chinese electric vehicle maker BYD said its board of directors has terminated the spin-off and proposed initial public offering (IPO) of its semiconductor unit on the ChiNext board of the Shenzhen Stock Exchange, citing a restructuring plan.
Shenzhen-based BYD said it scrapped the plan because it is considering additional investments to ramp up the capacity of a foundry project in eastern China's Shandong provincial capital of Jinan, to benefit from rising demand in the booming industry of electric vehicles (EV).
The new investment is expected to have an impact on the unit's assets and business structure, according to the filing by China's largest maker of batteries and electric cars.
"BYD Semiconductor intends to seize the window to carry out large-scale wafer capacity investment and construction," the company said in the filing.
Three in every five new vehicles entering China's roads are expected to be powered by battery packs by 2030, according to a UBS forecast. Demand for vehicle-related chips had been buoyed by rising sales of new cars, which grew 113 per cent in the first nine months.
The existing output in Shandong is insufficient to meet growing demand from downstream sectors, BYD said. The company will reconsider listing the semiconductor unit at a later date once the investment is complete, adding that the scrapped IPO plan will not have a material impact on its operation and production.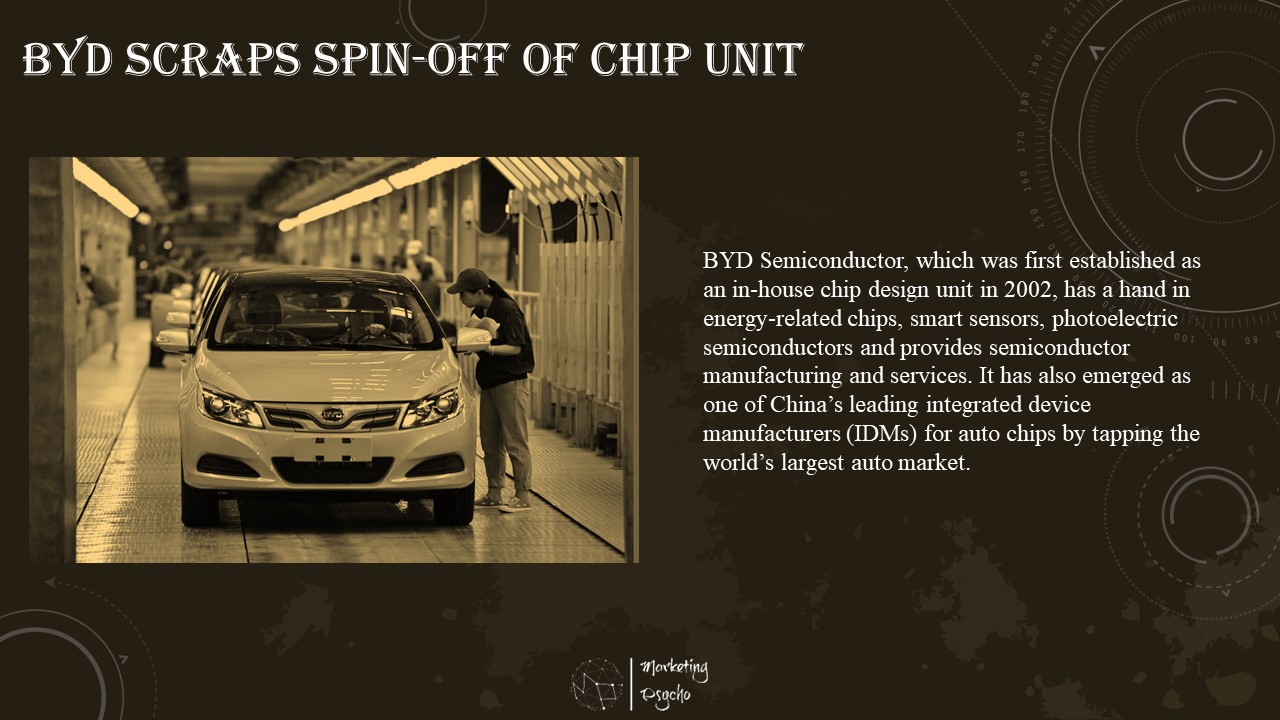 BYD Semiconductor acquired a foundry in Shandong for 5 billion yuan (US$710 million) in 2021, according to Chinese media reports, and it finished installing equipment for its 8-inch, auto-grade chip foundry in Changsha, Hunan province in September. Both projects are expected to produce more car chips domestically, amid a call by Beijing for the country to increase self-sufficiency in the semiconductor sector.
BYD Semiconductor, which was first established as an in-house chip design unit in 2002, has a hand in energy-related chips, smart sensors, photoelectric semiconductors and provides semiconductor manufacturing and services. It has also emerged as one of China's leading integrated device manufacturers (IDMs) for auto chips by tapping the world's largest auto market.
Talent cultivation and development has always been an important business development goal for Unikorn Semiconductor Corp. To strengthen the talent competitiveness of Taiwanese society and respond to the ESG wave wherein global companies emphasize talent and social responsibility, at this critical moment, Unikorn officially announces its joining of the "TALENT, in Taiwan, Taiwan Talent Sustainability Action Alliance."
The company is committed to the six aspects of talent sustainability and actions that will help Taiwanese society remain sustainable and competitive despite a declining birthrate: "meaning and value," "diversity and inclusion," "organizational communication," "rewards and incentives," "physical and mental health," and "talent growth."
Unikorn is committed to bringing colorful and enhancing life quality with its unique and advance process technology. Furthermore, it aims to create value for stakeholders by providing robust and innovative compound semiconductor foundry services for all sectors, thereby upholding the spirit of corporate sustainability.
Unikorn actively recruits diverse talents, protects employees' human rights, and implements an inclusion and nondiscrimination policy, including gender equality, diverse workforce composition, various communication channels, employee care, team building activities, and so on, to create the most innovative and interactive organizational environment.
Organizational Communication
Unikorn takes care of its employees and establishes good labor–management relations, thereby promoting wellbeing and organizational identity through the concerted efforts of employees and employers. Moreover, we actively establish a smooth internal communication channel to strengthen employee relations, listen to employees' opinions, and provide feedback and assistance.
Unikorn attaches great importance to the career development and compensation benefits of each employee. The company regularly reviews employees' salaries and welfare to ensure internal fairness, sets competitive salary levels, establishes performance-linked compensation and spot incentive bonuses, and selects high-performing employees to encourage outstanding performance, thereby revitalizing the organization and setting a benchmark for emulation.
Physical and Mental Health
Unikorn establishes a safe and healthy workplace by providing employees with professional counseling on medical and health examination reports and comprehensive health management, including health promotion and psychological counseling, to enhance employees' health awareness. Moreover, to promote our employees' health and create a healthy atmosphere in the workplace, we organize sports and health-related activities and provide subsidies for clubs and sports competitions.
Alongside rapid technological changes in the semiconductor industry, Unikorn values the continuous learning of each employee in terms of professional knowledge, skills, and attitude. To strengthen overall organizational performance and employee development, Unikorn aims at long-term employee development. Through organizational development and various cultivation programs, we have built a comprehensive talent cultivation system, including internal and external training, on-the-job training, and digital learning, and have designed various courses according to different needs, including technical, quality, and management training, to continuously improve employees' capabilities and realize their potential.
Unikorn will continue to promote and advocate initiatives with CommonWealth Learning, Cheers Happy Worker, and other members of the 100 companies in Taiwan. Unikorn expects that in the near future, through the Hope project of talent cultivation, every worker will benefit from training and improve their competencies, thereby creating a better career path and future.
The world has a huge challenge ahead of it to move net zero by 2050 from a narrow possibility to a practical reality. According to McKinsey, a transition to net-zero emissions would entail much greater demand for electric vehicles. EV sales are expected to reach 15 million units in 2025 and exceed 30 million units in 2030, representing a compound annual growth rate (CAGR) of around 20%. About 30% of the vehicles sold worldwide will run on electricity.
In this webinar, Wolfspeed would like to share the design and implementation of Future EV, Green Energy and Power System by using Wolfspeed SiC, and the basic properties and behaviors of Silicon Carbide (SiC).
What are the advantages of using SiC at variously application compared with Silicon and IGBT? What SiC could benefit you at topology design corresponding and tips of Gate Driving with SiC MOSFETs?
Join Wolfspeed EV Webinar in exploring opportunities for global innovation, find out how to create an EV ecosystem and real blue ocean.
Date: December 07, 2022
Time: 2 PM IST
---
Subscribe to Power Semiconductors Weekly and watch it on YouTube every Tuesday.
If you prefer a monthly update about the world of power semiconductors delivered to your e-mail address, please, subscribe to Marketing Psycho Power Semiconductors newsletter.