Power Semiconductors Weekly Vol. 87
Odyssey Semiconductor Technologies, Inc., a semiconductor device company developing innovative high-voltage power switching components based on proprietary Gallium Nitride ("GaN") processing technology, announced it reached the stated goal of 1200 volt rating on vertical GaN power field-effect transistors (FETs). The Company is now applying this validated technology to fabricate product samples in Q4 2022 for internal and customer evaluations, planned through Q1 2023.
Recently Accomplished Odyssey Technology Milestones
Announced the 1200-volt vertical GaN power device.
On-track to build Gen1 product samples of 650- and 1200-volt power devices in Q4 2022.
Validated figures-of-merit for both 650- and 1200-volt power devices that will provide industry-leading efficiency with remarkably low on-resistance at high switching frequencies for reduced solution size.
Validated process for large-scale device fabrication, currently in use to manufacture product samples.
Secured commitments from three customers to evaluate Gen1 product samples. Expanded customer engagement is underway to confirm additional customers for product samples.
CEO Commentary
"The importance of Odyssey achieving this milestone of 1200 volt vertical GaN power devices cannot be over-emphasized," said Mark Davidson, Odyssey's Chief Executive Officer. "We are emerging from process and materials R&D to delivering products at voltages that lateral GaN can't practically reach with economics unattainable by silicon and silicon carbide. Our vertical GaN products will deliver high power conversion efficiency at almost 10x smaller than a silicon carbide transistor for the same application."
"We are not just fabricating test structures. We're building product samples that customers need. Odyssey continues to close new commitments for product samples as customers gain a full understanding of the capabilities of Odyssey's power devices. The Company is uniquely positioned with the expertise and the IP portfolio to protect it. And with our own foundry in Ithaca, New York, we can innovate quickly and control our ability to supply products to customers," concluded Davidson.
Vishay Intertechnology, Inc. introduced 15 new FRED Pt® Gen 5 600 V and 1200 V Hyperfast and Ultrafast rectifiers in the compact SOT-227 package. Offering the best conduction and switching loss trade-off for devices in their class, the Vishay Semiconductors rectifiers are designed to increase the efficiency of high frequency converters and of soft-switched or resonant designs.
Matched to operate with MOSFETs or high speed IGBTs, the devices released are optimized for PFC and output rectification stages for EV / HEV battery charging stations, booster stages for solar inverters, and UPS. For these applications, the rectifiers offer lower conduction losses than previous-generation devices, while maintaining low reverse recovery losses. In addition, the semiconductor in the SOT-227 package is isolated from the copper base plate, allowing for common heatsinks and compact assemblies to be built.
The devices offer current capability of 30 A at 600 V in the single-phase bridge configuration and 60 A to 300 A at 600 V and 1200 V in the dual-diode configuration. The rectifiers are available in X-type Hyperfast and H-type Ultrafast speed classes, with H-type devices offering the advantage of lower conduction losses and X-type devices featuring faster recovery times. The components offer high temperature operation to +175 °C.
Materials Department at Fraunhofer Institute for Integrated Systems and Device Technology IISB has grown an aluminum nitride (AlN) crystal with a diameter of 43 mm in technology-relevant quality.
This result is a substantial step to reach the important milestone inside the BMBF funded project Leitban to demonstrate a 2-inch diameter AlN crystal by the end of 2022 and to deliver 2-inch AlN wafers to the consortium. This achievement was possible by the support of the BMBF FMD initiative.
The availability of AlN crystals respectively AlN wafers in sufficient size and quality is the key for the manufacturing of high performance AlN-based electronic devices.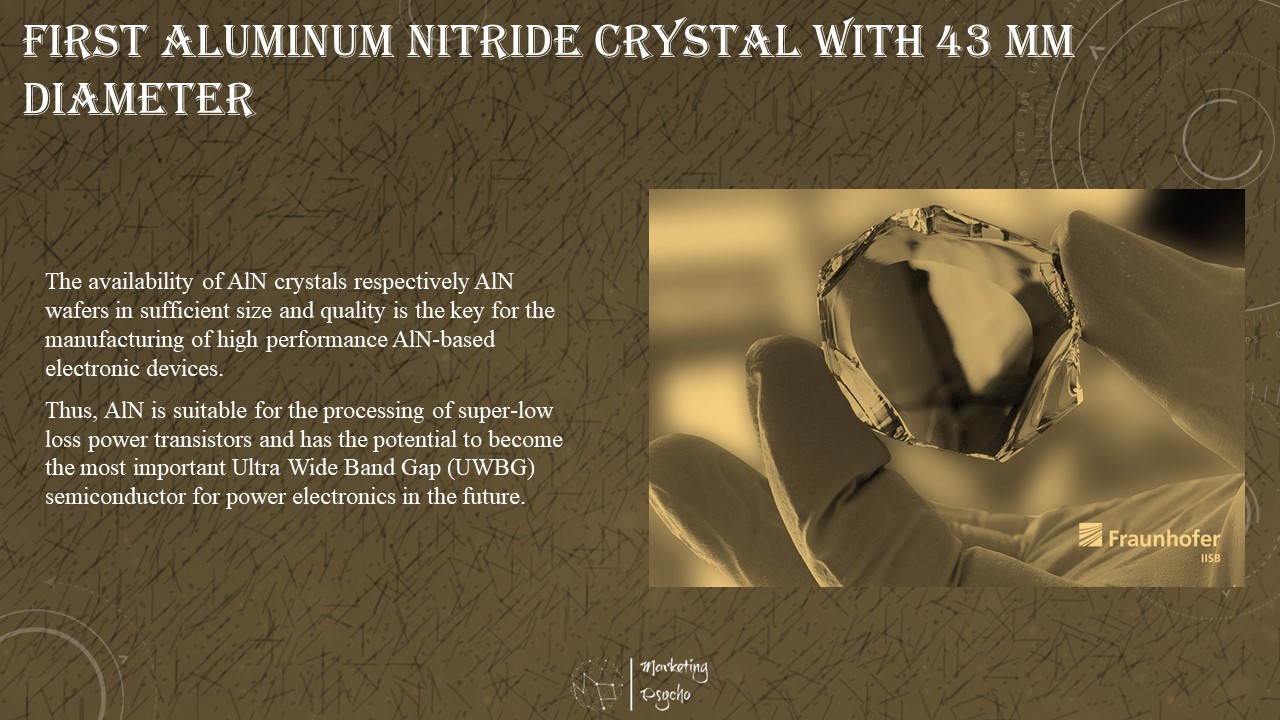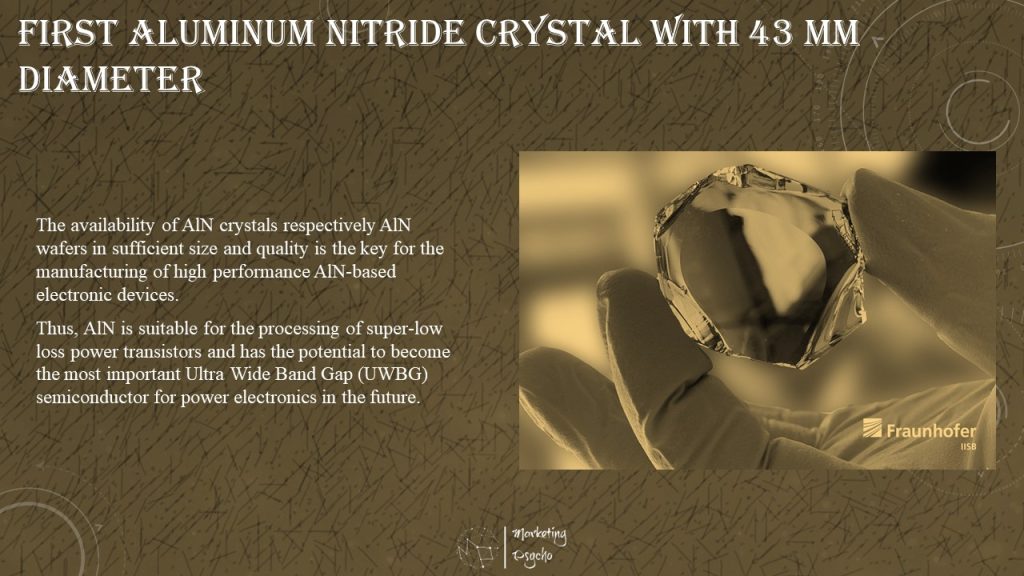 Aluminum nitride as a semiconductor offers an extreme breakdown field strength, a high material quality, a low amount of defects and a very good thermal conductivity. Due to the special physical properties of AlN, AlN-based devices for power electronics can achieve a performance beyond that of silicon carbide (SiC) and gallium nitride (GaN).
Thus, AlN is suitable for the processing of super-low loss power transistors and has the potential to become the most important Ultra Wide Band Gap (UWBG) semiconductor for power electronics in the future.
SK Siltron is planning to form a joint venture with RFHIC and Yes Power Technix that will develop technologies related to silicon carbide (SiC) and gallium nitride (GaN) semiconductors.
The plan awaiting approval from SK Corporation, the holding company of the SK business group.
SK Siltron has been in talks with RFHIC to form a venture for a while now. SK Siltron will offer its wafers while RFHIC is expected to offer its expertise in SiC and GaN, which are replacing silicon in certain chips as they are more durable and power efficient.
More and more semiconductors used in automobiles, telecommunication and defense sectors are adopting SiC and GaN chips. SK Siltron is the only South Korean company that produces wafers. It currently manufactures SiC wafers in South Korea and the US while it is developing GaN wafers as well under a government-backed project.
RFHIC specializes in GaN RF chips, while Yes Power Technix manufactures SiC power management ICs based on 100mm and 150mm wafers. SK Corporation owns 33.6% shares of Yes Power Technix and plans to spend 120 billion won more to eventually secure 95.81% of the shares.
EPC has opened a new design application center near Turin, Italy, to focus on growing motor drive applications based on GaN technology in the e-mobility, robotics, drones, and industrial automation markets. The specialist team will support customers in accelerating their design cycles and define future Integrated Circuits for power management with state-of-the art equipment to test applications from 400 W to 10's of kW.
Strategically located, Turin has a historical tradition in electric motors and motor drives enabling the company to draw on the wealth of local technical talent. EPC's engineers are helping customers reduce their design cycle times and adopt GaN for more efficient, smaller, lower-cost systems. Moreover, the center is exploring ways to exploit the potential of EPC's GaN technology in motor drive applications to enable a substantial increase in the efficiency of the motor, leading to higher power density designs than what has been possible with historically MOSFET-based designs.
Turin also features the Power Electronics Innovation Centre, a cross-department entity in the Politecnico di Torino – one of the most important technical Universities in Europe – and EPC is collaborating closely with PEIC by investing in shared research and development.
The new facility is headed by Marco Palma, EPC's Director of Motor Systems and Applications. Commenting on the opening he said, "our new facility combines a comprehensive GaN product portfolio and design expertise offering customers a center of excellence that is unrivalled for motor drive applications. Its location is key too, as Europe is driving the green revolution in the e-mobility market, by using the Euro 7 standard in the short term and by banning internal combustion engines by 2035. This is definitely the right time to invest in higher power density motor solutions that avoid un-necessary energy waste."
---
Subscribe to Power Semiconductors Weekly and watch it on YouTube every Tuesday.
If you prefer a monthly update about the world of power semiconductors delivered to your e-mail address, please, subscribe to Marketing Psycho Power Semiconductors newsletter.