Power Semiconductors Weekly Vol. 86
Toshiba Electronics Europe GmbH ("Toshiba") has launched five 1200V silicon-carbide (SiC) MOSFETs that leverage the Company's third generation SiC technology to boost the energy efficiency of high-voltage industrial applications. They are used in equipment such as EV charging stations, photovoltaic inverters, industrial power supplies, uninterruptible power supplies (UPS), and bidirectional or half-bridge DC-DC converters.
By improving the on-resistance x gate-drain charge (RDS(on) x QGD) figure of merit by more than 80%, Toshiba's latest SiC technology elevates both conduction and switching performance in power-conversion topologies.
In addition, the new devices contain the innovative embedded Schottky barrier diode (SBD), proven in the previous generation. The embedded SBD enhances the reliability of SiC MOSFETs by overcoming internal parasitic effects to maintain a stable device RDS(on).
Furthermore, the products have a generous maximum gate-source voltage range, from -10V to 25V, which enhances flexibility to operate in various circuit designs and application conditions. The gate-threshold voltage (VGS(th)) range from 3.0V to 5.0V, ensures predictable switching performance with minimal drift and permits a simple gate-driver design.
The third generation SiC MOSFETs available now comprise the TW015N120C, TW030N120C, TW045N120C, TW060N120C, and TW140N120C. The devices have RDS(on) values from 15mΩ to 140mΩ (typical, at VGS = 18V) and drain-current ratings from 20A to 100A (DC at TC=25°C).
All the devices are in full production and ready to order from distributors, in the standard TO-247 power package.
Wolfspeed, Inc. announced it will build a new, state-of-the-art, multi-billion-dollar Materials manufacturing facility in Chatham County, North Carolina. The investment is targeted to generate a more than 10-fold increase from Wolfspeed's current Silicon Carbide production capacity on its Durham campus, supporting the company's long-term growth strategy, accelerating the adoption of Silicon Carbide semiconductors across a wide array of end-markets and unlocking a new era of energy efficiency.
"Wolfspeed is the industry leader in supplying the materials required to meet the accelerating demand for next generation semiconductors and creating a more sustainable future for all. Demand for our products continues to grow at a rapid pace, and the industry continues to be supply constrained. Expanding our Materials production will further our market leadership and allow us to better serve the growing needs of our customers," said Gregg Lowe, President and CEO of Wolfspeed. "We are particularly excited and proud to not only expand Wolfspeed's footprint in our home state of North Carolina, but also further our relationship with North Carolina Agricultural and Technical State University to nurture our best-in-class talent pool."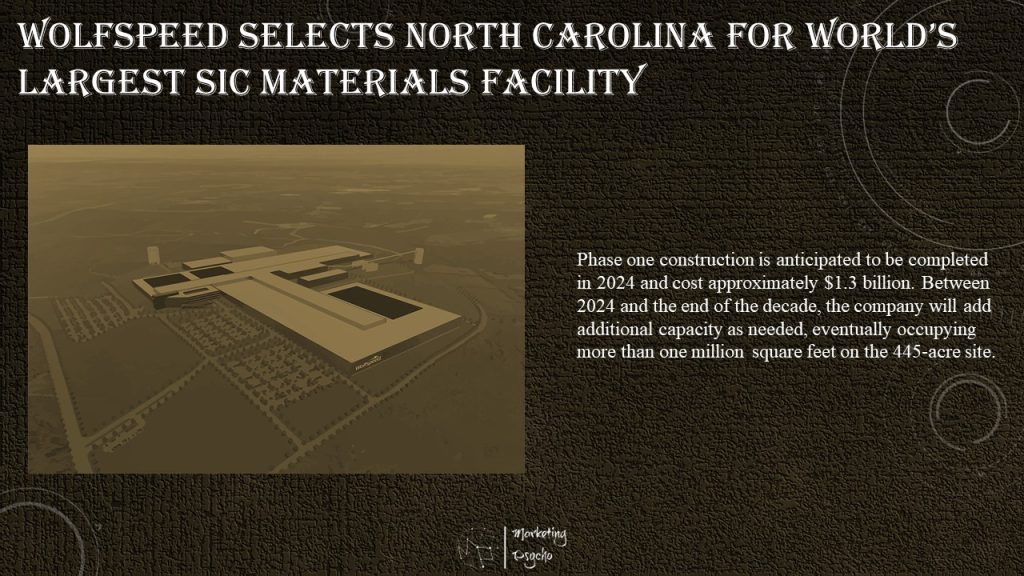 The facility will primarily produce 200mm Silicon Carbide wafers, which are 1.7x larger than 150mm wafers, translating into more chips per wafer and ultimately, lower device costs. These wafers will be used to supply Wolfspeed's Mohawk Valley Fab, which opened earlier this year as the world's first, largest and only fully automated 200mm Silicon Carbide fabrication facility.
Phase one construction is anticipated to be completed in 2024 and cost approximately $1.3 billion. Between 2024 and the end of the decade, the company will add additional capacity as needed, eventually occupying more than one million square feet on the 445-acre site.
State and local funding, including a Job Development Investment Grant from the North Carolina Department of Commerce, will support the development of the facility's first phase and represents an approximately $1.0 billion incentive package from the State, County and local governments. In addition, the company hopes to apply for and obtain federal funding from the CHIPS and Science Act to accelerate the construction and build-out of the facility. Over the next eight years, the company intends to continue to invest, looking to create roughly 1,800 jobs.
"Wolfspeed's decision further validates North Carolina as the epicenter of clean energy," said North Carolina Governor Roy Cooper. "This is another milestone in our drive toward a clean energy economy as it will boost electric vehicle manufacturing and offshore wind while fighting climate change and putting money in the pockets of every day North Carolinians with great paying jobs."
The company's talent development strategy is complemented by its continued partnership with North Carolina Agricultural and Technical State University (N.C. A&T). In 2020, Wolfspeed committed $4 million over five years to the HBCU – at the time, the single largest donation in the university's history, to create the Wolfspeed Endowed Scholars Program. The two entities aim to establish comprehensive education and training curricula and cutting-edge research and innovation programs. This partnership will open opportunities for undergraduate and graduate credentials in Silicon Carbide semiconductor manufacturing, as well as training and career advancement programs for existing semiconductor manufacturing workers.
"North Carolina A&T is proud to partner with Wolfspeed to provide new opportunities to pursue the next generation of careers in the green economy, drive innovation and explore new possibilities," said N.C. A&T Chancellor Harold L. Martin, Sr. "Throughout our rich history as a doctoral, land-grant university and the largest historically Black university in the country, we have believed in the power of our students to change the world. Our expanded partnership with Wolfspeed will allow us to change the world together, and I am incredibly excited for what is to come."
II-VI Incorporated announced a corporate name change to Coherent Corp. and a new brand identity, following the successful completion of II-VI's acquisition of Coherent, Inc., on July 1, 2022.
"We chose the name Coherent because it has the universal meaning of 'bringing things together,' and an appeal that we believe will expand our brand recognition and ultimately lead to value creation," said Dr. Vincent D. Mattera, Jr., Chair and CEO of Coherent Corp. "The broader meaning of the word coherent represents our diversity in thinking distilled into our clarity of purpose, our unity in action, and our broader sense of engagement by connection to our mission, vision, and values."
The new brand identity includes a new corporate logo. To view the brand launch video, please visit this link.
The logo represents the atom, which is foundational to what makes Coherent's products possible. The new name and brand identity reflect the combined company's strong heritage and long history while signaling a broadened scope and vision for the future. The organization will maintain II-VI's founding date of 1971 and its founding place and corporate headquarters as Saxonburg, Pennsylvania.
While the new corporate name and logo take effect immediately, the pre-merger companies' existing websites, social media platforms, and most product branding will continue for the near term as the transition to the new brand identity is executed over the coming months.
Showa Denko K.K. has started shipment of samples of SiC epitaxial wafers 200mm (8 inches) in diameter, which are used mainly for SiC power semiconductors, as the first Japanese manufacturer to ship samples of 200mm SiC epi-wafers for external customers. SDK uses in-house manufactured single crystal SiC wafers for producing these samples.
SiC power semiconductor reduces power loss and emits less heat than conventional silicon-wafer-based power semiconductor, thereby conserving energy. Therefore, SiC power semiconductor market is rapidly expanding, especially in the fields of power devices for use in electric vehicles and renewable-energy-based power generation. SiC power semiconductor's performance is greatly affected by the quality of SiC epi-wafer. Thus, it is necessary for SiC epi-wafer manufacturer to make the epi-wafer to have low density of surface defects and stable quality.
At present, SiC power semiconductors are manufactured mainly from SiC epi-wafers 150mm (6 inches) in diameter. The larger the diameter of SiC epi-wafer becomes, the more pieces of SiC-power-semiconductor chips the manufacturers of power devices can produce. Therefore, device manufacturers expect that they can improve their productivity and reduce costs of devices by introducing SiC epi-wafers with diameters larger than conventional ones.
Aiming to respond to such a market need, SDK has accelerated development of 200mm SiC epi-wafer since 2021, and started this time to ship samples of SiC epi-wafer made from in-house manufactured single crystal SiC wafers. SDK already has the leading share in the global SiC epi-wafer market as an independent supplier. SDK will aim to increase production volume of 200mm SiC epi-wafers further, establish stable production system for those wafers, and improve their quality by procuring SiC wafers from partner companies and developing products with in-house manufactured single crystal SiC wafers.
In addition, SDK has been promoting "The Project to Develop SiC Wafers Technology for Next-generation Green Power Semiconductors," which is a part of "The Projects to Develop Wafers Technology for Next-generation Power Semiconductors," and will continue conducting research and development activities which aim to develop SiC epi-wafers with a diameter of 200mm and reduce density of deficiencies by one digit or more by 2030.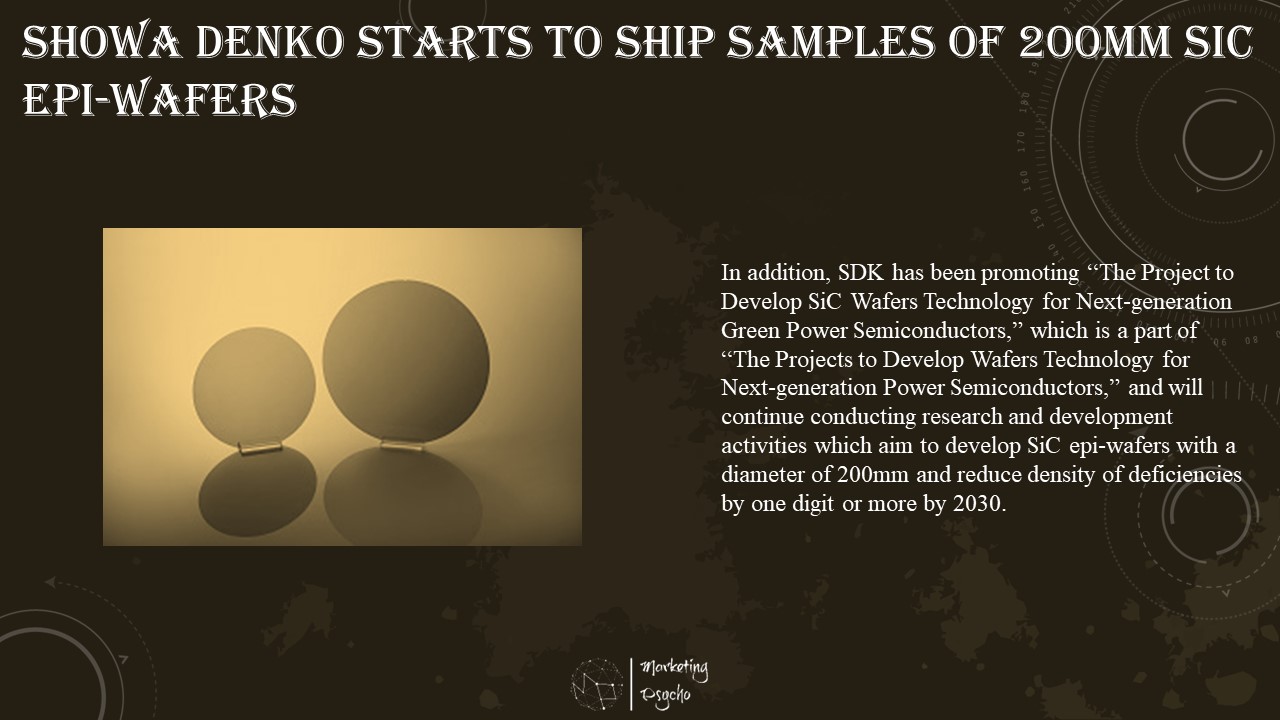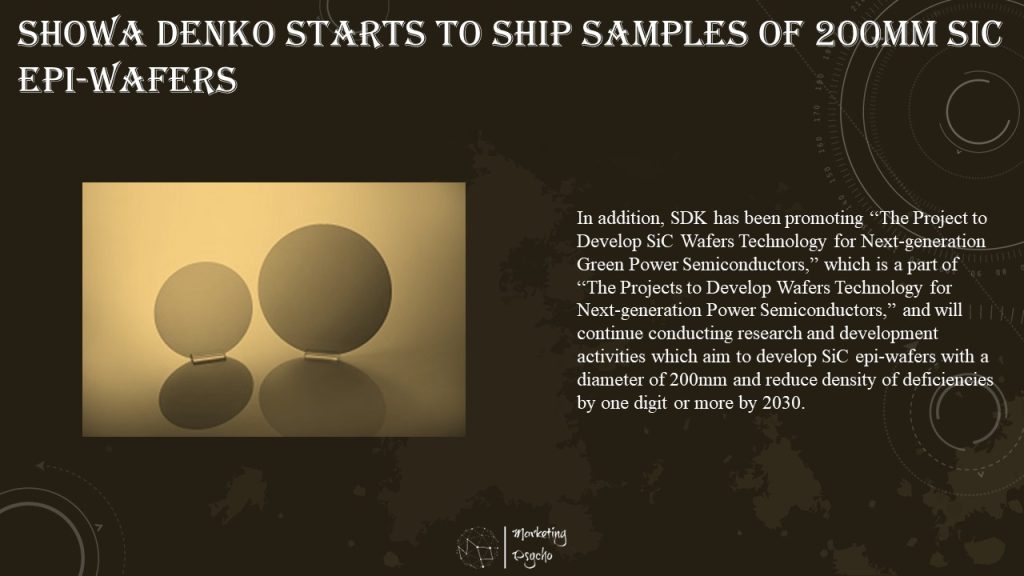 "The Projects to Develop Wafers Technology for Next-generation Power Semiconductors" are hosted by New Energy and Industrial Technology Development Organization (NEDO) and set as a research and development target of "Next-generation Digital Infrastructure Construction Projects" which are organized under the framework of "Green Innovation Fund Projects." SDK will deepen its knowledge and know-how about enlargement of diameters of SiC epi-wafers, which made it possible for us to announce this news release, and will continue making effort to achieve the target of "The Project to Develop SiC Wafers Technology for Next-generation Green Power Semiconductors."
The Showa Denko Group aims to be a "Co-Creative Chemical Company" and contribute to the sustainable development of global society. Under this vision, SDK positions its operation to produce SiC epitaxial wafers, which contributes to efficient use of energy, as a next-generation business, and will allocate much of our business resources. The Group will continue contributing to the spread of SiC power semiconductors by maintaining "Best in Class" as its motto and continuing provision of high-performance and highly-reliable products.
Korea Showa Chemicals Co. (KSC), which is a wholly-owned subsidiary of Showa Denko K.K. (SDK), has conducted construction work to expand the site of specialty gas storage facility in Anseong-si, Gyeonggi-do, South Korea to better serve the growing demand for high-purity gases for semiconductor production. Through this expansion, the Showa Denko Group will strengthen stability of its system to supply specialty gases for semiconductor production, notwithstanding the ongoing global logistics problem.
In this expansion work, KSC almost doubled the site of the storage facility which had been established in 2007. KSC has also expanded the facility's storage capacity, rebuilt office building, and strengthened the company's customer support system. KSC will continue rebuilding of the storage facility, and increase the storage capacity of the existing facility to be twice as much as that of the initial one.
KSC operates a business to handle high-purity gases for semiconductor production in South Korea, and its activities include sale, technical and product-quality support, and marketing. The Showa Denko Group provides more than 20 kinds of high-purity gases. KSC imports high-purity gases from gas production bases in Japan and other Asian countries and sells them in South Korea, and also exports high-purity gases produced in South Korea to Asia and the United States.
The Showa Denko Group operates integrated supply system of high-purity gases including filling up cylinders, shipping and distribution, collection of used cylinders, and analysis and assurance of product quality. Thus, the Group manages its high-purity gas supply chain without independent dealers' help. Therefore, it is one of the Group's strong points that the Group's direct selling system can rapidly respond to customers' requests. This time, the Group decided to expand its distribution base in South Korea because it was an urgent need for the Group to strengthen the facility in Anseong-si in order not only to respond to rapidly growing demand for high-purity gases in South Korea but also to cope with the ongoing global logistics problem and the rapid increase in distribution cost.
While investment in the semiconductor industry is rapidly growing in many countries of the world, South Korean government is also giving strong support to the country's semiconductor industry, and semiconductor market of South Korea continues expanding. High-purity gases for semiconductor production are used in circuit wiring process on the surface of semiconductor wafers (front-end process).
The amount of high-purity gases used in semiconductor production is increasing rapidly because of the progress in miniaturization and three dimensional design of semiconductor integrated circuits, and the amount has been increasing at the growth rate higher than that of semiconductor wafer market. The Showa Denko Group has the leading share of the global etching-gas market, and sales figures of the Group's business to produce and sell high-purity gases for semiconductor production has been achieving more than 10% growth every year.
As a "Co-creative Chemical Company," the Showa Denko Group has positioned its electronics business including the business to produce and sell high-purity gases for semiconductor production as Core-growth Business, and has been focusing on this electronics business, aiming to contribute to sustainable development of the global society. The Showa Denko Group will continue making its electronics business grow by responding rapidly to the growth of semiconductor market and continuing supply of leading-edge products.
In light of recent developments concerning the pandemic in Shanghai, PCIM Asia will now be held from 26 – 28 October 2022 in Hall E1 at the Shanghai New International Expo Centre. The show will continue to provide a platform for exchanging ideas, showcasing technologies and expanding business networks. This will be achieved through gathering the latest power electronics suppliers at the fairground and by exploring the latest trends through the fair's concurrent programme.
On behalf of the organizers, Mr Louis Leung, Deputy General Manager of Guangzhou Guangya Messe Frankfurt Co Ltd expressed: "We are pleased to have confirmed suitable dates for the rescheduling of the fair, which meet the needs of our stakeholders. Meanwhile, we are in contact with our local and international exhibitors and supporters to provide them with the necessary support to facilitate their participation. We are also prepared to put the necessary measures in place to ensure the wellbeing of all fairgoers during the course of the October fair."
Apart from the diversity in the products on display, the fair also serves as a pivotal marketing and networking platform for all participants. Held alongside the exhibition, the PCIM Asia Conference is one of the most important events for power electronics in Asia. Led by industry experts, the 2022 conference promises to once again provide a platform for industry professionals in power electronics, intelligent motion, renewable energy and energy management from around the world to connect and share ideas. Experts from these sectors have contributed 52 conference papers on a wide range of topics from within the industry. Key topics covered at this year's conference will include:
· Power semiconductor devices / WBG devices
· Passive components
· Packaging and reliability
· Motion control
· Power conversion
· AI for power electronics
Additionally, the fair will carry out a programme of industry forums covering hot topics in power electronics, intelligent motion, renewable energy, and energy management. Attendees will hear from notable experts, academics and top executives from leading companies in the industry.
Details of highlighted events are as follows:
Industry Forum: Electrical transportation technology in the Industry 4.0 era
Highlighting China's transportation electrification transformation, invited speakers will unveil the latest developments in this space and lead interactive discussions on the country's railway, electric vehicles, intelligent mission planning and tracking control of autonomous surface vehicles (ASVs), unmanned aerial vehicle (UAV) and more.
Industry Forum: New energy development under China's 'Carbon peak' and 'Carbon neutrality' goals
Experts from renowned universities and research institutes, as well as key industry specialists, will actively discuss the prospects and key technologies of renewable energy development and utilization under the 'Dual Carbon' policy. They will cover the latest renewable energy trends and share innovative insights on energy conversion, energy storage and power management technologies.
Interrelated concurrent shows create strong synergy for power electronics industry in East China
Held on the same date and venue are Messe Frankfurt's Shanghai Intelligent Building Technology, Shanghai Smart Home Technology and Parking China. Participants of PCIM Asia 2022 will be able to take advantage of synergies between the different fairs. There are also many potential applications of power electronics across a wide range of sectors such as in smart home appliances with remote control systems, voice recognition and smart sensors as well as within building technology applications including heating, air conditioning and refrigeration. With over 20 years of experience in the East China region, PCIM Asia is a recognized platform which will bring the industry together and showcase the latest innovations in power electronics.
PCIM Asia is jointly organized by Guangzhou Guangya Messe Frankfurt Co Ltd and Mesago Messe Frankfurt GmbH.
---
Subscribe to Power Semiconductors Weekly and watch it on YouTube every Tuesday.
If you prefer a monthly update about the world of power semiconductors delivered to your e-mail address, please, subscribe to Marketing Psycho Power Semiconductors newsletter.