Power Semiconductors Weekly Vol. 84
Vishay Intertechnology, Inc. introduced four new FRED Pt® Gen 5 600 V Ultrafast rectifiers in the TO-244 package. Offering the best conduction and switching loss trade-off for devices in their class, the 240 A, 300 A, 480 A, and 600 A Vishay Semiconductors rectifiers are designed to increase the efficiency of medium frequency power converters and of hard- and soft-switched or resonant designs.
Compared to competing FRED Pt Ultrafast solutions in the TO-244 package, the devices released offer lower conduction, while maintaining low reverse recovery losses. The result is improved efficiency for industrial applications, such as high frequency welding and ballast water management systems. Delivering high speed, high temperature operation for these applications, the VS-VS5HD240CW60, VS-VS5HD300CW60, VS-VS5HD480CW60, and VS-VS5HD600CW60 offer low Qrr down to 260 nC typical, fast recovery time down to 52 ns, and an operating temperature range up to +175 °C.
Samples of the new FRED Pt rectifiers are available now. Production quantities are available with lead times of 40 weeks.
Infineon Technologies AG and II-VI Incorporated have signed a multi-year supply agreement for silicon carbide (SiC) wafers. The German-based semiconductor manufacturer is thus securing further access to this strategic semiconductor material to meet the strong increase in customer demand in this area. The agreement also supports Infineon's multi-sourcing strategy and increases its supply chain resilience. The first deliveries have already taken place.
SiC is a compound of silicon and carbon that enables particularly efficient and robust power semiconductors with a superior cost-benefit at the system level. The CoolSiC™ brand from Infineon is already the industry's largest portfolio for industrial power semiconductor applications. In addition to photovoltaic converters and industrial power supplies, the advantages of SiC are also particularly evident in the field of e-mobility. SiC power semiconductors are used in the main inverters for e-vehicle drive trains, in onboard battery charging units and in charging infrastructures. The material meets the highest quality standards for industrial and automotive applications. As strategic partners, II-VI and Infineon are also collaborating in the transition to 200mm SiC diameter wafers.
"SiC compound semiconductors set new standards in power density and efficiency. We are leveraging them to deliver on our strategy of decarbonization and digitalization," said Angelique van der Burg, Chief Procurement Officer at Infineon. "Infineon is increasing investments in its SiC manufacturing capacity to meet the rapidly growing demand from our customers. We are pleased to add II-VI to our strategic supplier base and grow our business together."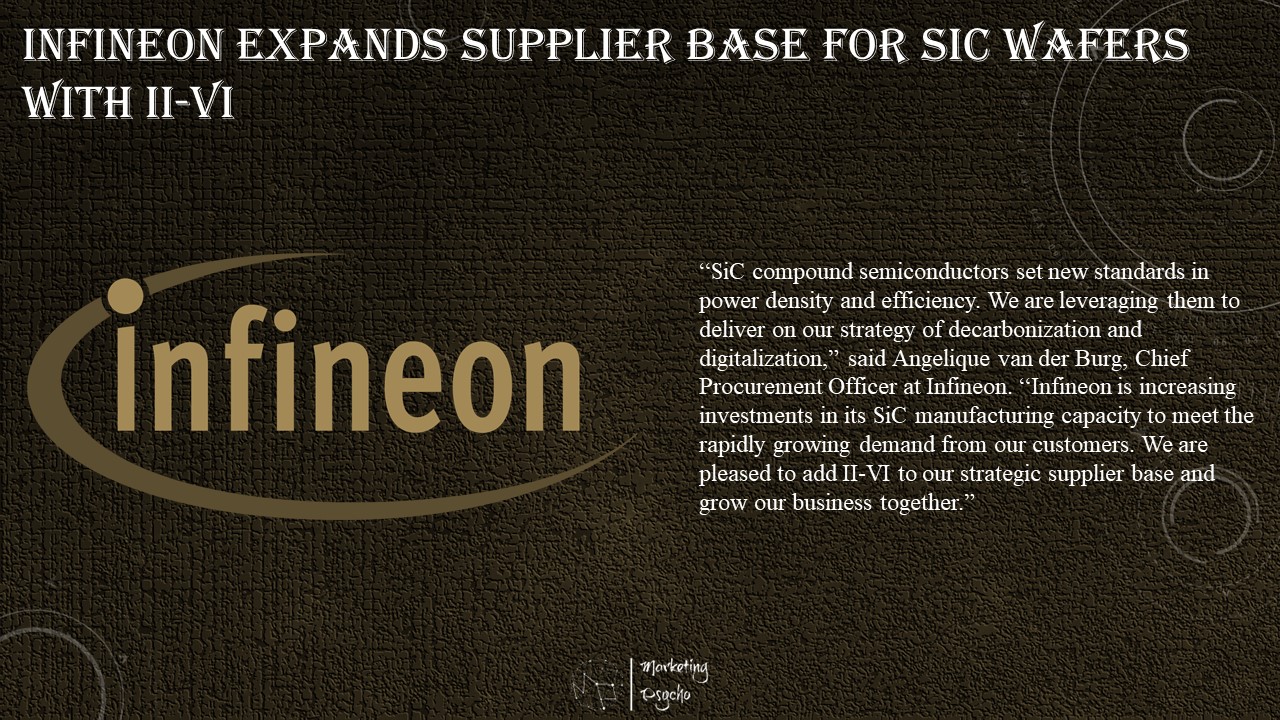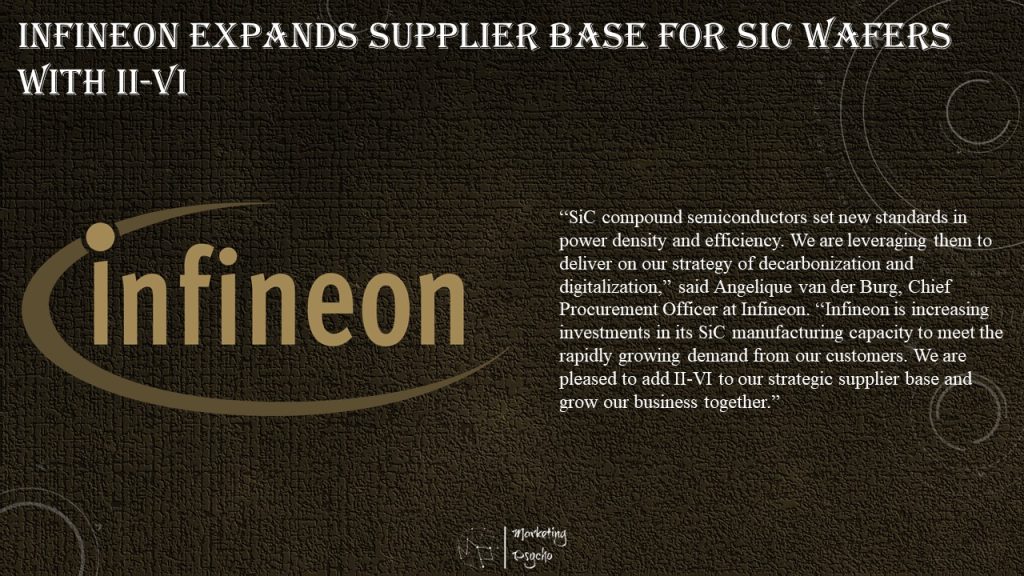 "Infineon, as a market leader in power semiconductors, is an important partner for us," said Sohail Khan, Executive Vice President, New Ventures & Wide-Bandgap Electronics Technologies at II-VI. "Our highly specialized products are now helping Infineon provide innovative electronic components to key customers worldwide."
Infineon expects its SiC semiconductor sales to grow by more than 60 percent on average per year, reaching approximately $1 billion by mid-decade. For the second half of the decade, Infineon expects on-going growth momentum, for which it invests in its recently announced additional manufacturing block in Kulim, Malaysia.
SEMIKRON and Danfoss Silicon Power are joining forces to establish the ultimate partner in power electronics. On August 22, less than five months after it was first announced, the new leader in power semiconductor modules started doing business as Semikron Danfoss.
With an existing workforce of more than 3,500 dedicated power electronic specialists, Semikron Danfoss will provide world-class technology expertise to its loyal customer base. The merger comes with a strong growth plan and a firm commitment to future investments, paving the way for green growth and a more sustainable, energy efficient, and decarbonized future.
The newly formed Semikron Danfoss joint business will be owned by the current owner-families of SEMIKRON and the Danfoss Group, with Danfoss being the majority owner. Semikron Danfoss will retain the two main locations in Germany, Nuremberg and Flensburg. All global subsidiaries, production sites, as well as distribution channels will continue.
Claus A. Petersen, has been appointed CEO of Semikron Danfoss. "Semikron Danfoss will inspire the future. The timing of the new company is perfect. With strong growth in our key markets – automotive, industry and renewables – the merger is a great opportunity for customers, partners, and our employees. Also, with the emerging technology transition from Silicon to Silicon Carbide, we are set to become the strongest partner of our customers."
Karl-Heinz Gaubatz stepped down from his position as CEO of SEMIKRON on August 22 to focus on his role as CTO and support the merger process until his planned retirement at the end of this year. "This truly is an exciting moment for SEMIKRON and Danfoss Silicon Power! This merger is the perfect solution for everyone involved," says Karl-Heinz Gaubatz. "We have succeeded to position SEMIKRON as a market leader in industrial- and renewable-power module applications with 2021 as one of the most successful years in our history. It is only right that we now join forces with an equally driven and innovative company."
Danfoss President and CEO Kim Fausing will be chairman of the board of Semikron Danfoss. "Electrification is one of the main drivers in the green transition, and Semikron Danfoss technologies are key components within industry, renewable energy, and automotive traction1. Combining more than 90 years of technology leadership in power module packaging, we have the passion, competences, technologies, and commitment to become the preferred decarbonizing partner for customers."
Li Auto broke ground on its power semiconductor R&D and production base in Suzhou, China, a milestone for the electric vehicle maker. The move is a strategic one, which will allow Li Auto to develop and mass-produce its own silicon carbide power modules.
The production base will be located in the Suzhou New District in Jiangsu province and is being built by Suzhou Sike Semiconductor, a joint venture by Li Auto and Hunan Sanan Semiconductor. Equipment installation and testing are expected to begin after construction is finished in 2022. Samples are expected to be produced in the first half of 2023 and official production will start in 2024. Annual production in the future will gradually increase to 2.4 million SiC half-bridge power modules.
Li Auto co-founder and president Yanan Shen noted that third-generation semiconductors are expected to spread rapidly in the field of new energy vehicles (NEV). Having its own R&D and production base for automotive SiC power modules will allow Li Auto to assert itself as a leader in technology and products within this field, while also effectively guaranteeing mass production, Shen added.
SK Siltron is expected to complete its new silicon carbide wafer factory in Michigan next month.
The South Korean wafer maker acquired Dupont's SiC wafer business based in the US state in 2020, at the same time forming its subsidiary Siltron CSS there. The subsidiary has been building a factory for the growing process, where the silicon is melted and grown into ingots before being cut to wafers in Bay City, Michigan since then.
The completion of the factory next month will increase SK Siltron's production capacity for 6-inch SiC wafers to 120,000 sheets per year.
SiC wafers are in increasing demand as they are optimal for power management ICs from their higher resistance to temperature and voltage compared to silicon wafers.
Meanwhile, SK Siltron is also developing capabilities to manufacture 8-inch SiC wafers with the aim to manufacture them starting in late 2023.
A Kyoto University startup Flosfia plans to produce semiconductor devices with improved energy-saving performance that will extend the driving range of electric vehicles by about 10% compared with cars using current products.
Flosfia, which counts Mitsubishi Heavy Industries, Toyota Motor affiliate Denso and the Development Bank of Japan as investors, will mass-produce power semiconductors that use gallium oxide, an alternative to silicon, as a semiconductor material.
These can reduce power loss by 70% compared with current semiconductor devices, according to the company. In addition, they can reduce EV power consumption by 10%, leading to longer cruising ranges on a single charge. Flosfia aims to achieve monthly production capacity of several hundred thousand units by summer 2023. The devices will be sold to auto parts makers. The company plans to outsource production to domestic electronics companies, targeting sales of 100 billion yen ($732 million) by 2030.
As EV demand increases, the company wants to commercialize its devices before competitors in Europe and the U.S. do.
Driving range on a single charge is a key factor in electric vehicle performance. EV makers have pushed the limits of how far their vehicles can go by improving battery performance and reducing vehicle weight.
Flosfia is one of the companies tackling the EV range challenge from the level of semiconductor materials. Besides gallium oxide, silicon carbide has emerged as a promising avenue of development. Tesla became the first of its peers to use silicon carbide power semiconductors in a mass-produced car.
Power semiconductor devices control the current and voltage in motors and other EV parts. Japanese companies have a small presence in the semiconductor sector overall, but still hold an advantage in this field.
Mitsubishi Electric, Toshiba and Fuji Electric together hold about 20% of the world market share in power semiconductors. New companies like Flosfia are finding a niche in the industry with the support of the Japanese government backed New Energy and Industrial Technology Development Organization.
---
Subscribe to Power Semiconductors Weekly and watch it on YouTube every Tuesday.
If you prefer a monthly update about the world of power semiconductors delivered to your e-mail address, please, subscribe to Marketing Psycho Power Semiconductors newsletter.