Power Semiconductors Weekly Vol. 83
Bourns, Inc., a leading manufacturer and supplier of electronic components, entered the insulated-gate bipolar transistor (IGBT) market with the company's first high-efficiency 600 V/650 V discrete product line co-packaged with a fast recovery diode (FRD). Designed using advanced trench-gate field-stop technology that provides greater control of dynamic characteristics, the five new Bourns® Model BID Series discrete IGBTs deliver lower collector-emitter saturation voltage (VCE(sat)) and lower switching losses compared to previous generation non-punch-through IGBTs. In addition, this structure provides a positive temperature coefficient that helps increase device longevity and reduce power requirements in high voltage and high current designs.
Because Bourns' new IGBTs are available in thermally-efficient TO-252, TO-247 and TO-247N packages, these devices can provide a lower thermal resistance Rth(j-c), making them ideal solutions for switch-mode power supplies (SMPS), uninterruptible power sources (UPS), induction heating and power factor correction (PFC) applications. Offering four voltage/current model options in 600 V/5 A, 600 V/20 A, 600 V/30 A and 650 V/50 A, Bourns® BID Series discrete IGBTs have been tested and qualified according to JEDEC standards for power switching products.
Navitas Semiconductor announced the acquisition of GeneSiC Semiconductor, a silicon carbide (SiC) pioneer with deep expertise in SiC power device design and process. The transaction is immediately accretive to Navitas as GeneSiC is highly profitable, with more than 25% EBITDA margins. Calendar 2022 revenues are expected to be approximately $25 million with demonstrated annual growth rates of over 60%. The combined company creates a comprehensive, industry-leading technology portfolio in next-generation power semiconductors – both GaN and SiC – with an aggregate market opportunity estimated at over $20 billion per year by 2026.
"GeneSiC is an ideal partner for Navitas with their focus and success in developing industry-leading SiC technology," said Gene Sheridan, Navitas CEO and co-founder. "Navitas has significant investments in global sales, operations and technical support teams, along with system design centers in EV and data centers. These capabilities are a perfect complement to GeneSiC and will further accelerate their growth in both synergistic and new customers and markets. Today, we have taken a major step in our company's mission to 'Electrify Our World™' and drive our planet's transition from fossil fuels to clean, efficient, electrical energy."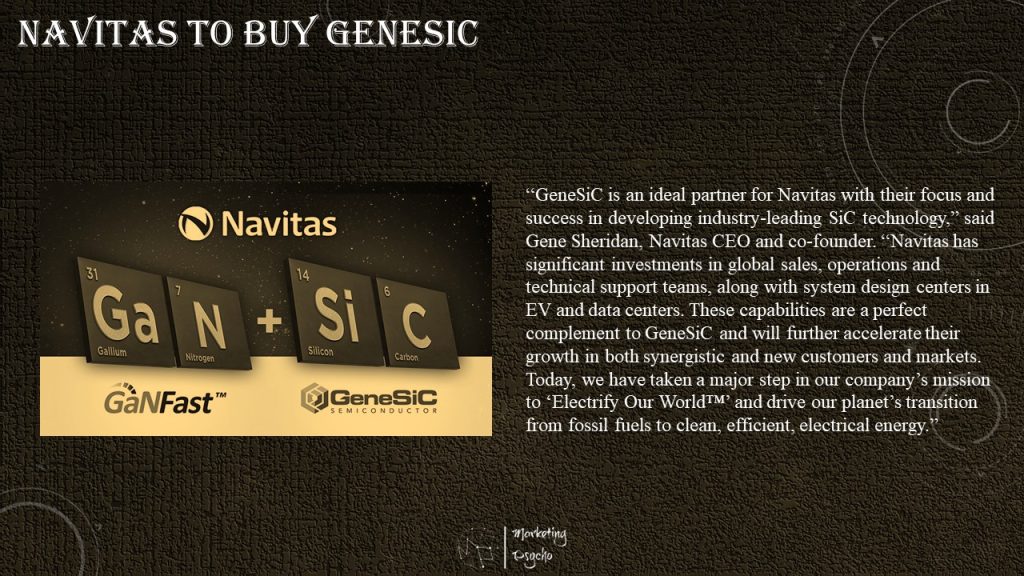 "GeneSiC's patent-protected, advanced technology and innovative, experienced team are critical factors in the growth of our company. Our SiC MOSFETs offer the industry's highest performance, reliability, and ruggedness – parameters critical towards widespread adoption of electric vehicles and associated infrastructure," said GeneSiC President Dr. Ranbir Singh. "With almost 20 years of leading-edge R&D, proven platforms, over 500 diverse customers, and growing revenue and profitability, we can leverage Navitas' mass-production expertise and go-to-market strategy to accelerate SiC revenues. We are very excited about this new partnership."
Dr. Singh joins Navitas as Executive Vice-President for the GeneSiC business and Navitas expects to retain all members of the GeneSiC team.
In power semiconductors, both GaN and SiC are superior materials to legacy silicon, enabling higher speeds, greater energy savings, faster charging, and significantly reduced size, weight, and cost. Together, these complementary, next-generation materials address a broad range of applications from 20W smartphone chargers, to 20kW EV chargers, to 20MW grid-infrastructure systems and everything in between. With over 500 customers, the GeneSiC acquisition delivers diversified and synergistic markets and customers, and accelerates Navitas' revenue in strategic, higher-power applications.
The acquisition of GeneSiC is expected to be immediately accretive to Navitas' earnings per share. Total consideration consisted of approximately $100 million in cash, 24.9 million shares of Navitas stock and possible earn-out payments of up to $25 million conditioned on the achievement of substantial revenue targets for the GeneSiC business over the four fiscal quarters ending September 30, 2023.
American semiconductor manufacturer Vishay is enlarging its production facilities in the northern German city of Itzehoe. The company has purchased three-hectare plot of land as part of a EUR 300 million project to expand its capacities.
The expansion comes amidst expectations of continuing development in electro-mobility in Germany. In 2015, Vishay relocated production of its metal oxide semiconductor field effect transistors (MOSFETs) for motor vehicles from the United States to Itzehoe.
"The expanded production should meet the needs of the automotive industry in future as Vishay has a solid customer base in Germany and Europe," said Vishay Project Manager Martin Schneider in a company statement.
The expansion follows other large-scale semiconductor production projects in Germany, most notably Intel's planned EUR 17 billion multi-fabs in Magdeburg.
Vishay's customers include Siemens, LG, Philips and Dell. The company works with the Fraunhofer Institute for Silicon Technology (ISIT) in Itzehoe.
"Vishay has played a major part in Itzehoe becoming an increasingly important technology location in recent years," commented the city's deputy mayor, Ralph Busch, in the company statement.
Ferrotec Holdings Corp. recently held a groundbreaking ceremony to begin construction of its new manufacturing facility at Kulim Hi-Tech Park, Kedah, facilitated by the Malaysian Investment Development Authority (MIDA). The plant, which will be undertaking electromechanical assembly and advanced material fabrication for semiconductor equipment, is designed to meet customer needs while also expanding the Group's business globally.
"Today's event is a testament of Ferrotec's reputation as a global leader in the manufacturing and assembly industry for the past 42 years. This project does not only demonstrate Ferrotec's confidence in Malaysia's long-term investment propositions, but also the thriving state of the manufacturing industry in Malaysia. We aim to distinguish ourselves from our competitors based on these intangible factors – competitive business environment and cost advantages, well-developed infrastructure and the availability of technical and management talents," said Lim Bee Vian, Deputy CEO (Investment Development) of MIDA. She also emphasized that despite facing competition from the low-cost production countries, Malaysian machinery and equipment (M&E) companies continue to thrive in producing high value-added products and integrated services, supporting the needs of the MNCs' in their effort to serve their customers better. MIDA aims to facilitate such companies by facilitating continuous investment opportunities to expand their operation capabilities to improve output quality and volume.
"Ferrotec has seen increasing demand for our products and services in Asia. With the start of construction on this new production facility in Malaysia, Ferrotec is committed to continue driving its effort to fulfill the increasing capacity demands and improved business continuity that are vital to our customers success," said Eiji Miyanaga, Chief Executive Officer of Ferrotec Manufacturing Malaysia Sdn. Bhd.
To continue transforming the industry, the Malaysian Government encourages investors to invest in state-of-the-art technologies that can support advanced manufacturing processes across supply chains.
Apart from Lim and Miyanaga, the groundbreaking ceremony was also attended by YB Dato' Wira Dr. Ku Abd Rahman bin Ku Ismail, Senior State Exco of Industrial and Investment, Science, Technology and Innovation and Higher Education; YBrs. Noor Ikhsan Bin Abdul Aziz, Chief Operating Officer of Invest Kedah; Dr. Haji Nadzman Bin Mustaffa, President of Kulim Municipal Council (MPKK); YBhg. Dato' Mohd Sahil Zabidi, Group CEO of Kulim Technology Park Corporation Sdn Bhd; and He Xian Han, Group Chief Executive Officer of Ferrotec Holdings Corp.
Recognizing the numerous challenges faced by semiconductor suppliers, Hyundai recently announced that it will manufacture its own automotive-grade semiconductors. To manufacture the part, Hyundai will be turning to its semiconductor affiliate Hyundai Mobis which will focus on developing and producing power semiconductors.
The large voltages and currents involved with EV batteries mean that high-power semiconductors are required, and maximizing efficiency in such devices helps extend an EV's range. Considering that over 90% of the world's automotive semiconductors are manufactured by several companies, the move by Hyundai would help to move manufacturing to South Korean companies, which not only supports local supply chains but also reduces the dependence on South Korean auto-makers on foreign suppliers.
Hyundai also noted that while power semiconductors were a primary focus, it is also looking into developing platforms capable of accelerating AI. The increasingly complex nature of vehicles and the use of embedded AI require advanced semiconductors, but the disruption to the semiconductor supply chain makes it challenging for businesses to develop such technologies.
II‐VI Incorporated announced that it closed an over $100 million contract to supply Dongguan Tianyu Semiconductor Technology Co., Ltd., with 150 mm silicon carbide substrates to be delivered beginning this quarter and through the end of calendar year 2023.
The electrification of the transportation infrastructure and industrial equipment is accelerating a market transition to power electronics based on silicon carbide (SiC), a third-generation or wide-bandgap semiconductor. SiC enables power electronics to be smaller and more efficient, with a lower total system-level cost of ownership than state-of-the-art silicon-based devices. Tianyu, one of China's first and largest SiC epitaxial wafer manufacturers, has signed a long-term supply contract with II-VI, with upfront payments, to secure 150 mm SiC substrate capacity that will meet its demand through calendar year 2023.
"In November 2021, we were pleased to announce that Tianyu had selected II-VI as its primary strategic partner for the supply of 150 mm SiC substrates for power electronics," said Sohail Khan, Executive Vice President, New Ventures & Wide-Bandgap Electronics Technologies Business Unit. "With the end-demand ramping up significantly, it became essential for Tianyu to secure its supply with this long-term, high-volume contract, which will be recurring and grow in value over time."
To meet the market demand in Asia, II-VI established in 2021 a backend processing line for SiC substrates, in over 50,000 sq. ft. of new cleanroom space, at II-VI's Asia Regional Headquarters in Fuzhou, China. Tianyu will benefit from II-VI's 150 mm SiC global production capacity in both the U.S. and in China.
Tianyu and II-VI will provide the high-quality and reliable supply chain and future 200 mm capability that will be critical to support the rapidly growing demand for SiC power electronics in the megamarkets of electric vehicles (EVs), renewable energy, smart grids, microgrids, and power supplies for data networks. Tianyu is well positioned to serve the power electronics market for EVs in China, today the largest in the world by far.
Given their broad range of applications, power electronics based on SiC have a highly beneficial impact on the environment through enabling significant reductions in carbon dioxide emissions and energy consumption.
---
Subscribe to Power Semiconductors Weekly and watch it on YouTube every Tuesday.
If you prefer a monthly update about the world of power semiconductors delivered to your e-mail address, please, subscribe to Marketing Psycho Power Semiconductors newsletter.