Power Semiconductors Weekly Vol. 82
Henkel and Chip Integration Technology Center (CITC) announced that the organizations have formalized an agreement to collaborate on the development of high-thermal die attach solutions for radio frequency (RF) and power electronics. Under the terms of the partnership, Henkel will supply commercialized and developmental pressureless sintering die attach formulations and CITC will provide testing and analysis of the materials within next-generation package designs.
CITC's thermal high-performance packaging program focuses on thermo-mechanical design strategies and device packaging platforms that integrate low-stress, high-reliability interconnect solutions. As die attach and molding materials are often limiting factors for the optimal operation of RF and power packages, Henkel is the ideal partner for innovation in this application area.
In addition to ongoing work in its state-of-the-art R&D centers, Henkel aims to accelerate time-to-market for its semiconductor packaging materials through strategic relationships across industry, government, and academia. CITC, which collaborates with leading power and RF device packaging companies, provides a unique opportunity to characterize and analyze Henkel's high-thermal die attach formulations as an enabler for leading-edge device designs.
"Our pressureless sintering die attach materials are already proven in certain mobile applications," explained Ramachandran Trichur, Global Market Segment Head for Semiconductor Packaging Materials at Henkel. "We aim to extend that success to other sectors such as automotive, where large, high-power chips are the norm. Our pressureless sintering solutions are unique because they deliver the simple, low-stress processability of conventional die attach adhesives and very high thermal conductivity capabilities. The work at CITC will augment our in-house projects, allowing additional performance and reliability validation."
The new die attach technology has the potential to enable the replacement of lead within RF and power semiconductor devices that incorporate larger die on copper leadframes, allowing the introduction of high operating temperature gallium nitride and silicon carbide power die technologies. Many of CITC's partners are actively integrating these new chip structures, making the cooperative project an excellent proving ground for Henkel's pressureless sintering platform.
"In Henkel, we have found a material innovator that will enable the development of power and RF devices with a holistic approach that leverages the latest in die attach technology," concluded CITC General Manager, Jeroen van den Brand. "With many major power device manufacturers based in Europe, and in Nijmegen in particular, we view this partnership as vital to satisfying the current and future demands within these important market sectors."
hofer powertrain opts for the most future-proof chip technologies and develops new multilevel power electronics with VisIC Technologies' Gallium Nitride Chip Technology, D3GaN (Direct Drive D-Mode), capable of meeting the needs of modern drivetrains and breaking efficiency barriers. The new solution's efficiency and power density exceed silicon-based technology's capabilities – the tests prove successful. The new 3Level GaN (Gallium Nitrite) Inverter proves its strong capabilities on the test bench, confirming significantly better switching speed and smaller and lighter package size, reducing total system cost.
Gallium nitride semiconductors are key to efficiency improvements, increasing the driving range of electrified vehicles. hofer powertrain and VisIC Technologies Ltd. aim to develop gallium nitride-based power inverters for electric vehicles, achieving the breakthrough of gallium nitride technology for 800V battery systems in the automotive industry.
"We are proud to achieve the next step in developing efficient GaN-based, high-frequency inverters for 800V automotive applications", says Lukasz Roslaniec, electronics expert at hofer powertrain.
Based on the guiding principle "develop fast and learn fast," hofer powertrain achieves quick results: the team develops a Minimal Viable Product (MVP) to investigate and prove the capability of using 650 V gallium nitride semiconductors in an 800 V 3L NPC inverter application. Precisely, their behavior in terms of switching speed, EMC, and the limits. The main goal is to prove the capability to feed a sinusoidal current of 100 Arms through an inductive load and to perform a double pulse test. Measurements have shown the possibilities of an excellent performance increase.
"hofer powertrain's development paves the way for a breakthrough in GaN inverter performance, which is superior to silicon and silicon-carbide-based designs for high efficiency," says Ilia Bunin, Senior Product Manager & Technical Expert at VisIC Technologies
This system provides valuable insights and in-depth understanding of the short circuit protection, switching properties of the implemented GaN transistors, the impact on dv/dt, oscillations during switching, voltage overshoots, and much more. In addition, the company identifies the most important electrical and thermal properties for rapid further development.
In-depth understanding derives from a successful customer project that acts as a benchmark, comparing the individual benefits with an existing 2L inverter, both at the sub-assembly level and the system level.
The upcoming sample stage (A1) has already started and is expected to perform well in real test conditions with a permanent synchronous motor. The team aims to validate and benchmark existing systems using test cycles like the Worldwide Harmonized Light Vehicles Test Procedure (WLTP) and prove its outstanding potential for the entire automotive powertrain.
onsemi celebrated the inauguration of its silicon carbide (SiC) facility in Hudson, New Hampshire with a ribbon cutting ceremony. Signifying the importance of this event and manufacturing of semiconductors in the U.S. were the attendance of multiple guests of honor led by U.S. Secretary of Commerce Gina Raimondo. Also present were U.S. Senators Jeanne Shaheen and Maggie Hassan from New Hampshire, Representative Chris Pappas from the 1st congressional district of New Hampshire and Representative Annie Kuster from the 2nd congressional district of New Hampshire as well as other local governmental dignitaries.
The site will increase the company's SiC boule production capacity by five times year-over-year and almost quadruple the number of its employees in Hudson by the end of 2022. The expansion gives onsemi full control of its silicon carbide manufacturing supply chain, starting with the sourcing of silicon carbide powder and graphite raw material to the delivery of fully packaged SiC devices. This allows onsemi to provide its customers with the assurance of supply required to meet rapidly growing demand for SiC-based solutions. SiC is critical for enabling efficiency in electric vehicles (EVs), EV charging, and energy infrastructure and is an important contributor on the path to decarbonization. The SiC total addressable market is projected to grow from $2B in 2021 to $6.5B in 2026, at a compound annual growth rate of 33%.
"In addition to market-leading efficiency of our products, our end-to-end vertically integrated solution in a supply-constrained environment is a compelling and differentiated competitive advantage," said Simon Keeton, executive vice president and general manager Power Solutions Group at onsemi. "We have already expanded to a second building as we increased our substrate capacity and plan to continue ramping, allowing us to source our own cutting-edge SiC wafers for customer products."
onsemi is the only large-scale supplier of both SiC and insulated-gate bipolar transistors (IGBT) solutions with end-to-end supply capability. During its second quarter earnings call last week, the company announced $4B of committed SiC revenue for the next three years through long-term supply agreements with a broad base of customers. It will triple last year's silicon carbide revenue in 2022 and exceed $1 billion in revenue in 2023, further emphasizing onsemi's progress toward SiC leadership.
The inauguration ceremony comes only days after President Biden signed the CHIPS and Science Act into law. The Act will strengthen supply chain resiliency and help avoid disruptions for critical components affecting every sector of the economy.
Vishay Intertechnology, Inc. announced that the company's facility in Borgaro Torinese, Italy, has received a research results R&D grant for its WATT4FRED project from the European Union and the Regional Government of Piedmont. The project will focus on the development of a new high voltage FRED Pt® diode family featuring advanced technologies for the automotive market, in addition to industrial applications such as white goods, motor drives, and air conditioning.
For Vishay and its project partners, the aim of the WATT4FRED project is to study and develop advanced technological processes to generate a new device family capable of supporting the latest market requirements in terms of efficiency, cost, and power consumption while maintaining compliance with the latest environmental policies. New advanced fabrication processes will be studied and developed, especially in the context of chip thinning technologies, which are fundamental to increasing chip power dissipation.
Funding for the grant was provided through ROP ERDF Piedmont Region 2014-2020, Axis 1 Act. I.1b.2.2- Act. I.8ii.2.3.1, PIATTAFORME TECNOLOGICHE DI FILIERA Pi.Te.F. (Supply Chain Technology platform). Vishay Project code: 351-60.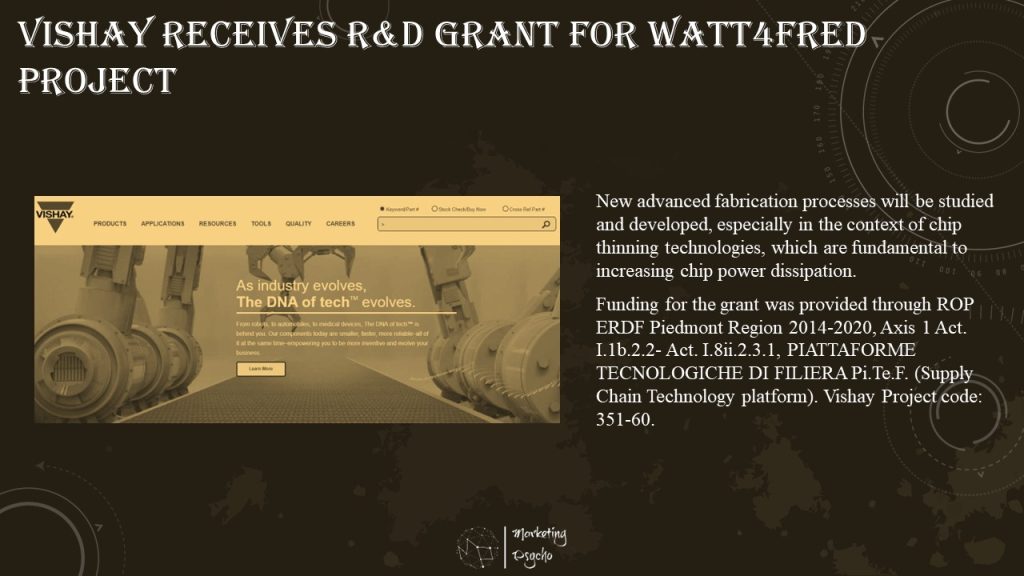 Vishay manufactures one of the world's largest portfolios of discrete semiconductors and passive electronic components that are essential to innovative designs in the automotive, industrial, computing, consumer, telecommunications, military, aerospace, and medical markets.
U.S. President Joe Biden signed the CHIPS and Science Act on Tuesday, ending an almost yearlong saga to spend $52 billion to attract chip manufacturing back to the U.S.
Surrounded by members of Congress from both parties and representatives from the chipmaking industry, Biden called the act "a once-in-a-generation investment in America itself" that would bring jobs back to the U.S. and lower costs for consumers.
Biden also shared news that Micron Technology, which manufactures memory chips, would invest $40 billion over 10 years in U.S.-based manufacturing. The company said the investment would create 40,000 jobs.
But Idaho-based Micron delivered a far more somber message in a regulatory filing that same day, warning investors that its fourth-quarter sales would come in at the low end, if not below, previous forecasts. Micron had earlier predicted sales of $7.2 billion, which was already lower than the $9.1 billion predicted by analysts.
Micron's lower forecast helped drag chip stocks down Tuesday despite the good news from the White House. The Philadelphia Semiconductor Index, which tracks chipmaking companies like Micron, Intel, Nvidia, and Taiwan Semiconductor Manufacturing Co. (TSMC), fell by 4.6%.
Micron's warning reflects a slowdown in demand for chips across the industry that's arriving just as the CHIPS Act passes and chipmakers prepare to break ground on new U.S. plants. The poor timing provides an unfortunate backdrop to the long-awaited legislation, which all parties—chip CEOs, lawmakers, and Biden himself—are eager to tout as a huge win.
For much of the COVID pandemic, semiconductors—tiny chips that power not just computers and smartphones, but cars, home appliances, and countless other electronic devices—were in short supply, as stuck-at-home consumers bought more devices to get them through lockdown. The shortage paralyzed manufacturing, but also led to record profits for chipmaking companies.
But now chip CEOs are worried that an oversupply of chips will drag down sales and profits for the rest of 2022 and into 2023. Consumers, returning to normal life in this stage of the pandemic and worried about inflation, are buying fewer consumer electronic devices, lowering demand for the semiconductors that power them.
Semiconductor sales will increase only 7.4% this year, predicts consulting firm Gartner, far below the 26% growth reported in 2021.
Micron CEO Sanjay Mehrotra told Bloomberg that the drop in chip demand was now expanding beyond consumer electronics to hit other sectors that seemed to be more resilient, like data centers and the automotive sector.
Other U.S.-based chip companies are struggling, too. Nvidia slashed its revenue guidance for the current quarter by 17%, led by a 33% decline in gaming-related revenue. (Nvidia will officially publish its second-quarter earnings on Aug. 28)
Intel earlier reported a net loss of $454 million for the second quarter of 2022, and warned that PC sales would fall by 10% this year.
Both Micron and Intel—which hope to receive government funding under the CHIPS and Science Act—say their plans to invest in the U.S. would not change as a result of these short-term struggles.
Asian chipmakers have largely weathered the demand slowdown better than their U.S. counterparts. TSMC reported a record 76.4% year-on-year increase in second-quarter profits. Korean chipmaker SK Hynix also reported a 56% year-on-year increase in profits in the second quarter.
But even Asian chipmakers are warning that demand is softening. In its second-quarter earnings call, TSMC told investors that its customers might work through their stockpiles, built up during the shortage, rather than place new orders. SK Hynix is also reportedly considering shrinking its 2023 capital expenditure plans owing to the expected drop-off in demand.
For now, chipmakers are only warning about demand in the near future. The CHIPS Act is aimed at the long term. Chip factories can take years to build; Intel expects to open its $20 billion facility in Columbus by 2025. Plus, lawmakers and the administration have framed the chips legislation as a national security issue, not necessarily as a way to meet current demand, arguing that the U.S. needs domestic manufacturing to safeguard its own supply of chips for advanced devices, like leading-edge military technology.
The CHIPS Act, passed on a bipartisan basis by Congress and signed by Biden on Tuesday, spends $280 billion to expand U.S. research and development. Lawmakers and Biden administration officials said the bill would solidify the U.S.'s technological advantage against rivals like China.
Congress delayed approving the money for chipmaking subsidies for over a year, frustrating chipmakers who argued that their U.S. projects required public money.
Yet the conditions attached to government subsidies may lead to long-term changes to the chip supply-chain globally. The CHIPS and Science Act bars companies that receive U.S. subsidies from expanding manufacturing of advanced chips in China.
Both Samsung and SK Hynix are reportedly evaluating shifting manufacturing out of China to other locations. On Friday, Samsung CEO Roh Tae-moon announced that the company would invest $3.3 billion in semiconductor manufacturing in Vietnam.
EU Power Semiconductor Executive Summit is scheduled for September 19-20, 2022 in Munich.
The focus of EU Power Semiconductor Executive Summit is to support how the power semiconductor, SiC and GaN ecosystem will enable efficiency and provide solutions to challenges in modern power devices covering applications in EV & powertrain development, fast charging, renewables and data centers. Government and industry are pushing for a sustainable and carbon neutral future and EU PSES through semiconductor device manufacturers, equipment & material suppliers, tier 1 suppliers and research institutes, will help to accelerate this.
International Semiconductor Executive Summits (ISES) remains regarded an exclusive and intimate forum for high level executives in the semiconductor and power electronics industry who are shifting the technology landscape and promoting collaboration in a trusted network.
Full speaker presentation details can be seen via: https://www.powersemiconsummit.com/agenda
Confirmed Speakers Include:
Bosch – Ralf Bornefeld, SVP Power Semiconductors & Modules
Volkswagen – Berthold Hellenthal, Strategic Semiconductors Management
Wolfspeed – Dr. John Palmour, CTO
Infineon – tbc
Hitachi Energy – Dr. Rainer Kaesmaier, Managing Director Semiconductors
onsemi – Asif Jakwani, SVP & GM Advanced Power Division
ZF Group – Julian Fieres, VP Transformation, Strategy, Sustainability & Digitalization
STMicroelectronics – Edoardo Merli, EVP Power Transistor Sub-Group Automotive and Discrete Group
Rohm Semiconductor Europe GmbH – tbc
McLaren Applied – Dr. Stephen Lambert, Head of Electrification
Williams Advanced Engineering – Shaun Dowson – Electronics Manager
Infineon – Dr. Olaf Herzog, SVP Corporate Supply Chain & Factory Integration
Soitec – Christophe Maleville, CTO
IQE – Dr Rodney Pelzel, CTO
Nexperia – Carlos Castro, VP & GM GaN
NexGen Power Systems – Dr. Shahin Sharifzadeh, Co-CEO
BelGaN – Dr. Marnix Tack, CTO
Cambridge GaN Devices – Giorgia Longobardi, Founder & CEO
KLA – Oreste Donzella, EVP of Electronics, Packaging and Components
Aehr Test Systems – Gayn Erickson, President & CEO
Applied Materials Panel Discussion – Gopal Prabhu, Senior Director of Technology Programs
Lam Research – David Haynes, VP Strategic Marketing Customer Support Business Group
Onto Innovation – Dr. Wei Zhao, Strategic Marketing Director
Amkor Technology, Inc. – Shaun Bowers, VP Mainstream Advance Package Integration
Yole – Claire Troadec, Division Director
Check the video testimonials from the US edition of PSES:
---
Subscribe to Power Semiconductors Weekly and watch it on YouTube every Tuesday.
If you prefer a monthly update about the world of power semiconductors delivered to your e-mail address, please, subscribe to Marketing Psycho Power Semiconductors newsletter.