Power Semiconductors Weekly Vol. 81
One of the most actively implemented systems to comply with the world decarbonization plan are photovoltaic. For the past twenty years the growth of this industry has been exponential. With the increasing demand for green electricity, solar power market experts predict over 20% compound annual growth rate for the industry in the coming years.
Nowadays many consider solar power as the most preferrable because it produces no noise, harmful emissions or polluting gases; modular systems can be quickly installed anywhere with installation cost relatively low. Besides, minimal maintenance is required to keep the system running.
However, there are many challenges solar power faces, and the major one is weather conditions. Weather changes lead to fluctuations in power supply generated by the solar panels. The efficiency of the solar panels themselves play a very important role. And, of course, the efficiency of the solar inverter, converting direct current from the solar panels to alternating current before transmitting it to the grid, is of top priority.
And no solar inverter can work without power semiconductors. And the more efficient power semiconductors are used, the less power losses the whole photovoltaic system has.
Leapers Semiconductor's wide SiC power modules portfolio includes top solutions for the solar power industry and solar inverters in particular. Thus, E0 series SiC power modules are perfect fit for solar inverters with its high grade Si3N4 AMB substrates that combine best mechanical robustness with excellent heat dissipation properties featuring very high-power densities. Unlike the competitors E0 modules feature epoxy resin instead of silicon leading to 3x and higher power and thermal cycling characteristics.
The flagship in the series DFS05HF12EYR1 power module has no alternatives in the market with its:
150 A max output current
CTI > 400
3,4kVrms/1min isolation voltage
175°C max junction temperature
Compared with available in the market similar packages, E0 DFS05HF12EYR1 has 6 Press-Fit pins which is possible because of the special epoxy technology used by Leapers Semiconductor.
The E0 series family includes seven SiC power modules with current range of 50-150 A, and Rdson as low as 5,5-40 mOhm to match your requirements and applications.
With Leapers Semiconductor E0 series SiC power modules you can reach the desired power efficiency for your solar inverters and the whole photovoltaic system.
As informed at the beginning of the week the SEMIKRON Group has become a victim of a cyber-attack by a professional hacker group. Thanks to SEMIKRON's strong security measures and preventive preparations for emergencies, they are making great progress in containing the cyber incident. All necessary measures to limit possible damages have been initiated immediately.
Together with a team of external cyber security and forensic experts, SEMIKRON is investigating the incident, securing systems and data, and restoring the ability to work. With this process gaining momentum they are getting an overview of the full impact of the incident.
SEMIKRON does not have any definite information about data leaks at this moment. As soon as more detailed information about a possible data leak is available, the potential affected customers and partners will be informed. SEMIKRON is supported by the responsible authorities in this investigation and in the coordination of further measures.
SEMIKRON is in the process of finalizing its recovery plan, with the aim to minimize the disruption to the employees, customers, and partners. As soon as this is fully defined, they will share it with employees, customers and partners as well as sharing an update via its homepage.
Wide bandgap materials, especially Silicon Carbide for high power applications and Gallium Nitride for lower power classes, are the future of energy conversion designs. They help increase efficiency in today's and tomorrow's key technologies such as renewable energy, automotive, electric drives, industrial and consumer applications. But no design is complete without the right Passive Components and Magnetics. And on the way to the final design, you will need a lot of Test, Measurement and Simulation, that's for sure.
Bodo's Wide Bandgap Event will cover these two related topics on two dedicated days as well! The four-day event is packed with highly technical presentation from companies of all kinds, global industry leaders to emerging start-ups. Live Q&A-discussions will round off the program.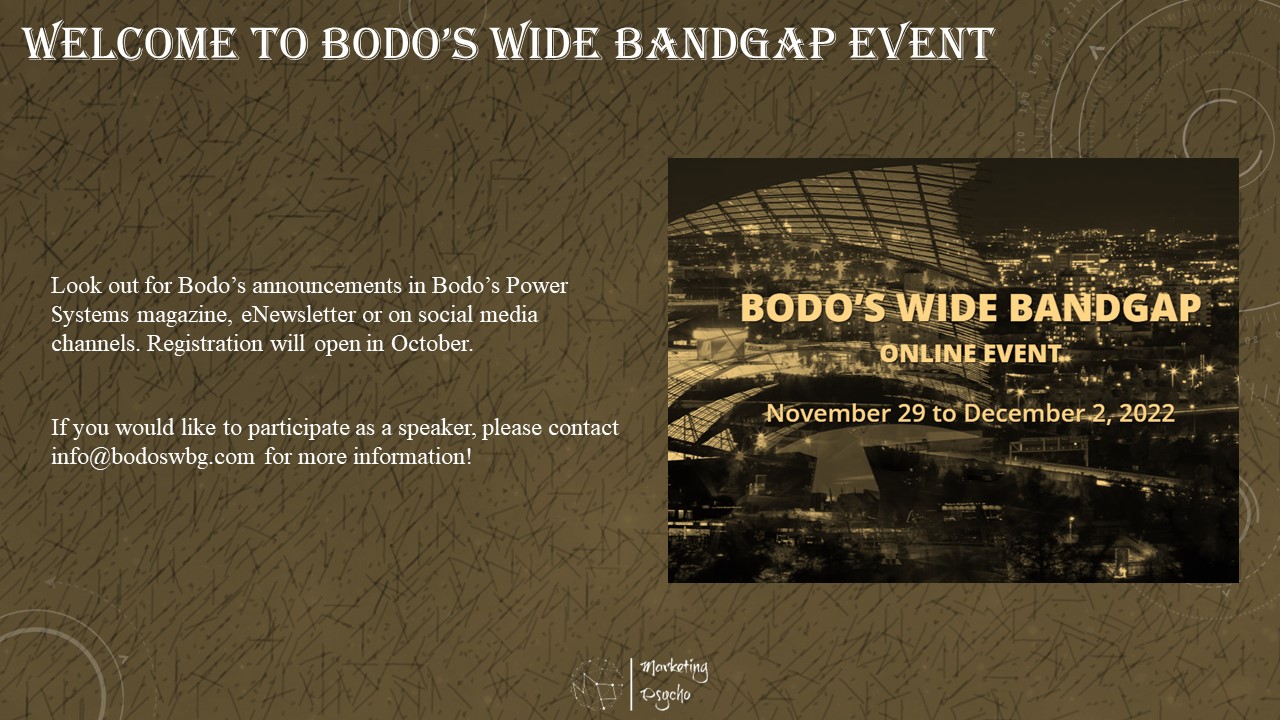 The event will go virtual again this year due to the uncertainty around Covid and the risk of upcoming restrictions in the fall/winter season.
Look out for Bodo's announcements in Bodo's Power Systems magazine, eNewsletter or on social media channels. Registration will open in October. If you would like to participate as a speaker, please contact info@bodoswbg.com for more information!
Wolfspeed automotive qualified products are optimized for the traction inverter market. Designers simulating traction inverters require a balance of complexity, accuracy, and simulation time. Discover strategies and best practices for simulating inverters and automotive drive cycles during this Wolfspeed webinar.
Key Take-Aways
The benefit of Wolfspeed's automotive qualified parts
Power electronics modeling basics and strategy
How to create averaged models with thermal analysis
How to conduct a complete drive cycle analysis in PLECS
The effect of inverter performance on EV range and battery cost
Date: August 25, 2022
Time: 5 PM CEST
Staying up to date on the latest advancements in power supply design is one of the many challenges engineers face today. To help designers meet this challenge, onsemi will host the 2022 Power Webinars starting October 18.
onsemi power experts will provide rich technical and practical presentations that combine new, advanced power supply concepts, tutorial review of basic design principles, and hands-on real-world application examples.
Attendees will receive in-depth theoretical and practical discussions on each topic and pros and cons of different solutions to improve energy efficiency and system performance.
onsemi will cover 5 topics that many power engineers will benefit from for their design needs.
October 18 – Silicon Carbide (SiC) – From Challenging Material to Robust Reliability
October 19 – Lessons Learned from SiC Based 25 kW DC EV Charger Module Design
October 20 – Meeting Ultra-High Density Design Challenges with 300 W Totem Pole PFC and LLC Power Supply
October 25 – Intelligent motor Control – How to Spin a BLDC Motor with Dedicated Development Tools
October 27 – SiC Simulation for Application Evaluation
---
Subscribe to Power Semiconductors Weekly and watch it on YouTube every Tuesday.
If you prefer a monthly update about the world of power semiconductors delivered to your e-mail address, please, subscribe to Marketing Psycho Power Semiconductors newsletter.