Power Semiconductors Weekly Vol. 8
Infineon Technologies AG has launched the 650 V CoolSiC™ Hybrid Discrete for Automotive. The device contains a 50 A TRENCHSTOP™ 5 fast-switching IGBT and a CoolSiC Schottky diode to enable a cost-efficient performance boost as well as high reliability. This combination builds a perfect cost-performance trade-off for hard-switching topologies and supports high system integrity in addition to bi-directional charging. This makes the device ideal for fast switching automotive applications such as On-Board Chargers (OBC), Power Factor Correction (PFC), DC-DC and DC-AC converters.
The integrated fast-switching 50 A IGBT enables MOSFET-like turn-off behavior outperforming pure silicon solutions. In contrast to regular silicon carbide MOSFETs, the plug-and-play solution for a fast time-to-market achieves 95 to 97 percent system efficiency at a lower cost level. Furthermore, the CoolSiC Schottky diode supports reduced turn-on and recovery losses. In comparison to pure silicon designs, the device is ideal for hard commutation with 30 percent lower losses. With its low cooling requirements, the diode also provides an excellent cost-performance trade-off on the system level.
Shenzhen VMAXPower Co,. Ltd. (VMAX) is a leading OBC supplier in China, focusing on the development of automotive power electronics and providing customers with highly reliable OBCs and DC-DC converters. VMAX uses Infineon's latest CoolSiC Hybrid Discrete in their next-generation OBC/DC-DC system.
"The partnership we have with Infineon is an essential cornerstone of our philosophy of consistently creating maximum value for our customers," said Xu Jinzhu, R&D Director of VMAX. "The CoolSiC Hybrid Discrete allows us to simplify driver design, accelerate product development, lower costs and increase system robustness. The integrated silicon carbide diodes without reverse recovery charge further optimize the EMC characteristics of the system. This results in greater performance benefits and a better price/performance ratio in topologies such as totem-pole PFC and DAB."
Alpha and Omega Semiconductor Limited, a designer, developer, and global supplier of a broad range of power semiconductors, power ICs, and digital power products, announced the release of the new AEC-Q101 qualified 1200V silicon carbide (SiC) αSiC MOSFETs in optimized TO-247-4L package. Ideal for the high efficiency and reliability requirements of electric vehicle (EV) on-board chargers, motor drive inverters, and off-board charging stations, these 1200V SiC MOSFETs provide the industry-leading lowest on-resistance available for an automotive qualified TO-247-4L with a standard gate drive of 15V.
As the EV market accelerates into millions of units per year, vehicle manufacturers are increasingly implementing 800V electrical systems to reduce the system's size and weight while increasing range and enabling significantly faster charging speeds. AOS's 1200V automotive grade αSiC MOSFETs are specifically designed for these demanding applications by providing superior switching performance and efficiency over standard silicon devices.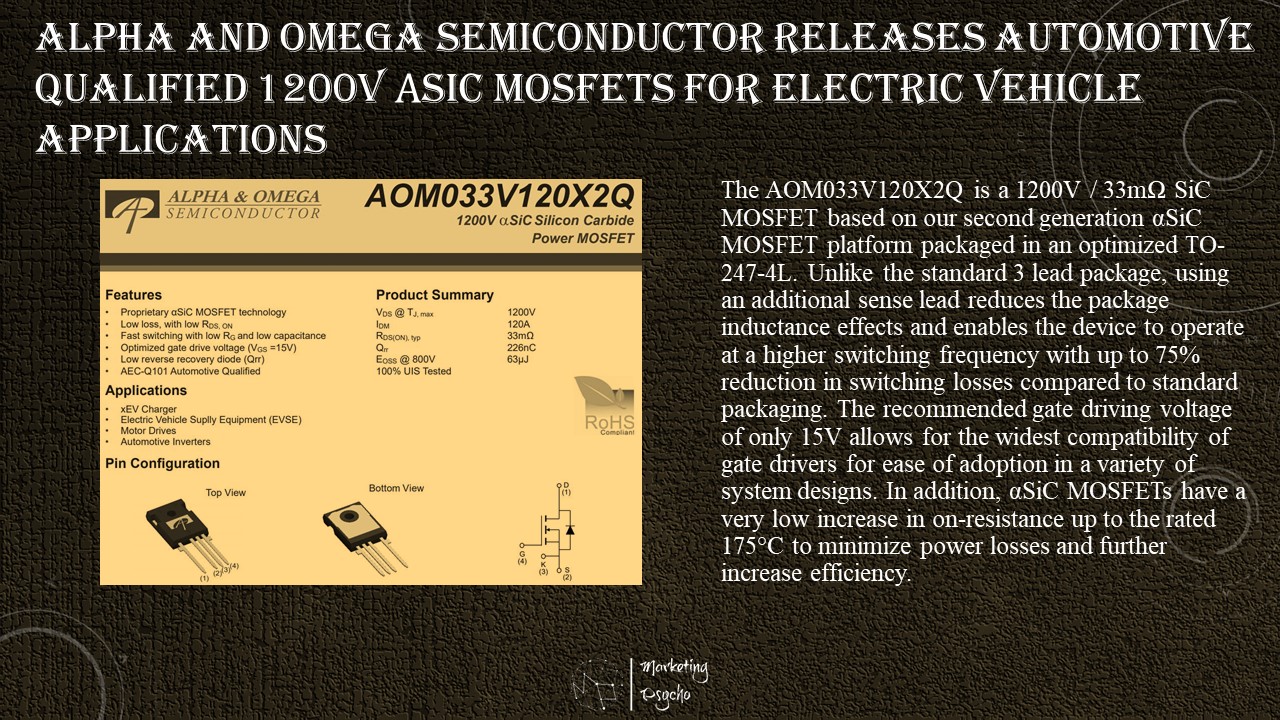 The AOM033V120X2Q is a 1200V / 33mΩ SiC MOSFET based on our second generation αSiC MOSFET platform packaged in an optimized TO-247-4L. Unlike the standard 3 lead package, using an additional sense lead reduces the package inductance effects and enables the device to operate at a higher switching frequency with up to 75% reduction in switching losses compared to standard packaging. The recommended gate driving voltage of only 15V allows for the widest compatibility of gate drivers for ease of adoption in a variety of system designs. In addition, αSiC MOSFETs have a very low increase in on-resistance up to the rated 175°C to minimize power losses and further increase efficiency.
Renesas announced that it has entered into an agreement with Dialog Semiconductor to purchase the company for a total of $5.9 billion. The agreement will see Renesas purchase shares of Dialog Semiconductor for 67.50 euros, which is a 20% premium to Dialogue Semiconductor shares' last closing value.
According to Renesas, the motivation behind the purchase of Dialog Semiconductor is two-fold. Firstly, Dialogue Semiconductor's acquisition allows Renesas to combine the technological capabilities of Dialog Semiconductor into their own products, including low-power, connectivity, and mixed-signals improvements.
Secondly, Renesas purchasing Dialog Semiconductor allows for the two companies to grow and increase overall revenue. It is expected that Renesas will see incremental revenue growth of around $200 million per year as a result of accelerated technological growth.
Yole Développement updated their report on power electronics for e-mobility.
Strict CO2 targets will push EV/HEV share to 38% of all passenger vehicles in 2026, representing a $5.6B market opportunity for various semiconductor technologies and power devices.
The report includes:
2020 – 2026 market metrics and forecasts for each EV/HEV type, from vehicle sales and power converter market to power devices
Market trends overview for EV/HEV, electric buses and trucks
Supply chain overview, including "who supplies to whom", and business diversification for OEMs, Tier 1s and power semiconductor manufacturers
Significant mergers and acquisitions, collaborations, and investments
Main technology trends, including system integration and the use of vehicle platforms by major OEMs
Power devices overview, with a focus on Wide Band Gap components (SiC and GaN) and packaging
You can download the sample or buy the full report at i-Micronews website.
EE Times is rolling out a new virtual conference that lays out the "Roadmap to Next-Gen EV & AV." Designed for an automotive industry and the industry's technology suppliers who are infusing cars with sparks and senses, the event is scheduled between March 23 and March 25, 2021.
Conference
March 23, 24 and 25
14:30 –18:00 CET/Paris Time (9:30am -1:00pm EDT/New York Time)
Exhibition
starts on March 23rd at 13:00 CET and will be open during the whole event.
Live Chat with exhibitors: 16:00 to 18:00 CET on March 23-25.
Keynote speakers include:
Ana Villamor, Technology & Market Analyst, Yole Développement
Alex Q. Huang, Professor, University of Texas, Austin
Anup Bhalla, VP of Engineering, UnitedSiC
Phil Koopman, Co-Founder of Edge Case Research, Associate Professor, Carnegie Mellon University
Phil Magney, Founder of VSI Labs
Egil Juliussen, Auto industry Analyst
Ivo Marocco, Director of Marketing and Business Development, Texas Instruments
Colin Barnden, Lead Analyst at Semicast Research
The improvement of power semiconductor components has become one of the most important drivers of vehicle electrification. To make sure these components would operate reliably in a vehicle, keeping their so-called junction temperature at low levels is a top priority, as at higher temperatures the failure rates increase exponentially. Being able to draw a relationship between expected failures and semiconductor junction temperatures is an important design step, helping OEM-s predict the useful operating life of a vehicle.
EDA Direct and Siemens webinar explains how thermal transient testing can be used to understand semiconductor package thermal properties, how it can be combined with active power cycling for lifetime analysis and what data are required for estimating the lifetime of the final application.
What You Will Learn:
Principles of thermal transient testing
Test approach for Si and SiC power components
Use of structure functions for failure analysis and package modeling
Active power cycling basics
Steps of mission profile based lifetime estimation
Find more information about power semiconductors in Marketing in Power Electronics section of the website.