Power Semiconductors Weekly Vol. 77
Global megatrends, such as digitalization, and decarbonization, call for wide bandgap (WBG) devices (SiC/GaN). Due to their unique technological characteristics, they enable the highest performance and energy efficiency at the same time. Being committed to both of these domains, two leading players in the electronics industry, Infineon Technologies AG and Delta Electronics, Inc., deepen their collaboration to deliver superior solutions for the convenience of end-customers.
The latest and most prominent examples of this cooperation include Delta's 1.4 kW server power supply and a 1.6 kW Titanium gaming power platform. The 1.4 kW server power supply leverages Infineon's CoolSiC™ MOSFET technology and Delta's multi-decade core competence in power electronics to achieve beyond 96 percent efficiency. Another case for highest efficiency is the 1.6 kW gaming power platform powered by Infineon's CoolGaN™ technology complemented with EiceDRIVER™ gate driver ICs. The efficiency of this design reaches up to 96 percent at wide-range input and multi-output and meets the Titanium standard in the industrial domain. This is enabled by Infineon's CoolGaN™ GIT (gate-injected transistor) 600 V e-mode HEMT, adapted in an interleaving totem-pole PFC topology.
Both design examples demonstrate how Infineon's industry-leading, broadest and performance-driven portfolio of highly-reliable WBG devices, together with Delta's system innovation potential, can enable new efficiency levels to meet and exceed modern application requirements. By deepening their collaboration, both companies aim toward a leading position in WBG-based platforms through cost-effective, robust solutions backed up by the highest supply stability.
"Given our commitment to investing over eight percent of our annual revenues in R&D-based innovation, Delta's power supply solutions for servers and gaming PCs provide the high-quality and high-efficiency components needed to build customized, reliable, and energy-efficient infrastructure which satisfies our customers' expectations," said Jimmy Yiin, VP & General Manager of Delta's Power and System Business Group. "Being successful in such an extremely competitive environment requires collaborating with highly trustworthy, top-tier component suppliers with extensive system understanding and offering fully-customized solutions for application-specific requirements. Infineon's inclusive portfolio of WBG products made it possible to achieve industry-leading energy efficiency for many of our customer's applications."
"Our manufacturing scale and technology excellence, combined with a focus on quality and reliability at each step of the value chain, are the key to success factors for our wide bandgap semiconductor business and are well recognized by our customers," said Johannes Schoiswohl, Business Line Head, Efficient Power Supplies, Isolation & Connectivity of Infineon's Power & Sensor Systems Division. "By applying rigorous qualification and reliability test procedures to our devices, above and beyond standard JEDEC qualification, we can predict the long-term behavior of our WBG devices and ensure reliability in the field over the entire product lifecycle. We are excited about the opportunities our collaboration with Delta holds for us in the server and gaming market."
Toshiba Electronic Devices & Storage Corporation ("Toshiba") has launched a fast recovery diode "3000GXHH32" housed in a press-pack package in which a newly developed high-speed diode chips are mounted. The product is for power converters used in DC power transmission systems, industrial motor drive systems and the like. Its absolute maximum ratings are 4500 V (repetitive peak reverse voltage) and 3000 A (forward current, DC.)
The new product 3000GXHH32 features low conduction loss and a wide reverse recovery safe operating area (RRSOA). It has a cathode structure that can suppress voltage oscillation during reverse recovery and a high-voltage structure that allows high-temperature operation. This has extended the forward current (DC) from 1500 A to 3000 A, the peak power in the RRSOA by about 45 %, and the junction temperature rating from 125 °C to 150 °C (max) compared with the existing product with the same package size. In addition, in the case of configuring a system with switching devices, this product allows faster turn on by suppressing the voltage oscillation during reverse recovery. Therefore, 3000GXHH32 allows users to configure a system with lower power consumption by combining with Toshiba's IEGT ST3000GXH31A.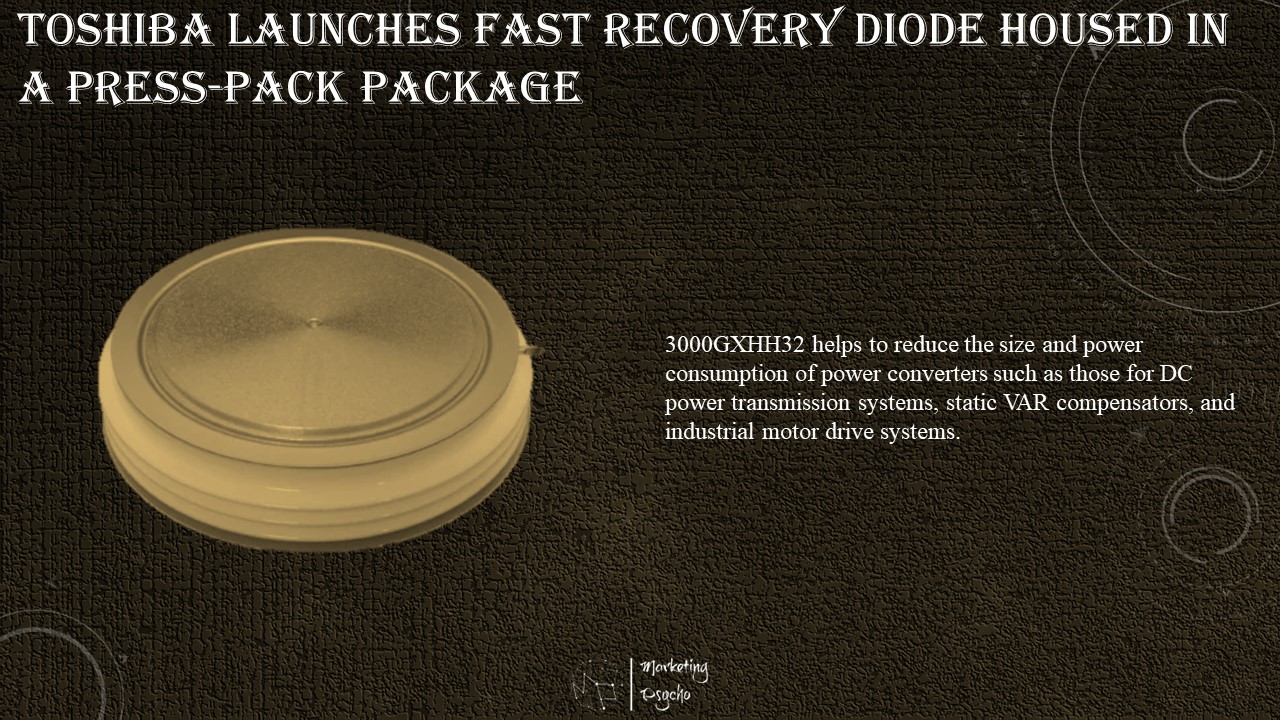 3000GXHH32 helps to reduce the size and power consumption of power converters such as those for DC power transmission systems, static VAR compensators, and industrial motor drive systems.
Applications:
DC power transmission
Static VAR compensator
Industrial motor drive
Features:
Forward current (DC) 3000 A
Wide reverse recovery safe operating area
Suppresses voltage oscillation during reverse recovery
Researchers at the Professorship of Electrical Energy Conversion Systems and Drives at Chemnitz University of Technology have succeeded for the first time in 3D printing housings for power electronic components that are used, for example, to control electrical machines. During the printing process, silicon carbide chips are positioned at a designated point on the housing.
As with its printed motor made of iron, copper and ceramics, which the professorship first presented at the Hannover Messe in 2018, ceramic and metallic pastes are also used in the 3D printing of the housings. "These are sintered after the printing process, together – and this is what makes them special – with the imprinted chip," says Prof. Dr. Ralf Werner, head of the Professorship of Electrical Energy Conversion Systems and Drives. Ceramic is used as an insulating material and copper is used for contacting the gate, drain and source areas of the field-effect transistors. "Contacting the gate area, which normally has an edge length of less than one millimeter, was particularly challenging," adds Prof. Dr. Thomas Basler, head of the Professorship of Power Electronics, whose team supported the project with initial functional tests on prototypes.
Following the ceramic-insulated coils printed at Chemnitz University of Technology, which were presented at the Hannover Messe in 2017, and the printed motor, drive components that can withstand temperatures above 300 °C are now also available. "The desire for more temperature-resistant power electronics was obvious, because the housings for power electronic components are traditionally installed as close as possible to the engine and should therefore have an equally high temperature resistance," says Prof. Werner.
A research team led by Johannes Rudolph, who helped develop the 3D printing process, produced several prototypes of the additively packaged silicon carbide-based power semiconductors in recent months. "In addition to excellent temperature resistance, this technology offers other advantages," Rudolph said. The scientists expect the two-sided, flat and solder-free contacting of the chips to result in a longer service life in terms of the number of load cycles, as well as better cooling and thus usability of the chips. "Due to the higher thermal conductivity of ceramics compared to plastics and the design freedom common to 3D printing, it is easy to realize specially adapted cooling geometries in the housing and on its surface," assures Rudolph. In addition, only a single work step is required to manufacture a power electronic component after production of the silicon carbide chips themselves.
Johannes Rudolph and his team want to further develop the process to market maturity. Potential cooperation partners are welcome to participate, for example in joint research projects.
South Korean companies have pulled together to build a solid domestic ecosystem in the production of silicon carbide (SiC) power semiconductors, which are emerging as a key component of electric vehicles, led by SK siltron, a wafer company that has pushed for the expansion of its global market share.
Because of durability and stability, SiC power semiconductors are rapidly replacing silicon (Si) power semiconductors. SiC power semiconductors are used as a device that controls the direction of current and power conversion in electric vehicles, electronics, and 5G communication networks.
While demand for SiC-based power semiconductors is soaring, their supply is limited due to oligopoly by a small number of companies in Germany, the United States, and Japan. SK siltron, a unit of SK Group, has launched "SiChallenge," a support program for partners to build a domestic ecosystem in the production of SiC power semiconductors.
SK siltron, which offers polished wafers, solar substrates, and crystal ingots to electronics manufacturers, organized a SiC wafer technology forum with 10 suppliers on June 28 to share information and discuss a concerted goal of enhancing their competitiveness through cooperation.
In the SiC power semiconductor market, SK siltron aims to become a top player with a market share exceeding 25 percent by 2025. "We will contribute to strengthening the supply chain by laying the foundation for the full-fledged growth of a next-generation power semiconductor ecosystem in South Korea," SK siltron CEO Jang Yong-ho said in a statement.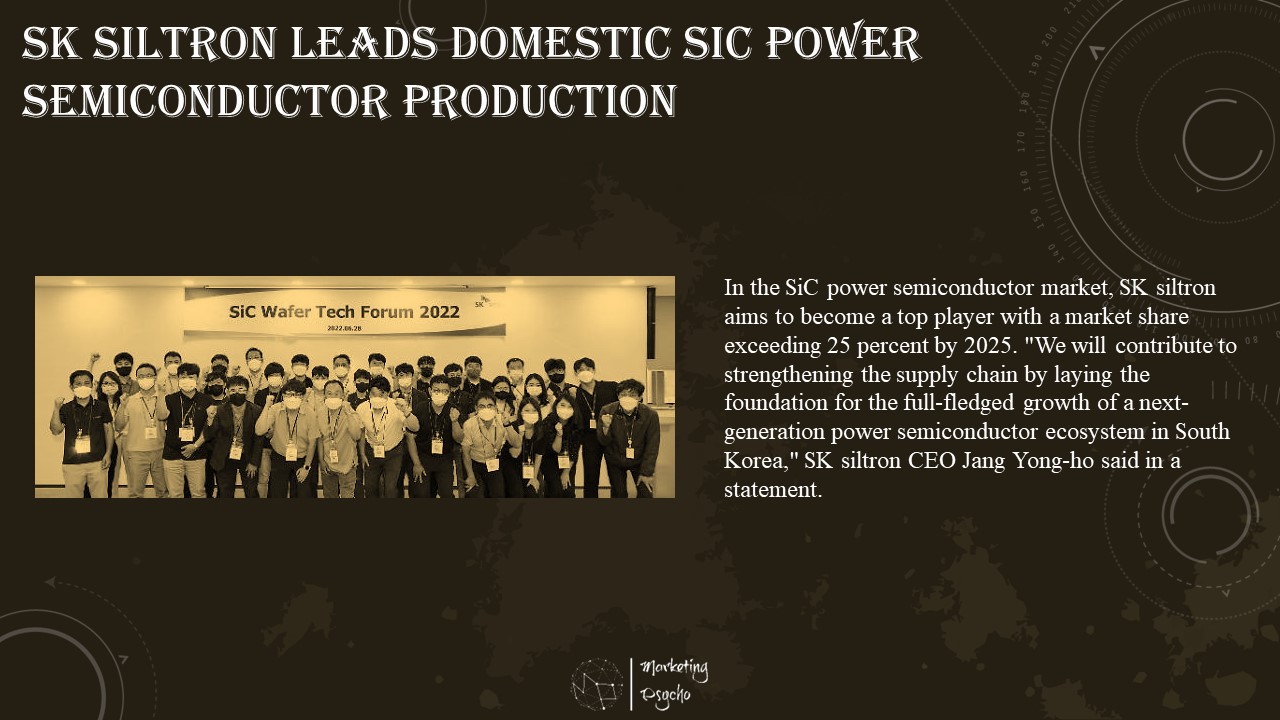 In an effort to establish a mass-production system of SiC power semiconductors, SK siltron acquired DuPont's SiC wafer business for $450 million in 2019 and established a U.S. subsidiary named SK siltron CSS in Michigan. The U.S. subsidiary would expand the production of SiC wafers for electric vehicle power system components, including power converters, chargers and inverters.
SK siltron will process ingots produced in a new U.S. factory into SiC wafers at its domestic plant. For now, the company focuses on the production of 6-inch SiC wafers, but its goal is to preoccupy next-generation products such as 8-inch SiC wafers.
In April 2022, SK Inc., an investment-oriented holding company of SK Group, decided to acquire Yes Powertechnix with MOSFET technology for high-speed switching that regulates the amount of current. SiC MOSFET has high efficiency and fast switching speed and can be designed with small inductors and capacitors with the advantage of volume reduction.
Through the acquisition of Yes Powertechnix, SK siltron will be able to establish a value chain ranging from wafer production to SiC power semiconductor design and manufacturing. The company would expand its line to high-value-added products such as SiC-based gallium nitride (GaN) semiconductors.
GaN is a strategic material that has been used for mobile communication equipment and high-tech weapons such as radars. Due to high power density and voltage breakdown limits, GaN is emerging as a promising candidate for 5G cellular base station applications
As a shortage in a disrupted global supply chain highlighted the strategic importance of automotive semiconductors, the Seoul government has pushed for research into semiconductors using new materials such as GaN.
In September 2021, DB Hitek, a foundry company in South Korea, embarked on research into SiC and GaN semiconductors. DB Hitek, which operates an eight-inch wafer-based foundry facility, has been cautious over massive investments to expand facilities due to a financial burden.
Japan's greatest semiconductor makers from Toshiba to Sony are warning that the federal government's push to revive its home chip business is being threatened by a scarcity of engineers.
The anticipated labor crunch comes as Japan works to extend funding in semiconductors as a part of a drive to bolster its financial safety within the wake of chip shortages attributable to Covid-19 provide disruptions.
In an attraction to the ministry of economic system, commerce and business final month, an electronics business physique mentioned the 5 years till 2030 represented "the final and largest likelihood for Japan's semiconductor business to regain its footing" after years of shedding world market share.
The Japan Electronics and Info Expertise Industries Affiliation mentioned the sector's success hinged on securing sufficient expertise to innovate and function its chip crops. It estimated that eight huge producers might want to rent about 35,000 engineers within the subsequent 10 years to maintain up with the tempo of funding.
"It's usually mentioned that semiconductors are missing, however the greatest scarcity is engineers," mentioned Hideki Wakabayashi, professor on the Tokyo College of Science who's the top of the coverage proposal job drive on the JEITA semiconductor board.
Within the late Nineteen Eighties, Japanese semiconductor firms spent lavishly to broaden manufacturing, overtaking the US to achieve simply over half of the worldwide market share. However, after a bruising commerce battle with Washington, Japan ceded its dominance to firms in South Korea, Taiwan and ultimately China.
That led to mass lay-offs of engineers following the worldwide monetary disaster in 2008. Wakabayashi mentioned this was the explanation there weren't sufficient senior skilled engineers at this time.
College students finding out semiconductors at college now have a tendency to hitch monetary establishments or tech firms because the chip business has lengthy misplaced its attract, mentioned Toyooki Mitsui, a supervisor at flash reminiscence maker Kioxia, which is a part of the JEITA job drive.
To spur innovation and groom potential workers, Toshiba, Sony and others are teaming up with the perfect science departments nationwide, pouring extra funding into chip analysis and recruitment.
Final month, US president Joe Biden and Japan's prime minister Fumio Kishida pledged to bolster semiconductor manufacturing capability and collaboration on growing superior chips.
TSMC, along with Sony, is constructing a $8.6bn plant within the southern island of Kyushu, and goals to rent about 1,700 employees for the ability. The federal government mentioned it can subsidize as much as ¥476bn ($3.5bn).
Extra crops are coming on-line. Kioxia, along with its three-way partnership accomplice Western Digital, is spending practically ¥1tn on a manufacturing unit in central Japan to open in autumn, and can allocate one other ¥1tn for a manufacturing unit in northern Japan that's slated to be accomplished subsequent 12 months.
Renesas Electronics will make investments ¥90bn to reopen a manufacturing unit it closed in 2014 to broaden manufacturing of energy semiconductors utilized in electrical autos.
"Japan has been at odds with the remainder of the world by way of funding and hiring till the mid-2010s, whilst the worldwide chip business dimension has doubled," mentioned Kazuma Inoue, a advisor at Recruit.
Nevertheless, it has been troublesome to seek out employees, mentioned Inoue. The variety of employees aged 25 to 44 in digital elements, units and circuits dropped from 380,000 in 2010 to 240,000 in 2021, in line with information launched by the Statistics Bureau of Japan.
"Most Japanese finding out science topics are extra curious about IT, not essentially semiconductors," mentioned Takashi Miyamori of Toshiba Digital Units.
"There's a struggle over the perfect engineers globally and we have to provide you with methods to be aggressive," he added.
The next five years will be dynamic for electrified vehicles as they evolve to meet a growing number of challenges including shorter charging times, long-distance travel, energy storage, reliability, volume manufacturing, and energy efficiency. Infineon´s dedicated e-mobility products, chipsets, and system competency allow developers to optimize high-volt (HV) power conversion applications like traction inverters to achieve best efficiency and performance.
Drive 100 km on 10 kWh?
Certainly, sounds like an ambitious goal, especially when you bear in mind that the current average for passenger vehicles is about 16 kWh / 100 km. Silicon carbide (SiC) is the key to new, efficient power conversion designs in electric vehicles. With SiC expertise and over 25 years of experience in trench design, Infineon is a trusted partner for traction inverter, (on-board) charging, and DC-DC power conversion solutions offering the highest efficiencies.
The path to our 10 kWh / 100 km vision reaches beyond the obvious reduction of power conversion losses to also include a holistic approach at vehicle level – extending even to the vehicle´s environment. Using the vehicle as a "power bank", vehicle-to-x marks another step toward a totally green energy infrastructure. As a valued and dependable partner to the industry, we provide the confidence needed to develop and produce market-leading green e-mobility applications.
Key Take-Aways:
Discover how to improve efficiency by ~60% (!) and achieve 100 km on less than 10 kWh
Learn why efficient electromobility is key to broader market acceptance
Discover how semiconductors are key contributors to efficient electric drivetrain solutions
Explore how electrical efficiency, optimization of weight, size, and thermal management improve vehicle range
Review how "smart & connected" applications and infrastructure are bringing further efficiency gains to mobility.
Date: July 13, 2022
Time: 3 PM CEST
Duration: 1 hour
---
Subscribe to Power Semiconductors Weekly and watch it on YouTube every Tuesday.
If you prefer a monthly update about the world of power semiconductors delivered to your e-mail address, please, subscribe to Marketing Psycho Power Semiconductors newsletter.