Power Semiconductors Weekly Vol. 76
Power electronics engineers have always strived for reliable, easy to maintain, cost-effective yet compact systems. With the mass introduction of silicon carbide (SiC) to the market during the past ten years, it became possible to fulfill those dreams, at least some of them. SiC power modules made it possible to build reliable, very efficient, and compact systems. Through time they make the whole power conversion system cost more competitive compared with IGBT-based solutions.
Not long ago Leapers Semiconductor Co., Ltd. (Leapers Semiconductor) introduced to the power electronics market their ED3 series SiC MOSFET power modules in a well-known industry-recognized package. Power electronics engineers got a wider choice when designing their next project or looking for a better alternative to give their current design a fresh more powerful look.
ED3 series delivered great efficiency in the familiar package making the end systems even more compact and cost-friendly.
Being an innovative manufacturer of power semiconductor devices with a focus on SiC and IGBT power modules, Leapers Semiconductor is always looking for new ways to provide its partners with the most advanced and reliable power semiconductors. And when it comes to being efficient, Leapers Semiconductor's engineers know exactly what has to be done. But how can you make already efficient ED3 series SiC power modules even more efficient? Leapers Semiconductor has an answer.
Working closely with the end customers of power semiconductors and striving to be one step ahead of the market trends, Leapers Semiconductor is pleased to introduce ED3S series SiC power modules.
ED3S series are high performance SiC MOSFET power modules in a compact version of a well-known design.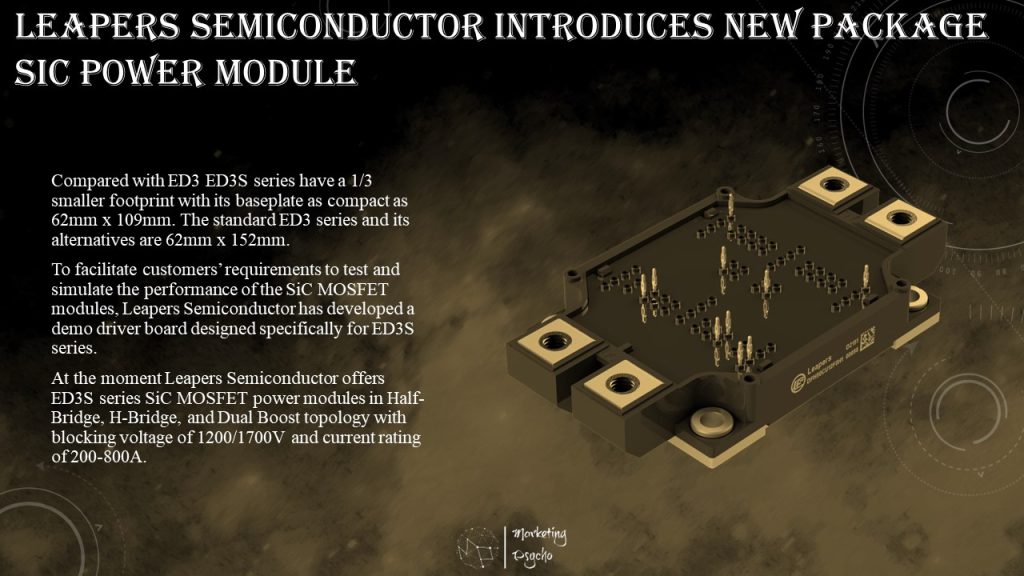 To deliver the best performance, ED3S series are produced using the patented Arcbonding™ technology, which is also used in Leapers Semiconductor's flagship SiC power modules for automotive traction inverters – HPD series.
Unlike traditional Al wire bonding technology used by many manufacturers of automotive-grade power semiconductors, Arcbonding™ patented chip surface connecting technology ensures the reliability of SiC modules reach automotive application requirements, while significantly reducing parasitic resistance and parasitic inductance. Besides, Arcbonding™ proved to significantly reduce static losses, improve power cycling, and the ability of short time impulse current. And even if 6-10 SiC dies are connected in parallel, SiC power modules still work consistently.
To produce highly reliable ED3S series SiC MOSFET power modules Leapers Semiconductor uses high-grade Si3N4 AMB substrates that combine the best mechanical robustness with excellent heat dissipation properties featuring very high-power densities.
ED3S series SiC MOSFET power modules are designed for a variety of applications with the following that can benefit the most using this new package:
xEV
Power conversion systems
Vehicle fast chargers
Smart-grid / grid-tied distributed generation
ED3S series SiC MOSFET power modules feature:
1200V/1700V Blocking voltage
Low thermal resistance with Si3N4 AMB
175°C Maximum junction temperature
Thermistor inside
Compared with ED3 ED3S series have a 1/3 smaller footprint with its baseplate as compact as 62mm x 109mm. The standard ED3 series and its alternatives are 62mm x 152mm.
To facilitate customers' requirements to test and simulate the performance of the SiC MOSFET modules, Leapers Semiconductor has developed a demo driver board designed specifically for ED3S series.
At the moment Leapers Semiconductor offers ED3S series SiC MOSFET power modules in Half-Bridge, H-Bridge, and Dual Boost topology with blocking voltage of 1200/1700V and current rating of 200-800A.
Through its technological innovations, Leapers Semiconductor aims to move humanity forward to a better and greener future. Leapers Semiconductor's product portfolio including ED3S series SiC MOSFET power modules responds to all global challenges, especially to the world carbon neutrality.
DB HiTek will build a next-generation power semiconductor production line at an 8-inch semiconductor factory (fab) located in Sanguri, Gamgok-myeon, Eumseong-gun, Chungcheongbuk-do. The goal is to produce and supply the first 1200-volt (V) silicon carbide (SiC) MOSFET to finished vehicles within year 2025. At the recent 20th anniversary event of the Korean Society of Semiconductor & Display Technology, DB HiTek Vice Chairman Chang-sik Choi stated, "We will begin producing SiC 8-inch power semiconductors at Eumseong Sangwoo fab." He added, "We will supply 1200V SiC semiconductor products to global automakers."
DB HiTek will produce 1200V SiC semiconductor MOSFET. The goal is to produce the product by year 2025. Currently, the company is testing and producing 6-inch power semiconductors. Product performance is being evaluated in collaboration with Busan Techno Park. It was also selected for the 8-inch SiC MOSFET mass production base construction project by the Ministry of Trade, Industry and Energy. Vice Chairman Choi emphasized that "the production schedule is likely to be advanced." He emphasized, "We are accumulating the technical skills in the production of 6-inch power semiconductors."
DB HiTek is the largest manufacturer of 8-inch wafers in South Korea. It is producing 8-inch silicon-based semiconductor chips at its Bucheon fab in Gyeonggi-do and Sangwoo fab in North Chungcheong Province. It produces power semiconductors, analog, image sensors, and Display Driver ICs (DDI) designed by domestic and foreign customers. The production capacity is a total of 138,000 sheets, including 80,000 sheets per month in Bucheon fab and 58,000 sheets per month in Eumseong fab. It is expected that the next generation SiC semiconductor infrastructure will be built by utilizing the idle space in the Sangwoo fab.
The 1200V MOSFET is a type of power semiconductor. It is used in various industries such as home appliances, aviation, and energy. It is attracting attention in the electric vehicle market in particular, where demand for SiC semiconductors is rapidly increasing. Global power semiconductor companies such as Wolfspeed, Two-Six, and ON Semiconductor are preparing to produce 8-inch products. Domestic power semiconductor companies such as Yes Power Technix, Power Cube Semi, and KEC are also promoting the production of 6-inch and larger products.
Wise-integration, a pioneer in digital control of gallium nitride (GaN) power supplies and GaN ICs, launched its first commercial product: the 120mOhm WI62120 half-bridge power circuit, which provides power electronics designers with new levels of power density, performance, and cost-effectiveness
The JEDEC-certified WI62120, a 650V enhancement mode GaN-on-silicon integrated circuit, is part of Wise-integration's WiseGanTM family of power devices. It leverages the intrinsic properties of GaN to provide improved current capabilities, voltage breakdown, and switching frequencies for applications in high-efficiency and high-density power conversion, including AC/DC, DC/DC, and DC/AC, from 30W to 3kW.
Target market sectors include consumer (such as ultra-fast chargers for mobile and desktop devices), E-mobility, and industrial AC/DC power supplies and designs utilizing Bridgeless Totem Pole power factor conversion (PFC) active clamp flyback
(ACF), two-inductor one-capacitor (LLC) resonant converters, and synchronous buck or boost half-bridge topologies.
"We are proud to bring our first WiseGan® product release into production," said Thierry Bouchet, CEO of Wise-integration. "The 120 mOhm WI62120 is the most compact half bridge in the market with a 6×8 PQFN package that maximizes customer benefits in terms of high power density, performance, and bill of materials cost reduction. We're confident that our customers will find it very useful in all ACF topologies and PFC-LCC architectures, and that it will help them leverage the benefits provided by smaller, more-efficient, and more cost-effective power electronics."
Gallium nitride (GaN) is a wide-bandgap, next-generation semiconductor technology that has become key for development of advanced power electronics. It operates up to 20x faster than silicon and provides up to 3x the power or 3x the charge in half the size and weight of silicon devices.
Wise-integration extends these advantages with WiseWare® embedded digital control software; subsequent generations of WiseGan® devices will integrate functions such as gate control, protection, security, and other designer-friendly capabilities into AC/DC GaN applications.
For years, Wolfspeed has built a reputation as a leader in Silicon Carbide (SiC) power components. Wolfspeed technology is at the heart of revolutions in automotive, energy, and industrial applications, and its SiC components have changed the game for high-power applications. Wolfspeed is excited to introduce the Wolfspeed Power Applications Forum (forum.wolfspeed.com), a new Wolfspeed community that will help make Silicon Carbide a part of your latest designs.
Wolfspeed has long believed that the best innovation occurs through collaboration. This guiding principle is the foundation of the new Wolfspeed Power Applications Forum, where they bring together the best and brightest in design, application, and system engineering to ask questions, provide answers, and collaborate in real-time.
The Wolfspeed Power Applications Forum allows users to post questions, discover helpful tips, and connect directly with Silicon Carbide applications engineers. Through technical dialogue with other engineers, you can quickly find solutions to common problems as well as discover new ways to incorporate Silicon Carbide-based solutions to make your designs better, faster, and more reliable.
Beyond participation in dialogue on the forum itself, you also have access to reach Wolfspeed through private chat. By connecting directly with the experts at Wolfspeed, you can tap into years of Silicon Carbide experience to choose the right products for your design and help speed your time to market.
Wolfspeed has also integrated an easy-to-use and accurate search engine so users can easily find answers to questions that other engineers have already asked.
Whether you are a Silicon Carbide pro or are just starting out with Wolfspeed's Silicon Carbide technology to replace your traditional silicon-based designs, getting started with the Wolfspeed Power Applications Forum is easy. With just a few clicks, you can easily register and start communicating with engineers across the globe to find answers to common challenges, share success stories, and discover new ways to leverage Wolfspeed tech to make your designs better.
Every day, the Wolfspeed Power Applications Forum gets better, with new users and content coming online to help fuel your Silicon Carbide success story. From discrete and module products to general questions and design solutions, there is already a wide variety of knowledge ready for you to tap into.
To get started, simply visit the Wolfspeed Power Applications Forum and click "register." Your information is kept confidential and company information and location are not displayed. Be sure to check out Wolfspeed's Knowledge Base and FAQs for helpful information on how to get the most out of the Wolfspeed Applications Forum and Wolfspeed tools.
The EPE 2022 ECCE Europe conference will take place in Hannover, Germany, from 5 to 9 September 2022, where participants will gain detailed insights into the state of the art of power electronics and its applications, and enjoy the exchange with other enthusiasts from all over the world who are interested in this highly relevant and constantly growing area.
The 24th European Conference on Power Electronics and Applications will be organized in cooperation with Leibniz University Hannover. Following Aachen (1989), Dresden (2005) and Karlsruhe (2016), we are looking forward to host the community of power electronics in Germany for the fourth time.
The EPE Association welcomes researchers, academics and industrials to Hannover, the capital of the state of Lower Saxony and one of the greenest cities in Germany, in autumn 2022. The state of Lower Saxony is home of important companies and is at the forefront of the transition to E-Mobility and of Energiewende as a whole. The trade fairs at Hannover have made the city famous in engineering disciplines worldwide. Hannover can be reached easily by high-speed trains, by air and by car.
---
Subscribe to Power Semiconductors Weekly and watch it on YouTube every Tuesday.
If you prefer a monthly update about the world of power semiconductors delivered to your e-mail address, please, subscribe to Marketing Psycho Power Semiconductors newsletter.