Power Semiconductors Weekly Vol. 72
Zhuhai ENPOWER Electric Co., Ltd. (ENPOWER), a China based leading supplier of inverters for the automotive industry, is the first to integrate the latest 750 V automotive-grade IGBTs AIKQ120N75CP2 and AIKQ200N75CP2 from Infineon Technologies AG. The discrete IGBT EDT2 devices in TO-247PLUS package enable performance boosts and system cost savings in main inverter applications and DC link discharge switches of electric vehicles. Additionally, they offer greater design freedom for achieving system integration targets.
"ENPOWER firmly follows the technology route of designing motor control units (MCUs) with discrete components, and continuously develops products that are both good and cost-advantageous, therefore to always maintain the competitive advantage of our MCUs in the market," said Liu Hongxin, ENPOWER's R&D director of MCU. "Infineon's industry-leading discrete IGBTs are compatible with the last generation in terms of packaging. Together with the high current density, ultra-low saturation voltage drop and very good parallel performance, power density of our products has increased by more than 20 percent, further improving competitiveness of our products."
"We are very happy about this close and successful collaboration with ENPOWER. This project further highlights our strong position in the inverter application, "said Dr. Robert Hermann, Product Line Head for Automotive High Power Discretes and Chips at Infineon. "Leveraging our technology expertise and system understanding allows us to bring innovative solutions to the market perfectly matching customers' needs."
The benchmark EDT2 technology has been introduced to the market very successfully. It is available in a TO247 package optimized for automotive discrete traction inverters. The new 120 A and 200 A (at 100°C) product variants expand Infineon's portfolio of discrete high-voltage devices for automotive applications. Discrete based inverters are beneficial in terms of scalability, flexibility and overall system cost.
Additionally, the 750 V EDT2 technology enables high-performance system designs. With a rated current of 200 A, the AIKQ200N75CP2 is the best-in-class discrete IGBT in a TO247Plus package. Thus, for a defined target power class, fewer devices are needed in parallel, power density can be increased and system costs reduced. Due to the high quality, Infineon's IGBTs are significant building blocks for dependable inverter systems.
Silicon wafer manufacturer Okmetic will build a new production facility next to its current silicon wafer fab in Vantaa, Finland. The investment is to more than double the company's production capacity and business and create over 500 new jobs. Construction will commence in early 2023, at the latest, and the fab is planned to be in production use during 2025. With silicon wafer demand surging due to the proliferation of electronic components, the investment helps the company meet the growing demand of customers.
Okmetic supplies advanced, customized silicon wafers for the manufacture of MEMS, sensor, RF and power devices. This investment to a new production facility totaling nearly 400 million euros will more than double the company's business. It is the largest investment in Okmetic's history. Over the last five years, the company has invested over 100 million euros in increasing the production capacity of its Vantaa fab, and the new production fab is yet another chapter in the company's growth story as a provider of high value-added silicon wafers in a rapidly growing and developing industry.
– We have experienced strong growth for several years now, and market forecasts suggest the positive development will continue in the semiconductor industry. The new fab will strengthen the company's position in the market and lay the foundation for the future development of our business. In a bigger picture, the investment can also be seen as part of the European push towards more self-sufficiency in the global semiconductor value chain. However, overall focus will be on global markets, says Okmetic President and CEO Kai Seikku.
– The investment is one of NSIG's commitments to expedite Okmetic's further growth with greater business scale and stronger market position, leveraging on Okmetic's strength on specialty technologies, says Dr. Chiu Tzu-Yin, NSIG President and Okmetic chairman. It will also enable NSIG – the parent company of Okmetic – to play a more prominent role in the global semiconductor silicon wafers supply chain.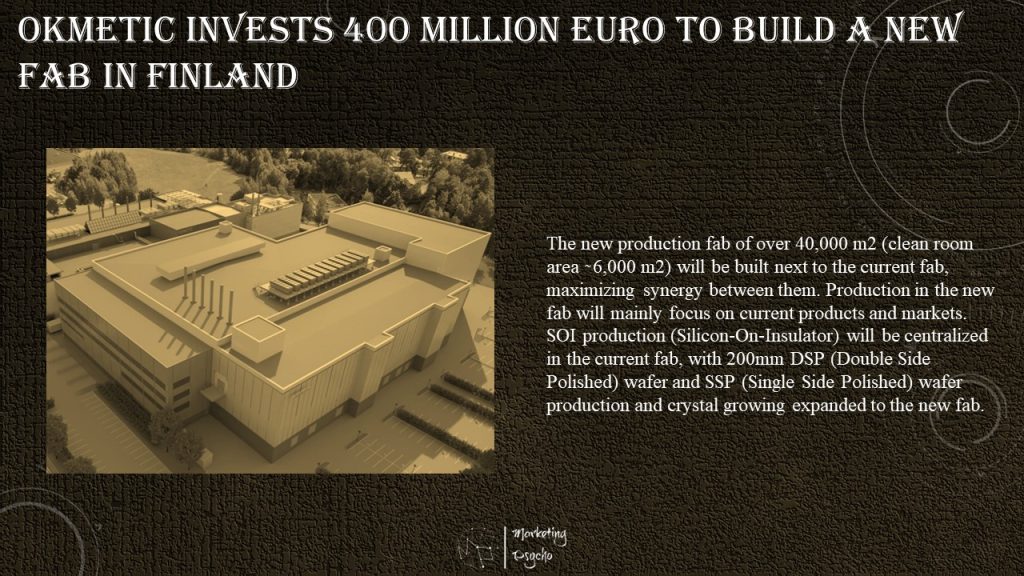 The new production fab of over 40,000 m2 (clean room area  ̴ 6,000 m2) will be built next to the current fab, maximizing synergy between them. Production in the new fab will mainly focus on current products and markets. SOI production (Silicon-On-Insulator) will be centralized in the current fab, with 200mm DSP (Double Side Polished) wafer and SSP (Single Side Polished) wafer production and crystal growing expanded to the new fab.
The overall production capacity of the fabs will more than double the current capacity. Planning for the production fab has already begun, and the construction is set to begin in early 2023, at the latest. Following equipment installation, the new fab is expected to be in full operation in 2025. The new fab will feature state-of-the-art equipment and production lines and attention will also be paid to improved energy efficiency and complying with tightening ESG standards.
Okmetic currently employs approximately 600 people, and the investment will enable the hiring of more than 500 new employees. Recruitment will commence right away and gradually continue until the launch of the new production fab. New vacancies will include both white-collar and production work positions.
In 2022, the semiconductor market is expected to continue to grow and surpass 600 billion dollars for the first time. The growth has been driven by key technologies such as 5G, AI, IoT and autonomous vehicles. With the high growth rate, component shortage has posed a challenge for the entire industry. Following this investment, Okmetic can better respond to increasing customer demand.
Okmetic supplies silicon wafers for the manufacture of MEMS, sensor, RF and power devices, markets where growth is expected to continue and where the 200mm diameter silicon wafers are predicted to retain their position as the primary platform. The company has extensive 150 to 200mm silicon wafer portfolio comprising of comprehensive lines of SOI wafers and High Resistivity RFSi® wafers as well as Patterned wafers, Single Side Polished and Double Side Polished wafers, TSV wafers and Wafers for Power devices.
Okmetic is actively involved in different kinds of collaborative semiconductor research and EU projects aiming to develop groundbreaking microelectromechanical systems. The company also is an integral part of the wide-scale MEMS cluster in Finland.
Diodes Incorporated (Diodes) announced it has completed the transaction to acquire onsemi's wafer fabrication facility and operations located in South Portland, Maine ("SPFAB").
As previously announced, Diodes will integrate the South Portland facility and fab operations, including the transfer of SPFAB employees to Diodes. As part of a multi-year wafer supply agreement, Diodes will continue to manufacture onsemi's products from SPFAB as onsemi completes the transferring of this production into its other wafer fabs.
"We are pleased to successfully complete this transaction, which aligns with our strategic objective for significant revenue and gross profit dollar growth over the next several years," said Diodes' chairman, president and chief executive officer, Dr. Keh-Shew Lu. "First, I would like to welcome SPFAB employees to the Diodes' family. The team's exceptional engineering capabilities and skills will support our technical and operational performance expectations. SPFAB provides additional 200mm wafer fab capacity for analog products to accelerate our growth initiatives in the automotive and industrial end markets. This US-based facility, together with our existing facilities in Asia and Europe, further enhances our global manufacturing footprint and greatly increases Diodes' internal capacity and competitive advantage in this supply constrained environment, while also supporting our future long-term growth. With the transaction now closed, we aim to aggressively ramp new wafer fab processes and capabilities at SPFAB in alignment with Diodes' strategic growth plan."
Diodes plans to utilize the facility to qualify and manufacture CMOS and BiCMOS processes to support multiple analog product lines including power management ICs, signal chain and standard products as well as several high performance discrete product lines.
Transphorm, Inc., a pioneer in and global supplier of high reliability, high performance gallium nitride (GaN) power conversion products, announced that its GaN technology powers the LEMURIA ME3000 from Nayuta Power Energy Co. Ltd. Nayuta uses the GaN FETs in the LEMURIA's AC inverter to achieve 99% efficiency in a fanless system. Notably, the LEMURIA ME3000 is Japan's first lithium-ion (Li-ion) battery power storage device for medical equipment to earn S-JQA certification for electrical products, a mark that indicates a product's safety and performance quality.
Transphorm's JEDEC-qualified TP65H035WS is a high performance 650V, 35 mohm GaN device in a thermally robust TO-247 package. It offers the industry's highest reliability with a ±20V gate safety margin and a 4V noise immunity threshold. It can also yield greater than 99 percent power efficiency while reducing power system size, weight, and overall cost.
The LEMURIA ME3000 is a small, lightweight product that is easily portable in medical facilities as well as in the field. It has a continuous 1.5 kW output and a 3.3 kWh storage capacity with up to 33 hours of usability before needing to be recharged. Whereas an incumbent silicon product was fan cooled, the GaN FET's performance enabled Nayuta to build the LEMURIA ME3000 as a fanless power system that increased power efficiency from 96.24% to 99.01% which is a 73% reduction in power loss operating at the same frequency. As a result, the power supply is a hermetically sealed unit without ventilation holes, which prevents liquids and dust from contaminating or damaging the system.
The LEMURIA ME3000 is JIS T060-1 certified, a Japan Quality Assurance Organization (JQA) standard based on the international IEC 60601 standard. These quality controls ensure that electrical equipment used in medical environments meet higher safety and performance requirements particularly with respect to electromagnetic interference and current leakage.
"Medical environments call for solutions that offer extremely high reliability all while meeting rigid safety and sanitation protocols. A power supply running a respirator cannot fail. Nor can it expose patients to potential germs harbored in areas that cannot be easily cleaned—which is where a sealed, GaN-based unit offers incredible value," said Morgan Yoshiyuki Habuta, Executive Director, Nayuta Power Energy Co. Ltd. "The high switching capability and reliability offered by Transphorm's GaN FETs enabled us to achieve our goals with respect to the LEMURIA ME3000. Incorporating the FETs into our advanced power system design delivered a Li-ion battery supply capable of supporting a wide range of high-power medical applications at any location. We're expanding the reach of medical care, and Transphorm's GaN is helping us do it."
Due to its portability, the LEMURIA ME3000 can be used in numerous environments including large hospitals (operating, diagnostic, and patient rooms); long-term care facilities; individuals' homes; and disaster sites.
Allegro MicroSystems (Allegro), a global leader in sensing and power semiconductor solutions for motion control and energy-efficient systems, announced the entry into an agreement to acquire Heyday Integrated Circuits (Heyday). Heyday is a privately-held company specializing in compact, fully-integrated isolated gate drivers that enable energy conversion in high-voltage gallium nitride (GaN) and silicon carbide (SiC) wide-bandgap (WBG) semiconductor designs. The Heyday acquisition will complement Allegro's existing solutions for energy efficiency, including its market-leading current sensor solutions. Additionally, it is expected to significantly expand Allegro's addressable market for electric vehicles (xEV), solar inverters, datacenter and 5G power supplies, and broad-market industrial applications.
Heyday's expertise in cutting-edge gate drive solutions provide system designers with new, innovative ways to fully leverage the potential of high-efficiency WBG switches. According to industry analysts and internal estimates, these advanced gate drive solutions give Allegro new access to an estimated $2.7 billion high-growth serviceable available market, increasing Allegro's content opportunity in green energy applications such as xEV on-board chargers and solar and traction inverters.
"With high-powered GaN and SiC wide bandgap systems expected to grow significantly over the next decade, our customers are facing an exponential demand for simplified power management solutions," said Michael Doogue, Senior Vice President of Technology and Products at Allegro. "High-voltage isolated gate drivers are a fundamental enabling technology for the future of high-efficiency power system designs. Coupled with our market-leading integrated current sensors, Heyday's Power-ThruTM technology will allow our customers to build some of the smallest high-voltage and high efficiency power systems available today."
GaN and SiC power devices are expected to rapidly gain market share in electric vehicle and green energy applications. Traditional gate driver solutions often require large system footprints and additional components, such as bulky transformers or filters, separate PCBs, and connectors, to achieve EMC compliance and meet safety regulations. Heyday's isolated gate driver solutions use a single, small-footprint package that integrates an isolated gate driver, an isolated power supply, and associated passive components. This significantly reduces system design time and complexity and makes it possible for designers to take advantage of the full efficiency benefits that WBG switches provide. Additionally, the reduced system design time and complexity help alleviate the need for additional engineering and design resources.
"We look forward to welcoming Heyday's talented and innovative team to the Allegro family," said Vijay Mangtani, Vice President of Power ICs at Allegro. "When completed, this acquisition will greatly accelerate our efforts to deliver a market-leading energy efficient technology platform for high voltage designs in green energy, advanced mobility, and motion control solutions."
Allegro will pay approximately $19 million in cash for the acquisition of Heyday, subject to customary purchase price adjustments. The acquisition is expected to close in the third quarter of calendar year 2022, subject to customary closing conditions and required regulatory approvals.
DENSO, a leading mobility supplier, hosted a business briefing to share its semiconductor strategy and how the company is achieving its Long-term Policy 2030. During the briefing, DENSO leaders discussed how semiconductors help lay the foundation in pursuing the company's Two Great Causes: "Green," achieving carbon neutrality by 2035and, "Peace of Mind," creating a safe and seamless world for all.
"Semiconductors are crucial to the automotive industry as new vehicles and mobility technologies become increasingly reliant on them to unlock new capabilities, especially in electrification and autonomous driving areas," said Yoshifumi Kato, Senior Executive Officer and Chief Technology Officer of DENSO Corporation. "It's important we make the most of existing semiconductor supplies, while also creating our own rugged chips to meet growing demand. At DENSO, we have divided semiconductor activities into three areas, each with its own strategy for stable procurement and development."
Strategies for Microcomputer & System on Chip (SoC)
Promote development, standardization and deepening cooperation with specialized manufacturers and activities to maintain supply chain" to secure stable procurement of advanced logic semiconductors.
Securing a stable procurement network is most important for microcomputers and SoCs, where the division of labor in specification, design, and manufacturing is progressing and miniaturization is necessary. DENSO will work to strategically present specifications from an in-vehicle perspective, promote standardization, secure multiple production bases, and reform its procurement structure. By 2025, DENSO intends to standardize microcomputers, close the gap between the automotive and semiconductor industries, and make the supply chain more robust.
Strategies for Power and Analog Semiconductors
Develop and manufacture devices & wafers and manufacturing processes" in-house to maximize system competitiveness. DENSO has been producing high voltage power and analog semiconductors for about half a century, endeavoring to develop rugged semiconductors.
In high voltage power semiconductors, DENSO is working to produce large-diameter silicon wafers with strategic partners and to fully launch silicon carbide wafers, which will contribute to improving the electric cost for battery-electric vehicles (BEVs). In analog semiconductors, the company will accelerate the development of rugged semiconductors that can withstand the performance of in-vehicle environments and application specific integrated circuit (ASIC) that thoroughly meet our customers' needs. By 2025, DENSO aims to achieve sales equivalent to 500 billion yen as in-house manufactured semiconductors.
Strengthen judgment capabilities for current situation and realization capabilities for the future to create strategic partnerships with semiconductor venders.
Through collaboration with strategic partners, DENSO will apply technologies in the non-vehicle domain to the automotive domain. The company will accelerate collaboration with strategic partners by anticipating rapidly changing technology trends and communicating in-vehicle trends to strategic partners. The company will also work to further strengthen its semiconductor planning capabilities, which will be necessary for future mobility, and our technological capabilities to maximize sensor performance. DENSO is aiming to develop compact, high-performance environmental recognition sensors with advanced driver assistance functions of Level 3 or higher by 2025.
Wolfspeed, Inc., the global leader in Silicon Carbide technology, announced the promotion of Rick Madormo to Senior Vice President of Sales and Marketing, succeeding Thomas Wessel, who plans to retire at the end of June. In anticipation of Madormo's promotion, Wolfspeed has hired Owen DeLeon as the company's new Vice President of Sales for the Americas.
"For the past four years, Rick has led our Americas sales team, and with his deep experience and strong track record of leadership and execution, he is the right choice to lead Wolfspeed through its next phase of continued growth and value creation," said Gregg Lowe, Wolfspeed president and CEO. "Thomas demonstrated tremendous leadership and vision during his tenure at Wolfspeed and leaves us having achieved a great deal, not the least of which was developing a depth and breadth of talent that is the best in the industry. We wish him well in his retirement."
Madormo has led Wolfspeed's Americas Sales organization since 2018, focused on the business development strategy, pipeline growth, and organizational structure, supporting the company's most recent quarterly revenue growth of 37 percent. An industry veteran, Madormo has more than 25 years of semiconductor experience with sales leadership roles at Intel, Altera, and others.
"It is an exciting time to be at Wolfspeed, as we continue to find new ways to support our customers and drive the global transition from silicon to Silicon Carbide," said Madormo. "I look forward to the new challenge of leading our global sales and marketing organization and helping the team achieve even greater impact for our customers."
DeLeon adds 15 years of semiconductor industry experience to Wolfspeed, most recently with Intel Corp, where he served as Senior Director of Sales, Americas and General Manager of its Programmable Solutions Group business in the Americas.
---
Subscribe to Power Semiconductors Weekly and watch it on YouTube every Tuesday.
If you prefer a monthly update about the world of power semiconductors delivered to your e-mail address, please, subscribe to Marketing Psycho Power Semiconductors newsletter.