Power Semiconductors Weekly Vol. 61
GE Aviation announced a new channel partner, Digi-Key Electronics, to market and distribute GE's Silicon Carbide (SiC) power modules for industrial vehicles, aviation and military applications. 
Available in 1200V and 1700V SiC power modules, they are ideal for high voltage power generator, DC-DC power converter, and/or inverter applications that require the highest power density, highest efficiency, and reliability such as industrial, aviation, and military.
"GE invented the foundational technology to advance electrification, helping convert mechanical to electrical with improved efficiency, reliability and environmental protection," said Joe Krisciunas, general manager of Electrical Power Systems for GE Aviation. "We're working with our customers to help solve challenges around the use of thermal efficiency, high voltage, and safety to use more electricity on aircraft to power larger loads for thrust or next generation military systems."
Silicon Carbide technology is a generational shift in electrical power switching. GE's SiC devices are AEC-Q101 qualified to 200°C operating junction and include a GE Power overlay interconnect technology for wire bond-less modules. The modules are AS9100 certified and are a small form factor for compact, high-density designs. GE's SiC power modules can be found on Digi-Key here.
The aviation industry has been moving toward More Electric Aircraft driven mainly by the need to improve aircraft operating economics for the commercial airline operator or deliver performance improvements for the military. To learn more, visit GE at the Applied Power Electronics Conference (APEC) in Houston, March 20-24 at stand #340 and at Power Conversion, Intelligent Motion in Nuremberg, May 10-12 in hall 9, stand #130 (9-130).
GE Aviation's Systems business has designed and manufactured power conversion, distribution, and control systems for commercial aircraft for more than 30 years. GE Aviation continues to advance these products with technology including GE developed silicon carbide transistors to increase efficiency, power density, thermal performance, and reliability. These technologies are integral to the development of GE's hybrid electric powertrain demonstration system announced with NASA.
Digi-Key Electronics is a global distributor of electronic components and automation products, along with access to unlimited adjacent products and technologies via their online Marketplace. Beyond the products that drive technology innovation, they also provide a wealth of digital tools for both design engineers and procurement professionals to make their jobs more efficient.
Toyoda Gosei Co., Ltd., together with Osaka University, has succeeded in increasing the diameter of substrates for gallium nitride (GaN) power devices.
Power devices are widely used for power control in industrial machinery, automobiles, home electronics and more. As society moves toward carbon neutrality, the practical application and widespread use of next-generation power devices is promising as a means of reducing power loss when controlling large volumes of power in renewable energy equipment and electric vehicles. GaN power devices are one means for doing this, and higher quality and larger diameter GaN substrates are needed in the development of these devices to achieve higher productivity (cost reductions).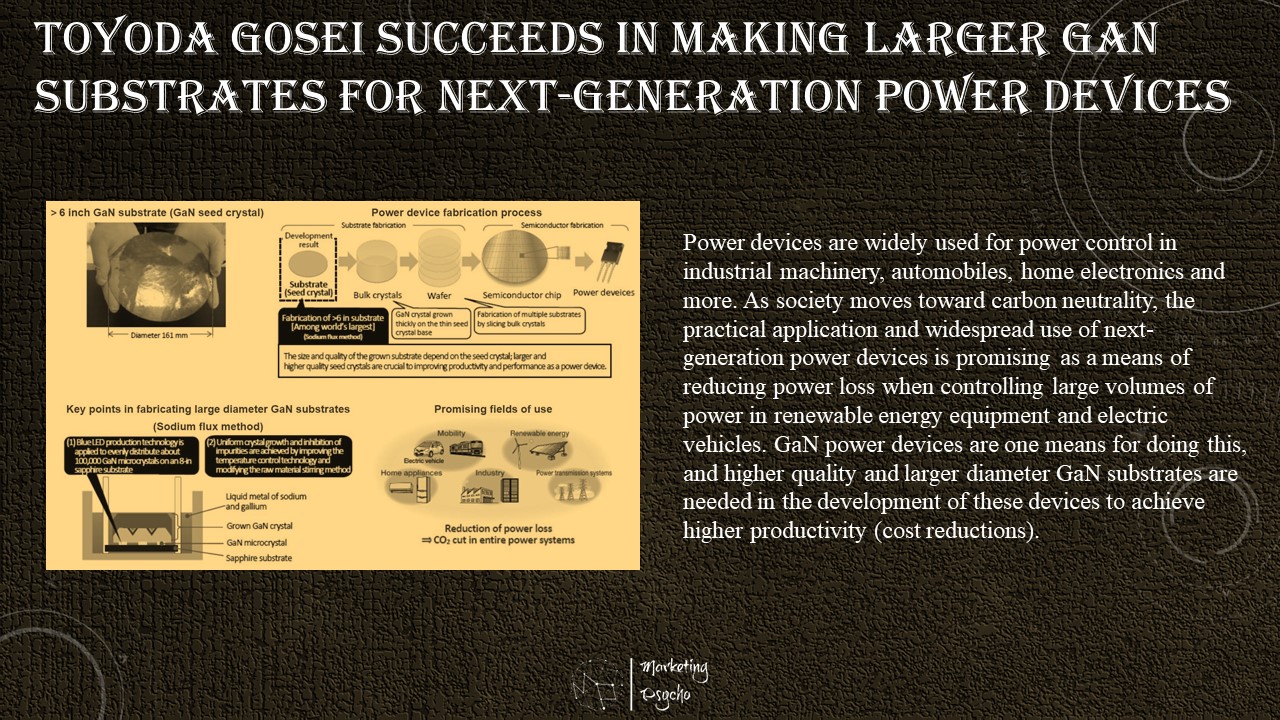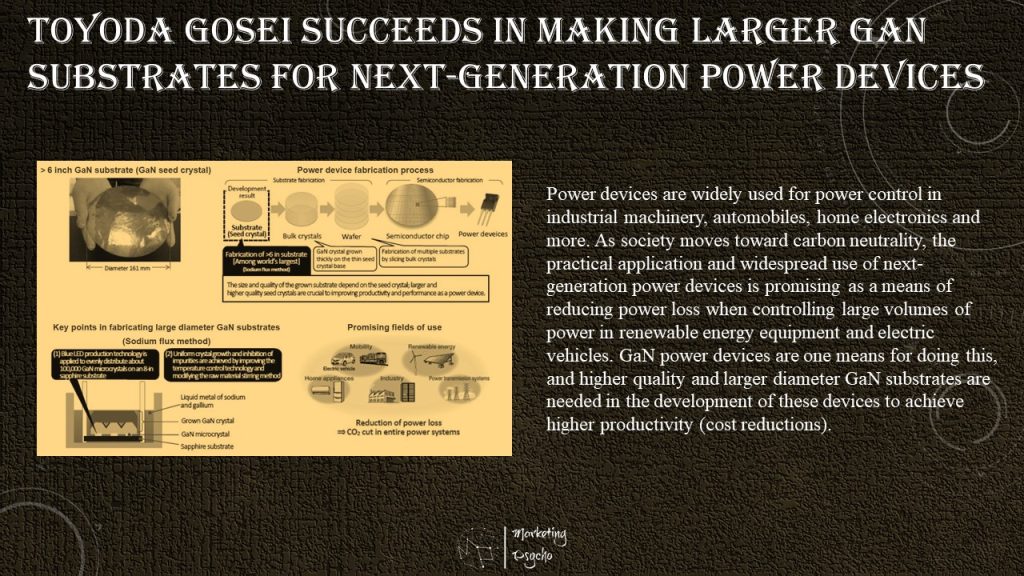 In a project headed by the Japanese Ministry of the Environment, Toyoda Gosei and Osaka University have employed a method of growing GaN crystals in liquid metal of sodium and gallium (sodium flux method) to fabricate a high quality GaN substrate (GaN seed crystal) of over 6 inches, the world's largest level. They will next conduct quality assessments for mass production of 6-inch substrates, and continue improving quality and increasing diameter size (more than 6 inches).
SK Siltron, South Korea's sole silicon wafer maker for chips, plans to spend a combined 1.05 trillion won ($845.61 million) to build a new fab that manufactures 300-millimeter wafers in order to address a chip shortage due to wafer supply constraints.
With a board approval, the key silicon wafer supplier to the country's chip powerhouses Samsung Electronics and SK hynix aims to embark on the fab construction in the first half at a 42,716 square-meter-wide site in Gumi, North Gyeongsang Province, and create more than 1,000 jobs there.
SK Siltron targets a mass-production from the facility starting the first half of 2024.
A wafer – a round slice of pure semiconductor material including silicon – is used as a substrate where multiple microchips are printed before dicing. A 300-millimeter diameter wafer is the industry's largest in size to be commercialized thus far. More chips can be produced in a single wafer as a wafer gets larger.
SK Siltron's silicon wafers have come in the sizes of 200-millimeter and 300-millimeter diameter, and are used as a base material for memory chips, logic chips and complementary metal–oxide–semiconductor image sensors.
An upshot in chip demand thanks to the growth of electric vehicle market and an increase in 5G network use cases has led to the decision to expand the 300-millimeter wafer production, SK Siltron said, adding the wafer shortage is forecast to last until 2026.
"We have reached a decision on the capital expenditure on the facility scale-up in an audacious manner to predict the uncertainties in the market landscape and address them with dexterity," SK Siltron Chief Executive Officer Jang Yong-ho said in a statement.
The committed total capital expenditure for the expansion takes up a third of its assets as of 2021, according to the company.
SK Siltron is considered one of the five major wafer makers along with Japan-based Shin-Etsu Chemical and Sumco, Taiwanese firm Global Wafers and German company Siltronic, which account for nearly 95 percent of global market share if combined.
Its home country Korea is the second-largest by wafer capacity just behind Taiwan, according to IC Insights. Nearly 60 percent of SK Siltron's revenue has come from memory chip giants Samsung Electronics and SK hynix.
The company has also overseen heat-withstanding silicon carbide wafers operation, following a 2020 acquisition of former DuPont subsidiary in the United States.
This year the jury has decided to give the SEMIKRON Innovation Award to Stephan Wirths and his team from Hitachi Energy Ltd. Semiconductors in Lenzburg, Switzerland for their innovation regarding 'High-k SiC Power MOSFETs for the Next Generation of E-mobility Power Modules'.
The team has developed a novel MOS gate stack technology based on high-k dielectrics for SiC Power MOSFETs replacing today´s SiO2 gate oxides. The conventional gate oxide is a weak point of today´s SiC MOSFETS as it suffers from highly defective oxide/SiC interfaces and the intense electric field across the gate oxide negatively impacts device performance as well as reliability. The innovation has been successfully verified and demonstrated by fabricating fully functional vertical high-k power SiC MOSFETs for several voltage classes, namely 1.2kV, 1.7kV and 3.3kV. The on-state performance could be improved by 35% compared to devices with SiO2 gate oxide, and improved threshold voltage stability could be demonstrated. The devices with the developed high-k gate stack technology show virtually no Vth-shift during static as well as dynamic characterization. A major impact can be expected from this significantly improved SiC MOSFET technology which will boost high performance SiC power electronics with improved energy efficiency in several applications including e-mobility.
This year's SEMIKRON Young Engineer Award is given to Michael Basler from Fraunhofer Institute for Applied Solid State Physics IAF in Freiburg, Germany for his work on 'Monolithic Integration for GaN Power ICs'.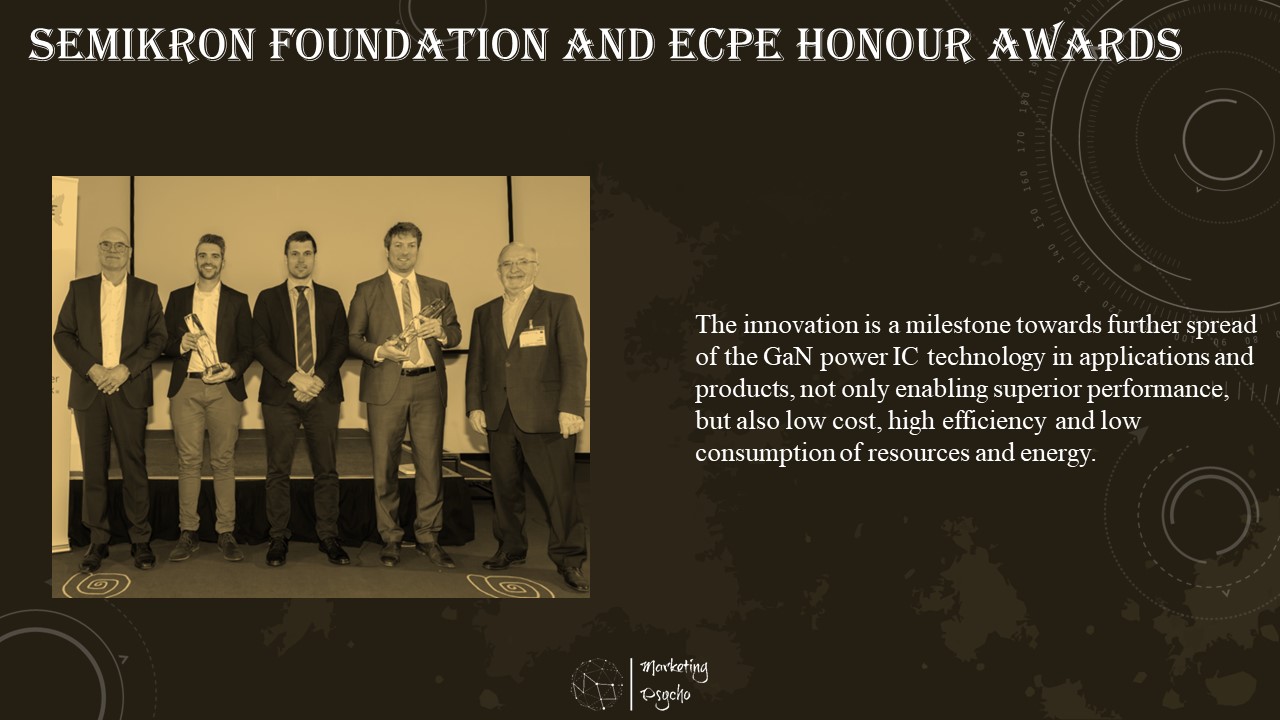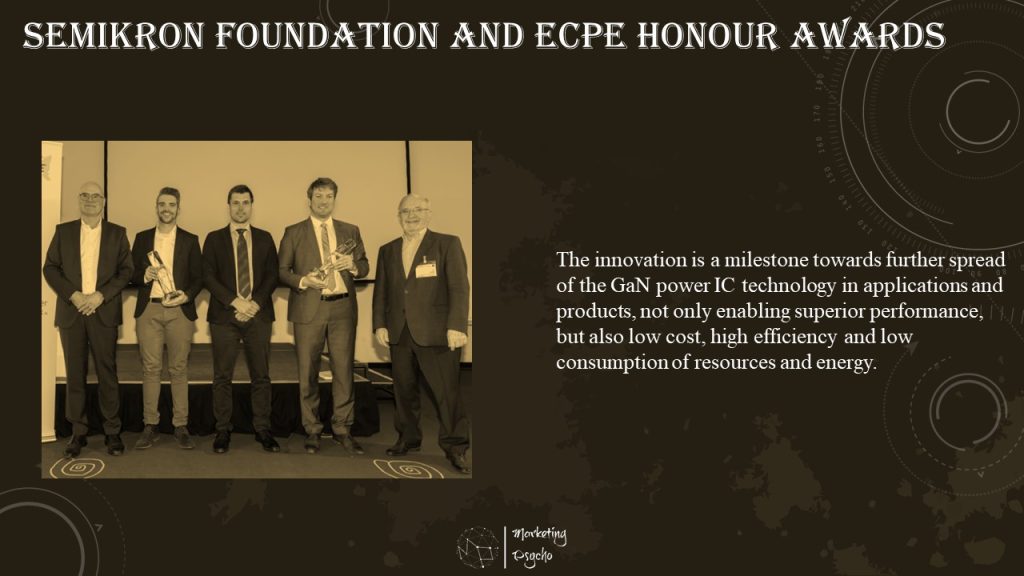 GaN power ICs technology combines the wide bandgap performance with a lateral structure and a low-cost Si carrier substrate. A common GaN power integration technology platform with several active and passive devices, as well as analog and digital circuits has been intensively investigated. These building blocks can be used to integrate periphery components of the power electronics systems to the GaN power devices consisting of driving, sensing, protection, control, interface, and auxiliary power supply.
The researcher has pushed the GaN-on-Si technology by pioneering concepts and demonstrated two innovative monolithic-integrated GaN power ICs with outstanding performance, a synchronous buck converter with half-bridge, driver and control for highly-compact DC-DC conversion as well as an active rectifier diode with power switch, control and auxiliary power supply for highly-compact AC-DC rectification.
The innovation is a milestone towards further spread of the GaN power IC technology in applications and products, not only enabling superior performance, but also low cost, high efficiency and low consumption of resources and energy.
Wolfspeed, Inc., the global leader in Silicon Carbide technology, announced that Jeff Ferraro has joined the company as Vice President of Enterprise Supply Chain and Procurement, effective March 14. Mr. Ferraro joins Wolfspeed from Texas Instruments and has more than 20 years of experience in the semiconductor industry, including supply chain and financial management. Based out of Durham, North Carolina, Mr. Ferraro will report directly to Rex Felton, SVP of Global Operations.
"Jeff brings an unparalleled wealth of knowledge of operational logistics and expertise over his decades working in the semiconductor industry," said Rex Felton, SVP of Global Operations. "With an impressive background spanning the full range of operational efforts —finance, business planning, supply chain and logistics—he is the ideal fit to join our operations leadership team to support Wolfspeed as it leads the industry-wide transformation from silicon to Silicon Carbide."
This addition to Wolfspeed's team of seasoned semiconductor operations professionals, paired with the expansion of production capability for Silicon Carbide materials and devices in New York and North Carolina will support the company's rapid growth.
At Texas Instruments, Mr. Ferraro previously held the titles of Manager of Business Planning and Operations, Director of Finance and Operations, and most recently Director of Supply Chain and Logistics, in which he was responsible for a complex network of logistic operations supporting manufacturing to product distribution, including global import and export compliance.
Infineon is delighted to invite you to their Industrial Wide-Bandgap Developer Forum on 31 March 2022 – streamed to you from company's studio in Munich.
After a very successful event in 2021, Infineon team is continuing with the next edition of their Industrial Wide-Bandgap Developer Forum, providing design and development engineers with the latest technology, applications and industry insights.
As SiC and GaN go broad, the motto of this forum will be "out of the niche" – giving engineers a clear path to achieve the highest energy efficiency and meet the most stringent requirements in a wide range of industrial applications.
Don't forget to register by 30 March 2022 on Infineon's event page. After registering, you will receive a confirmation email with a link to join the 2022 Industrial Wide-Bandgap Developer Forum.
Switch-mode power supplies continue to demand high efficiency and high power density, especially in server and data center applications, due to stringent efficiency requirements by 80 Plus, Energy Star 3.0, and European LOT 9 standards. The technology development and applications of Silicon Carbide devices have made them promising substitutions for traditional silicon devices in a variety of applications. Their superior switching speed, low switching loss, and low temperature dependency of RDS(on) mean that higher efficiency, higher power density, improved robustness and reliability can be achieved.
During this webinar, Wolfspeed will introduce new C3M Silicon Carbide TO-Leadless (TOLL) MOSFETs and 3.6-kW Bridgeless Totem-Pole PFC reference design, offering a cost-effective thermal interface and the enablement of peak efficiency over 99% at 230-V input.
Key Takeaways:
Silicon Carbide device and magnetic material selection in high-power and high-efficiency applications
Thermal management of Silicon Carbide power devices for high-power–density applications
Benefits of small-form–factor TOLL package with Silicon Carbide MOSFET technology
Date: March 31, 2022
Time: 5 PM CEST
---
Subscribe to Power Semiconductors Weekly and watch it on YouTube every Tuesday.
If you prefer a monthly update about the world of power semiconductors delivered to your e-mail address, please, subscribe to Marketing Psycho Power Semiconductors newsletter.