Power Semiconductors Weekly Vol. 54
Toshiba Electronic Devices & Storage Corporation has launched two silicon carbide (SiC) MOSFET Dual Modules: "MG600Q2YMS3," with a voltage rating of 1200V and drain current rating of 600A; and "MG400V2YMS3," with a voltage rating of 1700V and drain current rating of 400A. The first Toshiba products with these voltage ratings, they join the previously released MG800FXF2YMS3 in a lineup of 1200V, 1700V and 3300V devices.
The new modules have mounting compatibility with widely used silicon (Si) IGBT modules. Their low energy loss characteristics meet needs for higher efficiency and size reductions in industrial equipment, such as converters and inverters for railway vehicles, and renewable energy power generation systems.
Applications:
Inverters and converters for railway vehicles
Renewable energy power generation systems
Motor control equipment
High frequency DC-DC converter
Features:
Mounting compatible with Si IGBT modules
Lower loss than Si IGBT modules
– MG600Q2YMS3
 VDS(on)sense =0.9V (typ.) @ID=600A, Tch=25°C
 Eon=25mJ (typ.), Eoff=28mJ (typ.) @VDS=600V, ID=600A, Tch=150°C
– MG400V2YMS3
 VDS(on)sense=0.8V (typ.) @ID=400A, Tch=25°C
 Eon=28mJ (typ.), Eoff=27mJ (typ.) @VDS=900V, ID=400A, Tch=150°C
Built-in NTC Thermistor
Fuji Electric Co., Ltd. has made a decision to carry out capital investment in Fuji Electric Tsugaru Semiconductor Co., Ltd. (Goshogawara City, Aomori Prefecture), one of its power semiconductor production bases, for an increase in the production of SiC power semiconductors. Mass production is planned to begin in fiscal 2024.
In the Five-Year Medium-Term Management Plan ending in fiscal 2023 (fiscal 2019 – fiscal 2023), Fuji Electric announced that it will carry out capital investments totaling 120 billion yen toward power semiconductors. Although its capital investments currently focus on front-end process production lines for 8-inch Si (silicon) wafers, and amount of investments in power semiconductors, including this investment in SiC power semiconductors, is expected to expand to 190 billion yen, set against conditions of increased demand for electrified vehicles and renewable energy.
SiC power semiconductors are next-generation power semiconductors that use SiC (silicon carbide) materials. Currently, power semiconductors that use Si materials are the most common, but SiC power semiconductors can make it possible to conserve energy and reduce the size and weight of Power Electronics Equipment they are installed in. Fuji Electric predicts that the power semiconductor market (the market targeted by Fuji Electric) will account for 2 trillion yen in fiscal 2024, with SiC power semiconductors making up approximately 8% of this. The market growth rate of SiC power semiconductors is expected to be 17% or more from fiscal 2021 to 2024.
Up to this point, Fuji Electric has developed and applied SiC power semiconductors for equipment such as inverters for railcars and power conditioning systems used for power conversion in photovoltaic power plants. Fuji Electric intends to widen the scope of its application to electrified vehicles, whose market is expected to expand, and contribute to the realization of a decarbonized society.
South Korean GaN epi-wafer startup, IVWorks (Intellectual Value Works) announced that they acquired Saint-Gobain's (France) GaN wafer business.
GaN epi-wafer is a material comprising multi-stacked III-N compound semiconductor films on a wafer. It is used in high-speed chargers, electric vehicle (EV) power conversion, and defense radars. Silicon carbide (SiC) or silicon (Si) wafer is used to stack III-N films depending on the application field, but GaN wafers are required in high-power devices such as EV powertrains.
Saint-Gobain in France and some Japanese material companies, such as Sumitomo and Mitsubishi, are leading production technology of GaN wafers. With the acquisition of the GaN wafer business from Saint-Gobain, IVWorks has acquired state-of-the-art technology for mass production of 4- and 6-inch GaN wafers.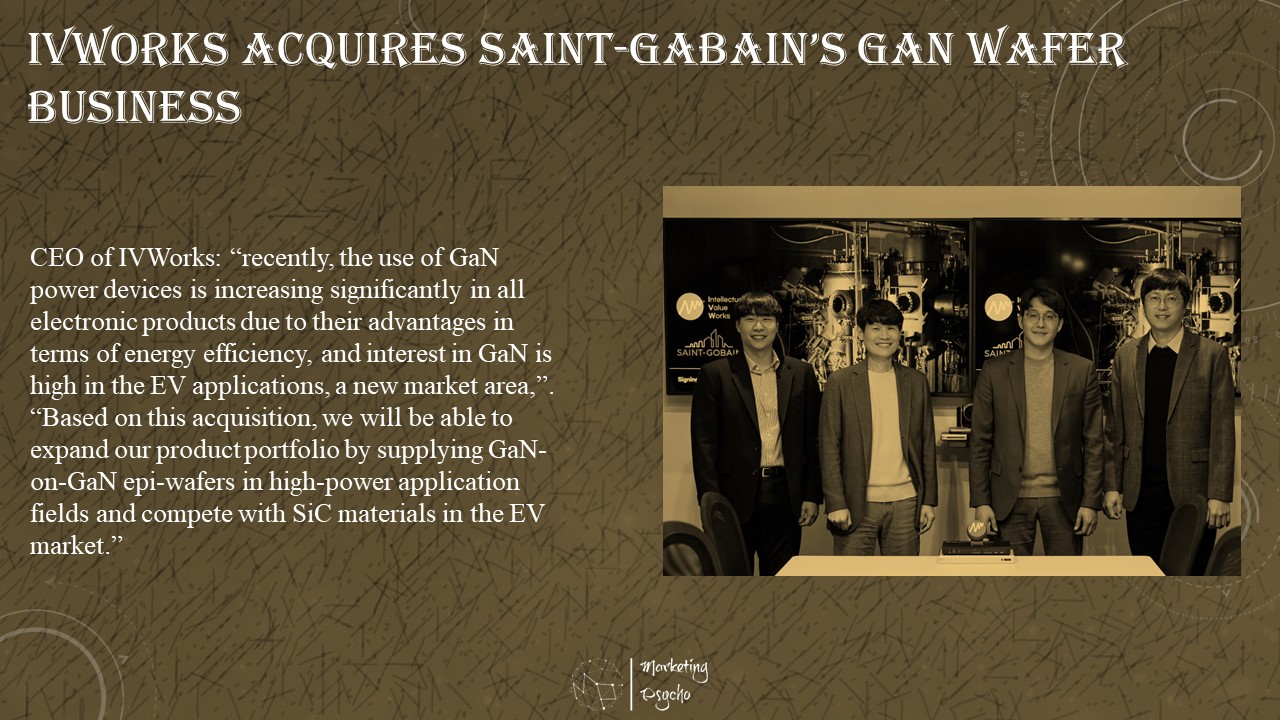 Worldwide leader in light and sustainable construction, Saint-Gobain designs, manufactures and distributes materials and services for the construction and industrial markets. Saint-Gobain developed the core technology to create state-of-the art GaN wafers that is better leveraged by a company solely focused on this opportunity.
IVWorks is the sole South Korean enterprise specializing in semiconductor materials that has successfully mass-produced GaN epi-wafers of 4-, 6-, and 8-inch. It has to its credit the in-house development of the world's first epi-wafer production technology integrated with an artificial intelligence production system. The pioneering start-up has also recently installed a 12-inch production facility, for the first time in South Korea.
CEO Young-Kyun Noh of IVWorks said "recently, the use of GaN power devices is increasing significantly in all electronic products due to their advantages in terms of energy efficiency, and interest in GaN is high in the EV applications, a new market area,". "Based on this acquisition, we will be able to expand our product portfolio by supplying GaN-on-GaN epi-wafers in high-power application fields and compete with SiC materials in the EV market."
US semiconductor company Wolfspeed is to create around 40 new jobs in Belfast and Northern Ireland by 2025. Most of the roles will be located at the company's new global IT services hub in Belfast, which is due to open in February.
Wolfspeed has already begun recruiting for the first wave of new workers. The company is looking to fill roles in core IT operations and services such as infrastructure, network operations, systems engineering and application development along with cybersecurity and compliance.
US-based Wolfspeed is a developer of semiconductors, supplying silicon carbide materials and devices to an international customer base in sectors including electric vehicles, renewable energy and storage, communications infrastructure, aerospace and defense.
Its new Belfast hub will help with IT support and will also be a center of excellence for automation engineering and data analytics, leading the company's digital transformation to high-tech manufacturing.
In addition to the center in Belfast, the company will have hybrid home and office roles for applicants from all parts of Northern Ireland.
Invest NI offered financial assistance of approximately £300,000 to Wolfspeed, as well as advice on the hub's location and how to find suitable office space.
Steve Harper, Invest NI's executive director of international business, said: "Wolfspeed initially approached us after hearing directly from another inward investor about their positive experiences here. This shows how important our diaspora network is to help promote Northern Ireland as an investment location.
"The company also plans to work with our colleges and universities to support its talent pipeline and culture of innovation," he added.
David Costar, senior VP and CIO for Wolfspeed, said that the new center would be "a strategic shared services hub" for the company's IT organization, helping to drive innovation and expansion of its global operations into Europe.
"The financial support from Invest Northern Ireland, high quality of talent, infrastructure and academic expertise, and the positive experiences of other companies convinced us this was the right location for a strategic investment," Costar added.
GAC Group announced that its subsidiary, GAC Parts, has recently established a joint venture with Zhuzhou CRRC Times Electric to establish Guangzhou Qinglan Semiconductor Co., Ltd. with a registered capital of 300 million yuan. The new company will mainly focus on new energy vehicle independent IGBT technology research and development and industrial applications.
The project is planned to be settled in GAC Intelligent Connected New Energy Vehicle Industrial Park, with a total investment of about 463 million yuan. The investment will be divided into two phases. The planned production capacity of the first phase is to produce 300,000 automotive IGBT modules per year, and it is planned to be put into operation in 2023; the planned production capacity of the second phase is to produce additional 300,000 automotive IGBT modules per year, and it is planned to be put into production in 2025. After the completion of the project, the total production capacity of 600,000 IGBTs/year can be realized.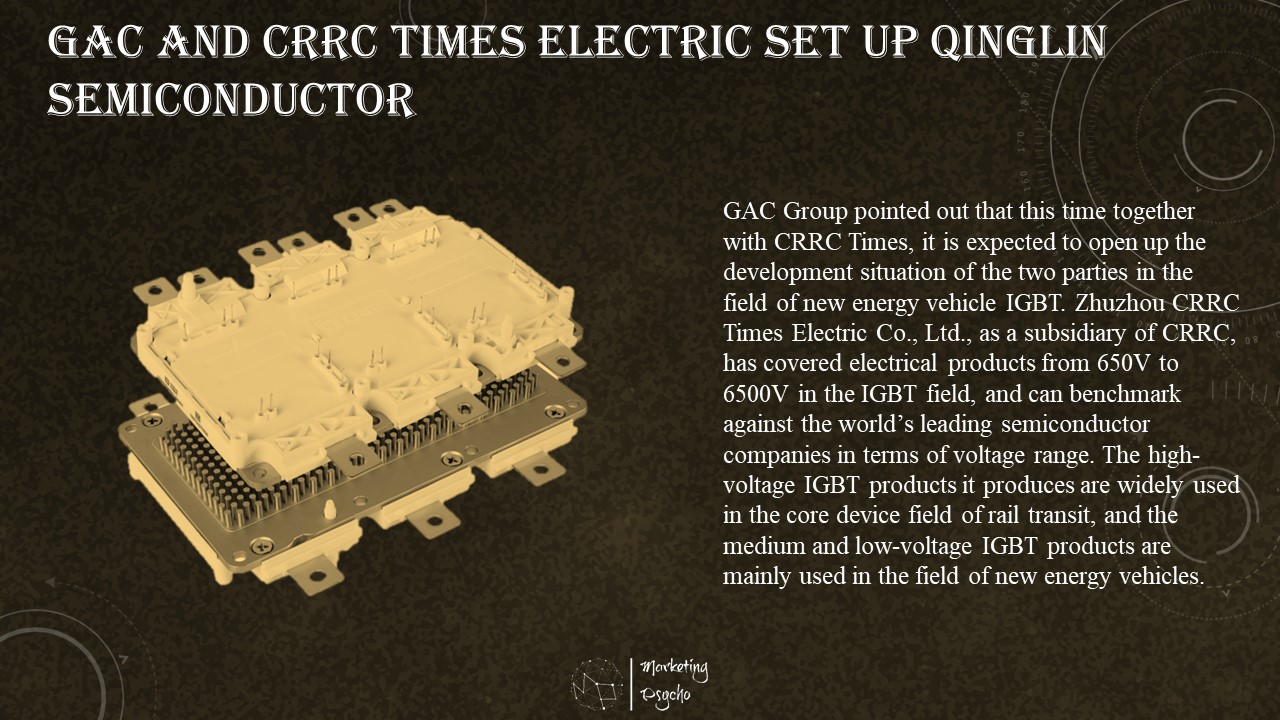 GAC Group pointed out that this time together with CRRC Times, it is expected to open up the development situation of the two parties in the field of new energy vehicle IGBT. Zhuzhou CRRC Times Electric Co., Ltd., as a subsidiary of CRRC, has covered electrical products from 650V to 6500V in the IGBT field, and can benchmark against the world's leading semiconductor companies in terms of voltage range. The high-voltage IGBT products it produces are widely used in the core device field of rail transit, and the medium and low-voltage IGBT products are mainly used in the field of new energy vehicles.
Application Samples allow power electronics developers to test their SEMIKRON devices even faster. Along with corresponding reference designs, Application Samples reduce prototyping effort, allowing for reduced time to market.
This SEMIKRON webinar provides an overview of available Application Samples and how they benefit power electronics development.
Key Takeaways:
How do Application Samples reduce development time?
Which Application Samples are available?
Where can more information about Application Samples be found?​​​​​​​
Date: February 15, 2022
Time: 4 PM CET
Duration: 45 minutes
Subscribe to Power Semiconductors Weekly and watch it on YouTube every Tuesday.
If you prefer a monthly update about the world of power semiconductors delivered to your e-mail address, please, subscribe to Marketing Psycho Power Semiconductors newsletter.