Power Semiconductors Weekly Vol. 53
Magnachip Semiconductor Corporation announced that the company has launched 11 new generation high-voltage 600V Super Junction Metal Oxide Semiconductor Field Effect Transistors (SJ MOSFETs). The company has already released product samples and plans to begin mass production of them in March 2022.
The new 2.5th generation (2.5G) 600V SJ MOSFETs were developed using new designs based on the latest process technology to improve switching functionality by more than 10% compared to previous generations. As a result, Magnachip has achieved lower switching loss and better power efficiency. For applications requiring high Electrostatic Discharge (ESD) ruggedness, a Zener diode is embedded between a gate and source in order to avoid damage to a MOSFET from an external surge or ESD.
The new product family of 600V SJ MOSFETs supports an Rds(on) (drain-source on resistance) of 190~580mOhm and comes in standard packaging formats, such as DPAK, TO-220F and TO-220SF. Therefore, these new 2.5G products can be widely used in products and applications including TVs, lighting infrastructure, fast chargers, adapters, PC power and industrial power supplies. They are also well suited for hard- and soft-switching topologies.
Magnachip has been delivering high-performance MOSFETs for the last 10 years. Cumulative shipments have now reached 2 billion units since the release of its first SJ MOSFET in 2013. Magnachip has supplied its current flagship 600V SJ MOSFETs to the world's largest TV manufacturers and solidified its competitive edge in the SJ MOSFET market. Recently, major Korean TV manufacturers have stimulated demand by releasing premium models and demand for MOSFETs is expected to increase significantly along with the growth of premium TV market.
"With industry-proven technologies and products, Magnachip has satisfied the latest design requirements for both consumer and industrial markets," said YJ Kim, CEO of Magnachip. "We will continue to develop cutting-edge power solutions like high-voltage SJ MOSFETs for automotive to expand our product portfolio and bring new capabilities to more applications."
With the rapid growth of the electric vehicle market, USI (Universal Scientific Industrial) has begun to lay out the assembly and testing of power modules for major international power semiconductor suppliers in recent years. Recently, USI won the favor of several European, American, and Japanese clients. As a result, USI expects to officially mass-produce IGBT and SiC power modules for electric vehicle inverters in 2022.
According to Canalys, a research organization, 2.6 million electric vehicles were sold in the first half of 2021. Compared with the same period last year, sales have grown by 160%, far higher than the 26% growth rate of the global automobile market. The growth of the electric vehicle market has driven the demand for crucial power semiconductor components and modules. In particular, third-generation semiconductors boast high efficiency, low energy consumption, high frequency, high power, high voltage, and high-temperature resistance, all of these features can improve the fast-charging efficiency of electric vehicles. The development of electric vehicles and their components and modules complement each other, further accelerating the rise of third-generation semiconductor SiC and GaN chips and modules.
The five major systems of electric vehicles include the auto body, electricity, charging, battery, and motor power. Among these systems, power semiconductor components and modules are widely used for charging, battery management systems, and motor power. Electric vehicles need inverters to convert high-voltage DC power from the battery into AC power for the motor to drive. USI won a long-term contract for power modules from European clients in 2019. The modules are used for On-Board Chargers (OBC), the standard configuration for all electric vehicles, and plug-in hybrid electric vehicles. OBC converts AC power to DC power in order to charge the power battery, of which the power module plays a vital role in current rectification and voltage stabilization.
Aaron Chen, the AVP of Automotive Electronics BU of USI, said: "With a flexible and agile structure, USI will introduce product automation to continuously improve powertrain manufacturing and testing technology related to electric vehicles. The next 5 years will continue to grow, bringing tremendous growth to the automotive electronics business. Automobile OEMs and Tier 1 suppliers have high requirements for localized production. In response to growing transportation costs, USI has established 27 production locations worldwide across 4 continents, including Europe, the United States, Asia, and Africa, having the ability to provide customers with the most suitable localized manufacturing service solutions, quickly respond to customer needs, and enhance the value for customers."
USI has more than 40 years of experience in automotive electronics fields. In addition to the successful efforts of the Powertrain System for vehicles, which has been recognized by European and American original equipment (OE) and Tier 1 suppliers, electric vehicle and new energy vehicle components have become important aspects of the company's roadmap for automotive electronic products. These components are also driving factors of USI's future growth.
Toshiba Electronics Europe GmbH established a new high-voltage laboratory in Germany. In line with the company's shift in focus towards more power-related products, Toshiba invested this year in infrastructure and equipment such as high voltage power sources, loads and measuring equipment.
The high-voltage lab will be an integral part of Toshiba support and service activities for local European customers for power devices and solutions, specifically wide bandgap (SiC and GaN) technologies. Paired with engineering capabilities, for example, simulations of key power topologies and the design of reference models for power supply (i.e., PFC), inverter and EV charging applications customers can call on local support to optimize their systems related to efficiency and power density.
"The decision to invest comes as a result of recent growth we have seen through an increase in the diversity of applications our products are specified and application-related questions from customers. The new high-voltage lab will allow these to be addressed more rapidly in the customer's own time zone and language," explains Armin Derpmanns, General Manager, Semiconductor Marketing, Toshiba Electronics Europe GmbH.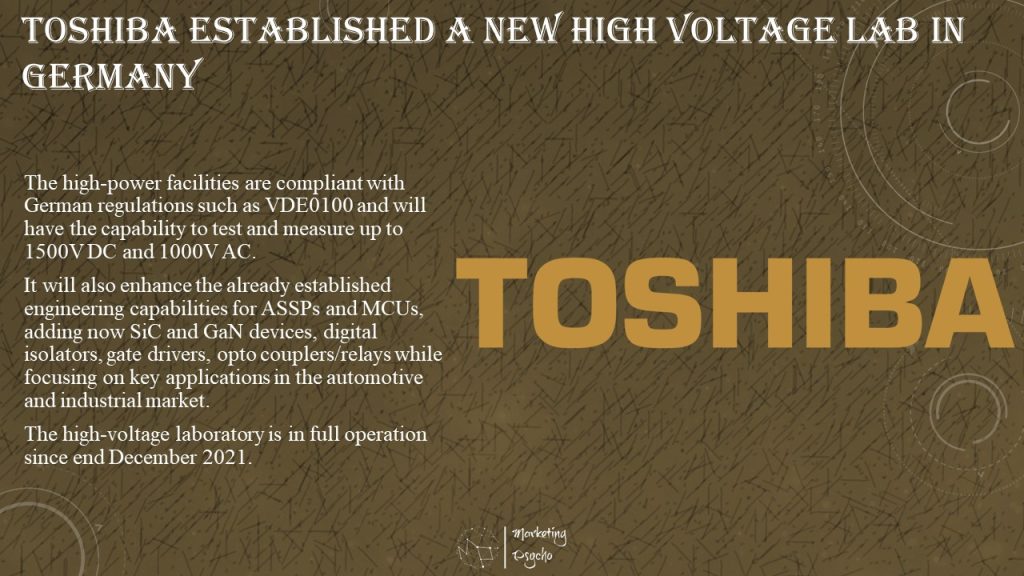 The high-power facilities are compliant with German regulations such as VDE0100 and will have the capability to test and measure up to 1500V DC and 1000V AC.
It will also enhance the already established engineering capabilities for ASSPs and MCUs, adding now SiC and GaN devices, digital isolators, gate drivers, opto couplers/relays while focusing on key applications in the automotive and industrial market.
The high-voltage laboratory is in full operation since end December 2021.
Mitsubishi Electric is currently considering expanding production capacity for power semiconductors and turning its LCD panel plant in Kumamoto, Japan into a power semiconductor manufacturing facility.
As increasing numbers of countries are committed to achieving net-zero emissions in the coming decades, demand for power semiconductors, which can be used to improve energy efficiency for electric vehicles, appliances, and energy equipment, has risen. As a result, many semiconductor manufacturers are expanding their production.
According to information on its website, Mitsubishi Electric currently has three power semiconductor factories in the Japanese prefectures of Kumamoto, Fukuoka, and Hiroshima. Its Hiroshima plant was purchased from Japan based electronic product maker Sharp for JPY 20 billion (US$180 million) in 2020 and is expected to begin production of power semiconductors in the spring of 2022.
Mitsubishi Electric previously announced that it would invest JPY 130 billion on power semiconductors between 2021 to 2025, and Fuji Electric and Toshiba have similar production expansion plans. Fuji Electric has decided to transform its hard disk drive (HDD) component factory in Malaysia into a power semiconductor plant and build new 8-inch wafer production lines between 2023 and 2024, while Toshiba is expected to begin power semiconductor production in Nomi, Ishikawa in 2023.
WeEn Semiconductors' Global Operation Center launch ceremony was held in Shanghai with the theme of "New Journey and United Strength", not only highlighting the new image of WeEn Semiconductors, but also marking a significant milestone in the company's growth. At the Global Operation Center launch ceremony, WeEn Semiconductors' distributors, vendors, as well as media and business partners expressed their heartfelt congratulations!
Since its divestment from NXP Semiconductors in 2015, WeEn Semiconductors has continued to grow from a new brand to a well-known international brand in power semiconductors with its robust technology and quality products. In the past six years, WeEn has established technology leadership in the industry with its wide range of products such as Triacs, SCRs, Rectifier diodes, 6th-generation Silicon Carbide diodes, SiC-MOSFETs, IGBTs, TVS/ESD, etc.
WeEn's newly launched Global Operation Center, with a total area of over 2,100 square meters, includes business and functional departments such as R&D, Marketing, Sales, Supply Chain, Operations, Finance and Human Resources. This development in the past six years strongly indicates that WeEn will continue to expand its footprints in terms of application areas, stick to its development strategy, and pursue higher goals with new attitude.
Mr. Markus Mosen, CEO of WeEn Semiconductors, joined the launch ceremony virtually from Hamburg, Germany and sent his best wishes. Mr. Markus Mosen said that WeEn Semiconductors has a very strong customer base with more than 5,000 customers worldwide. This includes international first-tier brands to small and medium-sized customers. He stressed that WeEn Semiconductors will continue to invest in product development as an enabler. Headquartered in Shanghai and with global footprints, the company will better contribute to the development of China's Semiconductor Industry.
Brian Xie, director of Global Marketing showed data from Omdia, an authoritative industry research institute, revealing that WeEn Semiconductors' market share in Thyristors – a large product line – was ranked 2nd in the world and 1st in China. In terms of market share, WeEn Semiconductors is also currently the top domestic manufacturer in the Silicon Carbide diode market.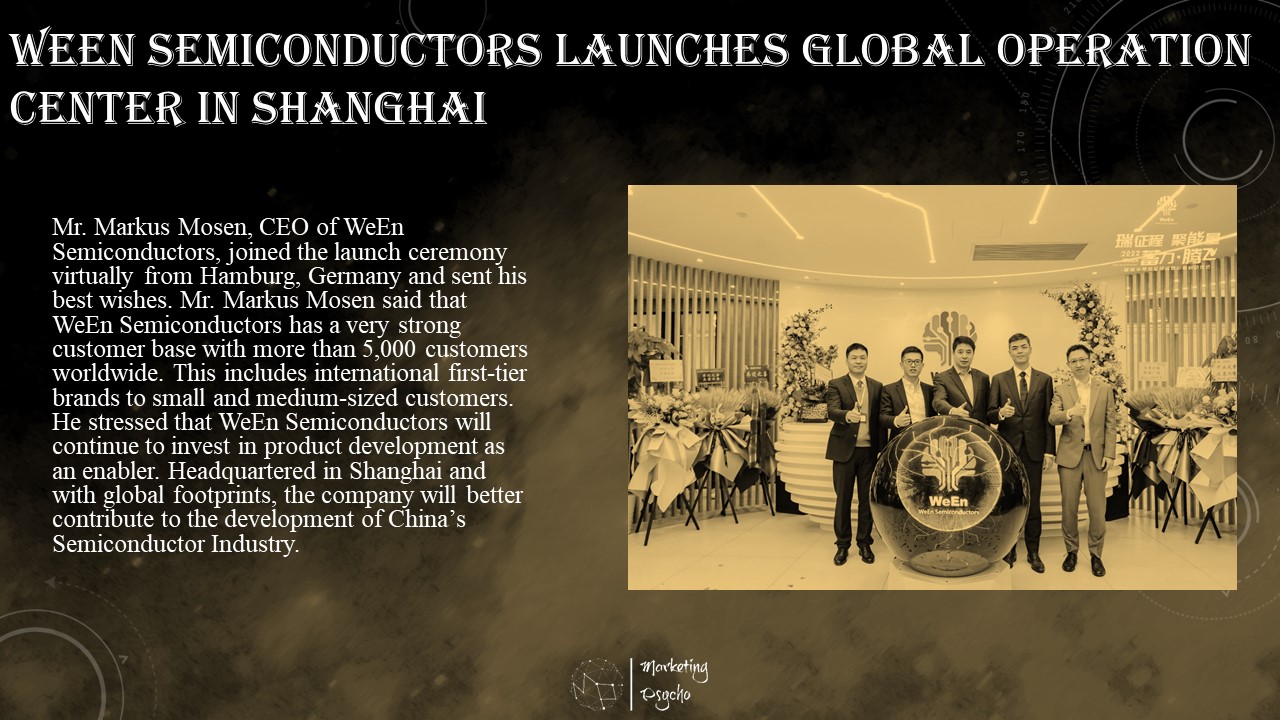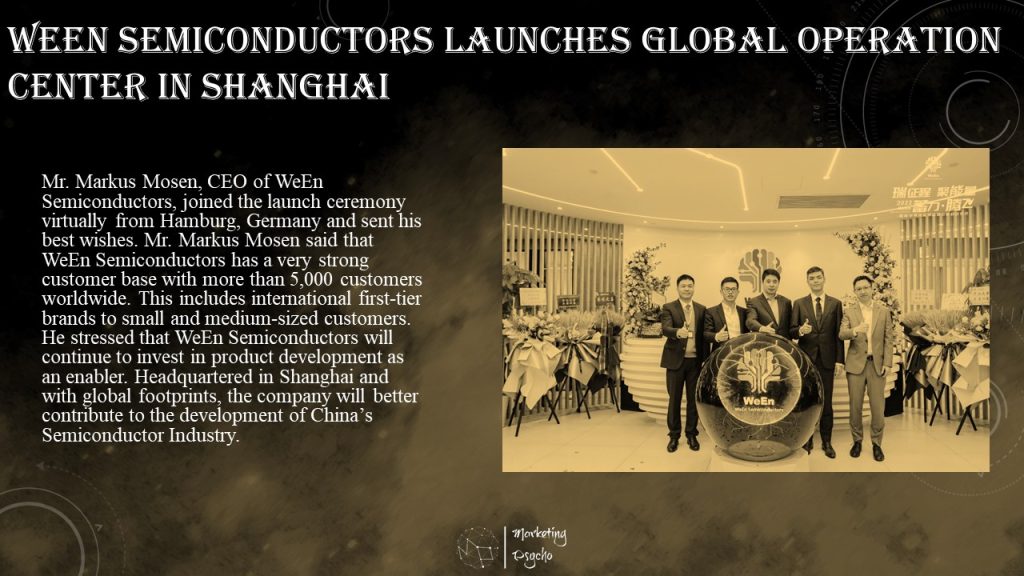 Aiming to become the world's leading Chinese supplier of power semiconductors, WeEn Semiconductors looks forward to providing customers with a wide range of reliable, cost-effective, and innovative power semiconductor devices to enable them to achieve optimal efficiency in specific applications. Currently, the four pillars of WeEn Semiconductors' product applications are Consumer Electronics, Renewable Energy, Big Data and Automotive Electronics. For Consumer Electronics, the focus is on Three Quadrant Triacs, ACT/ACTT AC Switches with over-voltage clamping, SCRs and fast recovery diodes. Also advanced WeEn products have been widely used in Solar Inverters, Charging Piles, In-Vehicle Chargers and a range of other applications.
Golden Zhang, vice president of Global Sales at WeEn Semiconductors, said that the company has now achieved a notable share in the power device market. It will continue to follow the market and application trends and strengthen its footprints in terms of applications in the field of Renewable Energy. WeEn Semiconductors will invest in a new Module manufacturing plant, which will allow the company to expand its product portfolio from discrete devices to Module products. This will cover more customer application scenarios and meet the needs of customers in the Renewable Energy sector with a wide range of mainstream power devices.
WeEn Semiconductors' quality products are robust and reliable with "efficient, reliable and innovative" as the goal. WeEn Semiconductors will continue to invest heavily in research and development, closely focus on customer needs to develop products that are more relevant to applications and provide efficient supply chain management. Meanwhile, WeEn Semiconductors will, as always, continue to provide reliable products that are comparable to the best international brands to help achieve the "double carbon" goal and to drive rapid business growth and long-term value creation.
In the field of Big Data, WeEn Semiconductors' efficient power devices can be applied in data centers, storage server rooms and other high energy consumption scenarios, to support customers to achieve energy saving and emission reduction. Jianfeng Zhang, Silicon Carbide Project Leader at WeEn Semiconductors, revealed that to help solve the "pain-point" of limited driving range and slow charging speed of new energy vehicles, the company will focus on the performance of power devices and keep evolving in terms of technology offerings and product development. This year, the company will leverage the latest Silicon Carbide Technology to develop new Silicon Carbide diodes for automotive-grade in-vehicle charging applications. Meanwhile, samples of automotive-grade Silicon Carbide MOSFET products will be delivered to customers for testing with the aim to supply and meet the large demand for these products.
There is no doubt that WeEn Semiconductors' newly launched Global Operation House will create a stimulating environment for its talented staff to gather their wisdom for collaborative innovation. WeEn Semiconductors will continue to provide innovative, reliable products and high-quality services and grow with its customers.
Talk to the experts at Bodo's wide bandgap talk! Join his virtual roundtable, focused on wide bandgap technology. This virtual open discussion goal is to keep the dialog going on, independent of any events that are hosted on fixed dates.
These expert talks are built on the articles Bodo published in his magazine, giving everyone the chance to ask questions to the experts out of the industry.
The next event is scheduled for tomorrow January 26. Find more information and register for the expert talk at Bodo's Power Systems magazine website.
If you're looking to design fast and efficient EV fast chargers or power blocks for charger stations, Wolfspeed has a solution. This webinar will cover Silicon Carbide (SiC) power devices for the on-board charger (OBC) and the drive train. Address the growing demand for fast charging the vehicles, harnessing and processing the energy to charge from renewable sources and storing that energy. All this power can be converted more efficiently with Wolfspeed Silicon Carbide (SiC) providing less inverter losses and higher efficiency.
Key Takeaways:
Approaches to circuit architectures using Silicon Carbide
Scalability from discrete to modules
Design and market trends for fast DC charging
Date: January 26, 2022
Time: 6 PM CET
Subscribe to Power Semiconductors Weekly and watch it on YouTube every Tuesday.
If you prefer a monthly update about the world of power semiconductors delivered to your e-mail address, please, subscribe to Marketing Psycho Power Semiconductors newsletter.