Power Semiconductors Weekly Vol. 51
According to the industry sources, Ruttonsha International Rectifier Ltd. will buy 100% stake in Visicon Power Electronics PVT Ltd making Visicon Power, a wholly owned subsidiary of the Ruttonsha.
Visicon Power Electronics Pvt Ltd is the fully owned Indian subsidiary of Silicon Power Corporation (SPCO) headquartered in Malvern, Pennsylvania. Promoted by the founder of Silicon Power Corporation, Dr. Harshad Mehta, Visicon was set to be the first Indian company to "Make in India" WBG power devices.
This acquisition will help Ruttonsha to acquire latest technology and expand its product portfolio across various applications of semiconductors.
The power electronics market will reach an impressive $26B by 2026. The increase will be pushed across various axes, such as the increased volumes of power electronics systems, new applications, and the use of discretes versus modules in power systems.
Looking closely at the different power electronics component types, three essential items must be considered. First, the low-power market, ruled by silicon MOSFET components, will keep growing at 3.8% CAGR2020-2026, pushed by consumer electronics, automotive auxiliary systems, and small power industrial applications. Consumer applications account for a significant portion of the silicon MOSFET demand. GaN will grab a share of the silicon MOSFET market, mainly for fast chargers for consumer electronics. Automotive auxiliary systems are also worth a closer look as there is an enormous increase in small auxiliary systems in the car.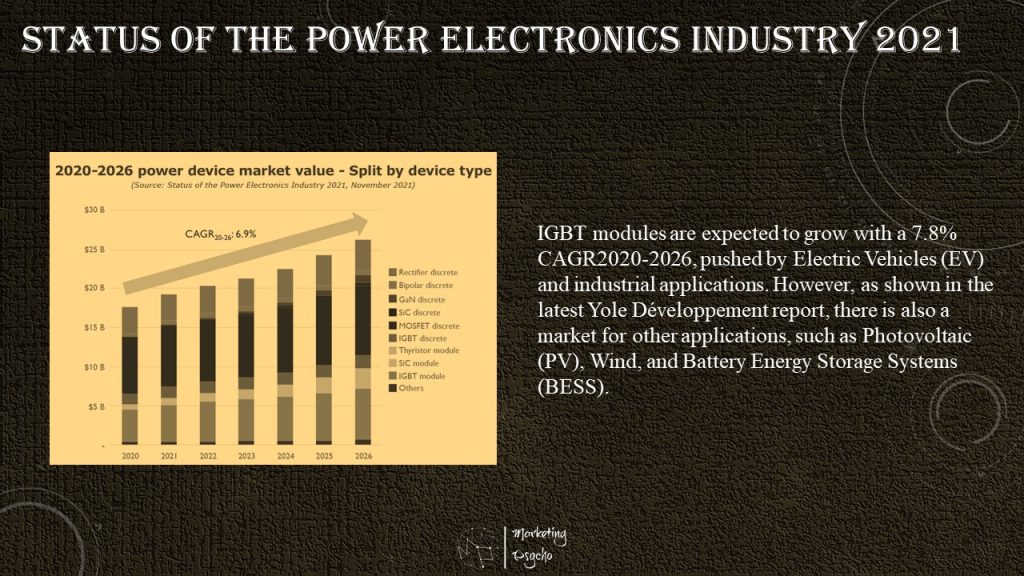 Second, IGBT modules are expected to grow with a 7.8% CAGR2020-2026, pushed by Electric Vehicles (EV) and industrial applications. However, as shown in the latest Yole Développement report, there is also a market for other applications, such as Photovoltaic (PV), Wind, and Battery Energy Storage Systems (BESS).
Last but not least, there is very significant penetration of SiC MOSFET discretes and modules into EV applications, which will contribute largely to the $2.6B SiC MOSFET market expected by 2026. EV and its high-quality standards are also pushing for an enormous increase in the power module packaging market. You will find more information about the incredible pace of the power electronics market in 'Status of the Power Electronics Industry 2021' report.
The power module packaging raw materials market is growing and will reach an impressive $3.5B market value by 2026. This market's promising outlook is beneficial for the power module packaging material business, which Yole Développement covers in their latest report.
This report looks closely at the substrate, baseplate, die-attach, substrate-attach, encapsulation, electrical interconnection, and thermal interface material (TIM) markets in terms of technology and market forecast. In 2020, the largest packaging material segment was for baseplates, followed by substrates. While other 28% of that market is represented by die-attach and substrate-attach materials.
The major technological choices in these segments can rapidly impact the overall power module packaging market. For example, the market share for silicon nitride as a substrate is increasing, driven primarily by EV/HEVs. This technology is pricier than more conventional aluminum oxide substrates. The 2020-2026 CAGR for the substrate market is 15.6%, higher than for other market segments.
Find out more in Yole Développement 'Status of the Power Module Packaging Industry 2021' report.
The market outlook for SiC devices is promising. According to Yole Développement, it is expected to grow from $716M to $3B for the period 2020 – 2025. Nevertheless, the technical panorama of SiC devices is still varying, and every manufacturer has its own solutions to die design and packaging integration. This leads to strong competition, which will accelerate technical innovation and lower prices. Moreover, SiC business models are still very different.
Since the commercialization of the first SiC device in 2001, the performance of SiC devices and the value that they add have been gradually proven. Their price has also become increasingly acceptable to end-users.
SiC transistors still have some technical and commercial challenges to face, despite the value they add. These include the wafer price and the complexity of some process steps specifically, SiC epitaxy, SiC etching, and high-temperature implantation. These challenges still hinder SiC adoption on a large commercial scale.
In their report, System Plus Consulting presented an overview of the state-of-the-art of SiC transistors. They covered 37 SiC transistors (33 SiC MOSFETs and 4 SiC JFETs) from six voltage classes: 650V, 900V, 1000V, 1200V, 1700V, and 3300V. The transistors are from Rohm, STMicroelectronics, Wolfspeed, Infineon, Littelfuse, IXYS (part of Littelfuse), onsemi, Microsemi, UnitedSiC (now Qorvo), GeneSiC, and Toshiba, and they target different power applications (including three automotive-qualified devices).
This report provides detailed optical and scanning electron microscope (SEM) pictures of the devices' packaging and structure, with a focus on transistor design.
Also included is an estimated manufacturing cost of the analyzed SiC transistors and their selling prices, providing physical, technological, and manufacturing cost comparisons between them.
With the latest COVID outbreak across the world, the tradeshow business is once again under tremendous pressure. Consumer Electronics Show (CES 2022) is said to close one day earlier with many companies cancelling their in-person events there. Let us just hope that APEC and the following shows will run on schedule with no more delays. And speaking of the shows that feel confident to be held.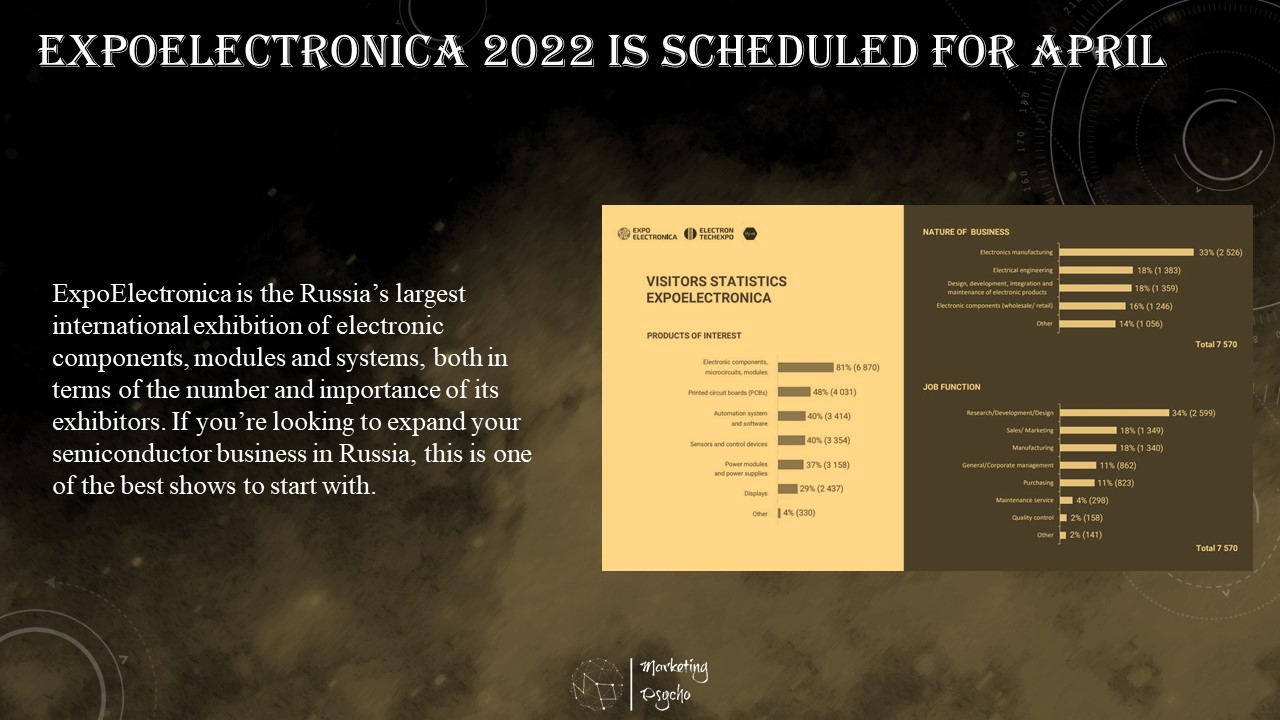 ExpoElectronica is the Russia's largest international exhibition of electronic components, modules and systems, both in terms of the number and importance of its exhibitors. If you're looking to expand your semiconductor business in Russia, this is one of the best shows to start with.
Electronic components, semiconductors, electromechanical, passive components, printed circuit boards and microcircuits, displays, embedded systems and much more is represented at this trade show. This is a meeting place for leaders in the electronic industry and is held with state support. ExpoElectronica 2022 will be held 12-14 of April 2022, Crocus Expo IEC, Moscow, Russia.
Subscribe to Power Semiconductors Weekly and watch it on YouTube every Tuesday.
If you prefer a monthly update about the world of power semiconductors delivered to your e-mail address, please, subscribe to Marketing Psycho Power Semiconductors newsletter.