Power Semiconductors Weekly Vol. 48
onsemi, a leader in intelligent power and sensing technologies, announced its new 600 V SUPERFET V® family of MOSFETs. The high-performance devices enable power supplies to meet demanding efficiency regulations such as 80 PLUS Titanium, especially at the highly challenging 10% load condition. As part of the 600 V SUPERFET family, three product groups – FAST, Easy Drive and FRET – are optimized to deliver class-leading performance in a variety of applications and topologies.
The 600 V SUPERFET V family offers excellent switching characteristics and lower gate noise resulting in enhanced electromagnetic interference (EMI) performance – a significant benefit for server and telecom systems. Additionally, system reliability is enhanced by a robust body diode and elevated VGSS (DC plus−minus 30 V).
"With the objective of tackling climate change, 80 Plus Titanium certification requires server and data storage hardware to deliver 90% power efficiency levels in 10% load conditions, and 96% efficiencies when dealing with 50% loads," said, Asif Jakwani, senior vice president and general manager, Advanced Power Division, at onsemi. "The FAST, Easy drive and FRFET versions of our SUPERFET V family are meeting these demands, providing a robust solution that assures ongoing system reliability.
The FAST versions offer the ultimate efficiency in hard switching topologies (such as high-end PFC) and are optimized to deliver reduced gate charge (Qg) and EOSS losses to enable fast switching. The initial devices include the NTNL041N60S5H (41milliohm RDS(on)) and NTHL185N60S5H (185 milliohm RDS(on)), which are both in a TO-247 package. The NTP185N60S5H is in a TO-220 package and the NTMT185N60S5H is in a 8.0mm x 8.0mm x 1.0mm Power88 package that guarantees MSL 1 and has a Kelvin source configuration to improve gate noise and switching power loss.
The Easy Drive versions are suited to both hard and soft switching topologies and contain an internal gate resistor (Rg) as well as optimized internal capacitance. They are fit to general purpose use in many applications including PFC and LLC. In these devices, the built-in Zener diode between gate and source electrode for over 120 milliohm RDS(on) gives less stress on the gate oxide and higher ESD ruggedness leading to better assembly yield and reduced field failures. Two devices are currently available with 99 milliohm and 120 milliohm RDS(on) – the NTHL099N60S5 and NTHL120N60S5Z are both supplied in a TO-247 package.
The fast recovery (FRFET®) versions are suited to soft switching topologies such as phase-shifted full bridge (PSFB) and LLC. They benefit from a fast body diode and offer reduced Qrr and Trr. The robust diode ruggedness ensures enhanced system reliability. The NTP125N60S5FZ with built-in Zener diode offers 125 milliohm RDS(on) in a TO-220 package while the NTMT061N60S5F offers 61milliohm in a Power88 package. The lowest loss device is the NTHL019N60S5F which has the RDS(on) of just 19 milliohm in a TO-247 package.
Toshiba Electronic Devices & Storage Corporation ("Toshiba") started mass production of press pack Injection Enhanced Gate Transistor (IEGT) "ST2000GXH32" that employs trench type IEGT chips and newly developed high-speed diode chips for high voltage converters. This product has a collector-emitter voltage rating of 4500 V and a collector current (DC) rating of 2000 A.
The structure of cathode in the diode suppresses voltage oscillation during reverse recovery, improves reverse recovery tolerance. The newly developed voltage blocking structure realizes of withstand voltage at high temperature. Compared with the Toshiba's existing product, new product ST2000GXH32 suppresses voltage oscillation during small reverse recovery current. This allows use of a small gate-drive resistor (RG(on)) and reduces turn-on switching loss (Eon) by approximately 30 % from 12.0 J to 8.4 J (typical).
Furthermore, the improved cathode enhances the peak power during reverse recovery by approximately 29 %. Furthermore, junction temperature rating (Tj) of ST2000GXH32 has been increased from 125 °C to 150 °C (maximum) by improving high temperature tolerance of the diode.
ST2000GXH32 contributes to size reduction and energy saving of high-voltage industrial equipment such as DC power transmissions, static VAR compensators, and motor drive inverters and converters.
Applications
DC power transmission
Static VAR compensator
Industrial motor drive
Features
Low turn-on switching loss: Eon(typ.)=8.4 J (@VCC=2800 V, IC=2000 A, RG(on)=3.6 Ω, LS≈300 nH, Tj=150 ℃)
Wide reverse recovery safe operating area
Maximum junction temperature rating: Tj(max)=150 ℃
STMicroelectronics, a global semiconductor leader serving customers across the spectrum of electronics applications, is introducing its third generation of STPOWER silicon-carbide (SiC) MOSFETs, advancing the state-of-the-art in power devices for electric-vehicle (EV) powertrains and other applications where power density, energy efficiency, and reliability are important target criteria.
The market leader in SiC power MOSFETs, ST has incorporated new and advanced design know-how to open up even more of SiC's energy-saving potential. The effort continues to drive the transformation of the EV and industrial markets. With the acceleration of the EV market many car makers and automotive suppliers are now embracing 800V drive systems to achieve much faster charging and help reduce EV weight. These new systems allow the car makers to produce vehicles with longer driving ranges. ST's new SiC devices are specifically optimized for these high-end automotive applications including EV traction inverters, on-board chargers, and DC/DC converters, as well as e-climate compressors. The new generation also suits industrial applications by boosting the efficiency of motor drives, renewable-energy converters and storage systems, as well as telecom and data-center power supplies.
"We continue to drive this exciting technology forward with innovations at both the device and package levels. As a fully integrated SiC products manufacturer, we are able to deliver continued improved performance to our customers," said Edoardo Merli, Power Transistor Macro-Division General Manager and Group Vice President of STMicroelectronics' Automotive and Discrete Group. "We are investing relentlessly to support our automotive and industrial programs expected to generate $1 billion in SiC revenue in 2024."
ST has completed qualification of the third-generation SiC technology platform and expects to move most of the derivative products to commercial maturity by the end of 2021. Devices with nominal voltage ratings from 650V and 750V up to 1200V will be available, giving more choices for designers to address applications operating from ordinary AC-line voltages up to those of high-voltage EV batteries and chargers. The first products available are the 650V SCT040H65G3AG, priced at $5.00 and a 750V device in die form (datasheet and quotation upon request).
CISSOID, the leader in high temperature Semiconductors and Power Modules, and Silicon Mobility, the technology leader inventor of the FPCU (Field Programmable Controller Unit) semiconductor architecture for ultra-fast and critically safe real-time control for New Energy Vehicles, announce the integration of Silicon Mobility's OLEA® FPCU controller with CISSOID's Silicon Carbide (SiC) Intelligent Power Module (IPM) platform. This new highly integrated platform will accelerate the development of compact and efficient SiC Inverters for EV motor drives.
The partnership will deliver a SiC Inverter modular platform offering highly integrated hardware and optimized software: a power module and its gate driver with protections and fault management, an ultra-fast FPCU controller and its application software optimized for e-motor control. CISSOID's IPMs integrate a 3-Phase 1200V/340A-550A SiC MOSFET Power Modules with a temperature-robust gate driver enabling low switching losses and high power density. Silicon Mobility OLEA® FPCU controller and OLEA® APP INVERTER software enables fast and highly efficient electric motor control.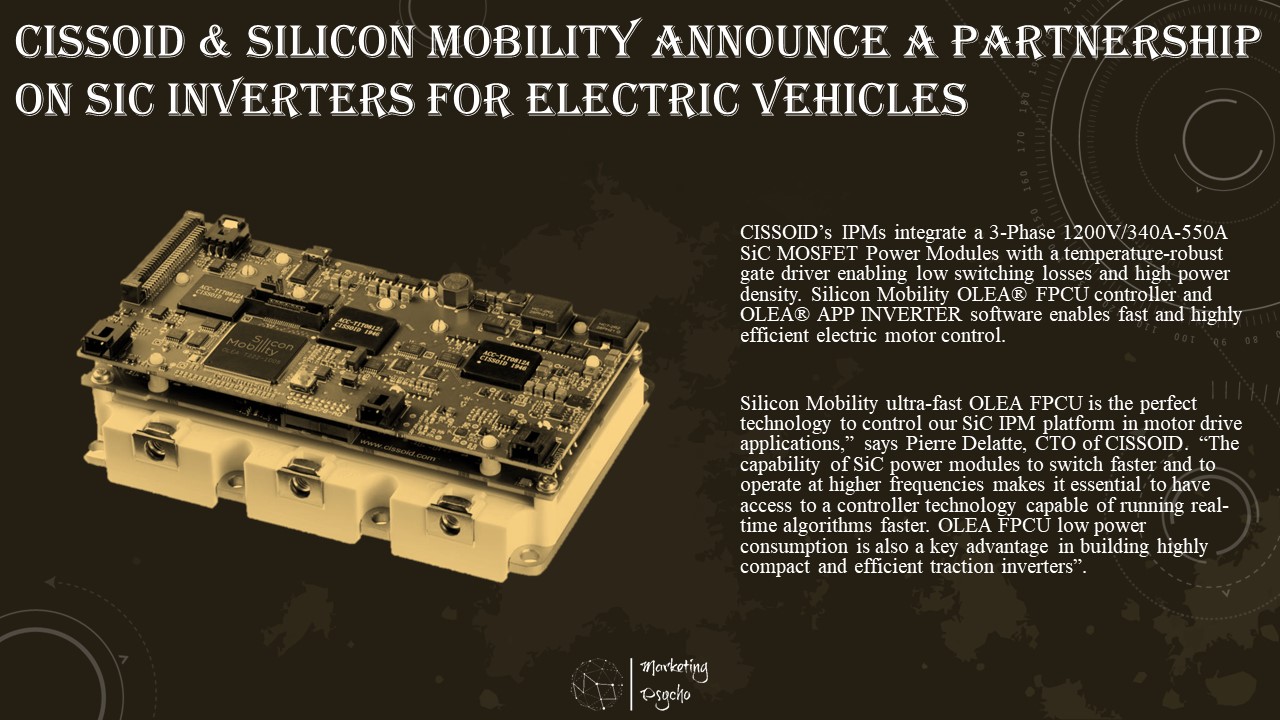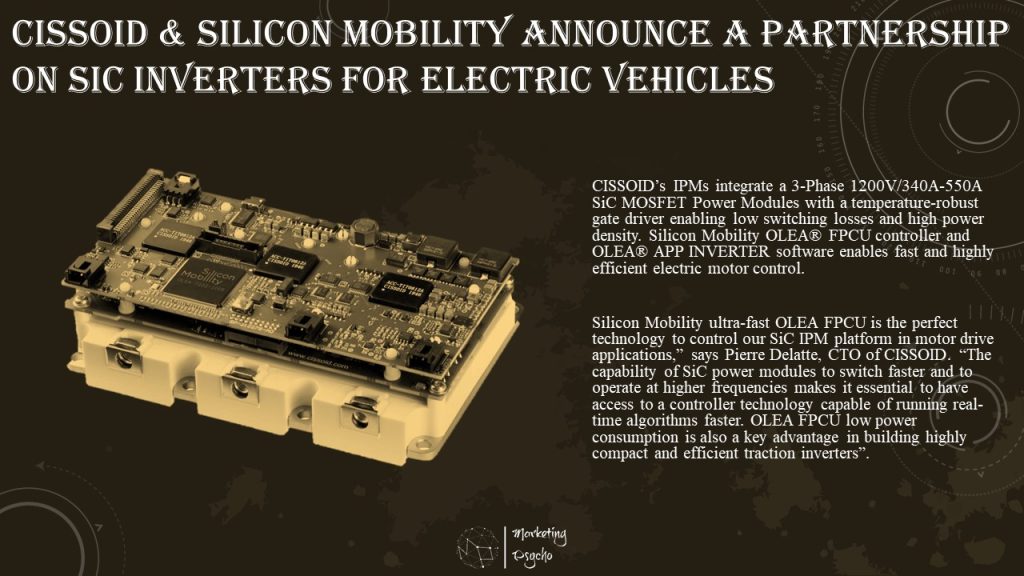 Silicon Mobility ultra-fast OLEA FPCU is the perfect technology to control our SiC IPM platform in motor drive applications," says Pierre Delatte, CTO of CISSOID. "The capability of SiC power modules to switch faster and to operate at higher frequencies makes it essential to have access to a controller technology capable of running real-time algorithms faster. OLEA FPCU low power consumption is also a key advantage in building highly compact and efficient traction inverters".
"CISSOID SiC IPM platform is a great technology in helping to accelerate the development of SiC power converters", says David Fresneau, VP Marketing and Business Development at Silicon Mobility. "By combining CISSOID technology with our OLEA® control solution, we are offering a unique hardware and software platform that will make possible the development of efficient and critically safe SiC inverters in only a few months".
E-mobility and renewable energy systems require power management solutions that drive performance and cost efficiencies in addition to speeding up development time. To keep pace with these requirements, Microchip Technology Inc. announced the collaboration with Mersen on their 150 kilovolt-ampere (kVA) three-phase silicon carbide Power Stack Reference Design. Mersen is a global provider of power management solutions for numerous industrial sectors including e-mobility and energy storage.
Mersen's three-phase SiC Power Stack Reference Design provides system designers with a complete, compact, high-power silicon carbide solution without the need for individual device sourcing, testing and qualification. The Power Stack Reference Design includes Microchip's silicon carbide power modules and digital gate drivers and Mersen's bus bar, fuses, capacitors and thermal management, optimally designed together in a single high-performance stack reference design. With Microchip's 1200V MSCSM120AM042CD3AG silicon carbide MOSFET and AgileSwitch® 2ASC-12A1HP digital gate driver, the Power Stack Reference Design enables engineers to rapidly develop high voltage systems using kits predesigned for their applications – reducing time to market by up to six months.
"Microchip customers will benefit from our collaboration with Mersen to provide silicon carbide MOSFETs and digital gate driver solutions," said Leon Gross, vice president of Microchip's discrete product business unit. "When power inverter designers can source a proven solution, they can avoid sourcing individual parts and reduce risk through reliability – and that helps avoid downtime. Designers now have an all-in-one evaluation system."
The Power Stack Reference Design provides 16 kilowatts per liter (kW/l) of power density and up to 130°C Tj, peak efficiency at 98%, with up to 20 kilohertz (kHz) switching frequency. Utilizing Microchip's rugged silicon carbide MOSFETs and AgileSwitch family of configurable digital gate drivers, the reference design enables engineers to select from 700V and 1200V options in currents up to 750A. Microchip also provides a choice in module construction including baseplate material, Direct Bonding Copper (DBC) ceramic material and die attach method.
"We worked closely with Microchip on the design and development of this silicon carbide Power Stack Reference Design given the availability of highly robust silicon carbide MOSFETs and compatible digital gate drivers from a single source," said Philippe Roussel, PhD, vice president, Global Strategic Marketing Executive Expert at Mersen. "Thus, we can demonstrate our ability to optimize any inverter topologies from our customers, relying on our line of highly reliable bus bars, capacitors, fuses and cooling systems. The versatile Microchip silicon carbide line-up also gives us the capacity to extend these primary specifications to higher voltage, current and switching frequency to meet every customer's operating point needs."
In addition to the products in Mersen's Power Stack Reference Design, Microchip is a provider of other silicon carbide power solutions including families of MOSFETs and Schottky Barrier diodes from 650V to 1700V, available in bare die and a variety of discrete and multi-chip module packages.
Microchip unifies in-house silicon carbide die production with its low-inductance power packaging and digital gate drivers enabling designers to make efficient, compact and reliable end products. These devices pair well with a comprehensive portfolio of microcontrollers (MCUs), analog and MCU peripherals, plus communication, wireless and security technology, providing system designers across many applications with proven total system solutions.
Microchip's AgileSwitch 2ASC-12A1HP 1200V dual-channel digital gate driver with Augmented Switching™ technology is production qualified and fully configurable. The AgileSwitch 2ASC-12A1HP gate driver and next-generation 2ASC-12A2HP are supported by Microchip's Intelligent Configuration Tool (ICT), an interface allowing users to configure gate driver parameters including the gate switching profiles, system critical monitors and controller interface settings. The ICT, a free-of-charge download, saves development time.
They are small, powerful, and extremely efficient: semiconductors made of silicon carbide (SiC). After several years of development, Bosch is now starting volume production of power semiconductors made of this innovative material, supplying automotive manufacturers worldwide. In the future, more and more production vehicles will feature these chips.
"The future for silicon carbide semiconductors is bright. We want to become a global leader in the production of SiC chips for electromobility," says Harald Kroeger, member of the board of management of Robert Bosch GmbH. Two years ago, the supplier of technology and services had announced that it would push ahead with the development of SiC chips and enter production. For this, Bosch has developed its own highly complex manufacturing processes, which it has been using to produce the special semiconductors since the beginning of 2021 – initially as samples for customer validation. "Our order books are full, thanks to the boom in electromobility," Kroeger says.
In the future, Bosch intends to expand its production capacity for SiC power semiconductors to a unit volume running into the hundreds of millions. With this in mind, the company has already started expanding the clean-room space at its Reutlingen plant. In parallel, work is also being done on the second generation of SiC chips, which will be even more efficient and should be ready for volume production as of 2022.
Bosch is receiving support for the development of these innovative manufacturing processes for SiC semiconductors from the German Federal Ministry for Economic Affairs and Energy (BMWi) as part of the "Important Project of Common European Interest (IPCEI) Microelectronics" program. "For several years now, we have been providing support to help establish semiconductor production in Germany. Bosch's highly innovative semiconductor production strengthens the microelectronics ecosystem in Europe and is a further step toward greater independence in this key field of digitalization," says Peter Altmaier, Germany's Federal Minister for Economic Affairs.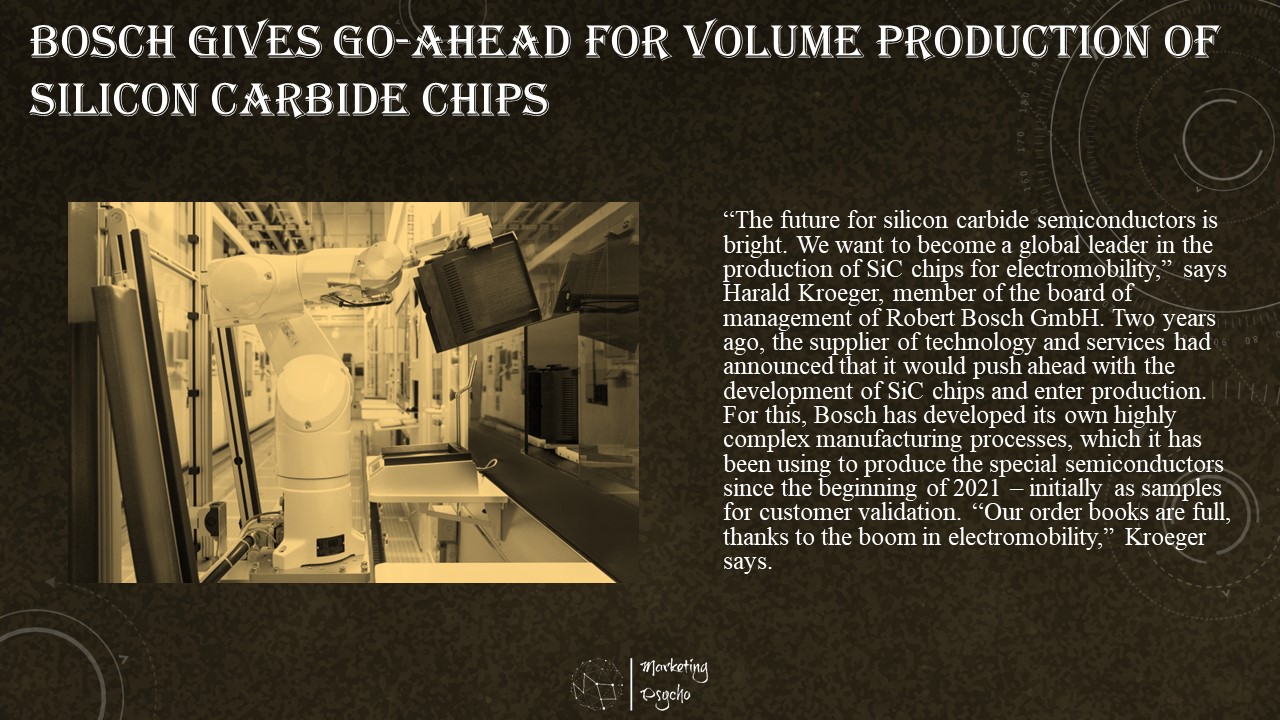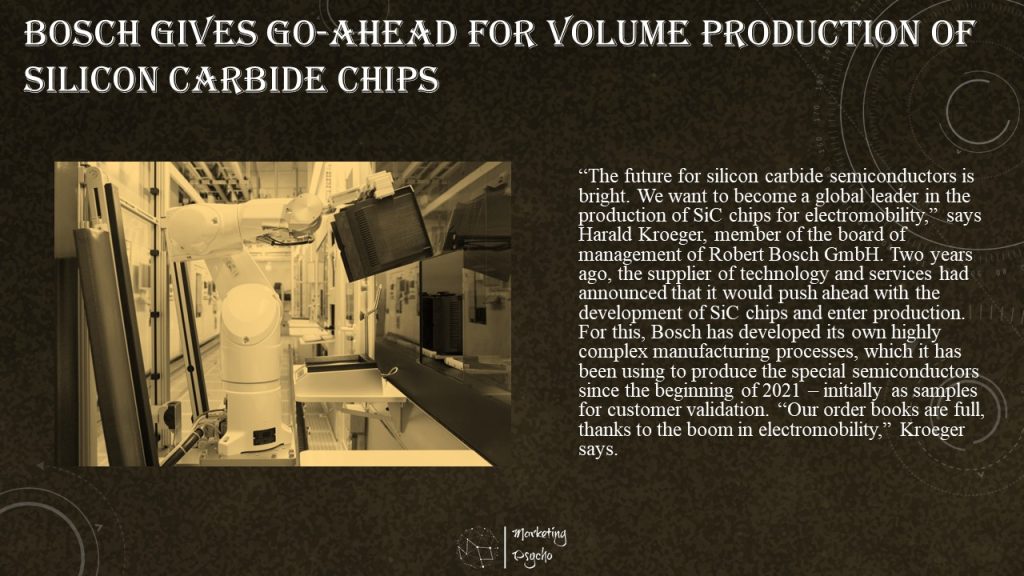 Around the world, demand for silicon carbide power semiconductors is rising. A forecast by the market research and consulting company Yole indicates that, between now and 2025, the SiC market as a whole will grow on average by 30 percent a year to over 2.5 billion dollars. At around 1.5 billion dollars, the SiC car market is expected to account for the lion's share. "Silicon carbide power semiconductors make particularly efficient use of energy. This material's advantages really come to the fore in energy-intensive applications such as electromobility," Kroeger says.
In the power electronics of electric vehicles, silicon carbide chips ensure that drivers can drive significantly further on one battery charge – on average around 6 percent further than with their pure silicon counterparts. In order to meet steadily increasing demand for these semiconductors, an extra 1,000 square meters were already added to the clean-room space at the Bosch wafer fab in Reutlingen in 2021. Another 3,000 square meters will be added by the end of 2023. The new space will house state-of-the-art production facilities for manufacturing silicon carbide semiconductors using processes developed in-house. To achieve this, Bosch's semiconductor experts are building on their decades of expertise in chip manufacturing.
In the future, the company – incidentally the only automotive supplier to produce its own silicon carbide chips – plans to manufacture the semiconductors on 200-millimeter wafers. Compared with today's 150-millimeter wafers, this will deliver sizeable economies of scale. After all, it takes several months for a single wafer to pass through several hundred process steps in countless machines. "By producing on larger wafers, we can manufacture significantly more chips in one production run and thus supply more customers," Kroeger says.
The secret behind SiC chips' impressive performance lies in a tiny carbon atom. Introducing it into the crystalline structure of the ultra-pure silicon generally used to manufacture semiconductors gives the raw material special physical properties: for example, silicon carbide semiconductors support higher switching frequencies than pure silicon chips. What's more, they lose only half as much energy in the form of heat, thereby increasing the range of electric vehicles. The chips are also important for 800-volt systems, where they enable faster recharging and better performance.
Since the SiC chips also emit significantly less heat, the power electronics require less in the way of costly cooling. In addition to weight, this is another way to reduce the cost of electric vehicles. In the future, Bosch will supply silicon carbide power semiconductors to customers around the world – both as individual chips and installed in power electronics or complete solutions such as the e-axle. This combination of electric motor, gearbox, and power electronics achieves an efficiency of up to 96 percent thanks to the more efficient design of the overall system. This leaves more energy for the powertrain, which increases the range.
The automotive industry is shifting to silicon carbide (SiC) technology. onsemi recently released the first SiC traction power modules. By implementing the latest M2 SiC MOSFET, the VE-Trac SiC Direct platform achieves new levels of performance, efficiency, and reliability. During this onsemi webinar you will learn about the advantage of using SiC power modules in high-power traction inverter applications for your next new energy vehicle (NEV) design.
Key Takeaways:
Understand the differences between SiC and IGBT power modules
Why VE-Trac SiC power module is the platform of choice for your new EV design
Date: December 15, 2021
Time: 6 PM CET
Duration: 45 minutes
Subscribe to Power Semiconductors Weekly and watch it on YouTube every Tuesday.
If you prefer a monthly update about the world of power semiconductors delivered to your e-mail address, please, subscribe to Marketing Psycho Power Semiconductors newsletter.