Power Semiconductors Weekly Vol. 44
Nexperia, the expert in essential semiconductors announced its entry into the high-power Silicon Carbide (SiC) diodes market with the introduction of 650 V, 10 A SiC Schottky diodes. This is a strategic move for Nexperia, already a trusted supplier of efficient power Gallium Nitride (GaN) FETs, to expand its high-voltage wide bandgap semiconductor device offering.
Nexperia's first SiC Schottky diode is an industrial-grade device with 650 V repetitive peak reverse voltage (VRRM) and 10 A continuous forward current (IF), designed to combine ultra-high performance and high efficiency with low energy loss in power conversion applications. Providing the added benefit of a high-voltage compliant real 2-pin (R2P) package with higher creepage distance, it is available in a choice of surface mount (DPAK R2P and D2PAK R2P) or through-hole (TO-220-2, TO-247-2) devices. Engineering samples are available on request with a full product release planned for the second quarter of 2022. Nexperia plans to continuously increase its portfolio of SiC diodes, which will lead to a total of 72 products operating at voltage levels of 650 V and 1200 V and with currents in the range of 6-20 A.
In an increasingly energy-conscious world, there is a burgeoning demand for high power applications with superior efficiency and power-density. In this regard, Silicon is fast approaching its physical limits. According to Mark Roeloffzen, General Manager of the Bipolar Discretes Group at Nexperia "Wide bandgap semiconductors like Gallium Nitride and Silicon Carbide are now well placed to meet the stringent needs of high-volume applications, bringing the promise of higher efficiency, greater power density, lower system cost and reduced operating costs for original equipment manufacturers. Nexperia's diverse portfolio of SiC diodes will bring greater choice and availability to this market."
Nexperia's SiC Schottky diodes initially target industrial and consumer applications including:
Switch Mode Power Supply (SMPS)
AC-DC and DC-DC converters
Battery charging infrastructure
Uninterruptible Power Supply (UPS)
Photovoltaic inverters
Nexperia also plans to release automotive-grade devices for use in vehicle electrification applications such as:
On-board Chargers (OBC)
Inverters
High-voltage DC-DC converter
The PSC1065H (-J/-K/-L) is the first in a portfolio of SiC Schottky diodes that Nexperia is developing to address the automotive and industrial markets. More information on the new PSC1065x, including product specs and datasheet is available at www.nexperia.com/sic_diodes
Diodes Incorporated has introduced a portfolio of automotive MOSFETs packaged in the space saving, thermally-efficient TOLL (PowerDI®1012-8) package. Capable of operating to 175°C, the 100V-rated DMTH10H1M7STLWQ and DMTH10H2M5STLWQ, plus the 80V-rated DMTH8001STLWQ MOSFETs occupy 20% less PCB area than the TO263. These devices feature an off-board profile of just 2.4mm. This makes them ideal for use in high reliability power applications, such as energy recuperation, integrated starter alternators, and DC-DC converters in battery-equipped vehicles.
The TOLL package uses clip bonding to achieve low package resistance and reduced parasitic package inductance enabling the DMTH8001STLWQ, DMTH10H1M7STLWQ, and DMTH10H2M5STLWQ to achieve typical on-resistances of 1.3mΩ, 1.4mΩ, and 1.68mΩ, respectively at a gate drive of 10V. Moreover, the low parasitic package inductance provides improvements in circuit EMI performance.
With a solder contact area that is 50% bigger than the TO263, the TOLL package enables a junction-case thermal impedance of 0.65°C/W, allowing these MOSFETs to handle currents up to 270A. Their tin-plated trapezoidal grooved leads help to facilitate automated optical inspection (AOI) procedures. These MOSFETs are qualified to AEC-Q101, PPAP capable, and are manufactured in IATF 16949 certified facilities.
For 10,000 piece quantities, the DMTH8001STLWQ unit cost is $2.36; the DMTH10H1M7STLWQ unit cost is $2.36; and the DMTH10H2M5STLWQ unit cost is $2.00.
Many of today's key projects focus on the same objective: to improve energy efficiency and thereby protect the environment. These projects are typically in areas such as electromobility, renewable energy, and edge and cloud computing – including the requisite data centers. Experts agree that silicon carbide (SiC) semiconductors and the electronic components containing them will ensure the most efficient use of the electricity at our disposal. The object of the publicly funded "Transform" project (trusted European SiC value chain for a greener economy) is to establish a resilient European supply chain for this technology, ranging from wafers and other basic materials right up to finished SiC power semiconductor devices and power electronic applications.
In a consortium led by Bosch, a total of 34 companies, universities, and research institutes from seven European countries have joined forces to work toward this goal. "The aim of the Transform project is to secure a leading role for Europe in new technologies based on silicon carbide," says Jens Fabrowsky, who holds the position of executive vice-president in the Bosch Automotive Electronics division. Scheduled to run until 2024, the publicly funded project is focusing on five use cases in the automotive, industry, renewable energy, and agriculture sectors.
Power electronic applications are at the heart of numerous electronic systems. They control the switching processes in these systems and keep any power losses to a minimum. The power semiconductor devices in these applications ensure that they operate as efficiently as possible. Conventionally, the chips in these devices are made of ultra-pure silicon. In the future, however, this will increasingly be replaced by silicon carbide, which offers numerous advantages over pure silicon. For example, silicon carbide semiconductors display better electrical conductivity and enables higher switching frequencies while also ensuring that much less energy is dissipated in the form of heat.
In addition, power electronic applications with SiC chips can be operated at much higher temperatures, with the result that a simpler cooling system is required, which also saves energy. And finally, silicon carbide has a higher electric field strength, meaning that components made of this material can be smaller in design while nonetheless delivering a higher power conversion efficiency. Compared with conventional silicon chips, experts believe this will result in an energy saving of as much as 30 percent, depending on where the components are used.
The objective of the Transform project is to establish a resilient European supply chain for the production of power electronic applications based on innovative SiC power semiconductor devices. The demand for such technology is set to grow rapidly, especially with respect to energy-intensive applications such as electrical vehicle powertrains, EV charge spots, and power supply infrastructure.
A forecast by the market research and consulting company Yole indicates that, between now and 2025, the SiC market as a whole will grow on average by 30 percent a year to over 2.5 billion dollars. The Transform project will therefore also cover the development of new SiC technology along with the requisite production processes and methods. In addition, it will endeavor to secure the availability of machinery and equipment for the production of this technology by European suppliers, ranging from wafers to finished power electronic applications.
This project has a budget of more than 89 million euros and is funded by the European Union as well as national bodies. It brings together key players along the SiC value chain in Austria, the Czech Republic, France, Germany, Italy, Spain, and Sweden. Partner companies include – among others – Aixtron, Danfoss, EV Group, Premo, Saint-Gobain, Semikron, Soitec, STMicroelectronics, and Valeo-Siemens Automotive. The various scientific organizations participating include Brno University of Technology, CEA Leti, Fraunhofer IISB, and University of Sevilla.
Geely Auto Group announced its "Smart Geely 2025" strategy that will continue to keep Geely Auto Group at the forefront of the global automotive industry at a technology focused event at Geely Auto's Research Institute in Hangzhou Bay. The release of the "Smart Geely 2025" strategy and the launch of the "Leishen Power" brand represent an acceleration of the Group's goal of becoming a technology-led global automotive group committed to technological innovation and aims to boost Geely Auto's sales to 3.65 million units per year starting from 2025.
A central element of "Smart Geely 2025" is the launch of the "Leishen Power" brand. "Leishen Power" is positioned as a leading intelligent high-efficiency powertrain solutions provider. The products of "Leishen Power" include the Leishen Hi-X smart hybrid powertrain platform, high-efficiency hybrid transmissions, high-efficiency dedicated hybrid engines, and a new generation E-Drive motor. Empowered by Leishen Power technologies, Geely aim to offer consumers a diverse range of electrified mobility including ultra-reliable HEV, 200km long range PHEV, and ranged extended models.
Over the next five years, Geely will launch more than 25 new smart vehicle products, opening the doors to a new era of smart mobility. Geely Auto will release more than 10 intelligent and electrified models powered by Leishen Power hybrid powertrain solutions.
Geometry brand will launch at least 5 new models starting from 2022 developed on pure electric platforms and the SEA architecture for the mainstream market segment. Lynk & Co will launch more than 5 new smart models, further diversifying its product range.
In 2023, Geely Auto Group will launch a new battery swapping mobility brand and 5 new smart battery swapping pure electric models, providing users with new options for intelligent zero-emission mobility.
Earlier in the year, Geely announced that by 2025, the Group would achieve 3.65 million units in annual sales across the Geely Auto, Lynk & Co, Geometry, and Zeekr brands. The premium electric vehicle brand Zeekr alone would contribute 650,000 units in annual sales by 2025.
Geely sales goals are not limited to China – by 2025, the Group aims to achieve exceed 600,000 in overseas sales. The Geely Auto brand will focus on developing the Eastern Europe, Middle East, Southeast Asia, and South America markets as well as introducing new energy products to EU and Asia-Pacific markets. Lynk & Co will expand its global presence by entering Russia, Malaysia, Australia, and New Zealand among others. Geely will also continue its support for PROTON with the goal of making the brand No.1 in Malaysia and top 3 in ASEAN markets with further introduction of new technologies and products.
VERTICAL AND MODULAR ARCHITECTURE BASED DEVELOPMENT
Smart Geely 2025 aims to establish a "Smart Geely Technology Ecological Network" which realizes full-stack independent R&D of core technologies and smart vehicles while building ecological alliances around chips, software, operating systems, intelligent connectivity, and satellite networks. The strategic mission is to build a technology-led global automotive group and future core competitiveness in smart vehicles based on smart architectures, smart drive, and smart cockpits.
Faced with highly differentiated global standards and consumer demands, Geely Auto and Volvo Cars have developed have four world-class intelligent modular architectures; the BMA, CMA, SPA, and SEA fully compatible with a diverse range of powertrains systems including pure gasoline, HEV, PHEV, and BEV. Through modularization, Geely architectures have improved R&D efficiency by 30%. At the same time, Geely has also developed an advanced electronic and electrical architecture, GEEA2.0 which acts as a central nervous system for vehicles. In the future, GEEA2.0 will evolve to GEEA3.0 opening the door to an era where smart cars are not limited to domain control but also having access to a centralized cloud computing capability.
SOFTWARE EMPOWERED SMART CARS
The chip is the foundation of a vehicle operating system and a limiting factor in the future intelligent experience. Today, Geely has self-developed a smart cockpit CPU, SE1000, which has adopted a 7nm architecture and will enter mass production after passing certification in early 2022. The SE1000 will become China's first vehicle SOC with a 7nm architecture. In the future, a 5nm integrated vehicle CPU and high computing power autonomous driving chip will be launched to meet the computing needs of high-end autonomous drive functions.
Geely is committed to creating an integrated vehicle software user experience through building a full-stack development ecosystem covering electronic and electrical architecture, vehicle software, cockpit software, and autonomous driving software. To this end, Geely has opened its software architecture to developers around the world with more than 1,000 API interfaces, software tools and platforms, and service partnerships with more than 1,000 digital partners. By 2025, Geely aims to push one to two FOTA upgrades every quarter covering full vehicle and powertrain solutions, allowing development of its vehicles to evolve from "manufacturer-led" to "user software and user co-creation led."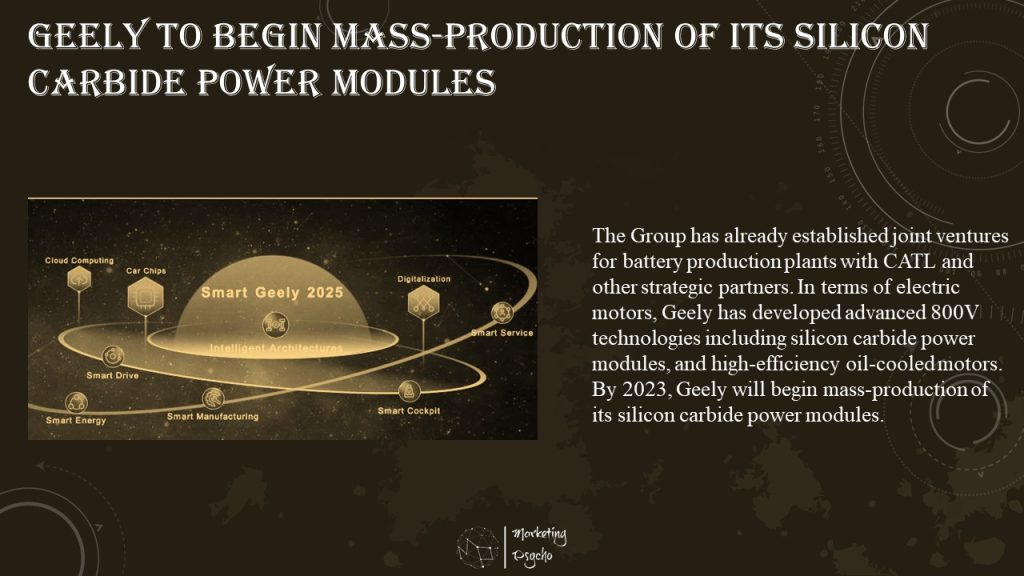 With the future development of smart vehicles, data has become the driving force behind user experience. Geely Auto's parent, Geely Holding Group has self-developed satellites and satellite networks designed for vehicle utilization to provide direct and accurate positioning services. Geely Holding has now completed the deployment of 305 high-precision space and time reference stations. By 2026, Geely Holding will have completed the deployment of its Internet of Things communication network and low-orbit constellation. The high-precision surveying and mapping data of China will be completed by 2023 and provided to Geely Auto Group for use in enacting truly safe autonomous driving.
In smart drive, Geely will realized full-stack development capabilities of autonomous driving and accelerate the realization of its "zero accident, zero causality" vision. Geely will aim to build the "most reliable, safest, and responsible" autonomous vehicle in the industry. By 2025, Geely aims to realize the commercialization of L4 technologies and develop L5 autonomous drive.
SUSTAINABLE MOBILITY
Smart Geely 2025 focuses on three smart systems; smart power, smart manufacturing, and smart service'. In terms of smart energy, not only is Geely developing in the direction of hybrid power through its "Leishen Power" brand, the Group is also advancing in electric power and alternative fuels.
Geely's development in electric power has quietly advanced to industry leading levels. In batteries, Geely has fully mastered module and battery pack technologies and is ramping up the mass production of batteries. The Group has already established joint ventures for battery production plants with CATL and other strategic partners. In terms of electric motors, Geely has developed advanced 800V technologies including silicon carbide power modules, and high-efficiency oil-cooled motors. By 2023, Geely will begin mass-production of its silicon carbide power modules.
BATTERY SWAPPING
In battery swapping, Geely Technology Group is one of the world's leaders in the field and has participated in the formation of national battery swapping standards. By 2025, Geely will deploy 5,000 battery swapping stations across 100 cities.
Geely Technology Group has already established around 100 battery swapping stations across China that can swap batteries in as fast as 59 seconds using automated technologies that allows for safe operation. The driver simply enters into the station and leaves with a fully charged battery without having to leave the vehicle.
Geely plans to rapidly role out the service in coming months as more battery swap capable vehicles come into the market. Geely invested ride hailing service, CaoCao Mobility is already making use of the battery swap service in key cities across China, proving the technology is mature
METHANOL
In alternative fuels, Geely is the global leader in methanol vehicle and methanol fuel technologies. With more than 200 key patents, Geely is the only mass-producer of methanol vehicles. In 2022, Geely will launch the "Leishen Methanol Hybrid Engine." The new engine will have a fuel consumption rate of 9L/100km, a 40% improvement from current generation methanol powertrain systems. By 2025, Geely aims to reduce consumption to 7.6L/100km further improving cost performance and helping achieve net-zero carbon emissions in combination with methanol syn-fuels.
SUSTAINABLE MANUFACTURING
In smart manufacturing, Geely has launched "Geely Industrial Internet Platform" GEEGA which was developed from Geely's experience in automotive manufacturing but adaptable to all manufacturing. After integration of the platform in production plants, efficiency can be improved up to 22%. Manufacturing in "Smart Geely 2025" aims to achieve the three zeros of 'zero waste water, zero landfill waste, and zero production waste' in net zero carbon-neutral plants. Furthermore, through smart manufacturing, green energy, utilization of recycled materials, etc., the Group aims to achieve net-zero carbon neutral production.
Smart Geely 2025 represents an intensification to Geely's commitment in sustainable development. Geely will make every effort to reduce total carbon emissions by 25% by 2025 and achieve carbon neutrality by 2045. In addition, Geely hopes that by sharing its GEEGA industrial internet platform, waste and emissions can be reduced throughout its supply chain.
Technology has always been the driving force of Geely's development and through Smart Geely 2025, technology will create an intelligent mobility experience that exceeds users' expectations. Smart Geely 2025 is not only the future of Geely, it's also bringing to the future to consumers around the world.
II‐VI Incorporated, a leader in wide-bandgap compound semiconductors, announced that it has been selected by Dongguan Tianyu Semiconductor Technology Co., Ltd., as its primary strategic partner for supply of 150 mm SiC substrates for power electronics.
The electrification of the transportation infrastructure is driving a market transition to power electronics based on SiC, a third-generation or wide-bandgap semiconductor, which enables power electronics to be smaller, more efficient, and with lower total system-level cost of ownership compared with state-of-the-art silicon-based devices. Tianyu, one of China's first and largest SiC epitaxial wafer manufacturers, has recognized II-VI as a leading global supplier of high-quality 150 mm SiC with a long history of innovation and ability to achieve scale along with an aggressive 200 mm substrate roadmap.
"We're excited to support Tianyu's high-volume requirements for SiC substrates," said Sohail Khan, Executive Vice President, New Ventures & Wide-Bandgap Electronics Technologies Business Unit. "Tianyu will immediately benefit from our 150 mm SiC global production capacity in the U.S. and in China."
"II-VI is a world-class supplier of high-quality 150 mm silicon carbide substrates," said Li Xiguang, GM of Tianyu. "Together, Tianyu and II-VI will provide the high-quality and reliable supply chain and future 200 mm capability that will be critical to support the rapidly growing demand for SiC power electronics in the mega-markets of electric vehicles, renewable energy, smart grids, microgrids, and power supplies for data networks."
Due to their broad range of applications, power electronics based on SiC have demonstrated their potential to have a highly beneficial impact on the environment via significant reductions in carbon dioxide emissions and energy consumption.
Toshiba Corporation announced its intention to separate into three standalone companies:
Infrastructure Service Co., consisting of Toshiba's Energy Systems & Solutions, Infrastructure Systems & Solutions, Building Solutions, Digital Solutions and Battery businesses;
Device Co., comprising Toshiba's Electronic Devices & Storage Solutions business; and
Toshiba, holding its shares in Kioxia Holdings Corporation (KHC) and Toshiba Tec Corporation
Official names of the new established companies will be announced in due course.
This separation will create two distinctive companies with unique business characteristics leading their respective industries in realizing carbon neutrality and infrastructure resilience (Infrastructure Service Co.), and supporting the evolution of social and IT infrastructure (Device Co.). The separation allows each business to significantly increase its focus and facilitate more agile decision-making and leaner cost structures. As such, both companies will be much better positioned to capitalize on their distinct market positions, priorities and growth drivers to deliver sustainable profitable growth and enhanced shareholder value. At the same time, Toshiba intends to monetize shares in Kioxia while maximizing shareholder value and return the net proceeds in full to shareholders as soon as practible to the extent that doing so does not interfere with the smooth implementation of the intended spin-off.
Toshiba will utilize the tax-qualified spin-off structure via the recent tax reform legislation in Japan, in a first for a company of Toshiba's size. Toshiba is taking a bold step to unlock substantial value, creating more focused investment opportunities for shareholders and delivering additional benefits for customers, business partners employees, and its broader stakeholder community.
This separation plan, which has been unanimously approved by Toshiba's Board, follows a review of a wide range of strategic options by the Board's Strategic Review Committee ("SRC"), comprising five Independent Outside Directors. During its review, the SRC sought input from shareholders on the Company's strategic direction and held discussions with a number of potential partners.
Based on the thoroughness of the nearly five months review, Toshiba's management team and Board of Directors are confident that the intended separation into three standalone companies is the best path to enhance shareholder value.
Satoshi Tsunakawa, Interim Chair, President and Chief Executive Officer of Toshiba, said: "Over our more than 140-year history, Toshiba has constantly evolved to stay ahead of the times. Today's announcement is no different. In order to enhance our competitive positioning, each business now needs greater flexibility to address its own market opportunities and challenges. We are convinced that the business separation is attractive and compelling: it will unlock immense value by removing complexity, it enables the businesses to have much more focused management, facilitating agile decision making, and the separation naturally enhances choices for shareholders. Our Board and management team firmly believe that this strategic reorganization is the right step for sustainable profitable growth of each business and the best path to create additional value for our stakeholders. We are grateful for the Strategic Review Committee's thorough evaluation and recommendation on our best path forward."
Paul J. Brough, Independent Director, Chairperson of Toshiba's Strategic Review Committee, said: "We are pleased to share this bold and ambitious plan to deliver enhanced value for Toshiba's shareholders and other important stakeholders. The SRC recommended to the Board that separating the Company into focused businesses is the best path forward for Toshiba and its shareholders following a thorough evaluation of value-enhancing options over nearly five months."
New Structure: Overview of Three Companies
Infrastructure Service Co.
Infrastructure Service Co. will consist of Toshiba's Energy Systems & Solutions, Infrastructure Systems & Solutions, Building Solutions, Digital Solutions and Battery businesses. Its products and services will include power generation, transmission and distribution, renewable energy, energy management, systems solutions for public infrastructure, railways and industry, building energy-saving solutions, and IT solutions for government agencies and private companies. The Company's increased focus, combined with its innovative technological solutions, will enable it to play a leading role in driving the transition to renewable energy to meet ambitious global carbon neutrality goals and advancing infrastructure resilience.
Infrastructure Service Co. is expected to have net sales of ¥2.090 trillion in FY32021 and is projected to grow at a 3.3% compound annual growth rate ("CAGR"), reaching ¥2.230 trillion by FY2023. It also expects to improve operating income margins from 5.1% to 5.2% over the same period, which we expect to be higher after the separation.
Device Co.
Device Co. will comprise Toshiba's Electronic Devices & Storage Solutions business. Its products will include power semiconductors (silicon, compounds), optical semiconductors, analog integrated circuits, high-capacity hard disk drives ("HDD") for data centers (nearline HDDs) and semiconductor manufacturing equipment. It will be a leader in supporting the evolution of social and IT infrastructure.
Device Co. is expected to have ¥870 billion in net sales in FY2021 and is projected – when excluding the memory resale portion – to grow at a CAGR of 3.3%, reaching ¥880 billion by FY2023. Power semiconductor net sales are expected to grow at an 13% CAGR, increasing from ¥95 billion in FY2021 to ¥120 billion by FY2023. Nearline HDD net sales are expected to grow at a 18% CAGR, increasing from ¥200 billion in FY2021 to ¥280 billion by FY2023. Device Co. expects operating income margins to change from 7.1% in FY2021 to 6.1% by FY2023.
Toshiba
Toshiba will hold the Company's ownership stake in Kioxia Holdings Corporation (KHC) and Toshiba Tec Corporation (TOKYO: 6588). In connection with the separation of the businesses, Toshiba will seek to convert the shares of KHC into cash as soon as practicable while maximizing shareholder value. As part of this process, Toshiba intends to return the net proceeds of Kioxia shares to shareholders in full to the extent that doing so does not interfere with the smooth implementation of the spin-off.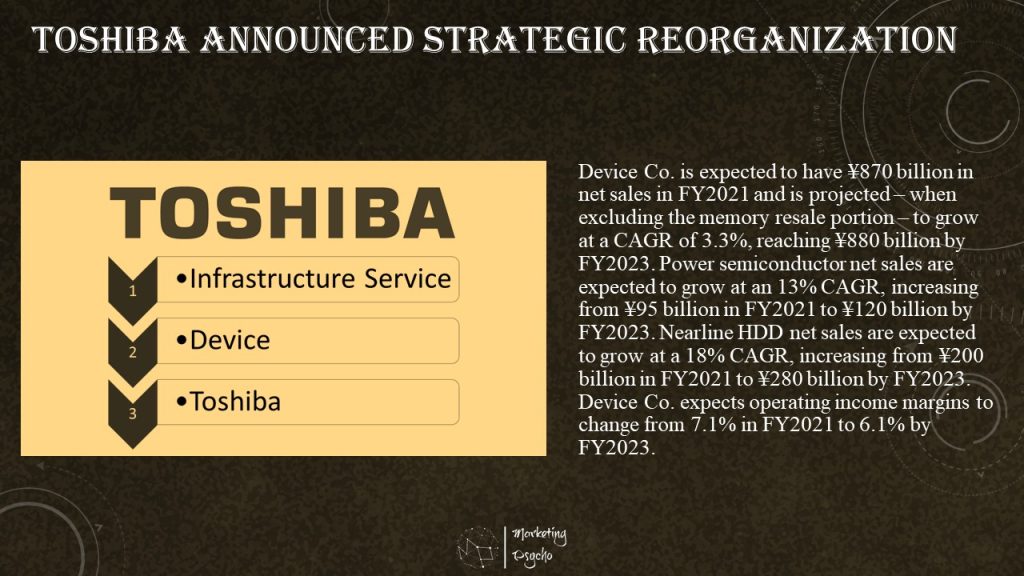 Improved Governance and Management Structure
Toshiba is committed to pursuing best-in-class governance and each of the newly created businesses will be led by a separate Board of Directors and management team. The Boards of the new companies are expected to be majority independent and comprised of a diverse set of directors with the skills and experience to set strategy and hold management accountable. Separation of the leadership structures for these businesses will facilitate more agile decision-making, with greater focus and knowledge of the company's customers and employees, and create optionality for both new companies to make their own separate and informed decisions regarding potential strategic partners. In addition, the respective companies will be better positioned to tailor capital allocation and shareholder return policies to the optimal leverage and cash flow profiles.
Transaction Details and Timeline
Infrastructure Service Co. and Device Co. will be spun off from Toshiba and company stock of each of the two new companies will be distributed to Toshiba shareholders at the time of the spin-off record date. Toshiba is working with relevant authorities and our advisors to determine the best and the most effective and efficient way to spin off the businesses with an intention of effecting the transaction in a tax-qualified spin-off structure via the recent tax reform legislation in Japan.
The reorganization of Toshiba is expected to be completed in the second half of fiscal year 2023, subject to the completion of necessary procedures, including the approval of Toshiba's general shareholder meeting and and fulfillment of all review requirement of the relevant authorities. However, we will make an effort to speed up the process to the extent feasible. The financial results of the businesses to be separated must be audited for a two-year period, beginning with FY2021 results, before the spin-offs can be completed.
The SRC will continue to oversee the preparation of the separation plan until Toshiba shareholders vote on it at the proposed extraordinary general meeting of shareholders (EGM) expected in the first quarter of the next calendar year, at which point it is expected that a board Steering Committee will be formed.
Commitment to Delivering Shareholder Value and Improving Governance
The separation represents a transformational milestone in Toshiba's history and the continuation of a renewed commitment by Toshiba's leadership to create and return value to shareholders. In June 2021, the Board announced a total of ¥150 billion of additional shareholder returns on top of the Toshiba ordinary dividend, consisting of a ¥100 billion share repurchase program, which was completed in September, and a ¥110 per share special dividend.
Capital in excess of the appropriate level of capital will be used to provide shareholder returns*, including share repurchaces in FY22 and FY23, to the extent that it would not interfere with the smooth execution of the business separation. In addition, we will make use of leverage, and continue to review portfolio including consideration of divestiture opportunities. (*Planned to be about ¥100 billion over the next two years)
Toshiba is committed to improving its corporate governance and regaining trust of its shareholders. The Board, which oversaw and approved today's announcement is comprised of 75% Independent Outside Directors, all of whom were appointed in the past two and a half years. The Board has also undertaken several initiatives to strengthen Toshiba's corporate governance, including establishing a Governance Enhancement Committee and initiating a review of Toshiba's compensation program. Earlier this year, the Nomination Committee engaged an executive search firm to identify a new Chairperson and CEO, a task that will become more efficient following today's decision to separate into three distinctive and strong standalone companies. All these efforts build on Toshiba's commitment to bring its corporate governance practices in line with both global standards and the expectations of Japanese and international investors.
Subscribe to Power Semiconductors Weekly and watch it on YouTube every Tuesday.
If you prefer a monthly update about the world of power semiconductors delivered to your e-mail address, please, subscribe to Marketing Psycho Power Semiconductors newsletter.