Power Semiconductors Weekly Vol. 42
Higher power density and greater efficiency at a low price? Vincotech's flowANPFC and flow3xANPFC modules check all the boxes for companies seeking three-phase PFC converters for the AC/DC stage. They also have the right answers for the DC/DC stage: fastPACK SiC and flowDUAL SiC (H- and half-bridge line) feature the latest SiC MOSFET technology from multiple sources.
All Vincotech's power modules come in industry-standard compact, low-inductive packages with press-fit pins. They now also feature the latest advance in die-attach technology.
Main benefits
Multi-sourced SiC-components for more freedom of choice and less supply chain risk
Higher switching frequency, lower filtering effort/costs
Integrated DC capacitors mitigate voltage over-shoot
Superior thermal performance for increased lifetime, higher power and improved reliability
Target applications
UPS & Gensets
Energy Storage Systems
Industrial Charging Systems
EV Automotive Off-Board Chargers
Solar Inverters
Ideal Power Inc., pioneering the development and commercialization of highly efficient and broadly patented B-TRAN™ bidirectional power switches, announced that a Forbes 2021 Global 500 leader in diverse power management markets will be testing and evaluating B-TRAN™ for use in bidirectional direct current solid-state circuit breaker (SSCB) applications for solar and wind systems. B-TRAN™ will be evaluated against insulated-gate bipolar transistors (IGBTs) and silicon carbide power devices. This represents Ideal Power's B-TRAN™ first test and evaluation announcement in the industrial and utility SSCB space. This global power management leader will evaluate B-TRAN™ initially for multiple SSCB applications, with other power conversion and distribution applications expected to follow. The circuit breaker market is projected to grow at a compound annual growth rate of over 6% to $25.85 billion by 2027.
"We are very excited to make this first announcement for the evaluation and potential adoption of B-TRAN™ for industrial and utility SSCB applications, building on our work with the Department of Defense and Department of Energy on B-TRAN™ enabled SSCBs," stated Dan Brdar, President and Chief Executive Officer of Ideal Power. "With its fast switching, low conduction losses, and bidirectional capability, B-TRAN™ can solve the challenges SSCBs face, potentially enabling solid-state circuit breakers to become a broadly adopted solution that is superior to both existing mechanical circuit breakers and the high-loss semiconductor SSCB alternatives. The increased electrification in our society creates increasing demand on our circuit protection requirements from solar and wind power, energy storage, electric vehicle (EV) and EV charging and associated vehicle to grid (V2G) networks, making this a tremendous opportunity."
Circuit breakers perform a critical function in power generation, transmission and distribution systems to protect against power surges and short circuits. These needs have been traditionally filled by mechanical circuit breakers, which are slow, prone to failure and require significant time and cost to maintain. Power semiconductor replacements such as IGBTs and MOSFETs have not seen widespread deployment in circuit breakers despite their higher switching speed. The lack of widespread adoption is primarily because of their high conduction losses, which result in wasted energy and the need to dissipate the heat this energy produces. B-TRAN™, with its fast-switching speed and low conduction losses, is a potentially enabling solution for large-scale SSCB adoption.
Ideal Power's patented semiconductor power switch, the Bidirectional Bipolar Junction Transistor, or B-TRAN™, reduces power losses by 50% or more over conventional power switches, depending on the application. B-TRAN™'s higher efficiency results in less heat being generated and therefore significantly lower thermal management requirements, requiring significantly smaller surface area to dissipate heat and giving rise to potentially smaller OEM products. B-TRAN™ offers the industry's only symmetric bidirectional operation, reducing the number of components required for application by 75% as compared to a conventional bidirectional switch utilizing IGBTs and diodes. This highly efficient and unique symmetric operation provides a strong competitive advantage in bidirectional applications, which are growing rapidly as transportation electrifies and power generation shifts to renewable energy coupled with energy storage.
Zhenghai Group Co., Ltd. (Zhenghai Group) and ROHM Co., Ltd. (ROHM) have signed a joint venture agreement to establish a new company in the power module business.
The new company, "HAIMOSIC (SHANGHAI) CO., LTD." is scheduled to be established in China in December 2021, and will be owned 80% by Shanghai Zhenghai Semiconductor Technology Co., Ltd. (Zhenghai Semiconductor) of Zhenghai Group and 20% by ROHM.
The new company will engage in the joint venture business of development, design, manufacturing and sales of power modules using silicon carbide (SiC) power devices, with the aim of developing a power module business that is ideal for traction inverters and other applications in new energy vehicles. The agreement enables to develop highly efficient power modules by combining the inverter technology of the Zhenghai Group companies, the module technology of both companies, and ROHM's cutting-edge SiC chips.
The module products to be developed through the new company are already scheduled to be used in electric vehicles, and mass production will begin from 2022.
The Zhenghai Group and ROHM will work closely with this new company to contribute to further technological innovation through the development and widespread use of SiC power modules.
Bi Bohai, Chairman of Zhenghai Group Co., Ltd.
ROHM is a respected global leader in SiC devices. The establishment of a joint venture between ROHM and the Zhenghai Group to develop the SiC power module business will surely bring new changes to the power module market. Through more than 30 years of development, Zhenghai Group has accumulated rich industrialization experience in many industries such as rare earth permanent magnet, regenerative medicine, automobile interior, and electronic information. The Zhenghai Group has determined to make the power module business a strategic business for the Group, giving it the greatest support in terms of capital and human resources. Combining ROHM's advanced power device technology with Zhenghai's industrialization capabilities, we believe that the joint venture will contribute to the development of China's power module industry.
Isao Matsumoto, President and CEO of ROHM Co., Ltd.
We are very pleased to establish a joint venture with the Zhenghai Group, which has a wide range of businesses in China. As a leading company in SiC power devices, ROHM has been developing the world's most advanced devices and providing power solutions together with peripheral components. The development of power modules in the new company will encourage the use of SiC power devices in new energy vehicles, which are gaining momentum in China, as well as play an important role in other application research. Through the business of the new company with Zhenghai Group, we will aim for the further development and evolution of both companies.
In the face of the global chip shortage, Bosch is increasing its capital expenditure. Just a few weeks after opening its new wafer fab in Dresden, the supplier of technology and services has now announced another nine-figure investment in its chip manufacturing facilities. In 2022 alone, Bosch plans to invest more than 400 million euros in expanding its wafer fabs in Dresden and Reutlingen, Germany, and its semiconductor operations in Penang, Malaysia.
"Demand for chips is continuing to grow at breakneck speed. In light of current developments, we are systematically expanding our semiconductor production so we can provide our customers with the best possible support," says Dr. Volkmar Denner, chairman of the board of management of Robert Bosch GmbH. Most of the capital expenditure is earmarked for Bosch's new 300-millimeter wafer fab in Dresden, where manufacturing capacity is to be expanded even faster in 2022.
Around 50 million euros of the planned sum will be spent on the wafer fab in Reutlingen near Stuttgart in the coming year. Bosch will invest a total of 150 million euros in additional clean-room space here from 2021 to 2023. In Penang, Malaysia, Bosch is also building a test center for semiconductors from scratch. Starting in 2023, the center will test finished semiconductor chips and sensors. "These planned investments demonstrate once again the strategic importance of having our own manufacturing capacity for the core technology of semiconductors," Denner says.
"Our aim is to ramp up production of chips in Dresden earlier than planned and at the same time expand clean-room capacity in Reutlingen. Every additional chip we produce will help in the current situation," says Harald Kroeger, member of the board of management of Robert Bosch GmbH. In two stages, a total of more than 4,000 square meters will be added to the current 35,000 square meters of clean-room space in Reutlingen.
The first stage, adding 1,000 square meters of production area for 200-millimeter wafers to bring the total to 11,500 square meters, has already been completed. This involved converting office space into a clean room over recent months and connecting it to the existing wafer fab via a bridge. The new facility has been producing wafers since September. "We've already expanded our manufacturing capacity for 200-millimeter wafers by some 10 percent," Kroeger says.
The capital outlay for this came to 50 million euros (in 2021). In making this move, the company is responding in particular to increased demand for MEMS sensors and silicon carbide power semiconductors. The second stage of the expansion will create a further 3,000 square meters of clean-room space by the end of 2023. To this end, the company will invest some 50 million euros in both 2022 and 2023. Bosch is also creating 150 new jobs in semiconductor development at its Reutlingen location.
Another portion of the capital expenditure planned for 2022 will go into a new semiconductor test center in Penang. This highly automated and connected factory is set to perform testing of semiconductor chips and sensors starting in 2023. In total, Bosch has more than 100,000 square meters of land available on Penang's mainland strip, which will be developed in stages.
Initially, the test center will cover an area of around 14,000 square meters – including clean rooms, office space, research and development, and training facilities for up to 400 associates. Earthworks for the new location started at the end of 2020, and work on the buildings began in May 2021. The test center is scheduled to start operations in 2023.
The additional testing capacity in Penang is intended to open up the possibility of locating new technologies in Bosch's wafer fabs in the future, such as silicon carbide semiconductors in Reutlingen. In addition, the new location in Asia will shorten delivery times and distances for the chips.
Siltronic, one of the technology leaders in silicon wafer manufacturing, broke ground for its new manufacturing facility at JTC's Tampines Wafer Fab Park in Singapore. In partnership with the Singapore Economic Development Board (EDB), Siltronic's investment of around EUR 2 billion (equivalent to nearly SGD 3 billion) until the end of 2024 will play an important role in meeting the growing semiconductor demand.
Singapore's Minister for Trade and Industry, Mr. Gan Kim Yong was the Guest-of-Honour at the ground breaking ceremony. He was accompanied by Siltronic CEO, Dr. Christoph von Plotho, EDB Managing Director, Ms. Jacqueline Poh, and Siltronic Site President in Singapore, Mr. Niew Bock Cheng.   
"We support the expansion plans of our valued customers by adding a new 300 mm fab in Singapore. With the decision to invest in this cost-efficient facility, we are setting the course for Siltronic's continued successful future.", says Christoph von Plotho.
The global demand for semiconductor devices is growing continuously. Silicon wafers are the base material for these devices. Wafer supply is already tight and is expected to become even tighter in the next years. In order to meet the increasing customer demand, Siltronic will expand its capacity as existing fabs are already fully utilized.
Siltronic started its operations in JTC's Tampines Wafer Fab Park in 1999 with the manufacturing of 200 mm silicon wafers. In 2006, Siltronic added a second fab under a joint venture with Samsung Electronics for the manufacturing of 300 mm silicon ingots and wafers.
The new 300 mm fab under the joint venture with Samsung will be the most advanced wafer facility of the Siltronic Group, producing crystal ingots as well as polished and epitaxial wafers. It will strengthen Siltronic Singapore as a key production hub within Siltronic's production network. About 600 new jobs for professionals, engineers, technicians and skilled workers will be created.
"This is the largest investment in the history of Siltronic. With the new leading-edge production capacities, we will further strengthen our position as one of the technology leaders. This investment also demonstrates our long-term commitment in Singapore.", continues von Plotho.
Ms Jacqueline Poh from the EDB added: "We are committed to support the growth of the semiconductor industry in Singapore with industry leaders like Siltronic. Siltronic's decision to site its largest and most advanced manufacturing facility in Singapore is a testament to our attractiveness as a global node for semiconductors. The new fab will further strengthen our semiconductor industry and create good job opportunities in Singapore.
SK Hynix will acquire South Korea-based Key Foundry, a chip contract manufacturer, for 576 billion won ($492.41 million).
The 8-inch wafer foundry manufactures chips such as power management, display driver and microcontroller unit semiconductors.
SK Hynix had been in talks to acquire Key Foundry, in which it had a minority stake earlier, since the first half of this year.
SK Hynix said the acquisition is expected to double its current 8-inch foundry capacity. It already has a chip contract manufacturing unit, SK Hynix System IC.
The Annual Expert Meeting for SiC, GaN, and Related Topics goes online on November 30.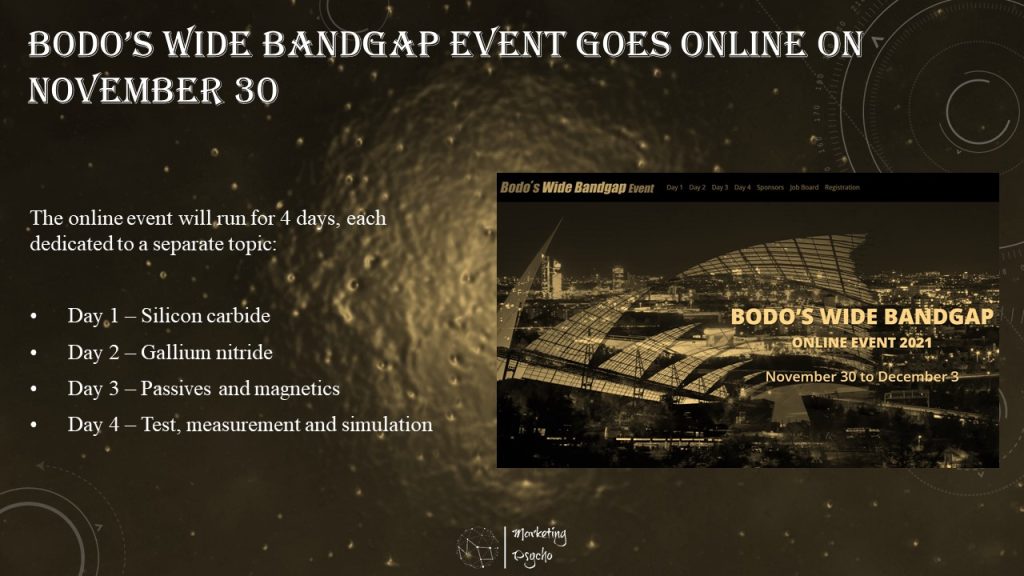 For the fifth year running, join Bodo and his fellow experts from the field of Wide Bandgap Power Semiconductors, to share the latest trends and achievements in this evolving technology. The presentations will be grouped into blocks, each followed by a live Q&A session. All presentations will be available one week in advance, providing you the opportunity to watch the content at a convenient time and prepare questions for the Q&A session.
The online event will run for 4 days, each dedicated to a separate topic:
Day 1 – Silicon carbide
Day 2 – Gallium nitride
Day 3 – Passives and magnetics
Day 4 – Test, measurement and simulation
Subscribe to Power Semiconductors Weekly and watch it on YouTube every Tuesday.
If you prefer a monthly update about the world of power semiconductors delivered to your e-mail address, please, subscribe to Marketing Psycho Power Semiconductors newsletter.