Power Semiconductors Weekly Vol. 40
The new STMicroelectronics super-junction STPOWER MDmesh K6 series enhances several key parameters to minimize system-power losses. It is especially suited to lighting applications based on flyback topology, such as LED drivers, HID lamps, as well as adapters, and power supplies for flat-panel displays.
With the 800V STPOWER MDmesh K6 series, ST sets a benchmark for this super-junction technology combining best-in-class performance with ease of use. MDmesh K6, with the best RDS(on) x area at 800V currently available in the market, allows compact new designs that combine high power density with market-leading efficiency.
In addition, the K6 series has a reduced threshold voltage compared with the previous MDmesh K5 generation, enabling a lower driving voltage and thus reducing power losses and gaining efficiency mainly for zero-watt standby applications. The total gate charge (Qg) is also very low, permitting high switching speeds and low losses.
An integrated ESD protection diode increases the overall ruggedness of the MOSFET up to Human Body Model (HBM) Class 2.
"We have tested and evaluated samples of the new Super Junction Very High Voltage MDmesh K6 series and have noted and been very impressed with the outstanding Rdson area and Total Gate charge (Qg) performance characteristics," said Luca Colombo, CTO and R&D Manager, TCI, an Italian solid-state lighting innovator.
The STP80N240K6 (RDS(on)max = 0.22Ω, Qgtyp = 25.9nC) in TO-220 through-hole package, is the first MDmesh K6 MOSFET in full production with free samples already available at ST eSTore. The DPAK and TO-220FP versions will be in full production by January 2022. Pricing starts at $1.013 for orders of 1000 pieces.
The complete MDmesh K6 product portfolio will be introduced by 2022, and will offer a wide RDS(on) range from 0.22Ω to 4.5Ω and a range of package options including SMD and through-hole housings.
ROHM developed dual-MOSFET products (Nch+Pch) featuring ±40V/±60V withstand voltages, QH8Mx5/SH8Mx5 series. New ROHM devices are ideal for driving motors in base stations (cooling fans) and industrial applications such as factory automation equipment requiring 24V input.
In recent years, MOSFETs are increasingly required to ensure sufficient margin against voltage fluctuations by providing 40V and 60V withstand voltages to support 24V input required for motors used in industrial equipment and base stations. Furthermore, MOSFETs are expected to deliver higher speed switching together with lower ON resistance to further improve the efficiency and miniaturization of motors.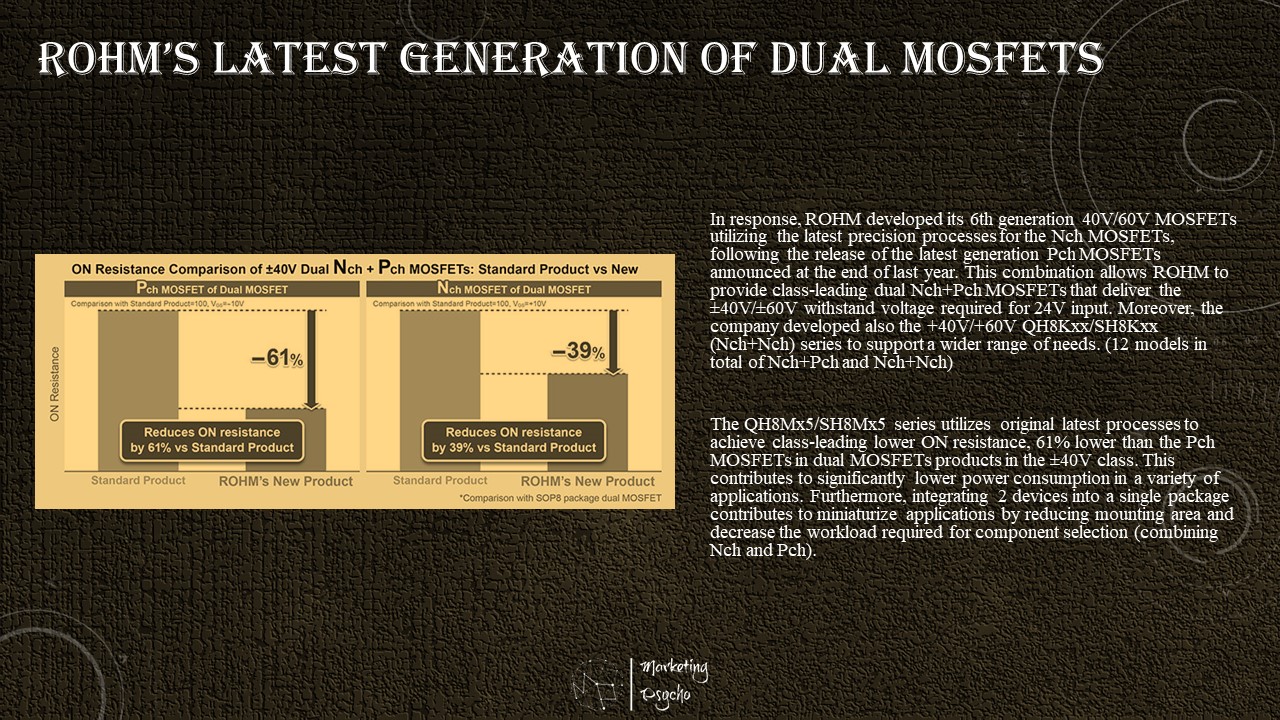 In response, ROHM developed its 6th generation 40V/60V MOSFETs utilizing the latest precision processes for the Nch MOSFETs, following the release of the latest generation Pch MOSFETs announced at the end of last year. This combination allows ROHM to provide class-leading dual Nch+Pch MOSFETs that deliver the ±40V/±60V withstand voltage required for 24V input. Moreover, ROHM developed also the +40V/+60V QH8Kxx/SH8Kxx (Nch+Nch) series to support a wider range of needs. (12 models in total of Nch+Pch and Nch+Nch)
The QH8Mx5/SH8Mx5 series produced by ROHM utilizes original latest processes to achieve class-leading lower ON resistance, 61% lower than the Pch MOSFETs in dual MOSFETs products in the ±40V class. This contributes to significantly lower power consumption in a variety of applications. Furthermore, integrating 2 devices into a single package contributes to miniaturize applications by reducing mounting area and decrease the workload required for component selection (combining Nch and Pch).
Next, ROHM will continue to expand the lineup to include 100V and 150V products for industrial equipment that demands higher voltages, contributing to the market requirements for lower power consumption and size reduction of a wide variety of applications.
Key Features:
1. Achieves class-leading low ON resistance
Utilizing the latest processes allows us to develop best-in-class dual MOSFETs that reduce ON resistance by up to 61% and 39% in the Pch and Nch MOSFETs, respectively, compared with competitor ±40V products. This contributes to significantly lower power consumption in a variety of applications.
2. Dual-product configuration contributes to greater miniaturization while reducing design load Integrating two MOSFETs in a single package reduces application size along with the design load required for device selection. In terms of miniaturization, replacing existing dual Nch+Pch SOP8 products with these new TSMT8 models decreases mounting area by up to 75%.
As of 2020, epitaxy equipment sales for More-than-Moore applications amounted to around $692M and are expected to grow to $1.1B by 2026, with a CAGR2020-2026 of 8%. However, these figures do not do justice to the vitality and omnipresence of the epitaxy step in missioncritical applications in market segments such as automotive (EV/HEV), consumer (smartphone, smartwatch, AR/VR), and aerospace & defense. It is further intriguing to realize that these complex epitaxy equipment systems used in HVM are supplied by only very few players, including some not very well known in the mainstream front-end market.
In total, there are 11 major epitaxy equipment vendors in the MtM space, and the top three (Aixtron from Germany, Veeco from the US, and AMEC from China) dominated in 2020 with more than 60% of the market share by revenue. However, this market is also occupied by various other frontend equipment giants (such as AMAT, TEL, ASM International, Naura), domain-specific players (such as Taiyo Nippon Sanso, NuFlare, LPE), and some unidentified start-ups from China. The dominance by the top three players in 2020 was not a big surprise as it has remained the case at least since 2018. However, if we look at the top-2 players, between 2018 and 2020, Aixtron increased its market share by 10%, while Veeco has seen its market share fall by 15%.
One of the many reasons for this is the US-China trade tension, which has chosen the semiconductor industry as one of their battlegrounds. This battle is even more pronounced in the epitaxy equipment space as the demand is primarily driven by China. As a result, 2020 resulted in one of the best sales years in China for Aixtron, with approximately 57% of their revenue coming from the region, in contrast to Veeco's mere 13% revenue. Naturally, Aixtron continues to be the leader in the overall epitaxy equipment market, with Veeco retaining its second spot (thanks to its improved MBE revenue in 2020). AMEC follows closely in third place with a good volume of equipment shipped for LED devices. With the geopolitical situation evolving and the supply chain ever more fragile, Yole Développement expect the competition between equipment vendors to intensify in the coming years.
In this webinar you will learn what benefits silicon carbide offers for high power converters like UPS systems. Detailed application examples will show you how CoolSiC™ can help your design become more efficient and compact and why these are key factors for successful UPS applications in the market.
Higher awareness and commitment towards reducing carbon emissions have become a worldwide trend. Accordingly, UPS units are becoming smaller while providing the same level of protection. UPS systems need increasingly more reliability as well as zero downtime. This is why manufacturers are designing more robust components for them.
UPS systems have three indispensable requirements: modularity, scalability and energy efficiency.
Online (industrial) UPS units, from 10 to 50 kVA or 50 kVA and higher, are the perfect fit for applications like data centers, servers, workstations, control systems, communications, or telecom systems.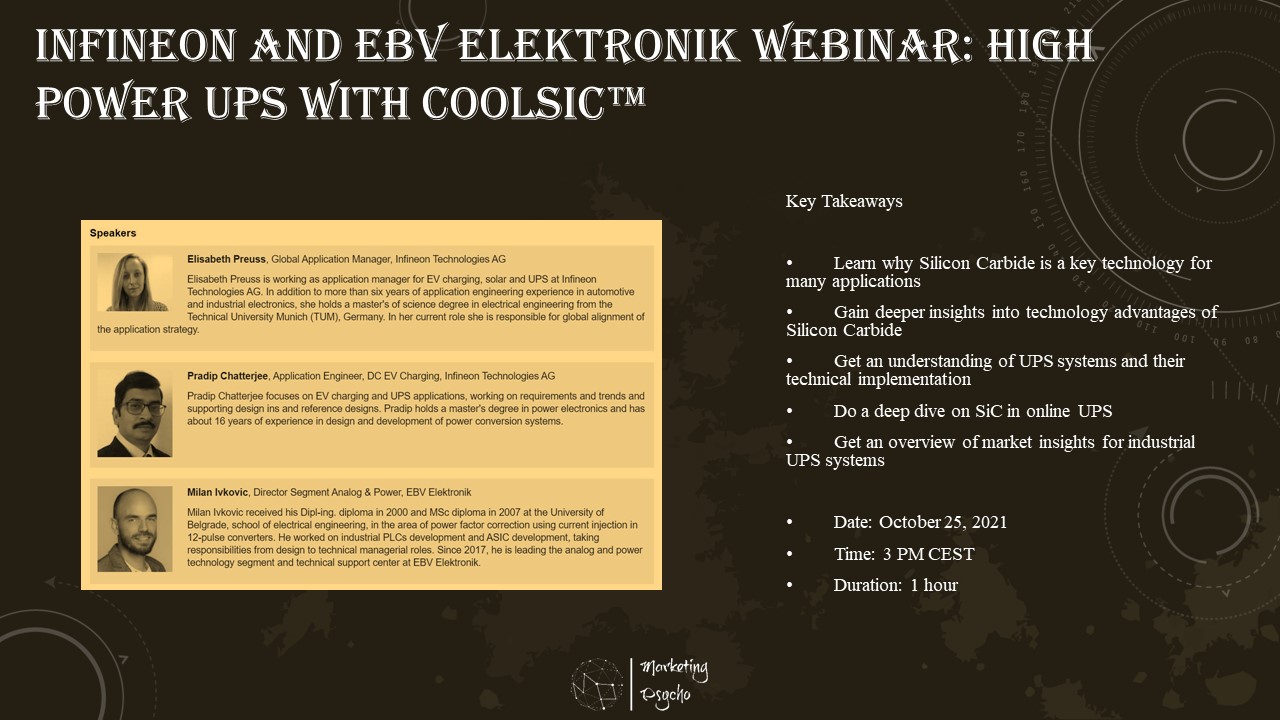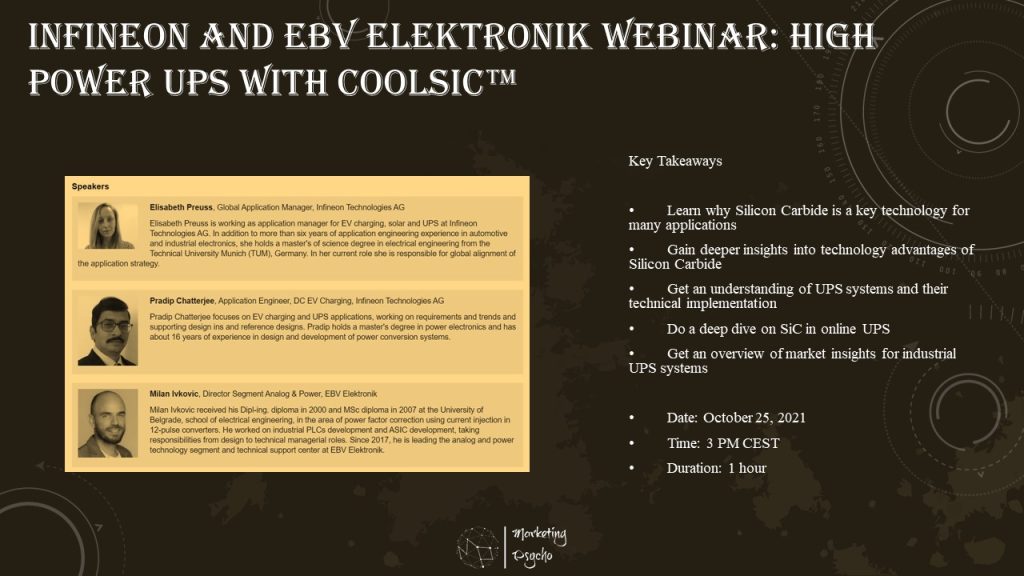 As your one-stop-shop partner, Infineon offers system solutions that cover power modules and discretes, as well as products for sensing, control, connectivity and security.
This webinar includes a market overview, the technology basics and UPS application examples. Join it for a dedicated deep dive that will show you how to best utilize the technology benefits of silicon carbide in your UPS system designs.
Key Takeaways:
Learn why Silicon Carbide is a key technology for many applications
Gain deeper insights into technology advantages of Silicon Carbide
Get an understanding of UPS systems and their technical implementation
Do a deep dive on SiC in online UPS
Get an overview of market insights for industrial UPS systems
Date: October 25, 2021
Time: 3 PM CEST
Duration: 1 hour
There is no one-size-fits-all gate driver for IGBTs, each one must fit the specific application.
During the webinar, SEMIKRON product magers will explain several considerations for selection and application of gate drivers, from general principles of switching an IGBT to the main considerations in selecting a driver and its gate resistors.
Additionally, he will discuss key design and protection features offered by SEMIKRON drivers which meet specific application needs.
This information will help power electronics engineers choose the correct drivers and related components.
​​​​​​​ Key Takeaways:
The general principles of switching an IGBT and main parameters of a gate driver
Overview of protection features offered by gate drivers
How SEMIKRON drivers are designed to meet application requirements​​​​​​​
Date: October 26, 2021
Time: 4 PM CEST
Duration: 45 min
Subscribe to Power Semiconductors Weekly and watch it on YouTube every Tuesday.
If you prefer a monthly update about the world of power semiconductors delivered to your e-mail address, please, subscribe to Marketing Psycho Power Semiconductors newsletter.