Power Semiconductors Weekly Vol. 32
If you're looking to maximize your multi-string inverters' power density and performance, then your search ends with Vincotech's 300+ kVA flowANPC S3. Combining 950 V fast Si IGBTs with 1200 V SiC diodes, these hybrid modules are engineered to cut per kW costs and boost your customers' ROI.
The chipset is optimized for a maximum efficiency at high power factors, enhancing the performance in inverter operation. The LQ79/89 enables smaller and therefore lighter passive components, and combined with the advanced die attach technology, longer lifetime is now possible.
Main benefits:
300+ kVA for higher power density, lower cost
Advanced die-attach technology for longer lifetime or higher power from the same footprint
Optimized chipset for greater efficiency, better ROI
flow S3 mid-power package for smaller, lighter passive components
Cree, Inc., the global leader in silicon carbide technology through its Wolfspeed® business, and STMicroelectronics, a global semiconductor leader serving customers across the spectrum of electronics applications, announced the expansion of an existing multi-year, long-term silicon carbide wafer supply agreement. The amended agreement, which calls for Cree to supply ST with 150mm silicon carbide bare and epitaxial wafers over the next several years, is now worth more than $800 million.
"This latest expansion to our long-term wafer supply agreement with Cree will continue to contribute to the flexibility of our global silicon carbide substrate supply. It will continue to contribute importantly to our global silicon carbide supply, complementing the other external capacity we have secured and the internal capacity we are ramping. The agreement will help meet the high volumes required by our product manufacturing operations in the next years, with a large number of automotive and industrial customer programs in high volumes or ramping up," said Jean-Marc Chery, President and CEO of STMicroelectronics.
The adoption of silicon carbide-based power solutions is rapidly growing across the automotive market as the industry moves from internal combustion engines to electric vehicles, enabling greater system efficiencies that result in electric cars with longer range and faster charging, while reducing cost, lowering weight and conserving space. In the industrial market, silicon carbide solutions enable smaller, lighter and more cost-effective designs, converting energy more efficiently to unlock new clean energy applications. To better support these growing markets, device manufacturers are interested in securing access to high-quality silicon carbide substrates to support their customers.
"We are very pleased that STMicroelectronics will continue to leverage Wolfspeed silicon carbide materials as part of their supply strategy for the next several years," said Cree CEO Gregg Lowe. "Our long-term wafer supply agreements with device manufacturers now total more than $1.3 billion and help support our efforts to drive the industry transition from silicon to silicon carbide. Our partnerships and significant investments in increased production capacity ensure we are well positioned to capitalize on what we believe to be is a multi-decade growth opportunity for silicon carbide-based applications."
Star Semiconductor is one of the important suppliers of domestic power semiconductor products, and has long been committed to the design and process of IGBT, fast recovery diode, SiC and other power chips, as well as the design, manufacturing and testing of IGBT and SiC power modules. Recently Star Semiconductor announced that it plans to raise 3.5 billion yuan for high-voltage characteristic process power SiC chip research and development to enrich their product structure and further enhance its comprehensive competitiveness.
Star Semiconductor's products are widely used in industrial control and power supply, renewable energy, electric vehicles, and other fields.
II-VI wants to target the automotive semiconductor and module market with Silicon Carbide (SiC) products using General Electric (GE) patents. The strategy is to respond to the demand for SiC power semiconductors, such as electric vehicle chargers and motors, with proven stability in the aviation field. II-VI also announced large-scale investment for SiC semiconductor and module production. With the headquarter in the United States, II-VI is an optical module and compound semiconductor company occupying the No. 1 position in the global optical module market and No. 2 in SiC wafer.
On August 18, II-VI Korea held the 'SiC MOSFET Seminar' and announced its SiC semiconductor and module business strategy in collaboration with GE.
The goal is to supply SiC power semiconductors and modules that can be applied to onboard chargers (OBCs) and motors installed inside electric vehicles. The main products are 1200V and 1700V class SiC semiconductors. II-VI also plans to develop 2500V next-generation SiC semiconductors together with GE in the future. The two companies will also carry out joint marketing to target new markets.
Seong-Jun Kim, Vice President of SiC Business, said, "We plan to jointly develop and mass-produce SiC MOSFET-based semiconductors and modules in cooperation with GE, which has accumulated SiC technology for over 30 years. We will expand the competitiveness of GE and II-VI, which focused on the aviation sector, to the automobile market too."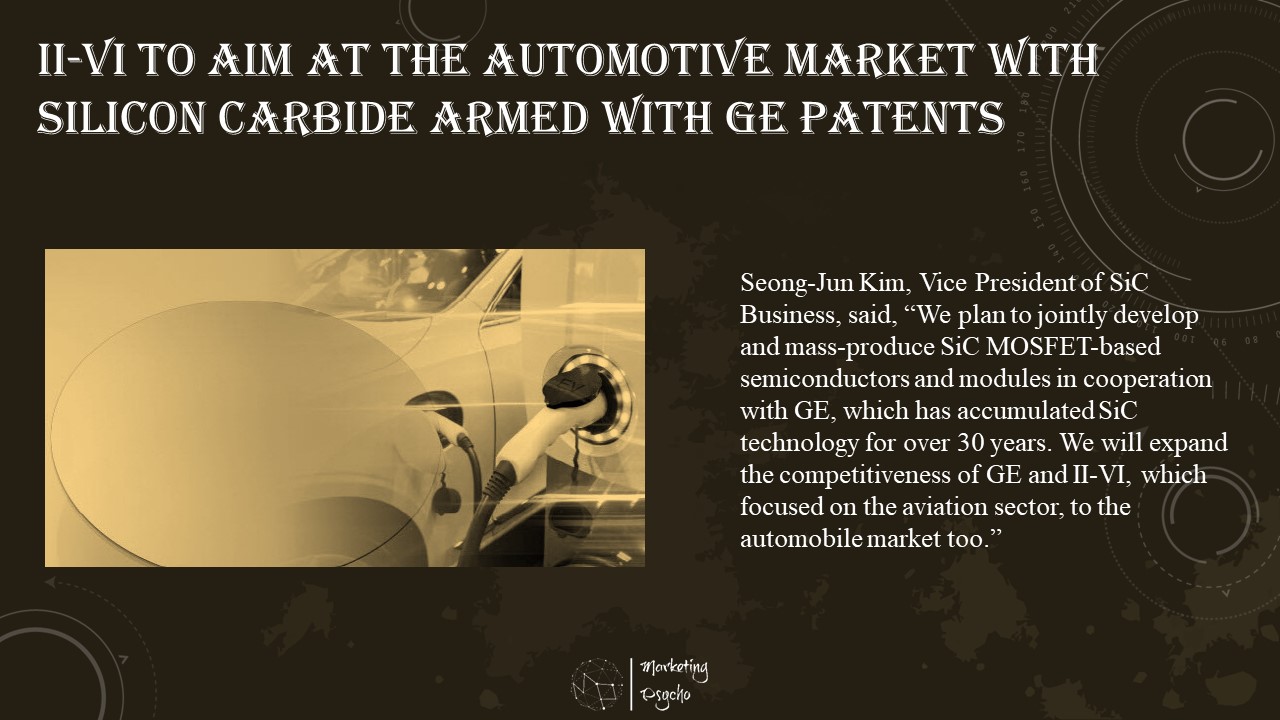 SiC is a semiconductor material with 10 times the strength and 3 times higher thermal conductivity than silicon semiconductors. Since SiC can withstand high voltage and high temperature well, it is attracting attention as a next-generation power semiconductor material. GE succeeded in developing the industry's first SiC-based UV photodiode prototype in 1991 and has been continuously applying it to aircraft. In 2015, GE acquired 'Automotive Equipment Reliability Certification (AEC-Q101)' for a SiC semiconductor that can withstand 200 degrees or more.
II-VI signed a large-scale patent license agreement with GE last year. The goal is to share the patented technology used only inside GE with II-VI and to apply it to various industries other than aircraft, such as automobiles and healthcare. II-VI plans to focus on the automotive market, where demand for SiC power semiconductors is rapidly increasing. Vice President Kim said, "In order to pioneer new markets (such as automotive semiconductors), we have established a system for jointly developing SiC power semiconductors and modules with GE's patented technology and for mass production by II-VI."
II-VI also announced a large-scale investment in SiC. On the 10th, II-VI announced its investment of $1 billion (about KRW 1.16 trillion) in SiC over the next 10 years. The company plans to increase its SiC wafer production capacity 6-7 times within 5 years. The strategy is to stabilize the price of SiC products by increasing production.
Young-tae Lee, president of II-VI Korea, said, "We are considering securing manpower and expanding infrastructure to supply SiC products for automobiles in Korea as well. As there is no small domestic demand for SiC, we will engage in various cooperation with our customers."
Semiconductor company Infineon Technologies Austria and industrial gases and engineering company Linde have signed a contract to build a plant for sustainably produced hydrogen in the semiconductor industry. Planned as part of the "H2Pioneer" research project, the demonstration plant for the production of high-purity hydrogen from renewable energy sources in Villach will go into operation in early 2022.
The semiconductor industry is one of the most dynamic, technically demanding and competitive industries in the world with high growth potential. Infineon is currently expanding production capacity at its Villach site and investing 1.6 billion euros in a new high-tech chip factory for power electronics ("energy-saving chips"). As demand for microelectronics solutions increases, so does the need for the gases and chemicals required in production – including high-purity hydrogen as a process gas. This hydrogen, which was previously delivered by truck from Germany, will then be generated directly at Infineon's production site in Villach from renewable energies.
Thomas Reisinger, Board Member for Operations at Infineon Technologies Austria, sees the hydrogen plant as an integral part of a sustainable site expansion: "Today, resource-efficient production is a key lever on the path to climate neutrality. With the start of production of our new chip factory for power electronics at the beginning of August 2021, the demand for hydrogen for the manufacturing process will also increase continuously. With the implementation of the electrolyzer plant at Infineon's Villach site, we are prepared for the future in two respects: with an important contribution to climate protection as well as the necessary security of supply."
The industrial partners Linde, Infineon Technologies Austria and VERBUND, together with their research partners HyCentA Research GmbH, the Energy Institute at Johannes Kepler University (JKU) Linz and the WIVA P&G showcase region, are driving this sustainable solution forward as an important step towards a "Tech for Green Industry": The project is being funded as part of the Climate and Energy Fund's RTI initiative "Showcase Energy Region", endowed with funds from the Ministry of Climate Protection (BMK).
Austrian Federal Minister of Climate Protection Leonore Gewessler: "Hydrogen from renewable energies will play an important role in achieving climate neutrality by 2040, especially in industry. This is because emissions must be reduced in all economic sectors. By investing and promoting energy innovations, domestic industrial companies are also making an important contribution to the economic recovery after the corona crisis."
Theresia Vogel, Managing Director of the Climate and Energy Fund: "Green hydrogen is an extremely scarce commodity. Thanks to H2Pioneer, a lighthouse is being created that will demonstrate the advantages hydrogen brings to industry internationally. The partners involved, a strong and powerful consortium, are creating a highly innovative project that will contribute significantly to the reduction of greenhouse gases in Austria. At the same time, it opens up export opportunities for domestic companies on the world market."
With this presentation, Wolfspeed aim's to demonstrate how the size, weight, cost and efficiency performance metrics of Energy Storage Systems can be improved with the latest innovations in SiC Power Modules.
Attendees of the webinar will learn about:
Wolfspeed's scalable power module platforms for ESS – Wolfspeed Wolfpack and XM3
Design and system-level considerations for next generation ESS and how SiC is beneficial to meet these needs
Comparison of SiC vs. Si IGBT-based ESS to demonstrate improved performance metrics (size, weight, cost, efficiency)
The webinar is scheduled for August 26, 2021 at 9:00 am PDT | 12:00 pm EDT | 18:00 CEST.
Subscribe to Power Semiconductors Weekly and watch it on YouTube every Tuesday.
If you prefer a monthly update about the world of power semiconductors delivered to your e-mail address, please, subscribe to Marketing Psycho Power Semiconductors newsletter.