Power Semiconductors Weekly Vol. 3
South Korea's third-largest conglomerate SK Group made a strategic investment in Yes Powertechnix, the only domestic producer of silicon carbide (SiC) power semiconductors, which are seen as essential parts of electric vehicles and hydrogen cars, saying it would form an ecosystem to reduce reliance on foreign products.
SK Holding, the holding company of SK Group, said it would invest 26.8 billion won ($24 million) to acquire a 33.6 percent stake in Yes Powertechnix, which has established a production system with high-temperature processing. The group, which has SK Hynix, a major microchip company in South Korea, would support research and development and use its investment in SiC power semiconductors to create synergy with semiconductor and wafer businesses.
Vishay Intertechnology introduced 10 new 650 V silicon carbide (SiC) Schottky diodes which features a merged PIN Schottky (MPS) design, and are designed to increase the efficiency of high frequency applications by reducing switching losses regardless of the effects from temperature variances, allowing the diodes to operate at higher temperatures.
The devices are intended for PFC and output rectification in flyback power supplies and LLC converters for servers, telecom equipment, UPS, and solar inverters, where they provide designers with increased flexibility in system optimization. Samples and production quantities of the new SiC diodes are available now, with lead times of 10 weeks.
Japan's Renesas Electronics will lend part of its capacity to produce automotive semiconductors designed by domestic rival Asahi Kasei, which has idled production due to a fire. Asahi Kasei halted output of a semiconductor after a massive fire in October at a plant operated by group company Asahi Kasei Microdevices. Renesas will make the product at its main Naka factory northeast of Tokyo.
The move eases concerns about semiconductor supplies from Asahi Kasei, whose customers include Toyota.
Infineon Technologies has expanded its EiceDRIVER portfolio by adding the 2ED24427N01F, a 24V dual-channel low side gate driver with an integrated thermal pad. The new driver can be operated with high switching frequencies and high peak output currents.
The capability of operating with high switching frequencies means it is suitable for applications that feature higher switching frequencies like power factor correction and synchronous rectification. The driver provides a symmetrical output stage with 10 A source and sink drive capability with integrated under-voltage lockout (UVLO) protection and logic level enable control.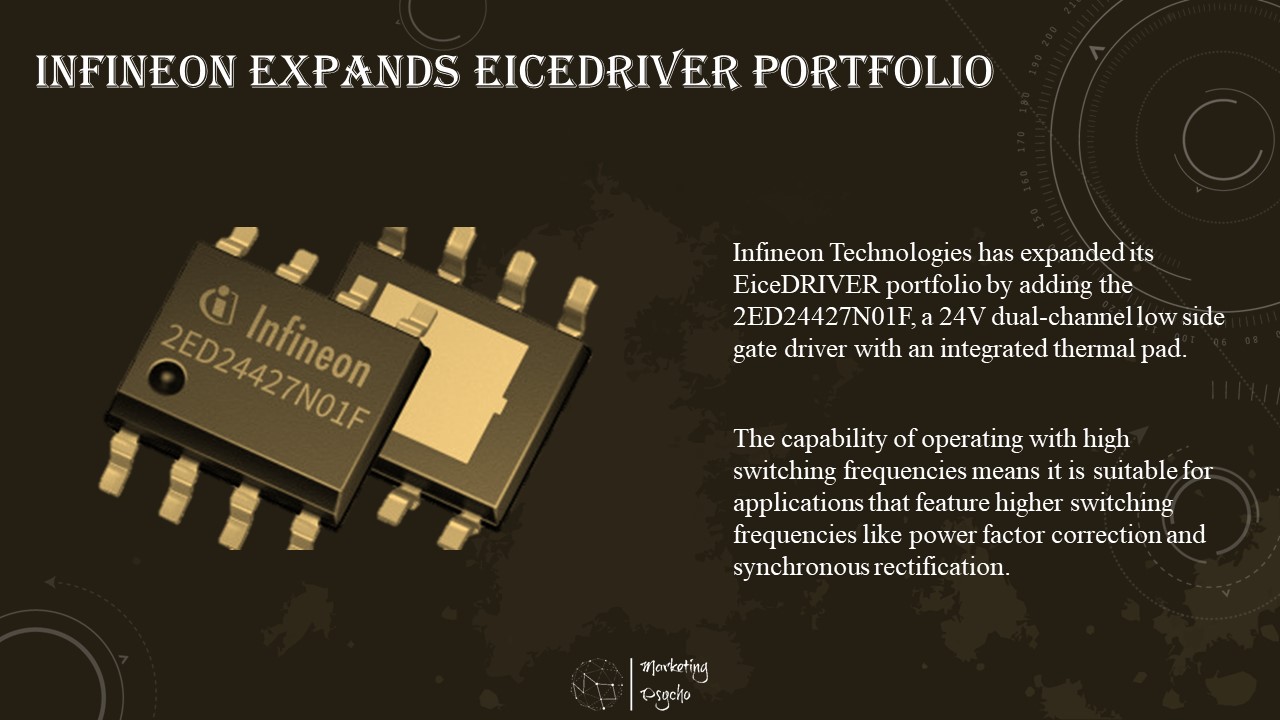 JEDEC Solid State Technology Association, the global leader in standards development for the microelectronics industry, announces the publication of JEP182: Test Method for Continuous-Switching Evaluation of Gallium Nitride Power Conversion Devices.
To enable the successful adoption of GaN power transistors, both reliable operation in power conversion applications and switching lifetime need to be demonstrated. JEP182, along with guidelines previously published by JC-70, helps address that need by expanding the ecosystem of JEDEC guidelines for reliability evaluation, test, and characterization of GaN power transistors under continuous switching conditions in power conversion applications.
Anglia Components has announced a new distribution agreement with UnitedSiC to offer its full suite of high-performance SiC FETs, JFETs and Schottky diodes to customers in UK and Ireland.
Commenting on the partnership, John Bowman, Marketing Director of Anglia, said, "SiC devices are crucial components in power electronics designs, and we are delighted to expand in this domain with the addition of the world beating UnitedSiC products. The Anglia FAE team has received detailed training on UnitedSiC's products and is ready to assist customers with their designs."
Power Semiconductors Webinars
On February 16, learn the basics of physical and scalable modeling techniques and how simulation models from ON Semiconductor help design engineers analyze their application's performance through device and system simulations rather than costly prototype building and measurement cycles.
On February 23, join the webinar to discover how the implementation of 7th generation IGBT technology in the new series of Fuji Electric IGBT-IPM is successfully delivering next-generation performance and innovation through higher energy efficiency, lower losses, and an industry first early warning output function of IGBT chip temperature.
On Semiconductor and Cree Changes in Management
Thad Trent Appointed ON Semiconductor's Executive Vice President and Chief Financial Officer. Trent has held several leadership roles throughout his career, most recently as CFO at Cypress Semiconductor responsible for strategic planning, accounting, investor relations, tax, corporate development and information technology.
Cree, the global leader in silicon carbide technology, announced that Marvin A. Riley has been appointed to the Company's Board of Directors. Mr. Riley is president and chief executive officer of EnPro, a leading industrial technology company using materials science to push boundaries in semiconductor, life sciences, and other technology-enabled sectors.
On top of that Cree's CEO is changing company's long-time name to Wolfspeed. The namechange reflects Cree's change in priorities to semiconductors and away from LED lighting, a move company's CEO launched soon after being named the firm's top executive in 2017.

Find more information about power semiconductors in Marketing in Power Electronics section of the website.