Power Semiconductors Weekly Vol. 29
STMicroelectronics, a global semiconductor leader serving customers across the spectrum of electronics applications, announced it has manufactured the first 200mm (8-inch) Silicon-Carbide (SiC) bulk wafers for prototyping next-generation power devices from its facility in Norrköping, Sweden. The transition to 200mm SiC wafers marks an important milestone in the capacity build-up for ST's customer programs in automotive and industrial sectors and will consolidate ST's lead in the disruptive semiconductor technology that allows for smaller, lighter, and more efficient power electronics with a lower total cost of ownership.
Among the first in the world, ST's initial 200mm SiC wafers are also very high quality, with minimal yield-impacting and crystal-dislocation defects. The low defectivity has been achieved by building on the excellent know-how and expertise in SiC ingot growth technology developed by STMicroelectronics Silicon Carbide A.B. (formerly Norstel A.B., which ST acquired in 2019). In addition to meeting the quality challenge, the transition to 200mm SiC substrates requires a step forward in manufacturing equipment and the overall support ecosystem performance. ST, in collaboration with technology partners covering the entire supply chain, is developing its own 200mm SiC manufacturing equipment and processes.
ST currently manufactures its leading-edge, high-volume STPOWER SiC products on two 150mm wafer lines in its fabs in Catania (Italy) and Ang Mo Kio (Singapore) and performs assembly and test at its back-end sites in Shenzhen (China) and Bouskoura (Morocco). This milestone comes as part of the Company's planned move to more advanced, cost-efficient 200mm SiC volume production. This transition is within the Company's ongoing plan to build a new SiC substrate plant and source over 40% of its SiC substrates internally by 2024.
"The transition to 200mm SiC wafers will bring substantial advantages to our automotive and industrial customers as they accelerate the transition towards electrification of their systems and products", said Marco Monti, President Automotive and Discrete Group, STMicroelectronics. "It is important in driving economies of scale as product volumes ramp. Building robust know-how in our internal SiC ecosystem across the full manufacturing chain, from high-quality SiC substrates to large-scale front- and back-end production, boosts our flexibility and allows us to better control the improvement of yield and quality of the wafers."
Today's energy-efficient electric charging systems powering commercial vehicle propulsion, as well as auxiliary power systems, solar inverters, solid-state transformers and other transportation and industrial applications all rely on high-voltage switching power devices. To meet these requirements, Microchip Technology Inc. announced the expansion of its silicon carbide portfolio with a family of high-efficiency, high-reliability 1700V silicon carbide MOSFET die, discrete and power modules.
Microchip's 1700V silicon carbide technology is an alternative to silicon IGBTs. The earlier technology required designers to compromise performance and use complicated topologies due to restrictions on switching frequency by lossy silicon IGBTs. In addition, the size and weight of power electronic systems are bloated by transformers, which can only be reduced in size by increasing switching frequency.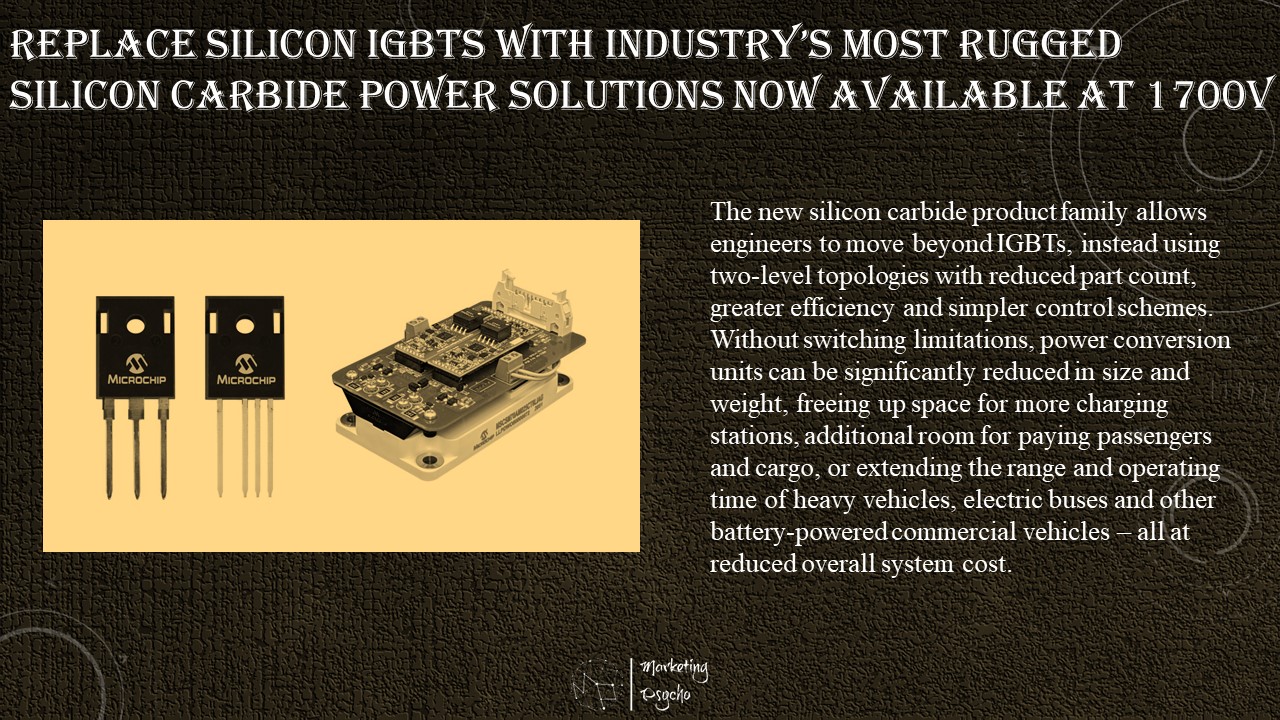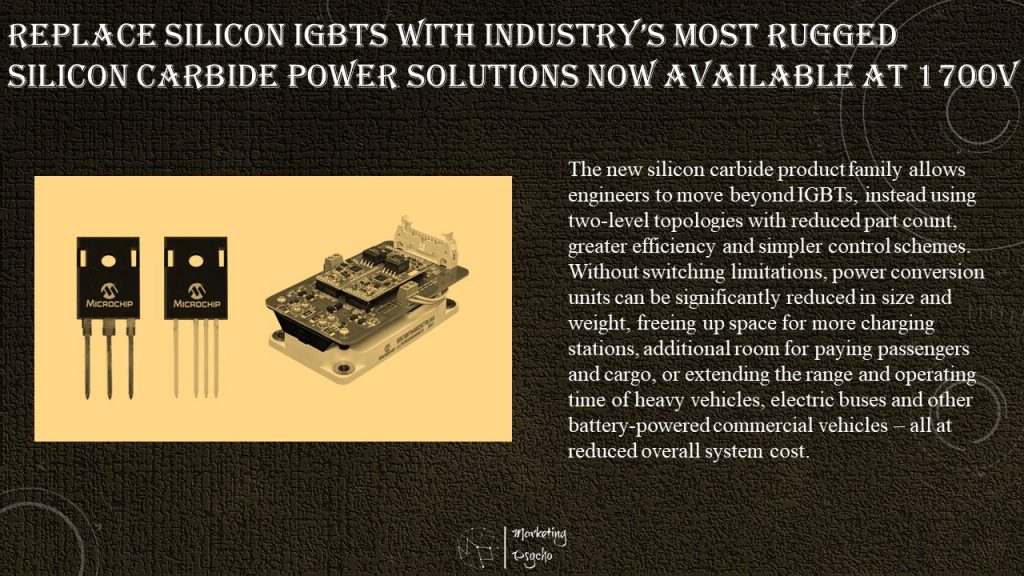 The new silicon carbide product family allows engineers to move beyond IGBTs, instead using two-level topologies with reduced part count, greater efficiency and simpler control schemes. Without switching limitations, power conversion units can be significantly reduced in size and weight, freeing up space for more charging stations, additional room for paying passengers and cargo, or extending the range and operating time of heavy vehicles, electric buses and other battery-powered commercial vehicles – all at reduced overall system cost.
"System developers in the transportation segment are continuously asked to fit more people and goods into vehicles that cannot be made larger," said Leon Gross, vice president of Microchip's discrete product business unit. "One of the best ways to help achieve this is through the enormous reductions in size and weight of power conversion equipment that utilizes high-voltage silicon carbide power devices. These same advantages for transportation bring similar benefits to many other industry applications."
Features include gate oxide stability where Microchip observed no shift in threshold voltage even after an extended 100,000 pulses in repetitive unclamped inductive switching (R-UIS) tests. R-UIS tests also showed excellent avalanche ruggedness and parametric stability and with gate oxide stability, demonstrated reliable operation over the life of the system. The degradation-free body diode can eliminate the need to use an external diode with the silicon carbide MOSFET. A short-circuit withstand capability comparable to IGBTs survives harmful electrical transients. A flatter RDS(on) curve over junction temperature from 0 to 175 degrees Celsius (C) enables the power system to operate at greater stability than other silicon carbide MOSFETs that exhibit more sensitivity to temperature.
Microchip streamlines the adoption of its technology with a family of AgileSwitch® digital programmable gate drivers and wide range of discrete and power module packaging, available in standard and customizable formats. These gate drivers help speed silicon carbide development from benchtop to production.
Other Microchip silicon carbide products include families of MOSFETs and Schottky Barrier diodes at 700V and 1200V, available in bare die and a variety of discrete and power module packages. Microchip unifies in-house silicon carbide die production with low-inductance power packaging and digital programmable gate drivers to enable designers to make the most efficient, compact and reliable end products.
ROHM developed Hybrid IGBTs with integrated 650V SiC Schottky barrier diode, the RGWxx65C series (RGW60TS65CHR, RGW80TS65CHR, RGW00TS65CHR). The devices are qualified under the AEC-Q101 automotive reliability standard. They are ideal for automotive and industrial applications that handle large power, such as photovoltaic power conditioners, onboard chargers, and DC/DC converters used in electric and electrified vehicles (xEV).
The RGWxx65C series utilizes ROHM's low-loss SiC Schottky barrier diodes in the IGBT's feedback block as a freewheeling diode that has almost no recovery energy and thus minimal diode switching loss. Additionally, since the recovery current does not have to be handled by the IGBT in turn-on mode, the IGBT turn-on loss is reduced significantly. Both effects together result in up to 67% lower loss over conventional IGBTs and 24% lower loss compared with Super Junction MOSFETs (SJ MOSFETs) when used in vehicle chargers. This effect provides good cost performance while contributing to lower power consumption in industrial and automotive applications.
In recent years, global efforts to reduce environmental burden and achieve a carbon-neutral and decarbonized society have spurred the proliferation of electrified vehicles (xEV). At the same time, the diversification of power semiconductors used in various vehicle inverter and converter circuits necessary to configure more efficient systems is currently underway, along with technological innovation of both ultra-low-loss SiC power devices (i.e. SiC MOSFETs, SiC SBDs) and conventional silicon power devices (e.g. IGBTs, Super Junction MOSFETs).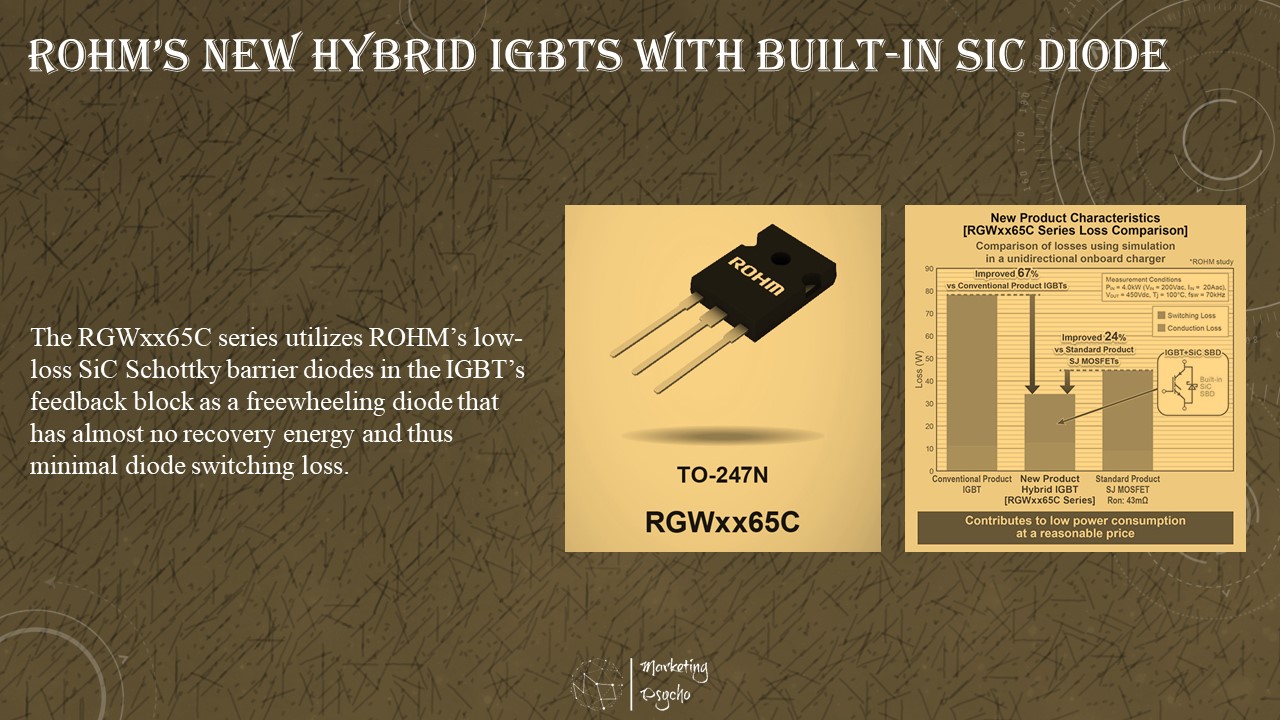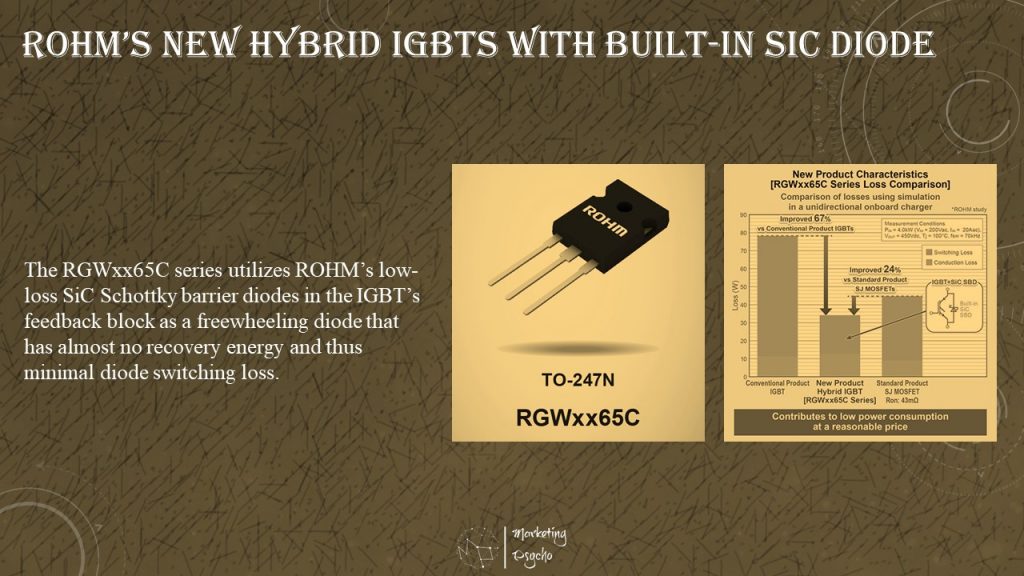 To provide effective power solutions for a wide range of applications, ROHM is focusing not only on product and technology development for industry-leading SiC power devices, but for silicon products and driver ICs as well.
A variety of design support materials are also available on ROHM's website, including SPICE models and application notes on drive circuit design necessary for integration and evaluation, supporting quick market introduction. ROHM is committed to continuing to contribute to minimizing environmental impact through system low power consumption and miniaturization by developing low-loss power devices that meet different needs and offering design tools as a solution.
Mersen, a global expert in electrical power and advanced materials, has announced its participation in Transform, a consortium whose goal is to develop a European supply chain network for the manufacture of silicon carbide (SiC) semiconductors for the electric vehicle market.
As an expert in high-performance materials – including silicon carbide – Mersen will be lending its expertise to the consortium with the aim of improving SiC technologies and developing silicon carbide substrates for higher-performing and ever more powerful semiconductors.
Silicon carbide power electronics are much more energy-efficient than those based on the current generation of silicon-based semiconductors. Transform will provide European market players with a reliable source of SiC components and systems from a wholly European value chain covering needs ranging from substrates to energy converters.
Subsidized by the European Union, the Transform project is led by German group Bosch. Its aim is to improve the current SiC technologies in order to serve the major emerging power conversion markets in the fields of renewable energy, mobility and industry, while strengthening Europe's competitive position. The French leg of the network is being financed through Bpifrance's PSPC future investment competitiveness program.
Within the project value chain, Mersen is providing its expertise in the "Materials and substrates" segment headed up by Soitec.
Luc Themelin, Chief Executive Officer of Mersen, commented: "Mersen's participation in this strategic project for the electric vehicle market puts the Group at the cutting edge of research efforts and underlines our ability to address major technological and manufacturing challenges."
Heraeus Electronics, a global leader in packaging materials for the Power Electronics industry, joins PowerAmerica Institute to advance the use of wide bandgap (WBG) semiconductors. The technological expertise of Heraeus Electronics and the industry connections of PowerAmerica Institute will accelerate the development of new materials and support the expansion of the Power Electronics industry.
The collaboration will result in bringing next generation silicon carbide and gallium nitride power electronics to markets faster, reducing cost and risk factors associated with new generation technologies. An organization that brings together the semiconductor manufacturers and the companies that use semiconductor power electronics in their products, PowerAmerica Institute is well placed as an information hub. With the backing of the U.S. Department of Energy and the engagement of top researchers, knowledge and processes can be provided to educate the American workforce and provide more innovative product designs.
Silicon carbide and gallium nitride semiconductors significantly improve the performance of power electronics systems beyond the limits of traditional silicon-based designs. "By working in collaboration with Heraeus Electronics, we can maximize device performance without the compromise of cost", says Executive Director Victor Veliadis from PowerAmerica Institute. Heraeus Electronics offers matched materials as well as latest equipment to support customer developments by assembling prototypes and test modules according to the highest standards.
David Malanga, Director of Marketing and Sales for Heraeus Electronics in the Americas, adds: "With our deep understanding of the power electronics market and PowerAmerica Institute's connections, we can assist in driving future developments, employee education, and market direction for a stronger industry tomorrow."
The electric vehicle (EV) industry is moving fast, demanding new technologies to be implemented quickly. It is why having a group as PowerAmerica Institute and its collaboration with industry experts provides the education needed through short courses, technical webinars, and matching talented students with employers.
Mouser Electronics Inc. and ON Semiconductor have partnered to create a new content platform devoted to solutions for ultra-high-density power conversion.
Power conversion, charging, and power management are essential functions for next-generation technologies, including electric vehicles, 5G telecom networks, and solar inverters. The new high-power power conversion resource site from Mouser and ON Semiconductor offers a one-stop resource for in-depth insights, educational videos, and product information to develop reliable power conversion solutions. The content platform features more than 20 articles, videos, and product links, delivering a comprehensive resource for high-performance automotive and power supply applications. Each article or video includes a convenient link to a relevant ON Semiconductor solution, allowing designers to quickly and easily find the products needed to address each use case.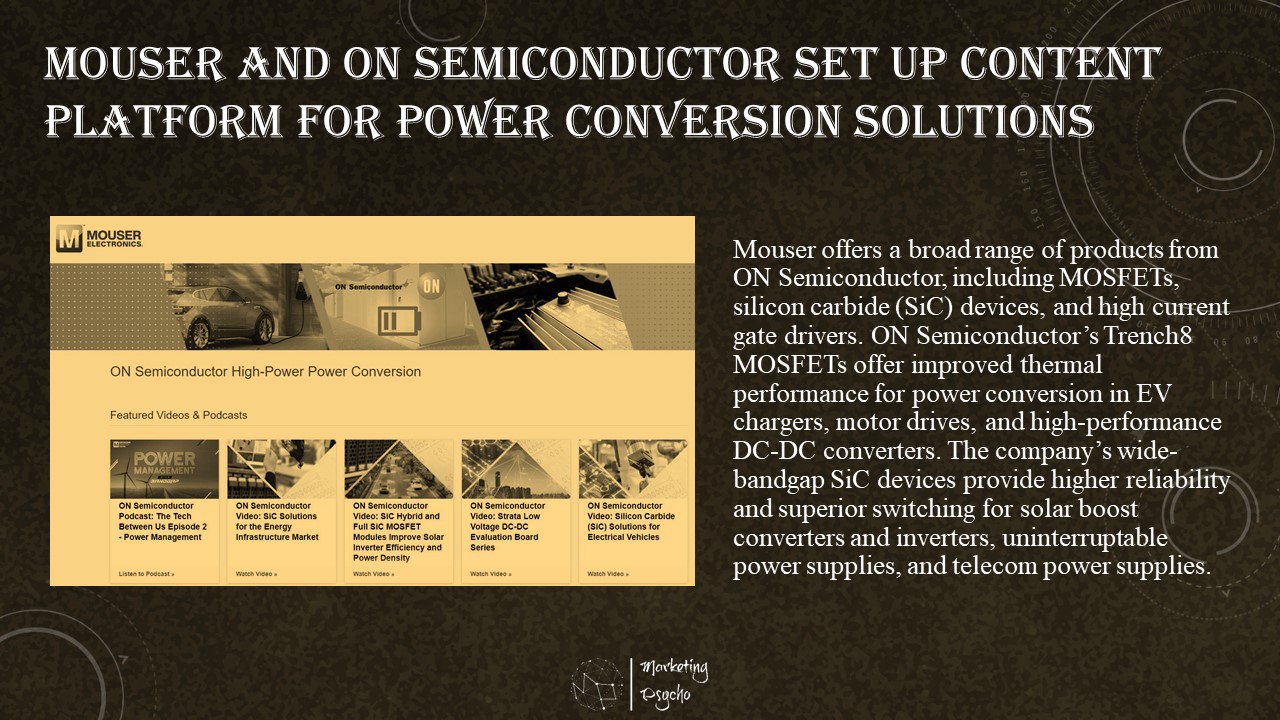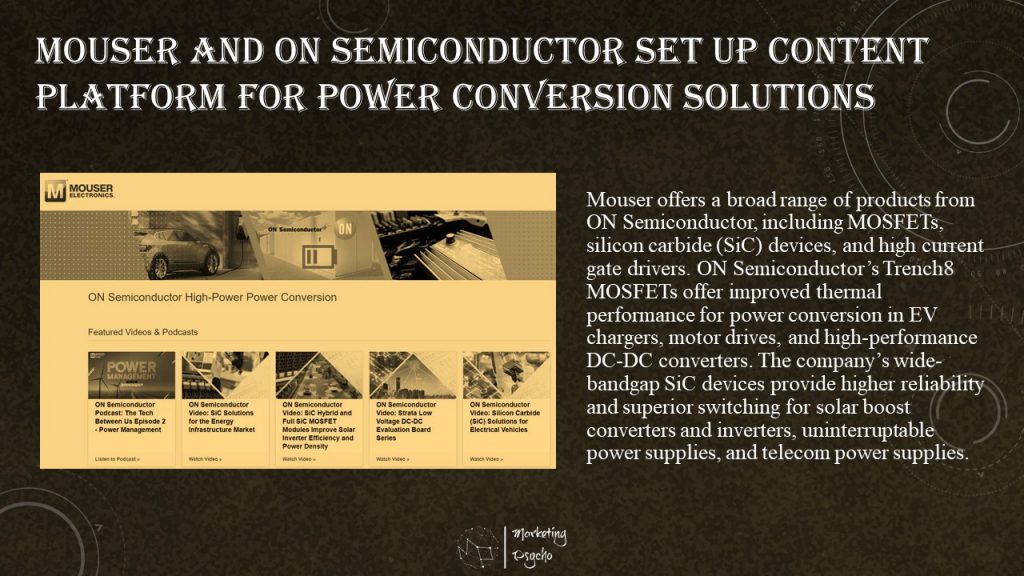 Mouser offers a broad range of products from ON Semiconductor, including MOSFETs, silicon carbide (SiC) devices, and high current gate drivers. ON Semiconductor's Trench8 MOSFETs offer improved thermal performance for power conversion in EV chargers, motor drives, and high-performance DC-DC converters. The company's wide-bandgap SiC devices provide higher reliability and superior switching for solar boost converters and inverters, uninterruptable power supplies, and telecom power supplies.
With the resurgence of COVID-19 cases in Southeast Asia, SEMI, the global industry association representing the electronics manufacturing and design supply chain, has announced that SEMICON Southeast Asia (SEA), scheduled for 23-27 August 2021, will be held as a virtual platform to ensure the safety of exhibitors, partners and guests.
Themed Powering Innovation – 5G and Beyond, SEMICON SEA 2021 Virtual will consist of the following two segments: SEMICON SEA 2021 will gather industry experts to highlight the latest developments, innovations and trends in segments of electronics and semiconductors including smart manufacturing, smart mobility, smart data, AI and 5G as technology continues to reshape the way people work and live. SEMICON SEA is the premier electronics manufacturing event in Southeast Asia.
23-25 August 2021 – A 3-day conference offering a compelling range of plenary and conference sessions.
23-27 August 2021 – A complimentary exposition for attendees with business-matching, chat rooms, a new online networking lounge, the popular Meet-the-Experts lounge for updates on the latest technology developments and other opportunities to help exhibitors and attendees grow their businesses.
The health and safety of SEMICON SEA 2021 participants is SEMI's top priority. Staging SEMICON SEA 2021 as a virtual event is part of SEMI's commitment to protecting participants while ensuring uninterrupted business exchanges and opportunities for them to expand their industry connections.
Global trends – such as digitalization and energy efficiency – have emerged and accelerated in the past few years, posing new challenges to the manufacturers as well as the semiconductor market.
Infineon's wide bandgap silicon carbide (SiC) technology, offers an array of exciting possibilities that enables companies to achieve new innovation heights!
Join this exclusive Silicon Carbide Virtual Event on 5 August 2021 and discover the capabilities of CoolSiC™ technology – the next frontier for Semiconductor Devices.
This exclusive virtual platform will give you the opportunity to participate in live sessions with Infineon experts and industry players. Look forward to:
Exciting showcase of SiC application demos
Interactive live panel discussions
Virtual showrooms, featuring SiC solutions from Infineon and our partners
When : Aug 5, 2021
Time : 1300 hrs – 1500hrs (Singapore Time)
Subscribe to Power Semiconductors Weekly and watch it on YouTube every Tuesday.
If you prefer a monthly update about the world of power semiconductors delivered to your e-mail address, please, subscribe to Marketing Psycho Power Semiconductors newsletter.