Power Semiconductors Weekly Vol. 25
Infineon Technologies AG introduces the new 650 V TRENCHSTOP™ 5 WR6 family in a discrete housing. The family comes in a TO-247-3-HCC package and offers a broad portfolio comprising 20 A, 30 A, 40 A, 50 A, 60 A and 70 A current ratings. The devices can easily be used for replacing previous technologies like Infineon's TRENCHSTOP 5 WR5 and HighSpeed 3 H3 as well as competitor technologies. The family is optimized for power factor correction (PFC) for residential and commercial air conditioning systems as well as welding applications.
The TRENCHSTOP 5 WR6 switches provide very low conduction losses (30 A, 1,45 V at 25°C) as well as lowest switching losses (30 A, 1,55 mJ at 175°C). They feature a very low saturation voltage (V CE(sat)) of 1,45 V and a monolithically integrated diode with optimized forward voltage for the target applications. This results in best-in-class performance while enabling a low BOM cost. Additionally, the device leverages the performance advantage of the TRENCHSTOP 5 WR5 series, the predecessor to the TRENCHSTOP 5 WR6 series.
The new TO-247-3-HCC housing of the WR6 family increases the creepage and clearance distances thus improving the isolation voltage rating. With this, the product family enables more reliable system designs that are resistant against contamination and condensation which e.g. often occur at AC outdoor units. The TRENCHSTOP 5 WR6 reduces the total cost of ownership with less failure rate while it also enables higher switching frequency in application.
As a key component of new energy vehicles, IGBT is regarded as the core technology peak due to its difficult technology and a large investment. Now, after BYD, another Chinese company is going to mass-produce this product.
Shanghai Huahong Grace Semiconductor Manufacturing Corp, a foundry, and Starpower, a leader in China's IGBT industry, held a "Huahong Automotive IGBT and 12-inch IGBT mass production ceremony" and signed a strategic cooperation agreement.
The two sides will work together to build high-power automotive-grade IGBT chips, which have now passed product validation by car companies and are entering the market for automotive applications such as power units, according to the company.
Huahong has successfully established its IGBT wafer production process on a 12-inch production line and its products have passed customer certification, making it the first pure-play foundry in the world to mass-produce advanced trench gate electric field cutoff IGBTs on both 8-inch and 12-inch production lines, the company said.
The company said its 12-inch IGBT output has exceeded 10,000 wafers. Last year, Starpower produced automotive-grade IGBT modules for more than 200,000 new energy vehicles.
IGBT, or insulated gate bipolar transistor, is a key technology that affects the performance of electric vehicles and is the "brain" of new energy vehicles, accounting for about 5 percent of the cost of the vehicle.
The technology has been mastered in Japan, Europe, and other foreign manufacturers for many years until BYD emerged to bring China out of this dilemma.
It is worth noting that although IGBT is the current technology used by mainstream car manufacturers, Tesla, BYD, and NIO have started to introduce the more advanced silicon carbide (SiC) technology.
Tesla and BYD have already started using Sic MOSFETs (silicon carbide power field-effect transistors) in their Model 3 and Han EV models.
NIO announced on June 22 that the first silicon carbide electric drive system C prototype, a volume prototype for process and production test verification, has rolled off the production line.
As a product of NIO's second-generation electric drive platform, this electric drive system is more efficient, compact and lightweight, and is an advanced technology in current electric vehicle manufacturing.
After the mass production of this technology, it will be firstly equipped by NIO's first sedan product, ET7, to provide a longer range for the vehicle.
In the field of new energy vehicles, silicon carbide is mainly used in the power control unit, which can be applied to the inverter that drives and controls the motor, vehicle charger, fast charging pile and other systems.
Newport Wafer Fab, the U.K.'s largest chip producer, is set to be acquired by Chinese-owned semiconductor company Nexperia for around £63 million ($87 million) next week.
Nexperia, a Dutch firm that is 100%-owned by China's Wingtech Technology, told CNBC on Friday that the deal talks are ongoing.
Located in Newport, South Wales, privately-held NWF's chip plant dates back to 1982 and it is one of just a handful of semiconductor fabricators in the U.K.
The deal comes during a global chip shortage that has led countries to try and become more independent when it comes to semiconductor production. The vast majority of today's chips are manufactured in Asia, with Taiwan's TSMC, South Korea's Samsung and China's SMIC among the largest chip producers in the world.
Hitachi ABB Power Grids that includes ABB Semiconductors business announced that it will be evolving to become Hitachi Energy from October 2021. The decision to change name has board and shareholder consent and coincides with the business' first-year anniversary since it started operations on 1 July, 2020. Hitachi Ltd. has an 80.1 percent stake in the joint venture and ABB Ltd. holds the balance.
Headquartered in Zurich, Switzerland, the global technology and market leader brings a rich heritage of pioneering breakthroughs, which have helped to increase access to safe, secure, and reliable electricity for more than one century. These range from pioneering innovations such as long distance commercial HVDC technology, that enables countries to efficiently transmit large amounts of power with minimum losses over thousands of kilometers while reducing carbon footprint, to providing microgrids and energy storage solutions that combined with state-of-the-art intelligent control systems, ensure reliable distributed power availability. The business has played a leading role enabling a stronger, smarter and greener global energy system.
Today, combating climate change is of paramount importance and one of the most urgent challenges of our times. According to the IEA's 'Net Zero by 2050' report, 'the path to net zero emissions is narrow' and staying on it requires increased investment in infrastructure, and specifically, an 'immediate and massive deployment of all available clean and efficient energy technologies.' By 2030, the world economy is expected to be some 40 percent larger but consuming seven percent less energy to be on track for net zero in 2050. By this time 'the energy sector will be dominated by renewables' and 'electricity will account for almost 50 percent of the total global energy consumption' – up from about 20 percent today. An equitable and sustainable energy transition is at the center of this global challenge, where electricity will be the backbone of the entire energy system.
Hitachi ABB Power Grids places sustainability at the heart of its purpose: powering good for a sustainable energy future. The transition to the Hitachi Energy name reflects the rapidly evolving energy landscape and the opportunity to create economic, environmental and social value; and with Hitachi enabling the business to position its pioneering and digital technologies to serve existing and future customers, going beyond the grid – opening up a breadth of opportunities in areas like sustainable mobility, smart life, and data centers. By combining advanced digital solutions and services, such as Hitachi Lumada, with an energy platform that is built on unique domain expertise and experience, the business is serving customers and partners co-creating global solutions to solve the global challenge of an inclusive and equitable carbon-neutral future.
Toshiaki Higashihara, Executive Chairman and CEO of Hitachi, said, "With climate change and increasing natural disasters, there is a need to solve three social issues worldwide: environment, resilience, and security and safety." He continued, "Hitachi ABB Power Grids provides a variety of solutions that solve these social issues, and by changing the company name to Hitachi Energy, we are further strengthening our commitment to the realization of a sustainable society. Hitachi and Hitachi Energy will contribute to solve social issues and improve people's QoL by realizing social innovation in the energy field with customers and partners."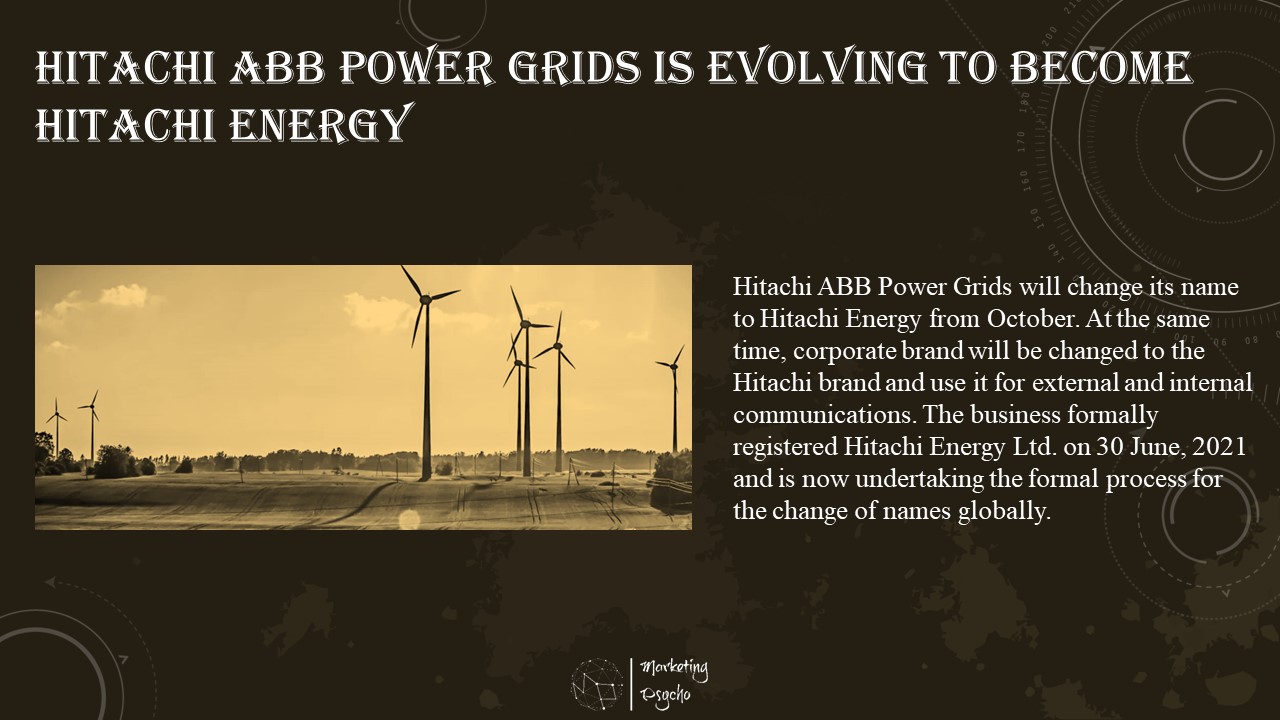 Keiji Kojima, President and COO of Hitachi, said, "To realize a sustainable society, the use of digital technology is becoming indispensable in all fields." He continued, "In the energy field, power grids are expected to be at the core of innovation since they have high affinity with digital technology, and I am confident that Hitachi Energy will lead this innovation. Hitachi will combine digital technologies such as Lumada with Hitachi Energy's advanced energy technologies to provide innovative energy solutions that create social, environmental and economic values."
"The energy landscape continues to evolve and so do we," said Claudio Facchin, CEO of Hitachi ABB Power Grids. He continued, "With our new name 'Hitachi Energy' we are broadening our commitment to creating further value for customers, our employees and society. The past year has been demanding for everyone, but we look forward with optimism. I am proud of our talented people in 90 countries, and through our passion, authenticity and culture of diversity and inclusion, we continue on our journey – Powering good for a sustainable energy future, pioneering and digital technologies, as the partner of choice for enabling a stronger, smarter and greener energy system."
Hitachi ABB Power Grids will change its name to Hitachi Energy from October. At the same time, we will change our corporate brand to the Hitachi brand and use it for external and internal communications. The business formally registered Hitachi Energy Ltd. on 30 June, 2021 and is now undertaking the formal process for the change of names globally.
ON Semiconductor has been declared the winner of the 2021 World Finance Sustainability Awards Program in the category of the 'Most Sustainable Company in the Semiconductor Industry – 2021'. This is the second consecutive year that ON Semiconductor has won this award. World Finance is a print and online magazine providing comprehensive coverage and analysis of the financial industry, international business and the global economy.
A big part of being a sustainable manufacturer is to innovate and offer greener products and services. ON Semiconductor's mission is to create energy-efficient technologies to help make the world greener, safer, inclusive and connected. Its products support electric vehicles, advanced driver-assistance systems (ADAS) and autonomous vehicles, efficient sensors used in windmills or other green applications. From using the best-in-class energy efficiency solutions to provide longer battery life IoT devices to its automotive devices for vehicle electrification and automotive power management, ON Semiconductor is helping its customers and their consumers manage their contribution to climate change. Its business groups as well as research and development department drive efficiency and green applications. For reclamation, ON Semiconductor is investigating new refining methods that consume less power.
Held in Shenzhen for the first time on the fair's 20th anniversary, PCIM Asia Conference 2021 promises to once again provide a platform for industry professionals in power electronics, intelligent motion, renewable energy and energy management from around the world to connect and share ideas. Experts within these sectors have contributed 52 conference papers on a wide range of topics within the industry.
Key topics covered in this year's conference will include:
High Power Devices
High Power Density Converters
Power Modules
DC/DC and AC/DC
SiC and GaN Devices
Advanced Power Devices
Power Grid
Automotive Power Electronics
Power Devices and Reliability
Power Converters and Motion Control
For the first time, PCIM Europe conference sessions will be presented at the PCIM Asia Conference in Shenzhen, allowing attendees to acquire industry knowledge exclusively from Europe. The conference will also feature two presentation sessions in Chinese. More information on the aforementioned sessions will be provided on a later date.
Held concurrently with the conference is the PCIM Asia fair which gathers industry professionals to showcase the latest trends and developments in the power electronics sector, covering a range of power electronics solutions and associated semiconductors, power devices, bus bars, capacitors and more. Recognized as a reputable platform, the exhibition and conference promote industry exchange and development in a professional, international and forward-thinking environment.
Subscribe to Power Semiconductors Weekly and watch it on YouTube every Tuesday.
If you prefer a monthly update about the world of power semiconductors delivered to your e-mail address, please, subscribe to Marketing Psycho Power Semiconductors newsletter.