Power Semiconductors Weekly Vol. 23
EBV Elektronik, an Avnet company, announced it is working closely with Infineon on the manufacturer's leading-edge silicon carbide (SiC) based CoolSiC™ technology, which delivers key benefits for engineers designing advanced power systems across a wide selection of market sectors and applications. Infineon and EBV will cooperate over the next year and beyond to accelerate the deployment of energy-efficient power devices with CoolSiC™ technologies.
There is strong global demand for improved, smaller and more cost-effective power conversion systems, especially for the fast-growing market for electric vehicles. Silicon carbide delivers many important advantages over the traditional use of silicon, including higher voltage operation, wider operating temperature ranges and higher switching frequencies. Infineon's CoolSiC™ technology builds upon these inherent advantages of the semiconductor material to deliver efficiency and reliability across a variety of applications such as battery charging, photovoltaic inverters, motor drives, energy storage and power supplies. The CoolSiC™ portfolio ranges from SiC-based diodes and discrete MOSFETs to hybrid and full SiC modules.
As part of the cooperation between the two companies, available exclusively from Avnet and EBV is an entry-level evaluation board (EVAL-1ED3122MC12H-SiC) from Infineon that is designed to provide engineers and developers with a simple way to quickly try out the possibilities of the advanced CoolSiC™ technology. The board is ready for use to evaluate the performance of the 650V or 1200V CoolSiC™ MOSFETs, which will require soldering to the board depending on the user application. Extensive training programmes, for engineers designing power systems, are available within the framework of this cooperation.
Infineon displaced NXP from the number one spot as the leading supplier of automotive semiconductors. The annual assessment from Strategy Analytics Powertrain, Body, Safety & Chassis Service (PBCS) is detailed in the Automotive Semiconductor Vendor 2020 Market Shares report which presents analysis of 2020 automotive sector revenues and market shares of the leading semiconductor vendors, with revenue splits by major component product category and by region.
This "top-down" analysis of semiconductor vendor sales revenues and market shares in CY 2020 for the automotive application segment represents Strategy Analytics' estimates of vendor revenues from the automotive sector derived from a combination of discussions with the major semiconductor suppliers, Strategy Analytics' own view and judgment of supplier activity, and its ongoing research and analysis into automotive electronics market growth.
Along with Renesas, Texas Instruments and STMicroelectronics, the top five vendors accounted for almost 49% of the global automotive semiconductor market in 2020. On the other end of the scale, the "Others" category includes over 45 companies that account for around 16% of the 2020 automotive semiconductor market.
Strategy Analytics estimates that 2020 automotive semiconductor vendor revenues were down 6.0% year-on-year, dropping from $37.2 billion in 2019 to $35.0 billion.
The 2020 global market for automotive semiconductors was impacted by the global COVID-19 pandemic in the first half of the year, but pent-up demand initiated a strong recovery allowing automotive semiconductor vendors revenues to grow strongly and minimizing the overall year-on-year decline.
The European Semiconductor Industry Association (ESIA) has disclosed information about wafer fab capacities for semiconductor-producing regions worldwide. In light of the extraordinary demand situation for semiconductors, ESIA is providing insight into trends relating to capacity for semiconductor-producing regions around the globe. The percentages are derived from monthly wafer starts, normalised to 200 mm wafer equivalents.
Based on the data provided it is clear that China and South Korea succeeded in keeping their wafer fab capacities growing compared to the US and Japan.
A $1.3million research collaboration led by Griffith University and Queensland Semiconductor Technology Pty. Ltd. (Questsemi), supported by Semefab Scotland and the Innovative Manufacturing CRC (IMCRC) is looking at the manufacture and performance of SiC Schottky diodes, a key element in many power conversion systems.
Silicon carbide (SiC) Schottky diodes are small semiconductor devices or one-way electronic switches.
Due to their incredible thermal conductivity, high switching performance and efficiency, they are highly sought-after for applications like solar inverters, motor drives, electric vehicle (EV) chargers and uninterruptable power supplies.
Using SiC wafers, researchers at the Queensland Microtechnology Facility (QMF) of Queensland Micro-and Nanotechnology Centre (QMNC) at Griffith University, have developed a new technology that allows for more efficient and low-cost fabrication of SiC diodes.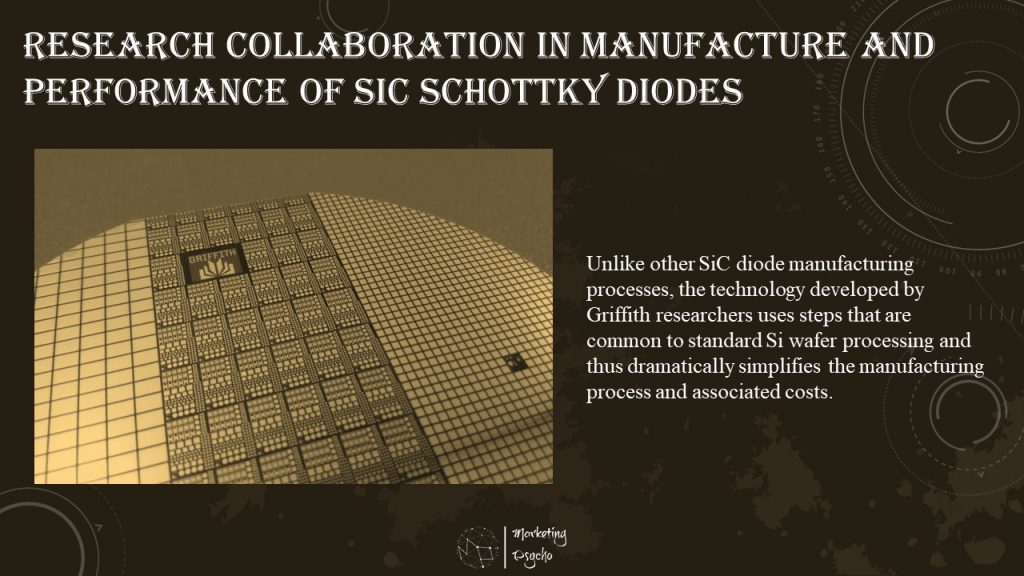 As part of the research project, a pilot production facility will be set up at QMF to support the commercialization of the technology. Devices necessary for the initial commercial product supply will be manufactured there.
Professor Sima Dimitrijev, who leads the research team, says the development and pilot manufacture of SiC-based diodes at QMF is a great example of advanced-manufacturing collaboration.
Unlike other SiC diode manufacturing processes, the technology developed by Griffith researchers uses steps that are common to standard Si wafer processing and thus dramatically simplifies the manufacturing process and associated costs.
Hitachi announced the establishment of Hitachi's Center of Excellence in Portland, a new centralized facility for semiconductor engineering in Hillsboro, Oregon.
Hitachi consolidates its semiconductor technology development facilities in the United States into this newly established facility. At this new location, the company will partner with its customers in the semiconductor industry to jointly create new Lumada solutions that lead to improved customer value by utilizing Hitachi's advanced digital technology. Hitachi's goal is to support its customers utilizing Hitachi's unique technology innovations, contribute to solving their technology challenges, and partner on management-related challenges.
Due to the expanded implementation of AI and IoT, as well as the emergence of 5G compatible digital devices, the amount of data used in communication has been increasing exponentially. Consequently, capital investment in data centers and base stations that support such data transmission is accelerating. Demand for semiconductor devices for automobiles, such as EVs (electric vehicles), and autonomous driving technology is also growing. As a result, the semiconductor device market is expected to continue growing and expanding into the near future. Hitachi's customers require continuous and uninterrupted technology innovation in order to support this market expansion.
Subscribe to Power Semiconductors Weekly and watch it on YouTube every Tuesday.
If you prefer a monthly update about the world of power semiconductors delivered to your e-mail address, please, subscribe to Marketing Psycho Power Semiconductors newsletter.