Power Semiconductors Weekly Vol. 22
Cree, Inc., the global leader in silicon carbide technology through its Wolfspeed business, announced that Shenzhen Gospower Digital Technology Co., Ltd., a national high-tech enterprise and leader in power electronics converters, will utilize Cree's Wolfspeed® 650V silicon carbide MOSFETs for next generation Common Redundant Power Supply (CRPS) solutions. As the demand for cloud-based storage continues to rapidly expand, Gospower will leverage Wolfspeed's silicon carbide technology to deliver power efficiencies that will boost China's entire power server market and better support the country's digital storage demands.
Server and computing power supply demands are increasing significantly due to rapid developments in the cloud, artificial intelligence, distributed storage and 5G industries. Wolfspeed's 650V silicon carbide MOSFETs offer high efficiency through low switching and conduction losses, as well as high power density features including smaller footprints, lighter weight and fewer components. Customers benefit from lower total cost of ownership through the more efficient use of power, reduced cooling requirements and industry-leading reliability, enabling faster rollout of industry-leading server power supply solutions.
"To meet the growing need for a power supply solution that has higher efficiency, smaller size and high power density, we partnered with Cree to utilize its Wolfspeed® 650V silicon carbide MOSFETs to create an application that will help transform the Chinese server market. Our next generation CRPS solution will enable Gospower to be a leader in this sector and to efficiently support China's data storage needs," said Mr. Ruan Shiliang, Gospower CEO.
Gospower developed a 2400W/2600W 185mm CRPS solution that utilizes Wolfspeed® silicon carbide MOSFETS in the totem pole bridgeless power factor correction (PFC) design. This device creates a highly efficient, reliable and cost-effective solution that operates under higher temperatures and features lower switching losses, zero reverse recovery and high power density, all in a smaller size.
"As a pure-play global semiconductor powerhouse, Cree is well positioned to lead the transition from silicon to silicon carbide," said Gregg Lowe, Cree CEO. "Across the globe, our Wolfspeed® silicon carbide devices are advancing technological solutions by increasing efficiency and performance with smaller, more scalable power systems. This solution will help advance the power supply sector and is a testament to the innovations that are made possible by silicon carbide when we collaborate with industry leaders such as Gospower."
Gospower's strong history of advanced technological innovations combined with Cree's Wolfspeed silicon carbide technology enables a best-in-class server device.
Mitsubishi Electric Corporation announced the coming launch of its T-series 2.0kV Insulated Gate Bipolar Transistor (IGBT) Module for Industrial Use, the world's first IGBT with 2.0kV withstand voltage, on June 30. The module is ideally suited to increase the efficiency and reduce the size of renewable-energy power converters, which are in high demand due to the growing use of renewable-energy power supplies. The module will be exhibited at the Applied Power Electronics Conference (APEC) 2021 Virtual Exposition from June 15 to 16.
Product Features
1) World-first IGBT with 2.0kV withstand voltage for more compact DC1500V power converters
World's first 2.0kV-rated IGBT suitable for DC1500V-rated power converters, which are difficult to design using conventional 1.7kV-rated IGBTs.
Enables development of simpler and smaller DC1500V-rated power converters without need for complex topology, such as three-level NPC (I-type connection)
2) 7th-generation IGBT and RFC diodes help reduce power loss in power converters
Suitable for high-voltage, lower-power-loss applications as latest (7th-generation) IGBT with CSTBT™ structure and RFC (Relax Field of Cathode) diodes optimized for high withstand voltage.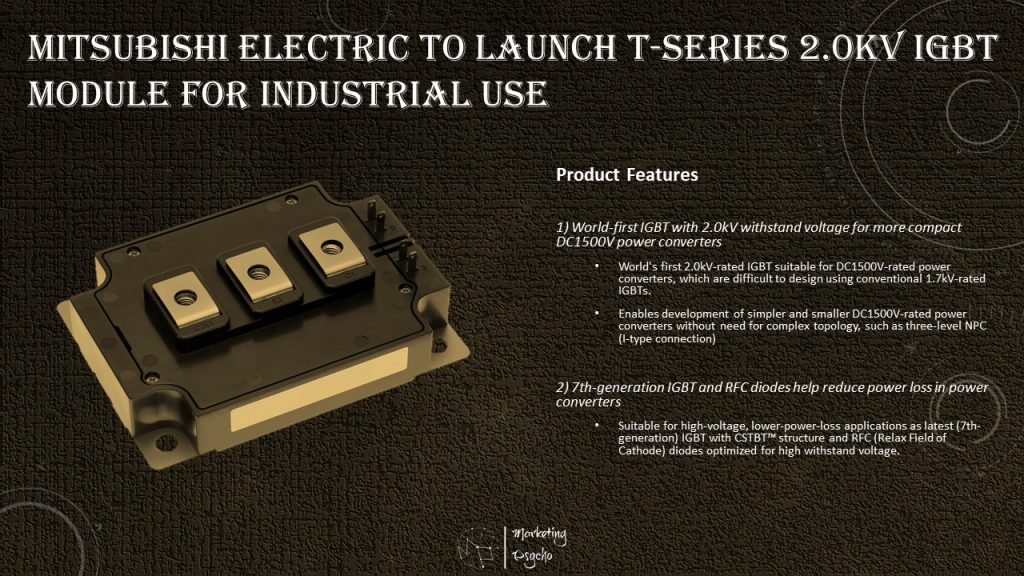 Power semiconductors for efficiently controlling electric power are attracting wider application and increasing demand as key devices that can help to lower the carbon footprint of global society. Meanwhile, power grids that use renewable-energy power sources are required to realize increasingly higher power-conversion efficiency through deployment of higher system operating voltages. For this purpose, power converters rated at DC1500V, the upper limit of the Low Voltage Directive5, have been developed. In response, Mitsubishi Electric will soon launch its 2.0kV IGBT T-series suitable for DC1500V power converters, which is expected to help simplify the design and downsizing of such converters as well as raise their efficiency.
ON Semiconductor, driving energy efficient innovations, has announced a pair of 1200 V full silicon carbide (SiC) MOSFET 2-PACK modules further enhancing their range of products suitable for the challenging electric vehicle (EV) market.
As sales of EV continue to grow, infrastructure must be rolled-out to meet the needs of drivers, providing a network of rapid charging stations that will allow them to complete their journeys quickly and without 'range anxiety'. Requirements in this sector are rapidly evolving, requiring power levels in excess of 350 kW and efficiencies of 95% becoming the 'norm'. Given the diverse environments and locations in which these chargers are deployed, compactness, robustness and enhanced reliability are all challenges that designers face.
The new 1200 V M1 full SiC MOSFET 2 pack modules, based upon planar technology and suited to a drive voltage in the range of 18-20 V, are simple to drive with negative gate voltages. The larger die reduces thermal resistance compared to trench MOSFETs, thereby reducing die temperature at the same operating temperature.
Configured as a 2-PACK half bridge, the NXH010P120MNF1 is a 10 mohm device housed in an F1 package while the NXH006P120MNF2 is a 6 mohm device in an F2 package. The packages feature press-fit pins making them ideal for industrial applications and an embedded negative temperature coefficient (NTC) thermistor facilitates temperature monitoring.
As part of the ON Semiconductor EV charging ecosystem, the new SiC MOSFET modules have been designed to work alongside driver solutions such as the NCD5700x devices. The recently introduced NCD57252 dual channel isolated IGBT/MOSFET gate driver offers 5 kV of galvanic isolation and can be configured for dual low-side, dual high-side or half-bridge operation.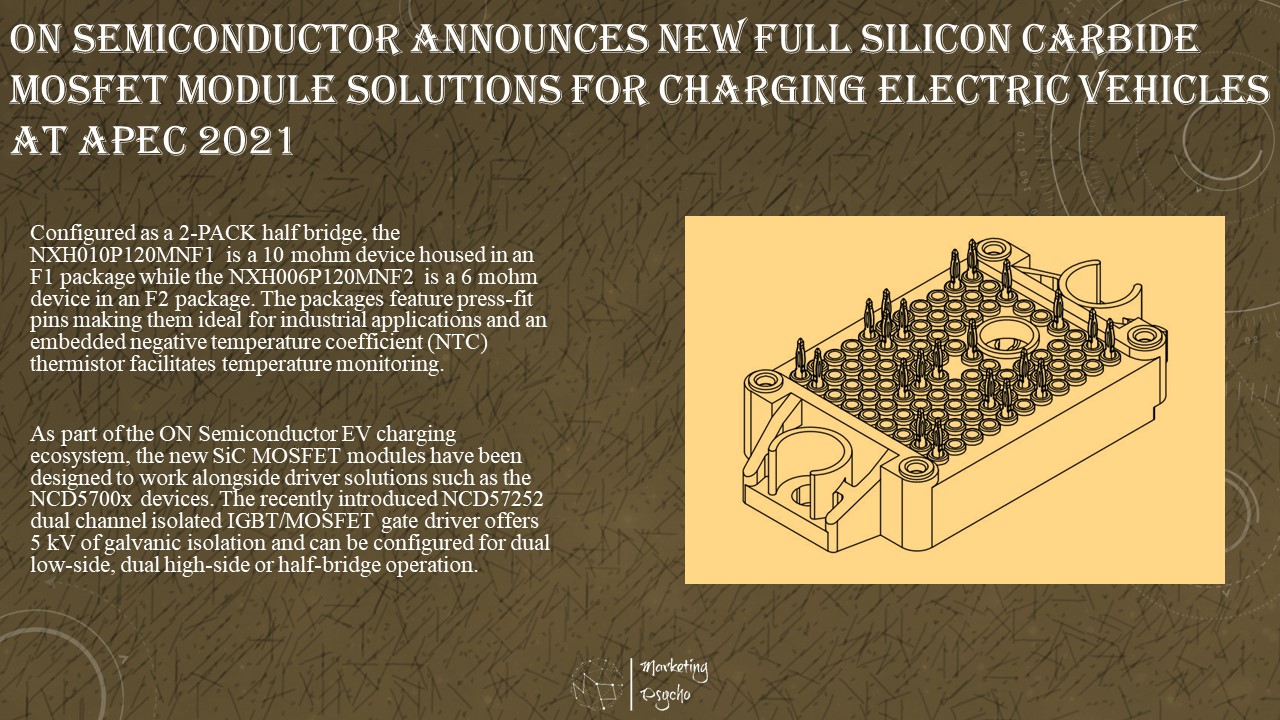 The NCD57252 is housed in a small SOIC-16 wide body package and accepts logic level inputs (3.3 V, 5 V & 15 V). The high current device (source 4.0 A / sink 6.0 A at Miller plateau voltage) is suitable for high-speed operation as typical propagation delays are 60ns.
Complementing the new modules and gate driver are the ON Semiconductor SiC MOSFETs that provide superior switching performance and enhanced thermals when compared to similar silicon devices. This results in improved efficiency, greater power density, improved electromagnetic interference (EMI) and reduced system size and weight.
The recently-announced 650 V SiC MOSFETs employ a novel active cell design combined with advanced thin wafer technology enabling a best-in-class figure of merit (FoM) for (RDS(on)*area). Devices in the series such as the NVBG015N065SC1, NTBG015N065SC1, NVH4L015N065SC1 and NTH4L015N065SC offer the lowest RDS(on) in the market for D2PAK7L / TO247 packaged MOSFETs.
The 1200 V and 900 V N-channel SiC MOSFETs feature a small chip size that reduces device capacitance and gate charge (Qg – as low as 220 nC), reducing switching losses when operating at the high frequencies demanded by EV chargers.
During APEC 2021, ON Semiconductor will showcase SiC solution for industrial applications as well as presenting exhibitor seminars about the company's solutions for off-board EV-charging.
Alpha and Omega Semiconductor Limited, announced that its Board of Directors, upon recommendation by the Nominating and Corporate Governance Committee, intends to nominate Hanqing (Helen) Li and So-Yeon Jeong as directors to be elected at its 2021 Annual General Meeting of Shareholders, which is expected to be held in November 2021.
"We are pleased and excited that leaders of Helen's and So-Yeon's caliber have decided to join our Board," said Dr. Mike Chang, Chairman and CEO of the Company. "Ms. Li has 20 years of operational, financial and investment banking experience focusing on technology companies in the semiconductor industry. Ms. Jeong brings 25 years of experience in managing investor relations and corporate communications of public technology companies, including companies in the semiconductor industry. Both Ms. Li and Ms. Jeong will provide significant leadership, industry perspective and operational capabilities to AOS as we continue to execute and expand our growth plans."
Ms. Li has been a Managing Director and Head of China Investment Banking of Needham & Company, LLC, a full-service investment banking and asset management firm, since 2011. Prior to joining Needham & Company, from 2010 to 2011, Ms. Li served as Strategic Sales Manager of TDK/Invensense, a leading provider of MEMS-based motion sensors. From October 2006 to 2008, Ms. Li served as the Senior Design Engineer of Marvell Technology Group, a global supplier of infrastructure semiconductor solutions designed to process, move, store and secure data. From 2002 to October 2006, Ms. Li served as Design Engineer for Micron Technology, the largest memory device and solution provider in the United States. Ms. Li received her M.B.A. from the MIT Sloan School of Management, MSEE from the University of Southern California, and B.A. from Tsinghua University.
Ms. Jeong has been the Head of Investor Relations at Magnachip Semiconductor Corporation based in Seoul, Korea, a designer and manufacturer of analog and mixed-signal semiconductor platform solutions, since April 2020. From 2011 to August 2020, she served as Consultant, Investor Relation for the Company. From 2007 to 2008, Ms. Jeong served as the Vice President of Investor Relations and Marketing Communications of Photon Dynamics, Inc. (acquired by Orbotech, now a KLA company), a global supplier of array test and repair equipment for LCD flat panel display manufacturers. From 2004 to 2007, Ms. Jeong served as the Director of Investor and Board Relations of Nextest Systems Corp. (acquired by Teradyne), a leading manufacturer of automatic test equipment for semiconductor IC manufacturers. Ms. Jeong received her M.B.A. from Fuqua School of Business, Duke University and B.A. from Ewha University, Seoul, Korea.
IGBT module datasheets are often a source of confusion. This webinar introduces the SEMIKRON datasheet for a typical industrial IGBT module, explaining each term and providing insight as to how it can be used. The content provides datasheet clarity for both entry-level and experienced engineers. Semikron representative will explain the difference between "maximum ratings" and "characteristics" and show the power designer which parameters are valuable for design and which points must be considered when comparing datasheets across manufacturers.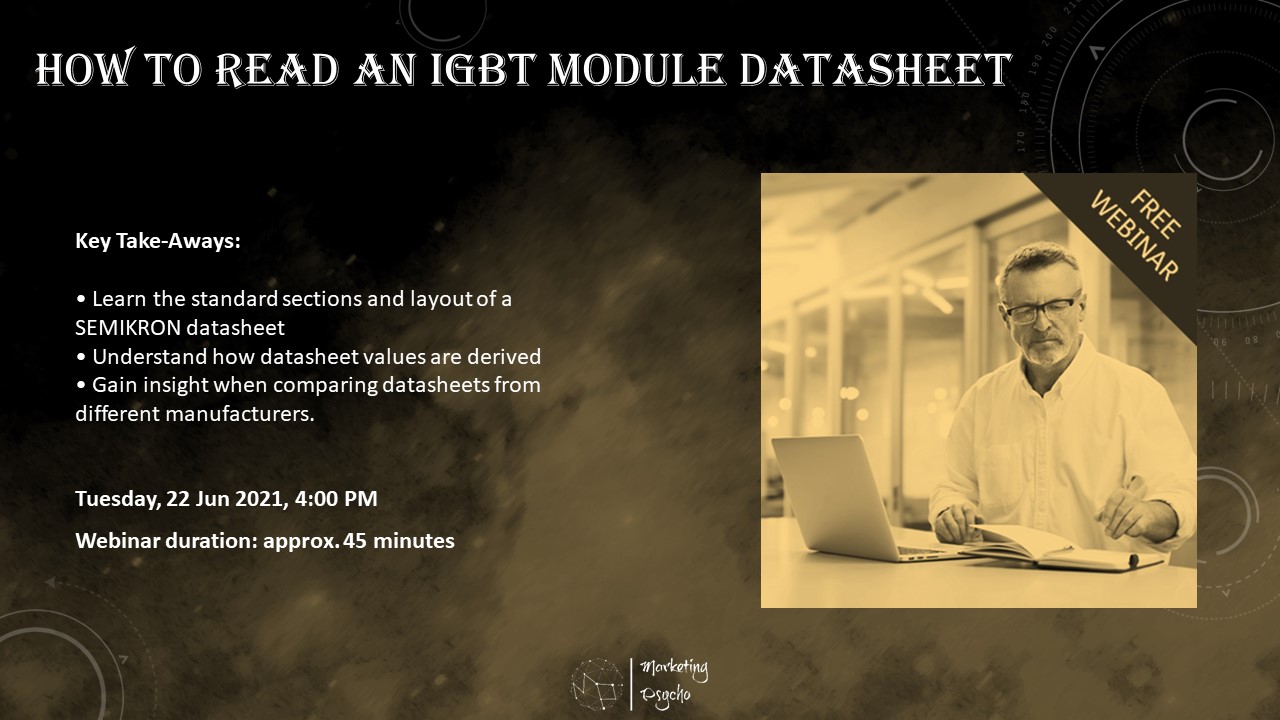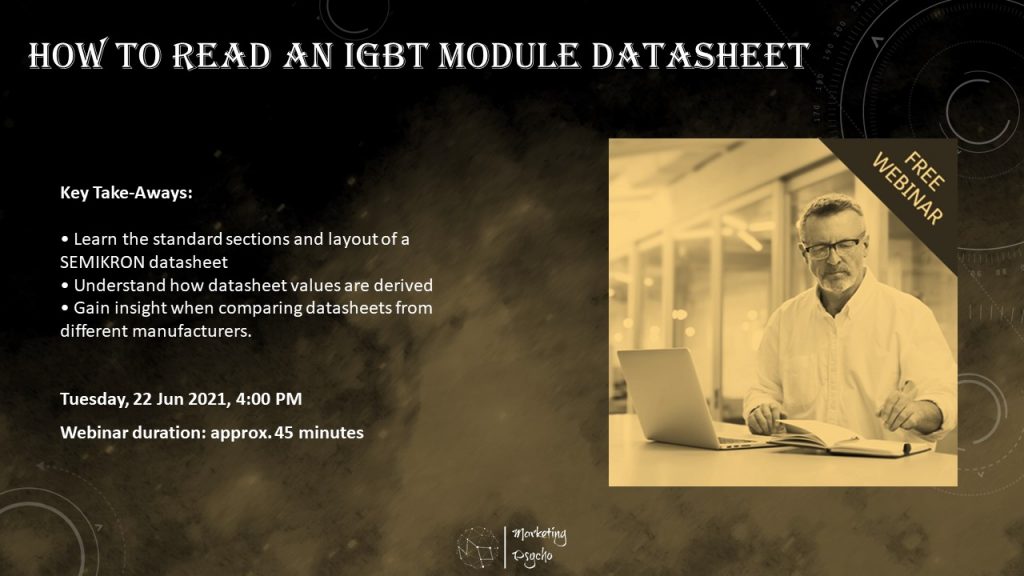 ​​​​​Key Take-Aways:
Learn the standard sections and layout of a SEMIKRON datasheet
Understand how datasheet values are derived
Gain insight when comparing datasheets from different manufacturers
Webinar duration is approximately 45 minutes​​​​​​​ and it starts Tuesday, 22 Jun 2021, 4:00 PM.
Subscribe to Power Semiconductors Weekly and watch it on YouTube every Tuesday.
If you prefer a monthly update about the world of power semiconductors delivered to your e-mail address, please, subscribe to Marketing Psycho Power Semiconductors newsletter.