Power Semiconductors Weekly Vol. 19
Taiwan Semiconductor Manufacturing Co. (TSMC), the world's biggest contract chipmaker, said it will increase its production of automotive chips by 60% this year after taking what it described as "unprecedented actions" to alleviate the semiconductor shortage that is squeezing the global car industry.
"TSMC has taken unprecedented actions, including the reallocation of capacity from customers from other industries who are experiencing stressfully high demand due to the acceleration of digital transformation," Taiwan Semiconductor Manufacturing Co. said in an announcement on Friday.
Taiwan Semiconductor Manufacturing Co., a key supplier to nearly all major automotive chip developers, such as Infineon, NXP, Sony and Renesas Electronics, said it plans to increase output of microcontroller units (MCUs) by 60% this year. That represents a 30% increase over the 2019 pre-pandemic level, according to the company. MCUs are essential components for a range of car parts, from air-bag and motor controls to tire pressure monitors and lighting systems.
TSMC's remarks came after the company's second meeting with U.S. Commerce Secretary Gina Raimondo to discuss the ongoing global chip crunch, which has hit a swath of industries from smartphones and PCs to servers and automobiles. Ford Motor of the U.S. said that it will halt or cut production at eight factories in North America in different periods through June due to the semiconductor shortage.
STMicroelectronics, a global semiconductor leader serving customers across the spectrum of electronics applications, announced that the Institute of Electrical and Electronics Engineering (IEEE) presented the Company with an IEEE Milestone for its groundbreaking work in the super-integrated silicon-gate semiconductor process technology combining the high-precision analog transistors from a Bipolar process, with the high-performance digital switching transistors from a CMOS process, and with the high-power DMOS (BCD) transistors onto a single chip for complex, power-demanding applications. Over the years, the BCD process technology has enabled revolutionary developments in such end applications as hard disk drives, printers, and the full range of automotive applications, among many others.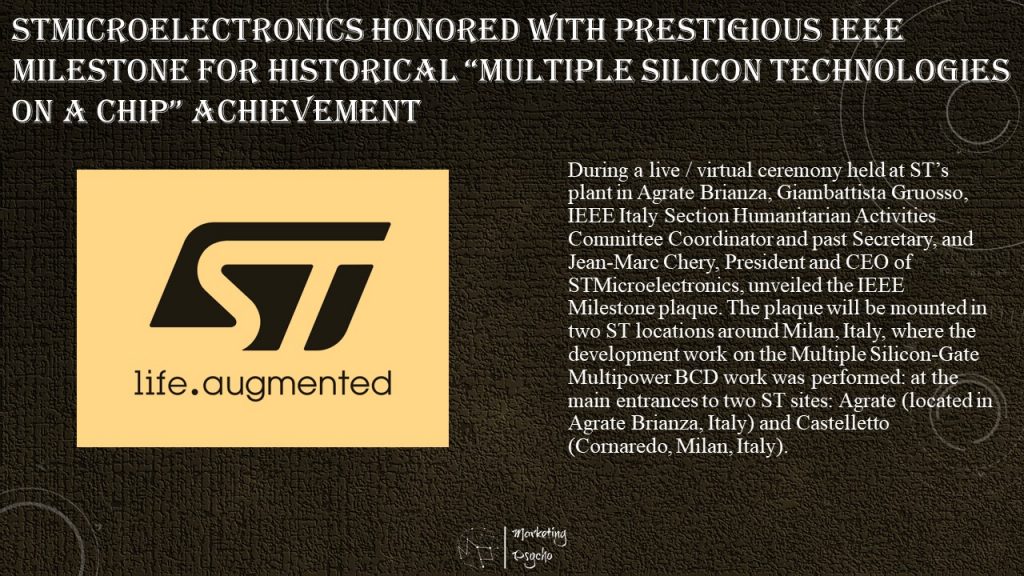 During a live / virtual ceremony held at ST's plant in Agrate Brianza, Giambattista Gruosso, IEEE Italy Section Humanitarian Activities Committee Coordinator and past Secretary, and Jean-Marc Chery, President and CEO of STMicroelectronics, unveiled the IEEE Milestone plaque. The plaque will be mounted in two ST locations around Milan, Italy, where the development work on the Multiple Silicon-Gate Multipower BCD work was performed: at the main entrances to two ST sites: Agrate (located in Agrate Brianza, Italy) and Castelletto (Cornaredo, Milan, Italy).
ROHM's 'Environmental Vision 2050' contributes to achieving a sustainable society by 2050.
In addition to pursuing zero carbon and zero emissions (zero CO2 emissions) based on the three themes of 'climate change', 'resource recycling', and 'coexistence with nature', ROHM will promote business activities in harmony with the natural cycle to protect biodiversity.
The role of semiconductors – ROHM's main products – is becoming increasingly important to achieving a decarbonized society. In particular, improving the efficiency of motors and power supplies, which are said to account for the most of the world's electricity consumption, has become company's major mission.
In addition to contributing through these products, it is important to reduce the environmental impact of business activities in general, including the production process. ROHM accomplishes this vision by working to establish an eco-friendly business structure by using 100% renewable energy at both its main domestic offices (Kyoto Station Building, Shin-Yokohama Station Building) and in the primary production process for SiC wafer manufacturing from this fiscal year.
The worldwide semiconductor shortage will persist through 2021, and is expected to recover to normal levels by the second quarter of 2022, according to Gartner, Inc.
"The semiconductor shortage will severely disrupt the supply chain and will constrain the production of many electronic equipment types in 2021. Foundries are increasing wafer prices, and in turn, chip companies are increasing device prices," said Kanishka Chauhan, principal research analyst at Gartner.
The chip shortage started primarily with devices, such as power management, display devices and microcontrollers, fabricated on legacy nodes at 8-inch foundry fabs, which have a limited supply. The shortage has now extended to other devices, and there are capacity constraints and shortages for substrates, wire bonding, passives, materials, and testing, all of which are parts of the supply chain beyond chip fabs. These are highly commoditized industries with minimal flexibility/capacity to invest aggressively on a short notice.
Across most categories, device shortages are expected to be pushed out until the second quarter of 2022, while substrate capacity constraints could potentially extend to fourth quarter of 2022.
Japan is planning to increase spending to ramp up local production of advanced semiconductors and batteries under this year's growth agenda.
Under the draft growth blueprint set to be finalized as early as June, the government will also promote large-scale investment to develop batteries for electric vehicles.
The plan would underscore Tokyo's concern over a global chip supply shortage that has caused output disruptions in Japanese automakers and threatens to hurt an export-reliant economy.
In the growth strategy, the government will pledge to expand a current 200 billion-yen ($1.84 billion) fund to support the domestic chipmaking industry and help boost output of advanced semiconductors.
The plan would focus on efforts to promote capital expenditure, such as by inviting U.S. manufacturers to invest in Japan so the two countries can strengthen chip supply chains, the Nikkei said.
The draft strategy also calls for Japan to hold a 40% global share in next-generation power semiconductors, used in electric vehicles and other applications, by the end of the decade.
The growth strategy serves as a key platform for government efforts to boost Japan's long-term growth and competitiveness.
The first edition of Bodo's Expert Talk was a great success with many participants, contributors, and lively discussions on wide bandgap (WBG) semiconductors.
Recordings of the Expert Talk sessions from 2021 March, 31st are now available at Bodo's Power Systems magazine website.
The next episode is coming to you on June 30. Don't miss it!
And don't miss the anniversary issue of the magazine in June. Bodo celebrates 15 successful years in the world of power electronics.
Find more information about power semiconductors in Marketing in Power Electronics section of the website.