Power Semiconductors Weekly Vol. 12
Japanese chipmaker Renesas Electronics confirmed it would take at least 100 days to get back to normal production at its fire-hit plant, even as the government urged some Taiwanese companies to help with alternative chip production.
Renesas, which commands nearly a third of the global market share for microcontroller chips used in cars, said 23 machines were damaged in the fire and needed to be replaced or fixed, nearly double its initial estimate of 11.
Earlier last week, Japan's industry minister Hiroshi Kajiyama said Japan has asked some Taiwanese manufacturers to cooperate in alternative production of semiconductors. The Japanese government has called on equipment makers to help Renesas restore its production.
GlobalFoundries, the third-largest foundry, is planning to invest $1.4 billion in its chip factories this year, and will likely double that investment next year, CEO Tom Caulfield told CNBC in an interview.
Caufield said the company's manufacturing capacity is completely booked and that industrywide semiconductor supply could lag behind demand until 2022 or later.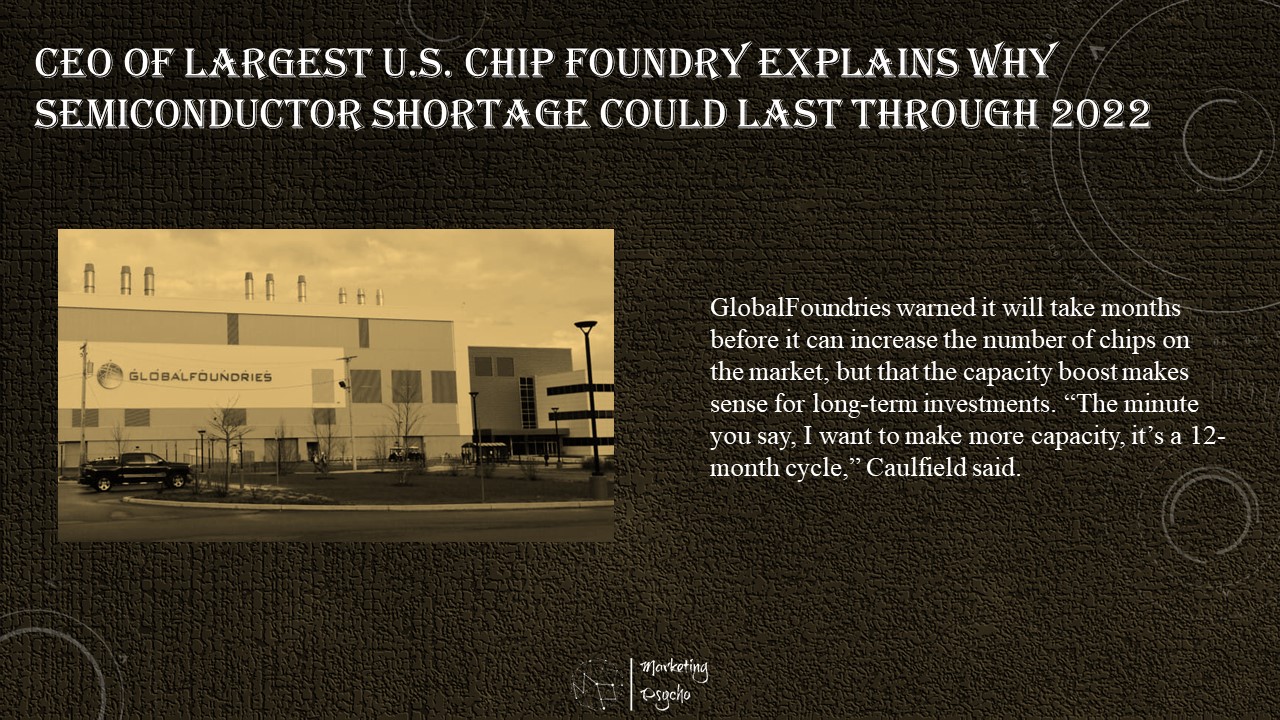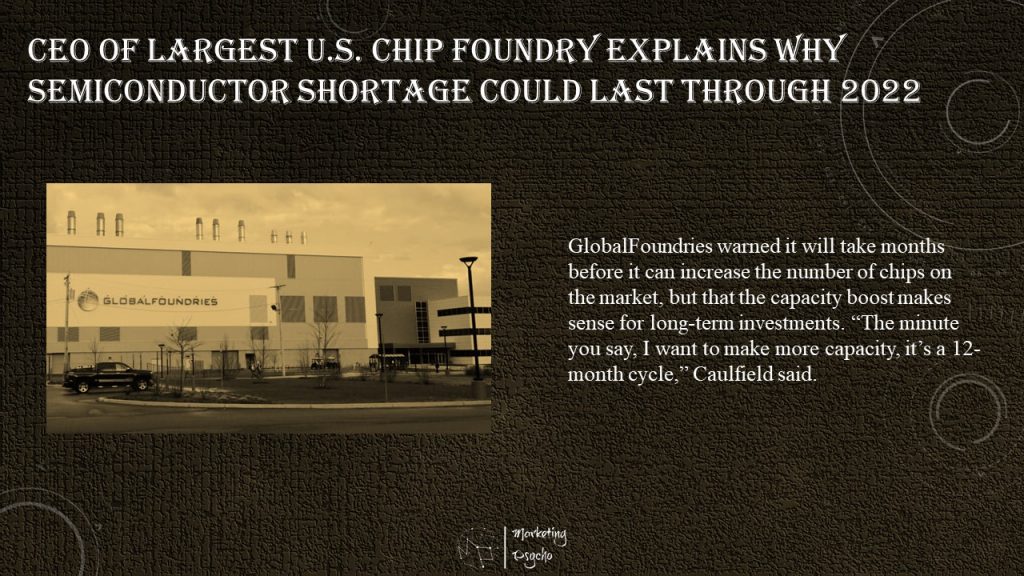 GlobalFoundries warned it will take months before it can increase the number of chips on the market, but that the capacity boost makes sense for long-term investments. "The minute you say, I want to make more capacity, it's a 12-month cycle," Caulfield said.
The world is currently facing a severe semiconductor shortage that has forced automakers and electronics manufacturers to delay the launch of new product lines. There's no quick way out of the crunch. The world's largest contract chip manufacturer, Taiwan Semiconductor Manufacturing Co. (TSMC), is expecting demand to remain high—so high, in fact, that it's planning to invest a staggering $100 billion over the next three years to supply it.
The investment anticipates "growth that will follow in the next few years," a TSMC spokesperson said in an email to Fortune, adding that the proposed $100 billion is not a response to the current chip shortage. "We always work closely with our customers, and we do not build speculative capacity."
TSMC announced its $100 billion investment to "increase capacity to support the manufacturing and R&D of advanced semiconductor technologies" during an investors conference in January, but international media only recently became aware of the news and is still wrapping its head around the enormous sum.
Truth is, semiconductor development is an expensive business, and $100 billion won't be at all hard to spend.
TSMC has budgeted $12 billion for the development of a new semiconductor factory in Phoenix, with construction due to start next year.
China announced tax breaks to spur growth of its semiconductor industry following US sanctions that alarmed the Chinese Communist Party by cutting off access to US processor chips for tech giant Huawei Technologies Co (華為) and some other companies.
Leaders declared accelerating efforts to transform China into a self-reliant "technology power" to be this year's top economic priority after the tariff dispute with Washington highlighted its reliance on US components for smartphones and other industries Beijing wants to develop.
Chipmakers can import machinery and raw materials tax-free through 2030, the Chinese ministry of Finance and other agencies announced.
Under the latest measure, machinery and raw materials "that cannot be produced or whose performance cannot meet demand" would be exempt from import tax, the government said.
That applies to photoresists, masks, polishing pads and liquids, silicon crystals and wafers, materials to build clean rooms and other production equipment.
After a battle with Lumentum, II-VI says it is entering into a definitive agreement to acquire Coherent.
Under the terms of the transaction, Coherent shareholders will receive $220.00 in cash and 0.91 of a share of II-VI common stock for each Coherent share, valuing the deal at $7.0bn. This is up from Lumentum's first offer of $5.7bn that saw II-VI and MKS Instruments make alternative bids. II-VI increased its offer several times and Coherent is to pay a $217.6 million termination fee to Lumentum as a result.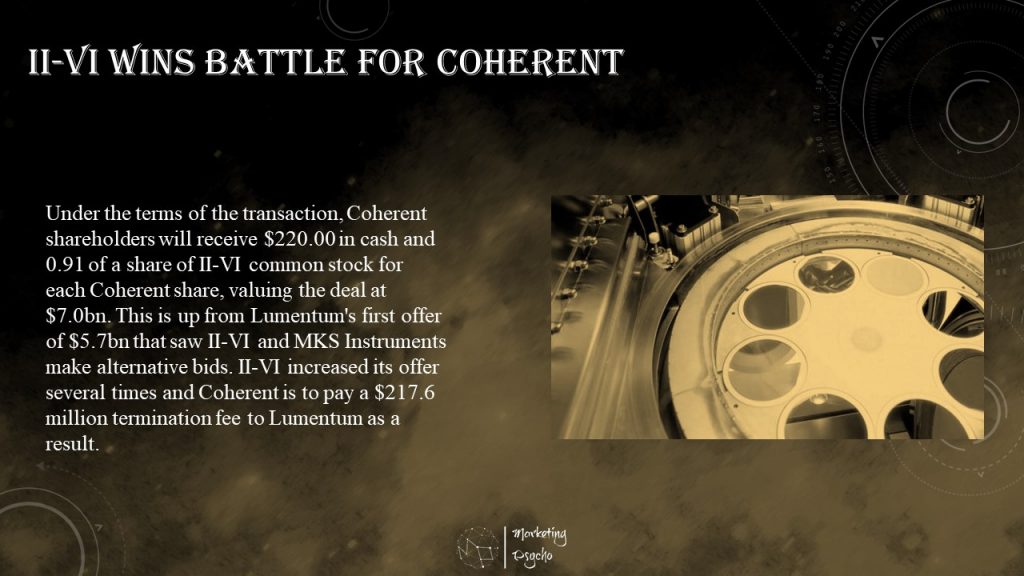 The combination of II-VI and Coherent will increase collective exposure to irreversible megatrends for decades to come. The transaction is expected to close by the end of the year and has been approved by both companies' boards but is subject to customary closing conditions, including receipt of required regulatory approvals and approval of II-VI and Coherent shareholders.
The combined company will have revenues of $4.1bn and an available market of approximately $25bn for the complementary lasers, optics, and electronics technologies at the subsystems and systems level in aerospace and defense, life sciences, and laser-additive manufacturing.
On April 15 join a free webinar with experts from STMicroelectronics and Bodo's Power Systems.
You will
Explore STMicroelectronics latest technologies used in high efficient PFC systems: The brand new M6 MOSFET family for soft and hard switching,
Understand how isolated gate drivers STGAP2 perform in combination with gen2 SiC MOSFETs at different switching frequencies.
Learn what makes the difference between a SiC Diode and an ultrafast diode in a 1kW PFC system.
Agenda:
10:00AM CEST – Welcome (Avnet Silica)
10:05AM CEST – High efficient PFC systems – STMicroelectronics technology is an answer to your needs (STMicroelectronics)
11:00AM CEST – Panel Discussion / Live Q&A (STMicroelectronics & Bodo's Power Systems)
Find more information about power semiconductors in Marketing in Power Electronics section of the website.