Power Semiconductors Weekly Vol. 117
Mitsubishi Electric Corporation announced that it has developed a new structure for a silicon carbide metal-oxide-semiconductor field-effect transistor (SiC-MOSFET) embedded with a Schottky barrier diode (SBD), which the company has applied in a 3.3 kV full SiC power module, the FMF 800 DC -66 BEW for large industrial equipment such as railways and DC power systems. Samples began shipping on May 31. The chip's new structure is expected to help downsize railway traction systems, etc. as well as make them more energy efficient, and contribute to carbon neutrality through the increased adoption of DC power transmission.
SiC power semiconductors are attracting attention with their capacity to significantly reduce power loss. Mitsubishi Electric, which commercialized SiC power modules equipped with SiC-MOSFETs and SiC-SBDs in 2010, has adopted SiC power semiconductors for a variety of inverter systems, including air conditioners and railways.
The chip integrated with a SiC-MOSFET and a SiC-SBD can be mounted on a module more compactly compared to the conventional method of using separate chips, thus enabling smaller modules, larger capacity, and lower switching loss. It is expected to be widely used in large industrial equipment such as railways and electric power systems. Until now, the practical application of power modules with SBD-embedded SiC-MOSFETs has been difficult due to their relatively low surge-current capability, which results in the thermal destruction of the chips during surge-current events because surge currents in connected circuits concentrate only in specific chips.
Mitsubishi Electric has now developed the world's first mechanism by which surge current concentrates on a specific chip in a parallel-connected chip structure inside a power module, and a new chip structure in which all chips start energizing simultaneously so that surge current is distributed throughout each chip. As a result, the power module's surge-current capacity has been improved by a factor of five or more compared to the company's existing technology, which is equal to or greater than that of conventional Si power modules, thus enabling the application of an SBD-embedded SiC-MOSFET in a power module.
Navitas Semiconductor announced the first in a series of strategic manufacturing investments, to increase control, reduce costs and enhance revenue capacity for its GeneSiC silicon carbide (SiC) power semiconductors.
An initial $20 million investment enables a three-reactor SiC epi-growth facility at the company's Torrance, CA headquarters. Adding a SiC epitaxial (or "epi") layer onto a raw SiC wafer is the first step in manufacturing individual SiC power devices. The first AIXTRON G10-SiC epitaxy reactor, with 6" and 8" wafer capability, is expected to be fully qualified and in production in 2024. Navitas views the epi-growth services to be provided by its new facility as a critical process step that could support up to an additional $200 million in annual production. The company expects to continue the use of third-party vendors for additional epi-growth, wafer fabrication and assembly operations.
"We are proud that an important technology innovator such as Navitas chose our new G10-SiC to further accelerate the adoption of SiC in the growing market for energy efficient power devices. This is especially significant as AIXTRON and Navitas are both firm believers and pioneers in the unstoppable advance of GaN and SiC over legacy silicon. It is through partnerships like ours, where highly innovative companies work together, that this important transition can be realized," says Dr. Felix Grawert, CEO and President of AIXTRON SE.
"Adding a high-quality SiC epi-layer onto a raw SiC wafer is a critical process step prior to individual device manufacturing, and adding the AIXTRON in-house epi capability to existing subcontract process flows expands available capacity, lowers finished wafer cost, increases quality and reduces cycle times", said Dan Kinzer, Navitas COO / CTO and co-founder. "The development and manufacturing business partnership with Aixtron includes ongoing technical and co-development support."
Navitas' investment in internal epi capacity is one of several initiatives in support of the company's recently-announced $760M customer pipeline of estimated potential future business, based on expressed customer interest for qualified programs. While the conversion of this pipeline into orders or shipments depends on many factors in addition to possessing available capacity, the company expects its epi capacity expansion will provide a favorable return on investment under most anticipated planning scenarios.
Navitas recently completed an $80 million follow-on common stock offering and plans to use proceeds from the offering for strategic manufacturing investments, among other possible uses, including working capital and general corporate purposes.
Vitesco Technologies and onsemi announced a 10-year long-term supply agreement worth $1.9 billion (€1.75 billion) for silicon carbide (SiC) products to enable Vitesco Technologies' ramp in electrification technologies. Vitesco Technologies, a leading international manufacturer of modern drive technologies and electrification solutions, is providing an investment of $250 million (€230 million) to onsemi for new equipment for SiC boule growth, wafer production and epitaxy to secure access to SiC capacity. The equipment will be used to produce SiC wafers to support Vitesco Technologies' growing SiC demand. In parallel, onsemi, a leader in intelligent power and sensing technologies, will continue to invest substantially into end-to-end SiC supply chain.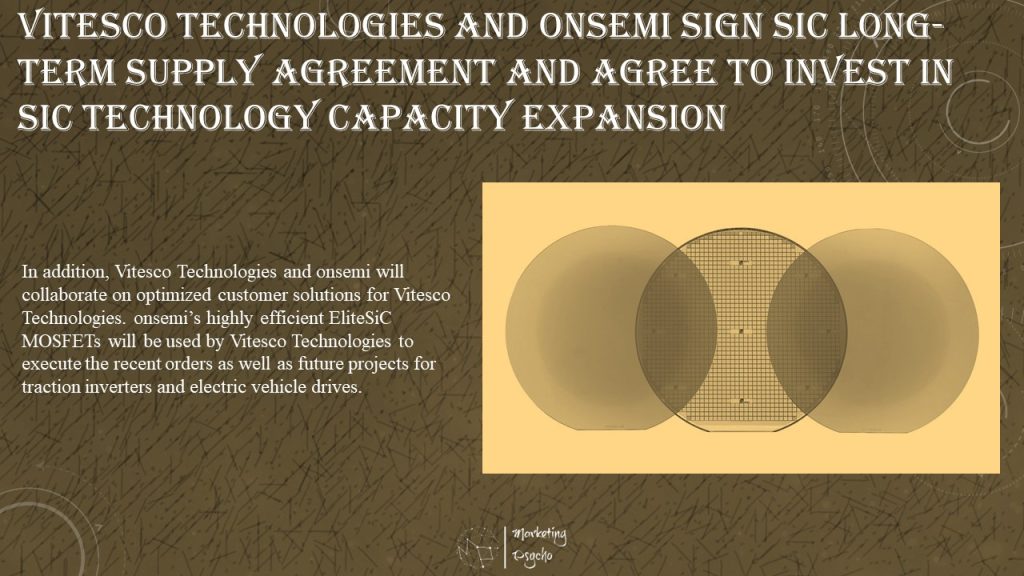 In addition, Vitesco Technologies and onsemi will collaborate on optimized customer solutions for Vitesco Technologies. onsemi's highly efficient EliteSiC MOSFETs will be used by Vitesco Technologies to execute the recent orders as well as future projects for traction inverters and electric vehicle drives.
SiC semiconductors are a pivotal technology for electrification enabling highly efficient power electronics leading to reduced charging times and longer range for electric cars. Especially at high voltage levels such as 800 V, SiC inverters are more efficient than silicon models. Since 800 V is the prerequisite for fast and thus convenient high-voltage charging, SiC devices are at the beginning of a worldwide boom.  
iDEAL Semiconductor, a fabless semiconductor company focused on delivering breakthrough power efficiency, announced the general availability of its patented SuperQ technology. SuperQ can reduce power loss in many applications including data centers, electric vehicles, solar panels, motor drives, medical devices, and white goods. Its elevated efficiency reduces carbon footprints and allows for a more sustainable future.
iDEAL's engineers and scientists reinvented the power device architecture and delivered a step-function increase in performance. The technology is based in silicon, which represents 95% of global semiconductor manufacturing capacity, and is forward compatible with future power semiconductor materials.
The basic power semiconductor structure has seen limited innovation in the past two decades and silicon power device performance has plateaued. Attempts to further increase performance have focused on materials versus expanding the limits of silicon. Through scientific research and engineering at the atomic level, iDEAL Semiconductor has created a novel architecture that sets the next frontier of performance and debunks the idea that the industry has reached the end of the road for silicon advancement.
"iDEAL Semiconductor is one of the only companies focused on both process and architecture for building power devices. Our improvements in silicon rival the improvements offered by other materials, but with silicon's manufacturability, availability, and reliability," said Mark Granahan, CEO and co-founder of iDEAL Semiconductor. "Through collaborations in the U.S. with Applied Materials and Polar Semiconductor, we have unlocked previously unimaginable performance gains. Material agnostic, we address the increasing demand for power devices. With the current global push for a greener future, we are thrilled about the role we play in making products more sustainable while also showcasing what investment in America's semiconductor industry can accomplish."
Achieved through science and engineering at the atomic level, SuperQ delivers record-setting resistance per unit area (RSP). Initially targeting voltages up to 850 volt (V), the technology equips system engineers with improved power semiconductor devices such as diodes, metal-oxide-semiconductor field-effect transistors (MOSFETs), insulated-gate bipolar transistor (IGBTs) and integrated circuits (ICs). For example, SuperQ-based 200V MOSFETs deliver 6x lower resistance than existing silicon and 1.6x lower resistance than GaN. Motor drive inverters designed with SuperQ technology can save up to 50% of power losses. The technology is manufactured using state-of-the-art complementary metal-oxide semiconductor (CMOS) equipment.
The launch comes on the heels of a Series C funding round bringing total investment to over $75 million. iDEAL's investors are U.S.-based, high-wealth family offices and successful business entrepreneurs with an interest in growing the domestic semiconductor industry. Leveraging the capital, iDEAL Semiconductor is aggressively expanding its hiring, product proliferation and U.S. manufacturing capacity.
Danish technology and engineering conglomerate Danfoss Group's high-end electronic components plant in Nanjing, Jiangsu province will commence production in the second half, after the opening of its global green refrigerants compressors laboratory in Tianjin last week, the company's top executive said.
With a total investment of 100 million euros ($108.8 million), the Nordborg, Denmark-headquartered group's new Nanjing factory will manufacture IGBT (insulated-gate bipolar transistor power) modules, which are power semiconductor die products. This move will strongly support its businesses in e-mobility, energy and industrial applications in China.
The growth opportunities come from many Chinese companies' moves to pursue sustainable growth, the government's foreign trade and consumption stimulus packages and the rapid pace of industrial upgrading, said Kim Fausing, president and CEO of Danfoss Group.
An IGBT power module functions as a switch and can be used to turn electrical power on and off extremely fast and with high energy efficiency, providing low electrical losses.
Covering an area of 7,000 square meters with a total investment of 140 million yuan ($20.1 million), Fausing said its new green refrigerants compressors laboratory in Tianjin is designed to focus on the research and testing of commercial compressors, especially variable frequency technology and the company's relevant application in heat pumps, as well as alternative green refrigerant solutions.
"The technologies and solutions tested and proved in the laboratory will be widely used in air conditioning, heat pumps, data centers, cold chains and energy storage," he said. "This is expected to play a significant role in the global green transition, especially in reducing carbon dioxide emissions and mitigating the effects of climate change."
"We maintain a positive outlook for China's economy as well as our businesses in the country this year," said Fausing, adding that the company's business is in strong alignment with China's green agenda, which is fueling the optimistic view of its performance in the country.
For example, China's State-owned enterprises have been accelerating the construction of new energy projects since the start of the year, from photovoltaic power stations to offshore wind farms. Many of them have been forming partnerships with global companies in these fields to enhance their business strength, according to information released by the State-owned Assets Supervision and Administration Commission of the State Council.
Fausing said Danfoss' business in China has experienced rapid growth in recent years. Its sales in China reached around 4 billion yuan in 2015, while in 2022, the number has more than doubled to around 10 billion yuan. One of the main drivers of its continued and robust growth is the strong momentum in green investment unleashed by China's pledge to reach its dual-carbon goals.
Echoing that sentiment, Ding Rijia, a professor specializing in energy at China University of Mining and Technology in Beijing, said China's plans to peak carbon dioxide emissions by 2030 and achieve carbon neutrality by 2060 will encourage more multinational corporations to deploy their latest products and solutions in the country, especially in the areas of manufacturing, aviation, chemicals, transportation and power generation.
Pushed by these factors, as well as an improved business environment and a series of promotional activities, foreign direct investment on the Chinese mainland, in terms of actual use, rose 4.9 percent year-on-year to 408.45 billion yuan in the first quarter of 2023.Specifically, FDI in high-tech manufacturing increased 18 percent from the same period a year ago, data from the Ministry of Commerce showed.
Eager to secure more market share in China, Danfoss signed an agreement with the local government in Haiyan, Zhejiang province last week to officially launch the construction of Danfoss' second industrial campus in the city.
This project will be constructed by the local government, which Danfoss will rent and invest in the equipment with its own funds.
Supported by more than 42,000 employees globally, the family-owned Danish company has made continued investments in such areas as green technology, digital solutions and electrification in recent years. Its investments in innovation surged 39 percent on a yearly basis to 457 million euros in 2022, corresponding to 4.5 percent of its sales revenue.
With 11 manufacturing bases in municipalities and provinces, such as Tianjin, Zhejiang and Liaoning, Danfoss currently has more than 5,500 employees in China.
Magnachip Semiconductor Corporation announced that the Company is separating its display and power businesses into separate entities, following approval by its board of directors and strategic review committee.
YJ Kim, Magnachip's chief executive officer commented, "This strategic separation represents a significant milestone for Magnachip and underscores the Company's commitment to unlocking long-term value for our shareholders. The internal separation is aimed at enhancing transparency, accountability and flexibility in business. By establishing distinct entities, we believe our investors will be able to better evaluate the financial performance of each business and their respective contributions. Furthermore, this strategic move will allow each entity to allocate its resources, both financial and technical, more effectively to the specific needs of its customers."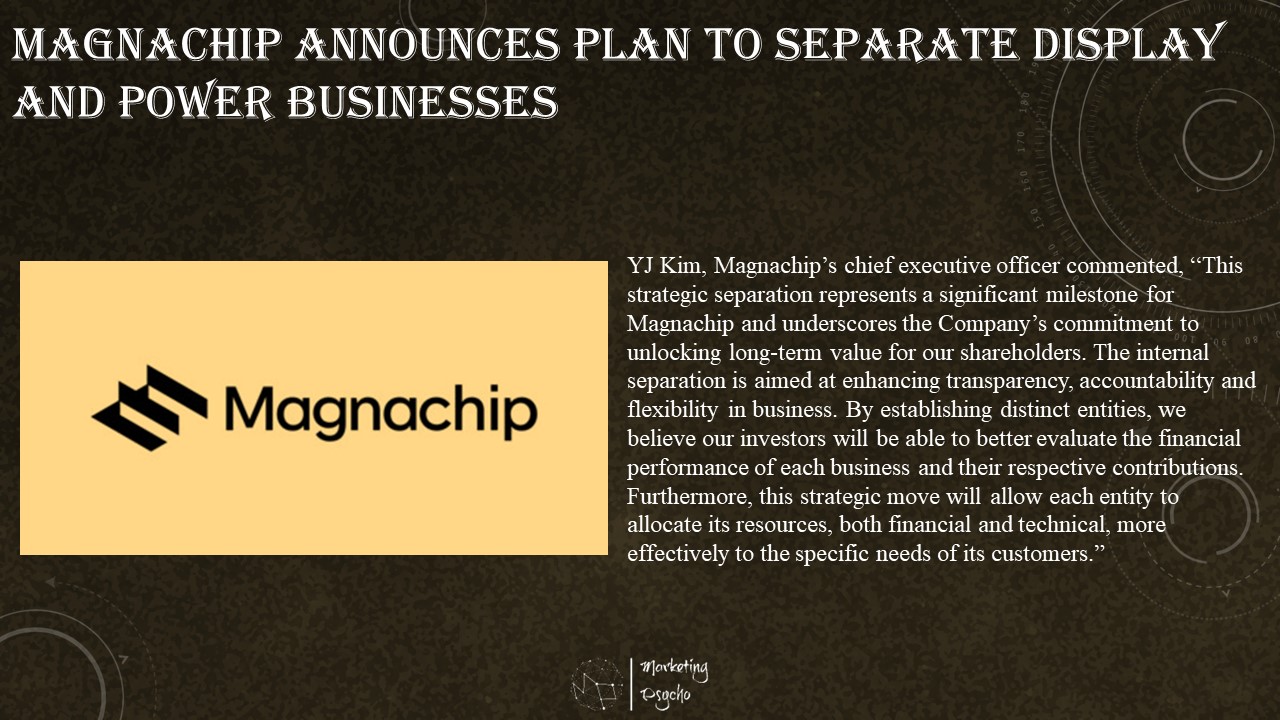 YJ Kim continued, "Magnachip remains dedicated to delivering innovative solutions and exceptional customer experiences in both the display and power sectors, and we are confident that this separation will strengthen our ability to achieve these objectives by enhancing each business's agility and focus."
The Company plans to effectuate the internal separation (the "Internal Split-Off") by establishing a new subsidiary ("NewCo") under Magnachip Semiconductor, Ltd. ("Magnachip Korea"), the Company's operating subsidiary. As part of the transaction, all assets and liabilities of the display business will be contributed to NewCo in exchange for equity. Once the Internal Split-Off is completed, Magnachip Korea and NewCo will both be separate operating companies, with NewCo being a wholly owned subsidiary of Magnachip Korea. The Company's Gumi fabrication facility will remain with Magnachip Korea as an integral part of its power business.
Post-separation, the board of directors of Magnachip will continue to oversee both operating entities, ensuring cohesive governance, while YJ Kim and the executive management team will manage their business and operations. Each of Magnachip Korea and NewCo will remain indirect wholly owned subsidiaries of Magnachip, and the Internal Split-Off is not expected to have any material impact on the Company's financial reporting or consolidated financial statements.
The Internal Split-Off is expected to be completed in the fourth quarter of 2023.
Silicon carbide has increased the efficiency of power converters in many applications. However, general purpose motor drives have not been able to benefit from SiC due to cost and technical limitations. Now, changing market conditions and advances in technology mean SiC makes sense in variable torque applications. When considering the complete motor drive, the return on investment for SiC becomes apparent. Equally important is understanding the reliability of this high-performance technology.
Join this Semikron Danfoss webinar to learn how SiC is now a cost-effective and reliable solution.
Key Take-Aways:
Learn which aspects of a motor drive benefit from silicon carbide
See practical comparisons considering the entire motor drive system
Understand cost implications and payback period
Date: June 13, 2023
Time: 4 PM CEST
---
Subscribe to Power Semiconductors Weekly and watch it on YouTube every Tuesday.
If you prefer a monthly update about the world of power semiconductors delivered to your e-mail address, please, subscribe to Marketing Psycho Power Semiconductors newsletter