Power Semiconductors Weekly Vol. 116
Orbray Co., Ltd. and MIRISE Technologies Corporation have begun collaborating on vertical diamond power devices that will contribute to carbon neutrality.
Over the three-year period of this project, Orbray and MIRISE Technologies will use their respective technologies, resources, and expertise in diamond substrates and power devices to develop the technologies needed to deploy vertical diamond power devices in a wide range of electric vehicles in the future.
In this research collaboration, Orbray will be responsible for developing a p-type conductive diamond substrate, while MIRISE Technologies will take charge of developing a high-voltage operating device structure to demonstrate the feasibility of a vertical diamond power device. At the end of this project, the companies are planning to discuss the next stage of collaboration, such as further research and development.
As the automobile industry increasingly shifts to electric vehicles worldwide to achieve carbon neutrality, the development of next-generation automotive semiconductors is essential to improve the fuel efficiency and power consumption of electric vehicles, and reduce battery costs. Compared with current mainstream semiconductor materials such as Si (silicon), SiC (silicon carbide), and GaN (gallium nitride), diamond is known as the "ultimate semiconductor material" because it has higher voltage operating capability and superior thermal conductivity (heat dissipation). In the future, the development and mass production of next-generation automotive semiconductors using diamond is expected to improve the fuel efficiency and power consumption of electric vehicles, and reduce battery costs.
Orbray and MIRISE Technologies will leverage their respective strengths to develop next-generation in-vehicle semiconductors through vertical power devices, and thereby contribute to carbon neutrality.
Analog Devices, Inc. announced a new €630 million investment at its European regional headquarters in the Raheen Business Park in Limerick, Ireland. The investment enables the construction of a new, state-of-the-art, 45,000 sq-ft Research & Development and manufacturing facility.
The new facility will support ADI's development of next-generation signal processing innovations designed to accelerate the digital transformation of Industrial, Automotive, Healthcare, and other sectors. It is expected to triple ADI's European wafer production capacity and aligns with the company's goal of doubling its internal manufacturing capacity to enhance the resiliency of its global supply chain and better serve customer needs. This investment is expected to grow ADI's employment footprint in the mid-west region of Ireland by 600 new positions, a significant increase to ADI's current 1,500 employees in Ireland and 3,100 employees in Europe as a whole.
This announcement comes a year after ADI announced a separate investment of €100 million in ADI Catalyst, its 100,000 sq-ft custom-built facility for innovation and collaboration at its Limerick campus. Ireland is also home to ADI's main European Research and Development Center, which has generated more than 1,000 patents since its inception and has seeded ADI R&D sites throughout Europe in Spain, Italy, UK, Romania, and Germany.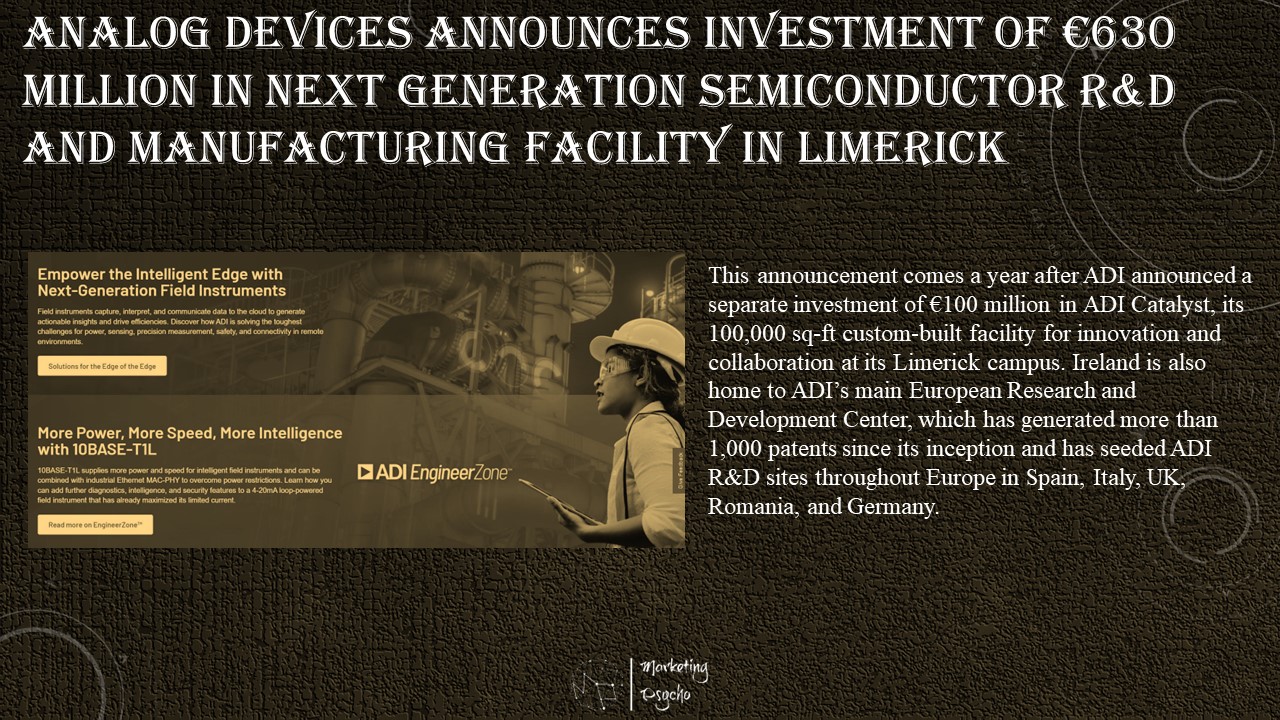 "Since 1976, Ireland has been a critical innovation center for ADI, thanks to its strong academic and research organizations, business ecosystem, and progressive government leadership," said ADI CEO and Chair Vincent Roche. "This next-generation semiconductor manufacturing facility and expanded R&D team will further extend ADI Limerick's global influence. Through organic R&D and close collaboration with our customers and ecosystem partners, we are striving to solve some of the world's greatest challenges and enable a more efficient, safer, and sustainable future."
The new investment is planned as part of a collaboration within the European Union's Important Projects of Common European Interest on Microelectronics and Communication Technologies (IPCEI ME/CT) initiative, and will support cross-border collaborative research. ADI's IPCEI application – Ireland's first since the inception of the Important Projects of Common European Interest (IPCEI) initiative – is subject to final approval from the European Commission, and is supported by the Irish Government through IDA Ireland.
An Taoiseach Leo Varadkar TD said: "This is a really significant announcement for Limerick and the Mid-West region, which marks a new chapter in the longstanding relationship between ADI and Ireland. This massive €630 million investment is great news for local employment with lots of jobs being created during the construction phase, and 600 high-end graduate jobs. It means a significant expansion in the size and scale of ADI's research, innovation, and development, leading to new, highly innovative products.
This investment is further evidence of the Government's commitment to bringing jobs to the Mid-West. Most IDA jobs created in recent years have been outside of Dublin, and Limerick has done particularly well with its deep talent pool, universities, airport, and infrastructure. This investment will also mean lots of spin-off jobs and contracts for local SMEs and Irish-owned businesses. ADI's investment is part of Ireland's commitment to develop Important Projects of Common European Interest, IPCEIs, and will contribute to Europe's broader microelectronics sector. The future is digital. There can be no such future without microchips and it's great that Ireland is such an important player in the supply chain."
Minister for Enterprise Trade & Employment Simon Coveney said: "This is a much welcome announcement from Analog Devices and a great vote of confidence in Limerick and the Mid-West. It's also noteworthy that it's the latest in a series of major job announcements outside of Dublin. I'm struck not only by the scale of the investment, but also the high quality positions that will result. I'll be visiting Analog Devices in Boston during a trade mission this week where we'll be looking forward to many more years of doing business in Ireland."
IDA Ireland CEO Michael Lohan said: "The technology that ADI will develop at this facility in Limerick is at the very forefront of innovation and has the potential to revolutionise the lives of billions of people across the world. This investment by ADI is intended to strengthen our supply chain resilience for advanced semiconductor processes. We wish continued success to ADI and look forward to our continued partnership. This is a transformational investment for the Limerick site, for the Mid-West region, and for the semiconductor industry in Ireland. IDA Ireland is committed to supporting investments of scale that impact positively on Europe's semiconductor industry."
Coherent Corp. and Mitsubishi Electric Corporation have signed a memorandum of understanding (MOU) to collaborate on a program to scale manufacturing of SiC power electronics on a 200 mm technology platform.
The market for electric vehicles is expanding worldwide and is just one of several emerging applications driving the exponential growth in SiC power devices, which have lower energy losses, higher operating temperatures, and higher switching speeds compared with power devices based on silicon. The high efficiency of SiC power devices is expected to be a significant contributor to global decarbonization and the green transformation.
To meet the rapidly growing demand, Mitsubishi Electric announced an investment of approximately 260 billion yen in the five-year period ending March 2026. A major portion of the investment, approximately 100 billion yen, will be used to construct a new plant for SiC power devices, based on a 200 mm technology platform, and enhance related production facilities. Under the MOU, Coherent will develop a supply of 200 mm n-type 4H SiC substrates for Mitsubishi Electric's future SiC power devices manufactured at the new facility.
"We are excited to build on our relationship with Mitsubishi Electric, a pioneer in SiC power devices and a global market leader in SiC power modules for high-speed trains, including the famous Shinkansen in Japan," said Sohail Khan, Executive Vice President, New Ventures & Wide-Bandgap Electronics Technologies at Coherent. "We have a long track record of supplying SiC substrates to Mitsubishi Electric and are looking forward to expanding our relationship with them to scale their new 200 mm SiC platform."
"Coherent has been for many years a reliable supplier of high-quality 150 mm SiC wafer substrates to Mitsubishi Electric," said Masayoshi Takemi, Executive Officer, Group President, Semiconductor & Device at Mitsubishi Electric. "We are delighted to enter into this close partnership with Coherent to scale our respective SiC manufacturing platforms to 200 mm."
Coherent has decades of experience in the development of SiC materials. The company demonstrated the world's first 200 mm conductive substrates in 2015. In 2019, Coherent began to supply 200 mm SiC substrates under REACTION, a Horizon 2020 four-year program funded by the European Commission.
Over the years, Mitsubishi Electric has led the SiC power module markets for high-speed trains, high-voltage industrial applications, and home appliances. Mitsubishi Electric made history by launching the world's first SiC power modules for air conditioners in 2010, and became the first supplier of a full SiC power module for Shinkansen high-speed trains in 2015. Mitsubishi Electric has also built extensive expertise by serving customers' needs for high performance and high reliability through its outstanding techniques of processing and screening, as well as many other facets of developing and manufacturing SiC power modules.
Power electronics based on SiC have demonstrated their potential to have a highly beneficial impact on the environment via significant reductions in carbon dioxide emissions. Through the rapidly growing demand for SiC power devices, Coherent and Mitsubishi Electric will accelerate their contribution to sustainable energy consumption and the decarbonization of society.
onsemi announced that Sineng Electric will integrate onsemi EliteSiC silicon carbide (SiC) MOSFETs and IGBT-based high-density power integrated modules (PIMs) into its utility-scale solar inverter and industry-first 200kW energy storage system (ESS). The two companies worked together to develop optimized solutions that maximize the performance of solar inverters, energy storage and power conversion systems.
Sineng's work with onsemi EliteSiC has led to the launch of a utility-scale solar string inverter, which offers simplicity in design, reduced maintenance costs and lower downtimes compared to a centralized inverter solution. The adoption of onsemi's highly optimized single-stage PIM with multi-level topology in 200KW ESS enables industry leading system efficiency and lower total cost of ownership.
"onsemi supports us in solving the most challenging technical problems such as system-level design, simulations, thermal analysis and creation of sophisticated control algorithms," said Qiang Wu, chairman of Sineng Electric. "Integrating the highly efficient EliteSiC technology enables us to develop and implement cutting-edge renewable energy solutions tailored to our customers' needs. In combination with onsemi's end-to-end SiC supply chain, we have the supply assurance to plan for long-term growth."
Both companies will continue to collaborate on the development of new high-power products to enable a broader range of renewable energy solutions. As part of this process, Sineng will adopt more EliteSiC products, thereby benefitting from efficiency and scale.
"Together, we will leverage the benefits of onsemi's high performance products and Sineng Electric's expertise in power electronics system design to deliver industry leading solutions for sustainable energy applications," said Asif Jakwani, senior vice president and general manager, Advanced Power Division, onsemi. "Our continuous pursuit to improve overall system efficiency plays a pivotal role in society moving towards the goal of a net-zero emissions future."
The two companies expect to extend their existing long-term supply agreement (LTSA), signed in late 2022, further demonstrating their commitment to collaboration and innovation.
Power Integrations announced a new, single-channel, plug-and-play gate driver for 190 mm x 140 mm IHM and IHV IGBT modules up to 3300 V. The 1SP0635V2A0D combines Power Integrations' proven SCALE-2™ switching performance and protection features with a configurable isolated serial output interface, which augments driver programmability and provides comprehensive telemetry reporting for an accurate lifetime estimation. Multiple sensing circuits including thermal and device and bus condition information are incorporated, simplifying system design and enhancing observability, control and reliability. Application areas are rail traction inverters, power grid and medium-voltage drives.
Thorsten Schmidt, product marketing manager at Power Integrations, commented: "The serial status output protocol incorporates critical real-time measurements, facilitating advanced operational verification and dramatically increasing overall visibility of the inverter's health, reliability and efficiency. Engineers may adapt monitoring and control systems to the PI standard plug-and-play protocol or request custom adjustments by PI engineers during their project's development phase."
Telemetric data available from the 1SP0635V2A0D gate driver includes accurate temperature measurement, which simplifies thermal management and eliminates the need for external temperature sensors. DC link voltage measurement is also incorporated, minimizing external circuitry, reducing system complexity and cost. Closed-loop gate voltage, gate status and short-circuit monitoring ensure that modules are operated within set limits, improving efficiency and avoiding catastrophic failures.
Other features include a status monitor for the fiber-optic interface to ensure that switching commands are received correctly. Similarly, gate monitoring ensures switching commands have been executed correctly and that the power module is in the appropriate operating condition. Short-circuit monitoring provides accurate control, directing the gate driver to respond appropriately in the event of a short circuit.
The leading global manufacturer of power semiconductors, Infineon Technologies AG, plans to expand its recruitment in Korea.
Infineon Technologies Korea will hire 1.5 times more employees here by 2030, doubling the number of career-beginners, and hire more mid-career experienced employees.
The European chipmaker has decided to expand its operations in Korea because it sees great growth potential in renewable energy markets here and following on its growth in power chips. Power semiconductors convert, distribute and control electricity in the power management system on electronics. They are essential for renewable energy to convert energy generated at renewable power plants into applicable electricity.
Earlier, the government unveiled its plan to increase the amount of renewable energy in the national grid up to 21.6 percent by 2030. As of 2021, electricity generated by solar, wind or other renewable energy sources accounted for only 4.7 percent of total domestic power generation. This means that demand for power chips will be inevitable as the country expands its generation of renewable energy. "The domestic market for renewable energy is set to skyrocket but it is hard to find talent specialized in power chips," one senior industry official said.
The global power semiconductor market is continuously growing in line with green trends. According to market researcher Omdia, the power semiconductor market is estimated to grow to $38.4 billion by 2026, up from $30.8 billion in 2022. The growth curve of industrial power semiconductors, especially ones used in renewable energy, is even steeper, estimated to reach $10.8 billion by 2027 at an annual growth rate of 7.2 percent.
Power chips are also used in electric vehicles, which are seeing rapid growth. While Korea is still in the infancy phase concerning its power chip market, some Korean businesses are starting to eye the market for next-generation power semiconductors, such as silicon carbide and gallium nitride.  
The second session of Nexperia's Power Rectifier Webinar Series will explain the importance of the power rectifier in switching applications, like a DCDC converter. Nexperia will help you to understand how essential the reverse recovery effect in switching applications is and how rectifier is contributing to the power losses.
Therefore, Nexperia will demonstrate and characterize different rectifier, like Planar and Trench Schottky Rectifier with a double pulse test relating to performance and system efficiency by investigating switching times and reverse recovery charge. In this webinar you will learn how to select the best component for your switching application to optimize the design.
Key Take-Aways:
Introduction of different switching applications and topologies
Requirements for power rectifier in switching applications
How rectifier contribute to overall switching losses of SMPS
Different diode technologies & performance data
In application benchmarking results
Date: June 14, 2023
Time: 10 AM CEST
---
Subscribe to Power Semiconductors Weekly and watch it on YouTube every Tuesday.
If you prefer a monthly update about the world of power semiconductors delivered to your e-mail address, please, subscribe to Marketing Psycho Power Semiconductors newsletter