Power Semiconductors Weekly Vol. 114
DENSO CORPORATION (DENSO), a leading mobility supplier, and United Semiconductor Japan Co., Ltd. ("USJC"), a subsidiary of global semiconductor foundry United Microelectronics Corporation ("UMC"), announced a joint collaboration to produce insulated gate bipolar transistors (IGBT), which have entered mass production at the 300mm fab of USJC. A first shipment ceremony was held last week to mark this important milestone. It comes just one year after the companies announced a strategic partnership for this critical power semiconductor used in electric vehicles.
As adoption of electric vehicles accelerates, automakers are seeking to boost powertrain efficiency while also increasing cost-effectiveness of electrified vehicles. The jointly invested line at USJC supports the production of a new generation of IGBT developed by DENSO, which offers 20% reduction in power losses compared with earlier generation devices. Production is expected to reach 10,000 wafers per month by 2025.
The ceremony was held at USJC's fab in Mie Prefecture, Japan. Attendees included by DENSO President Koji Arima, UMC Co-President Jason Wang, USJC President Michiari Kawano, Director-General of the Commerce and Information Policy Bureau at Japan's Ministry of Economy, Trade and Industry (METI) Satoshi Nohara, Governor of Mie Prefecture Katsuyuki Ichimi, and Mayor of Kuwana City Narutaka Ito.
"Today, we are thrilled to welcome a memorable shipping ceremony that symbolizes the partnership between DENSO, UMC and USJC. We are from different cultures such as semiconductor industry and automobile industry. However, we have worked steadily with mutual respect which is a source of our strong competitiveness. DENSO, together with our trusted partners, will continue to further accelerate electrification through the production of competitive semiconductors in order to preserve the global environment and create a society full of smiles," said Koji Arima, President of DENSO.
"USJC is proud to be the first semiconductor foundry in Japan to manufacture IGBT on 300mm wafers, offering customers greater production efficiency than the standard fabrication on 200mm wafers. Thanks to our dedicated teams and support from DENSO, we were able to complete trial production and reliability testing without delay and honor the mass production date as agreed with the customer," said Michiari Kawano, President of USJC.
"It is an honor to be a strategic partner of DENSO, a leading automotive solution provider to global automakers. This collaboration fully demonstrates UMC's manufacturing capability and our collaborative approach to ensure the success of our foundry customers," said Jason Wang, Co-President of UMC. "The electrification and automation of cars will continue to drive up semiconductor content, particularly for chips manufactured using specialty foundry processes on 28nm and above nodes. As a specialty technology leader, UMC is well positioned to play a bigger role in the automotive value chain and enabling our partners to capture opportunities and win market share in this rapidly evolving industry.
Vishay Intertechnology, Inc. introduced 17 new Gen 3 650 V silicon carbide (SiC) Schottky diodes. Featuring a merged PIN Schottky (MPS) design, the Vishay Semiconductors devices combine high surge current robustness with low forward voltage drop, capacitive charge, and reverse leakage current to increase efficiency and reliability in switching power designs.
The next-generation SiC diodes released today consist of 4 A to 40 A devices in the TO-22OAC 2L and TO-247AD 3L through-hole and D2PAK 2L (TO-263AB 2L) surface-mount packages. Their MPS structure reduces their forward voltage drop by 0.3 V compared to previous-generation solutions, while their forward voltage drop times capacitive charge — a key figure of merit (FOM) for power efficiency — is 17 % lower.
The diodes' typical reverse leakage current is 30 % lower at room temperature and 70 % lower at high temperature than the closest competing solution. This reduces conduction losses to ensure high system efficiency during light loads and idling. Unlike ultrafast diodes, the Gen 3 devices have virtually no recovery tail, which further improves efficiency.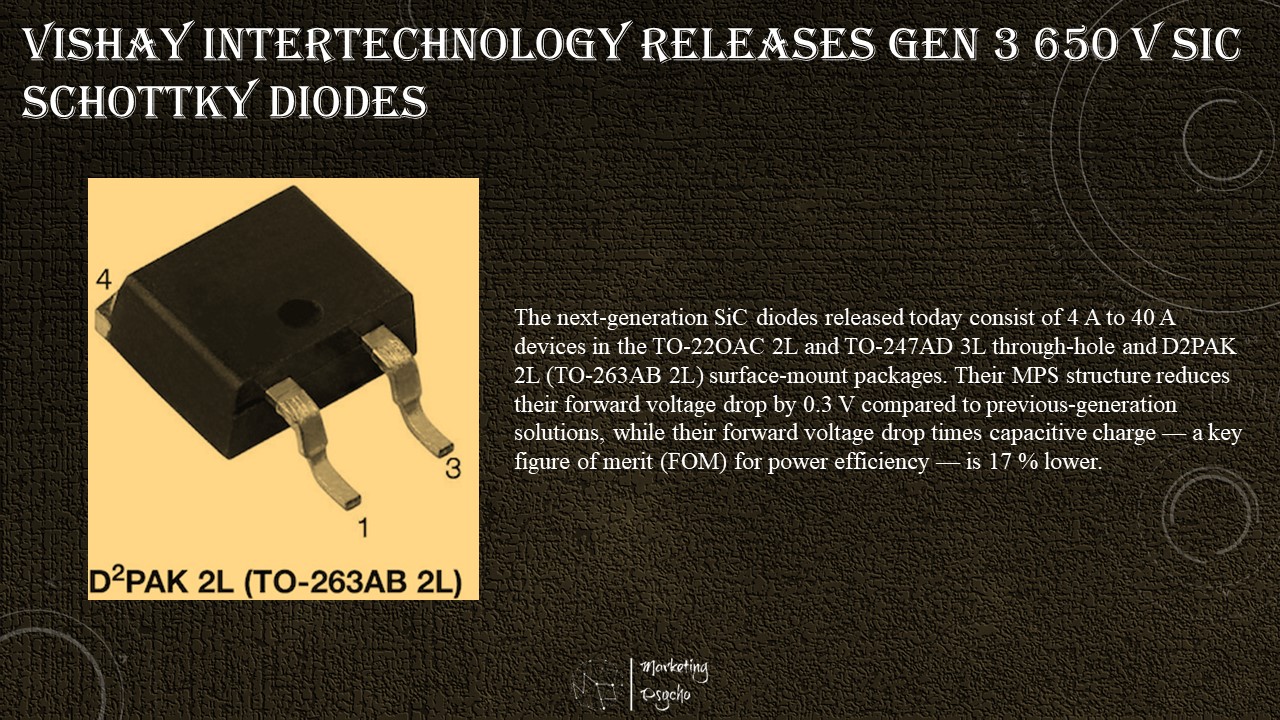 Compared to silicon diodes with comparable breakdown voltage, the SiC devices offer higher thermal conductivity, lower reverse current, and shorter reverse recovery times. The diodes' reverse recovery times are nearly temperature-independent, enabling operation at higher temperatures to +175 °C without the shifts in power efficiency caused by switching losses.
Typical applications for the devices will include AC/DC PFC and DC/DC ultra high frequency output rectification in FBPS and LLC converters for energy generation and exploration applications. Offering high reliability, the RoHS-compliant and halogen-free diodes have passed higher temperature reverse bias (HTRB) testing of 2000 hours and temperature cycling testing of 2000 thermal cycles. This is double the testing hours and cycles of AEC-Q101 requirements.
onsemi, a leader in intelligent power and sensing technologies, announced the release of the latest generation of 1200 V EliteSiC silicon carbide (SiC) M3S devices, which enable power electronics designers to achieve best-in-class efficiency and lower system cost. The new portfolio includes EliteSiC MOSFETs and modules that facilitate higher switching speeds to support the growing number of 800 V electric vehicle (EV) on-board charger (OBC) and energy infrastructure applications, such as EV charging, solar and energy storage systems.
Also, part of the portfolio, are new EliteSiC M3S devices in half-bridge power integrated modules (PIMs) with industry leading lowest Rds(on) in a standard F2 package. Targeting industrial applications, the modules are ideally suited for DC-AC, AC-DC and DC-DC high power conversion stages. They provide higher levels of integration with optimized direct bonded copper designs to enable balanced current sharing and thermal distribution between parallel switches. The PIMs are designed to deliver high power density in energy infrastructure, EV DC fast charging and uninterruptible power supplies (UPS).
"onsemi's latest generation of automotive and industrial EliteSiC M3S products will allow designers to reduce their application footprint and system cooling requirements," said Asif Jakwani, senior vice president and general manager of the Advanced Power Division, onsemi. "This helps designers to develop high power converters with higher levels of efficiency and increased power densities."
The automotive-qualified 1200 V EliteSiC MOSFETs are tailored for high-power OBCs up to 22 kW and high voltage to low voltage DC-DC converters. M3S technology has been developed specifically for high-speed switching applications and has the best-in-class figure of merits for switching losses.
Navitas Semiconductor, the only pure-play, next-generation power semiconductor company, announced their expanded portfolio into higher power markets with their leading-edge silicon carbide (SiC) power products in SiCPAK™ modules and bare die.
Target applications cover centralized and string solar inverters, energy storage systems (ESS), industrial motion, electric vehicle (EV) on-board chargers, EV roadside fast chargers, wind energy, UPS, bi-directional microgrids, DC-DC converters, and solid-state circuit breakers.
Ranging from 650 V to 6,500 V, Navitas has the widest range of SiC technology. From an original line-up of discrete packages – from 8×8 mm surface-mount QFNs to through-hole TO-247s – the GeneSiC SiCPAK is an initial, direct entry point into higher-power applications. A comprehensive power-module roadmap, with high-voltage SiC MOSFETs and MPS diodes, GaN power ICs, high-speed digital isolators and low-voltage silicon control ICs is being mapped out.
Dr. Ranbir Singh, Navitas EVP for SiC noted, "With a complete portfolio of leading-edge power, control and isolation technology, Navitas will enable customers to accelerate the transition from fossil fuels, and legacy silicon power products to new, renewable energy sources and next-generation semiconductors, with more powerful, more efficient, faster-charging systems."
SiCPAK™ modules employ 'press-fit' technology to offer compact form factors for power circuits and deliver cost-effective, power-dense solutions to end users. The modules are built upon GeneSiC die that have already made a mark in terms of superior performance, reliability, and ruggedness. Examples include a SiCPAK half-bridge module, rated at 6 mOhm, 1,200 V with industry-leading trench-assisted planar-gate SiC MOSFET technology. Multiple configurations of SiC MOSFETs and MPS diodes will be available to create application-specific modules for superior system performance. The initial release will include 1,200 V-rated half-bridge modules in 6, 12, 20, and 30mOhm ratings.
Within the lead-free SiCPAK, each SiC chip is silver (Ag) sintered to the module's substrate for superior cooling and reliability. The substrate itself is 'direct-bonded copper' (DBC) and manufactured using an active-metal brazing (AMB) technique on silicon-nitride (Si3N4) ceramics, ideal for power-cycling applications. This construction delivers excellent strength and flexibility, fracture resistance, and good thermal conductivity for cool, reliable, long-life operation.
For customers who prefer to make their own high-power modules, all GeneSiC MOSFET and MPS diodes are available in bare die format, with gold (Au) and aluminum (Al) top-side metalizations.
Henkel announced the addition of Loctite Ablestik ABP 8068TI to its growing portfolio of high thermal die attach adhesives. With 165 W/m-K thermal conductivity, the new pressure-less sintering die attach paste boasts the highest thermal capability in the company's semiconductor packaging portfolio, meeting performance requirements for high-reliability automotive and industrial power discrete semiconductor devices.
"High voltage applications like those found in automotive ADAS systems, EVs, industrial motor controls, and high-efficiency power supplies require superior electrical and thermal performance," says Henkel's Global Market Segment Head for Semiconductor Packaging Materials, Ramachandran Trichur. "Currently, the only viable die attach alternative to Pb solder – which will soon be phased out and cannot meet certain thermal demands – is sintered silver (Ag). Henkel pioneered pressure-less sintering die attach, allowing the use of standard, low-stress processing, and we have now formulated our fourth and highest thermal conductivity material to date, which tackles the stringent thermal and electrical requirements of next-generation power packages."
Henkel's newest pressure-less sintering die attach formulation meets multiple metrics for power semiconductors like MOSFETs, which are increasingly incorporating silicon carbide (SiC) and gallium nitride (GaN) materials as alternatives to silicon (Si) for improved efficiency. Loctite Ablestik ABP 8068TI is compatible with traditional Si and newer wide-bandgap semiconductors, among other power discrete devices. The 165 W/m-K ultra-high thermal conductivity die attach adhesive has demonstrated excellent sintering properties with good adhesion on copper (Cu), pre-plated frames (PPF), silver (Ag), and gold (Au) lead frames, robust electrical conductivity and stable RDS(on) after 1,000 hours of thermal cycling, and MSL 3 reliability.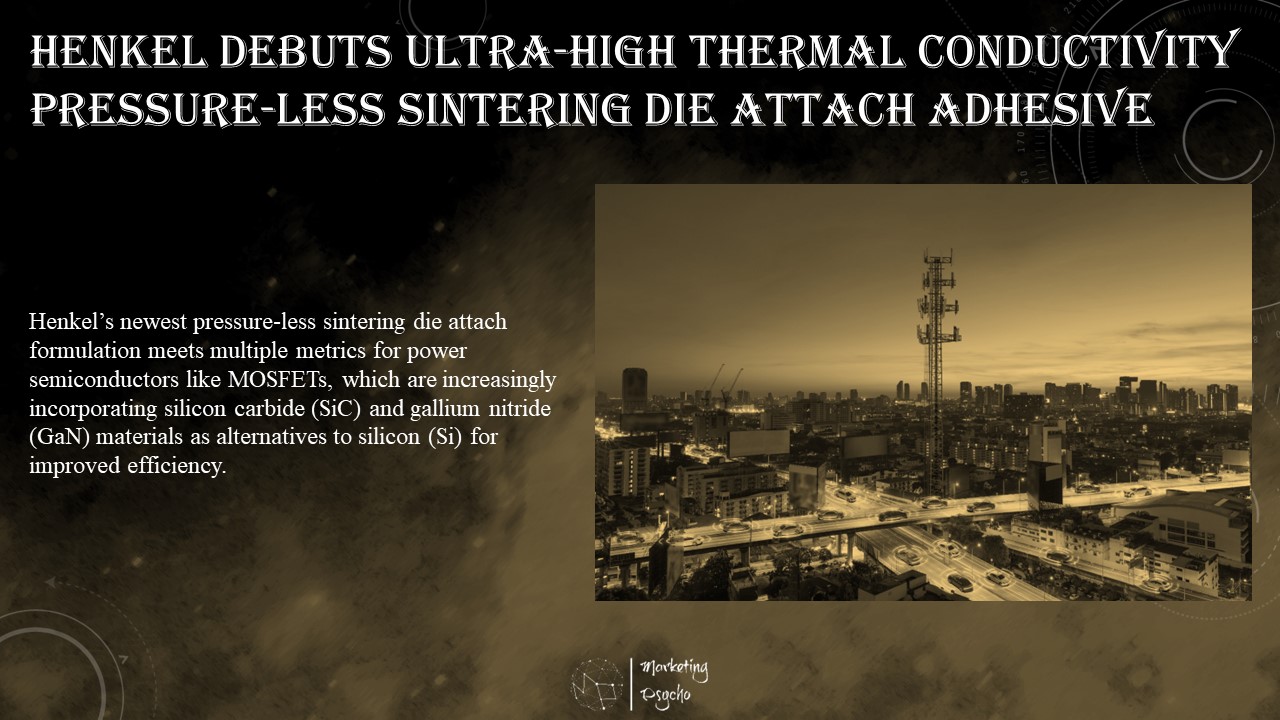 Recommended for dies measuring 3.0 mm x 3.0 mm or smaller, Loctite Ablestik ABP 8068TI fully cures at 175° C or above to form a rigid sintered Ag network in the bulk epoxy and at the interface. Because pressure-less sintering is a drop-in replacement for standard die attach, high pressure is not required to achieve this robust structure, eliminating stress on thin die. Workability of the material is also notable at three hours of void-free open time and 24 hours of stage time with no degradation in shear strength.
As Trichur concludes, the power device market will only accelerate in application uses and performance requirements, making high-capability, high thermal die attach solutions an operational necessity: "There is an increased demand for power devices across market sectors, including automotive, industrial power storage and conversion, and aerospace, to name a few. For power semiconductors, sintered die attach is the prevailing and most reliable solution to deliver the die attach strength, integrity, and thermal and electrical conductivity required. Loctite Ablestik ABP 8068TI provides all this in a formula that enables simple processing to protect thinner, more complex dies."
Semikron Danfoss and the Kyoto-based company ROHM Semiconductor have been collaborating for more than ten years with regards to the implementation of silicon carbide (SiC) inside power modules. Recently, Semikron Danfoss added ROHM's new 1200V RGA IGBT to its low power module offering. In doing so, both companies show that they remain committed to serving worldwide motor drive customers' needs.
The worldwide growth in electrification technologies has created unprecedented demand for power modules. Often, it is the chip supply that limits power module availability. Despite ongoing investments in production capacity by the chip manufacturers, the supply situation remains tight. It is against this backdrop that ROHM has introduced the new 1200V RGA IGBT, targeted as an alternative to the latest Generation 7 IGBT devices in industrial applications. ROHM is now expanding their bare die offering to Semikron Danfoss, positioning themselves as an advanced alternative to traditional chip suppliers.
"The RGA is a newly designed, light punch through, trench gate IGBT with Tj,max = 175°C. The conduction, switching, and thermal characteristics are optimized for new industrial drive applications in the low to medium power range. At the same time, the RGA is intended to remain compatible with existing IGBT solutions, enabling a multiple source approach. In addition, the RGA can also be used to improve transient overcurrent handling during overload conditions in motor drive applications," says Kazuhide Ino, Member of the Board, Managing Executive Officer, CFO at ROHM.
Semikron Danfoss can offer the 1200V RGA IGBT in a full range of nominal current classes from 10A to 150A. This range, combined with the suitability of the RGA chip in motor drive applications, means that the MiniSKiiP family is the ideal choice for module implementation. The baseplate-less, spring-contact MiniSKiiP is already deeply embedded in the worldwide motor drive market and always equipped with the latest generation IGBTs. Therefore, it is important for this product to have an alternative IGBT source to diversify the supply chain. The uniform-height MiniSKiiP housing family is also offered on the market as a multiple source package, making an alternative IGBT a valuable option for manufacturers.
For press-fit/solder applications, the industry-standard SEMITOP E package will also be available in pin-compatible configurations to existing Generation 7 IGBT module offerings. This housing family will also offer sixpack ("GD") and converter-inverter-brake ("DGDL") circuit configurations.
"The power electronics industry continues to recover and learn lessons from the supply issues in recent years. It's clear that diversification in semiconductor chip and module manufacturing is required to generate true 'multiple source' power modules", says Claus A. Petersen, President, Semikron Danfoss. "In the case of 1200V Generation 7 IGBTs, a reliable equivalent from a reputable manufacturer is now available to address this issue also in the low power range. The 1200V RGA IGBT from ROHM is a perfect alternative to the Generation 7 IGBT and can be made to behave in a remarkably similar manner with small gate resistor adjustment," continues Peter Sontheimer, Senior Vice President Industry Division & Managing Director at Semikron Danfoss.
Infineon Technologies AG, the global leader in automotive semiconductors, and Hon Hai Technology Group ("Foxconn"), the world's largest electronics manufacturing services provider, aim to establish a long-term partnership in the field of electric vehicles (EV) to jointly develop advanced electromobility with efficient and intelligent features. The Memorandum of Understanding (MoU) focuses on silicon carbide (SiC) development, leveraging Infineon's automotive SiC innovations and Foxconn's know-how in automotive systems.
"The automotive industry is evolving. With the rapid growth of the EV market and the associated need for more range and performance, the development of electromobility must continue to advance and innovate," said Peter Schiefer, President of the Infineon Automotive Division. "Infineon's commitment and passion for innovation and zero-defect quality has made us the best partner for our customers. We look forward to writing a new chapter in electromobility together with Foxconn."
"We are pleased to be working with Infineon and are confident that this collaboration will result in optimized architecture, product performance, cost competitiveness and high system integration to provide customers with the most competitive automotive solutions," said Jun Seki, Foxconn's Chief Strategy Officer for EVs.
According to the MoU, the two companies will collaborate on the implementation of SiC technology in automotive high-power applications like traction inverters, onboard chargers, and DC-DC converters. Both parties intend to jointly develop EV solutions with outstanding performance and efficiency based on Infineon's automotive system understanding, technical support and SiC product offerings combined with Foxconn's electronics design and manufacturing expertise and the capability of system-level integration.
In addition, the two companies plan to establish a system application center in Taiwan to further expand the scope of their cooperation. This center will focus on optimizing vehicle applications, including smart cabin applications, advanced driver assistance systems and autonomous driving applications. It will also address electromobility applications such as battery management systems and traction inverters. The collaboration covers a wide range of Infineon's automotive products, including sensors, microcontrollers, power semiconductors, high-performance memories for specific applications, human machine interface and security solutions. The system application center is expected to be established within 2023.
---
Subscribe to Power Semiconductors Weekly and watch it on YouTube every Tuesday.
If you prefer a monthly update about the world of power semiconductors delivered to your e-mail address, please, subscribe to Marketing Psycho Power Semiconductors newsletter